Cal Expo - California State Fairgrounds Racetrack
Don't forget you can wager on the races with AmWager
Wager on live horse races like a Pro with AmWager.
Simple…We are the best online wagering platform today. Real-time updates, exclusive tools, custom wagering types, player-focused design. Not using AmWager is like playing in the kiddie pool.
Powerful, fast, innovative, secure, yet easy to use! All because we value and listen to our customers.
Cal Expo – California State Fairgrounds Racetrack
California State Fairgrounds Racetrack is a horse-racing track in Sacramento, California, United States. It opened in 1906, at Exposition Blvd.
History of California State Fairgrounds Racetrack
1854 – The History of the California State Fairgrounds Racetrack dates back to 1854. Cal Expo premiered when the state sought to promote its farming and industry.
1859 – The Fair moved from city to city, beginning in San Francisco and eventually settling in Sacramento in 1859 – where it remains until today.
1906 – The two dirt oval racing tracks were established in 1906 for horse racing on the site of the California Exposition.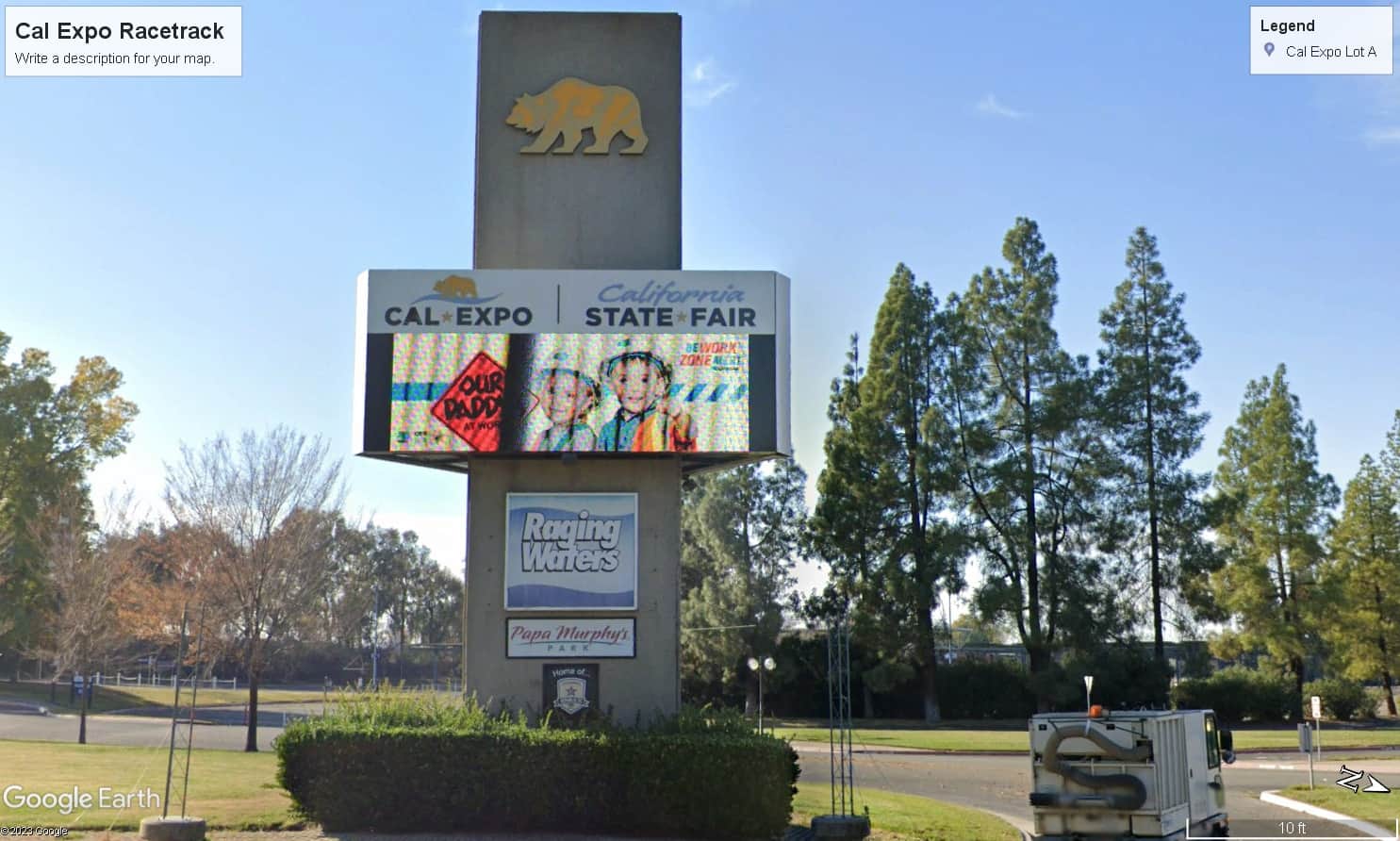 1907 to 1970 – The racetrack was active for auto racing in 1907, 1912, and 1946 until 1970.
1916 – The California State Fairgrounds were used as a mobilization camp during the 1916 Mexican Border Crisis and World War I.
1968 – The Exposition was moved to a new site north of Downtown Sacramento, while the old fairgrounds were closed and sold for development in 1970.
2010 – To attract visitors and take advantage of the annual peak summer vacation and travel periods, starting in 2010, the Fair changed its regular mid-August dates to reschedule in mid-July.
Track Details and Other Facilities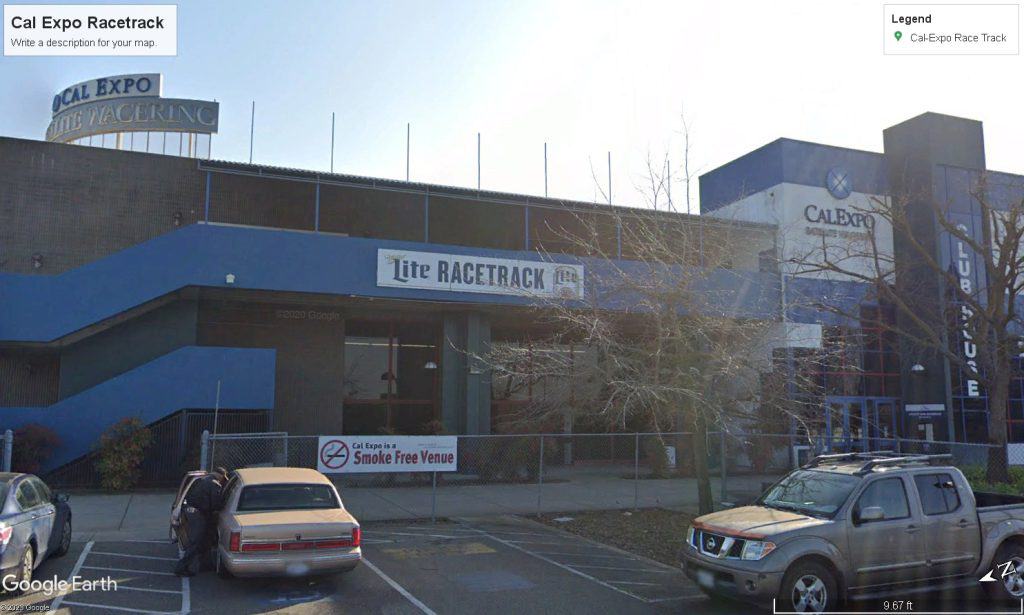 🐎Main Track

The mile-long racetrack encircles a lake with fountains surrounded by a lush green lawn.
It is a one-mile dirt track, oval with a 990ft homestretch.
🐎Expo Center

The clean lines and high ceilings are for car shows, trade and consumer shows, art exhibits, fundraisers, banquets, meetings, and conventions.
Past events include bridal shows, cultural events, and career fairs.
Special Features include House sound in individual buildings or entire complexes, air conditioning and heating in each building, brick outdoor plaza with stair-step seating.
It is 58,870 square feet complex.
🐎

The Pavilion

It has eight roll-up doors, eighteen-foot ceilings, and concrete floors.
It is ideal for major trade and consumer shows, festivals, dances, and sporting events.
Encompassing nearly 100,000 square feet.
🐎

The Cove

It is for outdoor events.
It has a shaded seating area, a covered stage, and proximity to restrooms and concessions.
It could be for a concert, graduation, awards ceremony, or assembly-type meeting.
It can accommodate up to 3,400 in any seating arrangement.
🐎

Miller Lite Grandstand

It includes a sports bar, tele-theater, newly remodeled Clubhouse, and Turf Club.
It can also be available for rent when not used by our racing department.
These facilities offer a unique and convenient environment for concerts, meetings, and banquets.
It can accommodate up to 18,000 people.
🐎

The Clubhouse

The Clubhouse provides a spacious atmosphere for the event.
It is a venue for private parties or business meetings and can be configured for groups of 40 to 300 guests.
🐎

Turf Club

It is located at the south end of the Grandstand.
It can accommodate parties from 40 to 200 guests.
The guest should be 18 and over.
Open Hours

Doors open at 3:00 pm on race days during State Fair Horse Racing, the Sacramento Mile, and for special events.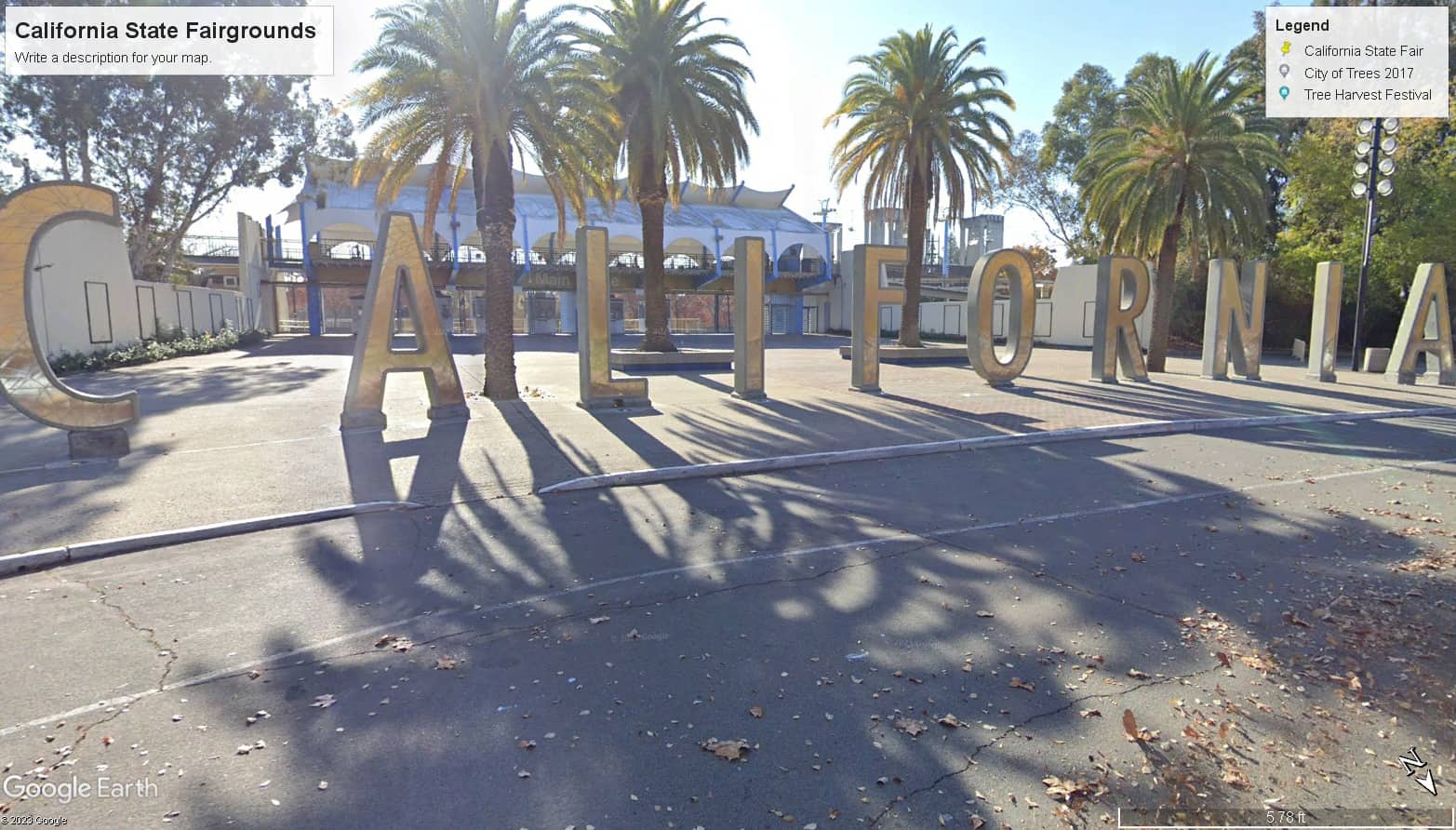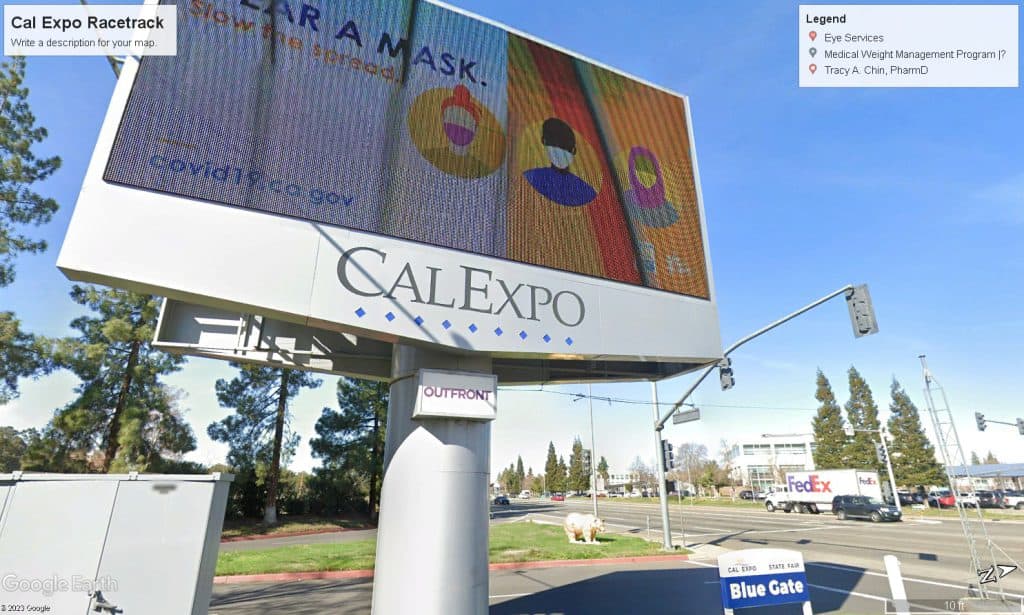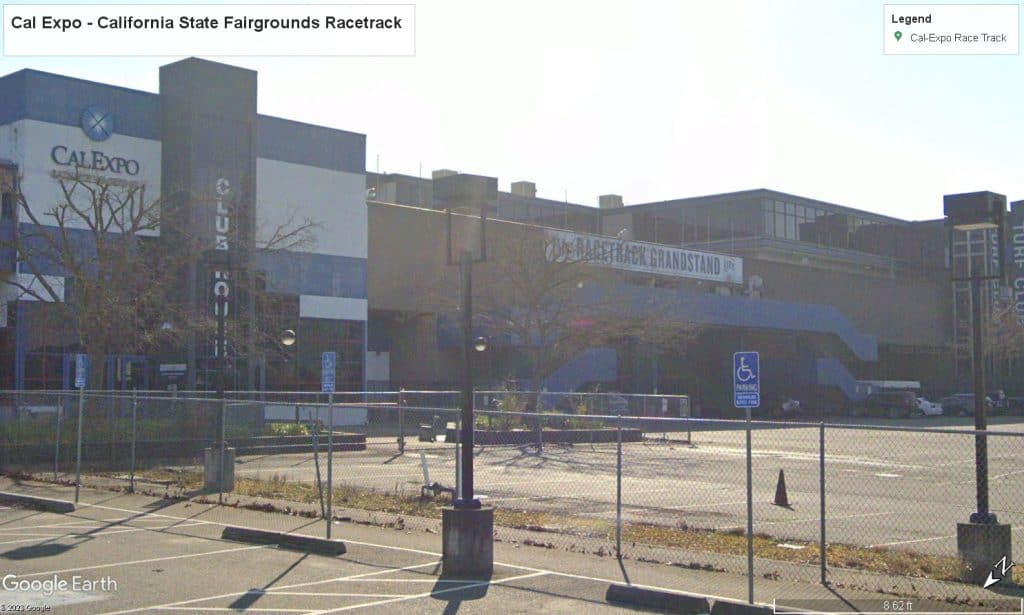 🐎Buildings A & B

They share a lobby, concession stand, and three restroom locations.
It is ideal for trade, and consumer shows such as home, garden, and RV shows.
Each building can be utilized individually.
It offers a show office with an incoming phone line in Building A, house sound, an elevator in Building A, ATMs, air conditioning, and heating.
These identical buildings measure 27,700 square feet.
🐎Building C

Home to conventions, banquets, trade and consumer shows, dances, and sporting events.
It measures 28,000 square feet.
Past events include the Special Olympics, Golf Expo, and the California Grape & Gourmet Show.
Building C can be used independently or in conjunction with Building D.

🐎Building D

Venue for trade and consumer shows, conventions, banquets, and recreational vehicle shows.
A 20,000-square-foot permanent fabric structure can be used alone or in conjunction with Building C.
🐎Show Arena

Measures 120′ W by 260′ L and can seat up to 4,000 comfortably for rodeos, monster truck shows, concerts, dances, and other unique performances.
🐎Multipurpose Stadium

A premier sports and entertainment venue situated within the Cal Expo grounds.
It has a seating capacity of approximately 12,000.
Heart Health Park offers an atmosphere for graduations, brew fests, corporate outdoor events, festivals, and concerts.
Race Schedule and Major Events & Races
California State Fairgrounds Race Schedule
🐎Live Racing Schedule

Thoroughbred Horse Racing comes to the CA State Fair & Food Festival every Summer (July)
The schedule for their live racing is on Fridays and Saturdays.
Location and Access to the Racecourse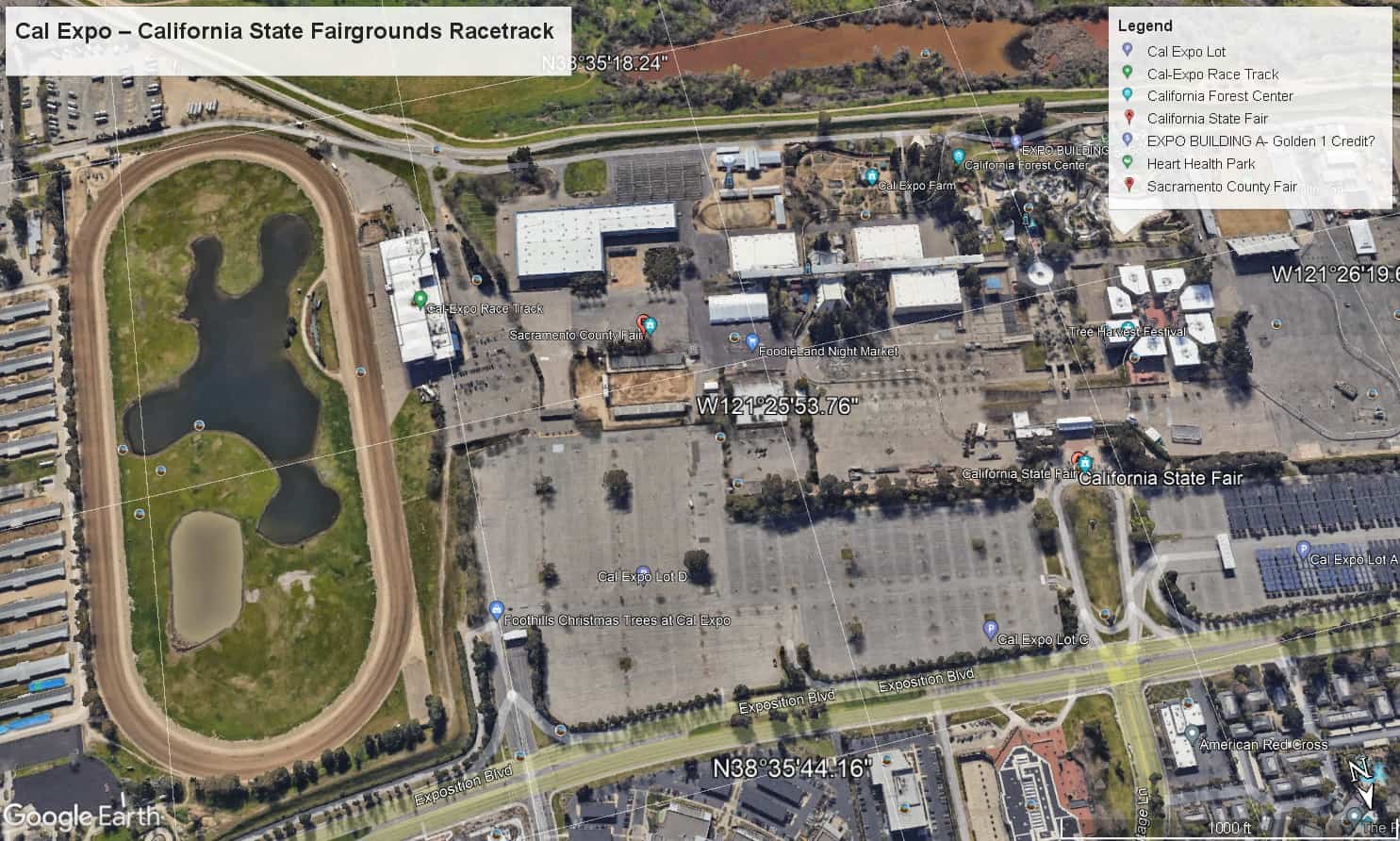 Entering the Grounds

All handbags, backpacks, and bags are subject to search.
Guests are welcome to bring outside food and drink into the Fair.
Ice chests will be searched at the entrances.
No glass, aluminum cans, or outside alcohol are allowed. Paper and plastic containers of non-alcoholic beverages are allowed.

Parking

Parking for the CA State Fair: $15
Motorcycle parking for the CA State Fair: $5
General Parking for most interim events & shows: $10
Parking for concerts: $15
Parking for events at Heart Health Park: $15
Sacramento Republic RC Soccer Matches: $15
It is located at 1600 Exposition Blvd., Sacramento, California.
The Cal Expo exit is just Northeast of the American River. 
The County Fair is held at Cal Expo on the corner of Exposition Blvd and Challenge Way.
California State Fair admission prices usually run from $12 for general admission, $10 for seniors, and $8 for children.
Other racetracks are sorted and listed on the page "List of Racetracks". To view the full list, hit the button below. You can also check the horse racing types and breeds to have a lot more in-depth knowledge about horse racing. 
Cal Expo - California State Fairgrounds Racetrack
You can also check Cal Expo race results and Cal Expo race entries using our AmWager platform for FREE!
It is easy to access and fast as 1, 2, 3!
So what are you waiting for?
STOP HORSING AROUND, GET SERIOUS, GET AMWAGER !
Sign Up now for FREE and wager like a PRO with AmWager