Don't forget you can wager on the races with AmWager
Wager on live horse races like a Pro with AmWager.
Simple…We are the best online wagering platform today. Real-time updates, exclusive tools, custom wagering types, player-focused design. Not using AmWager is like playing in the kiddie pool.
Powerful, fast, innovative, secure, yet easy to use! All because we value and listen to our customers.
Colonial Downs
Colonial Downs is a horse-racing track in New Kent County, Virginia, United States. It opened in 1997, at Colonial Downs Parkway.
History of Colonial Downs
1997 – On September 1, 1997, the track was attended by more than 13,000 people on its opening day. The track used several unconventional construction and business approaches.
2005 – The Maryland Jockey Club managed the track under a complicated agreement with Virginia and Maryland regulators and the Maryland-Virginia Racing Circuit.
2013 – Colonial Downs stopped scheduling thoroughbred racing due to a dispute between track management and equestrian groups. 
2014 – Harness racing ended.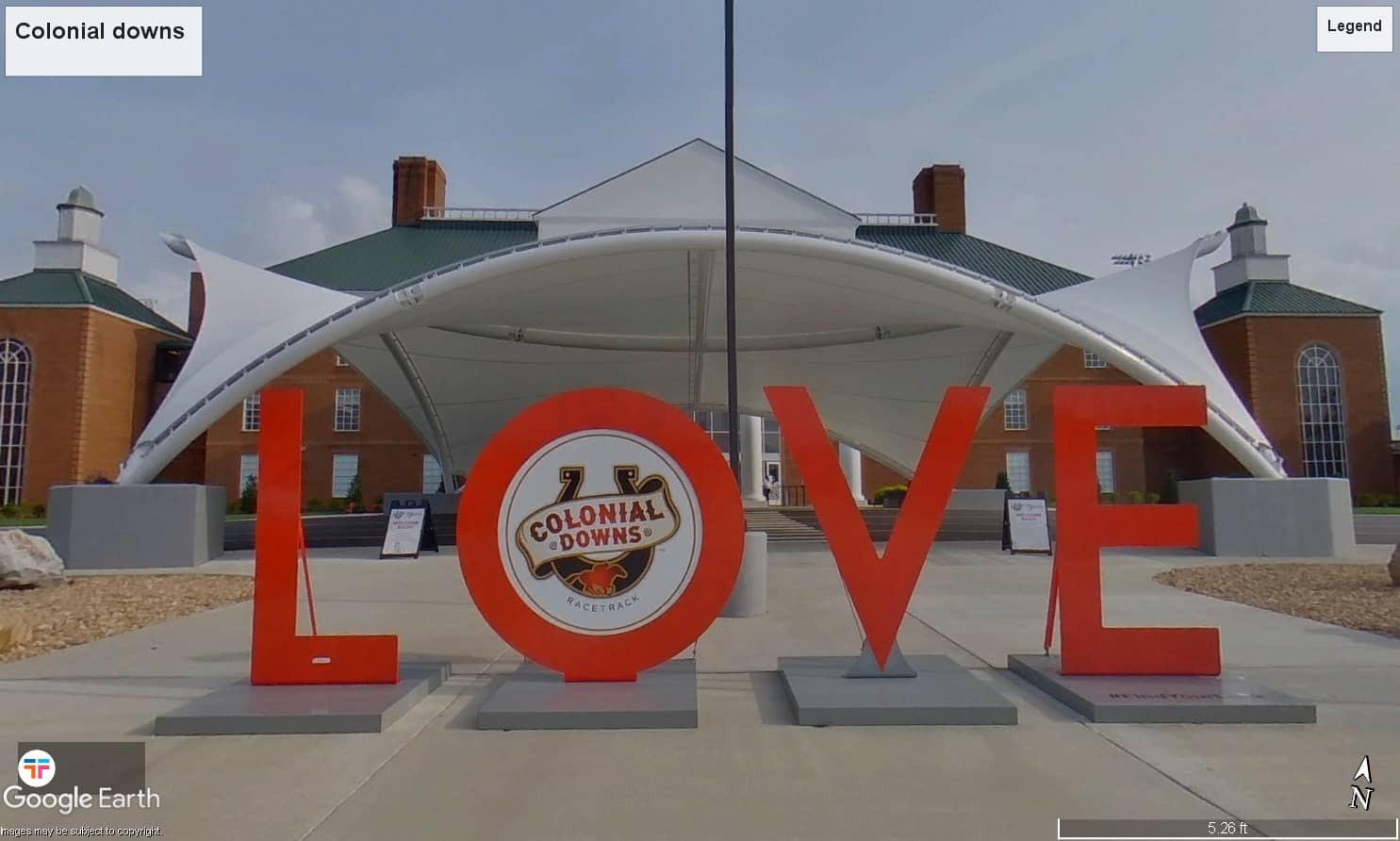 2015 – All track-affiliated betting sites were closed in April 2015. The track filed a lawsuit in the United States District Court for the Eastern District of Virginia, seeking clarity in recently amended state horse racing laws, but the case was dismissed in the District Court on November 24, 2015. Moreover, Colonial Downs was denied 2016 racing dates by the Virginia Racing Commission.
2018 – Virginia enacted a law to allow historical racing machines (similar to slot machines) at the track and off-track betting parlors in April 2018 to make it economically viable to reopen the track. Weeks later, the track was purchased by Revolutionary Racing (a Chicago-based group of investors and gaming executives) for over $20 million. Peninsula Pacific later bought out the other investors, taking full ownership of Colonial Downs. 
2019 – Colonial Downs held its first race since 2013 on August 8, 2019.
2022 – Peninsula Pacific sold the bulk of its assets, including Colonial Downs, to Churchill Downs, Incorporation.
Track Details and Other Facilities
🐎The Secretariat Turf Course

The widest grass racing surface and the only 1- and 1/4-mile track in North America
It is with harness racing and features a one-turn mile.
It is around 1 1/8 miles and is 180 feet wide.
The outer dirt oval is 1 1/4 miles long and is second in

length

only to Belmont Park's, which is 1 1/2 miles around.
The track featured an autumn 

harness

racing meet.
It is the only 1¼-mile track in North America with harness racing, featuring a one-turn-mile.
The horses start from a chute on the backstretch.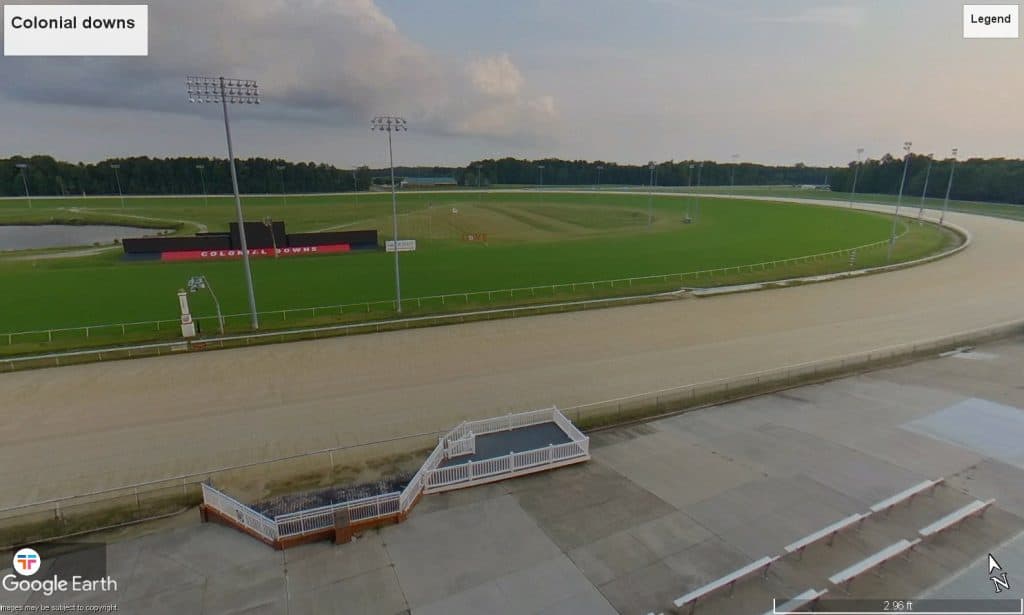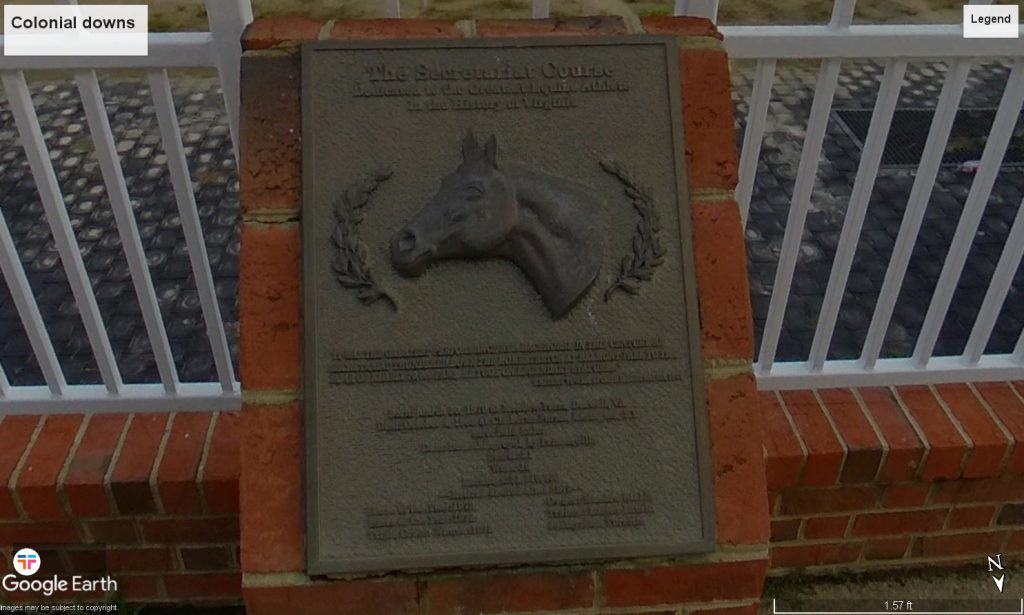 🐎Rosie's Kitchen

Open Hours

Sunday to Thursday – 10 am to 11:00 pm.
Friday to Saturday – 10:00 am to 1:30 am.
The late-night food menu is available from Sunday to Thursday from 11:00 pm to 1:30 am.
🐎The Playbook Sports Bar and Grill

It has 4,000 square feet of space.
It features 29 big-screen TVs and a 28′ projector screen.
It also hosts live entertainment on the 26-foot stage equipped with a Bose sound system.
It can be rented for private events and parties every Tuesday to Wednesday.
Open Hours

Sunday to Monday – 10:00 am to 11:00 pm.
Thursday and Friday – 4:00 pm to 12:00 midnight.
Saturday – 12:00 noon to 12:00 midnight.

🐎1609

It is located on the 4th floor of Colonial Downs Racetrack.

🐎Whiskey Bar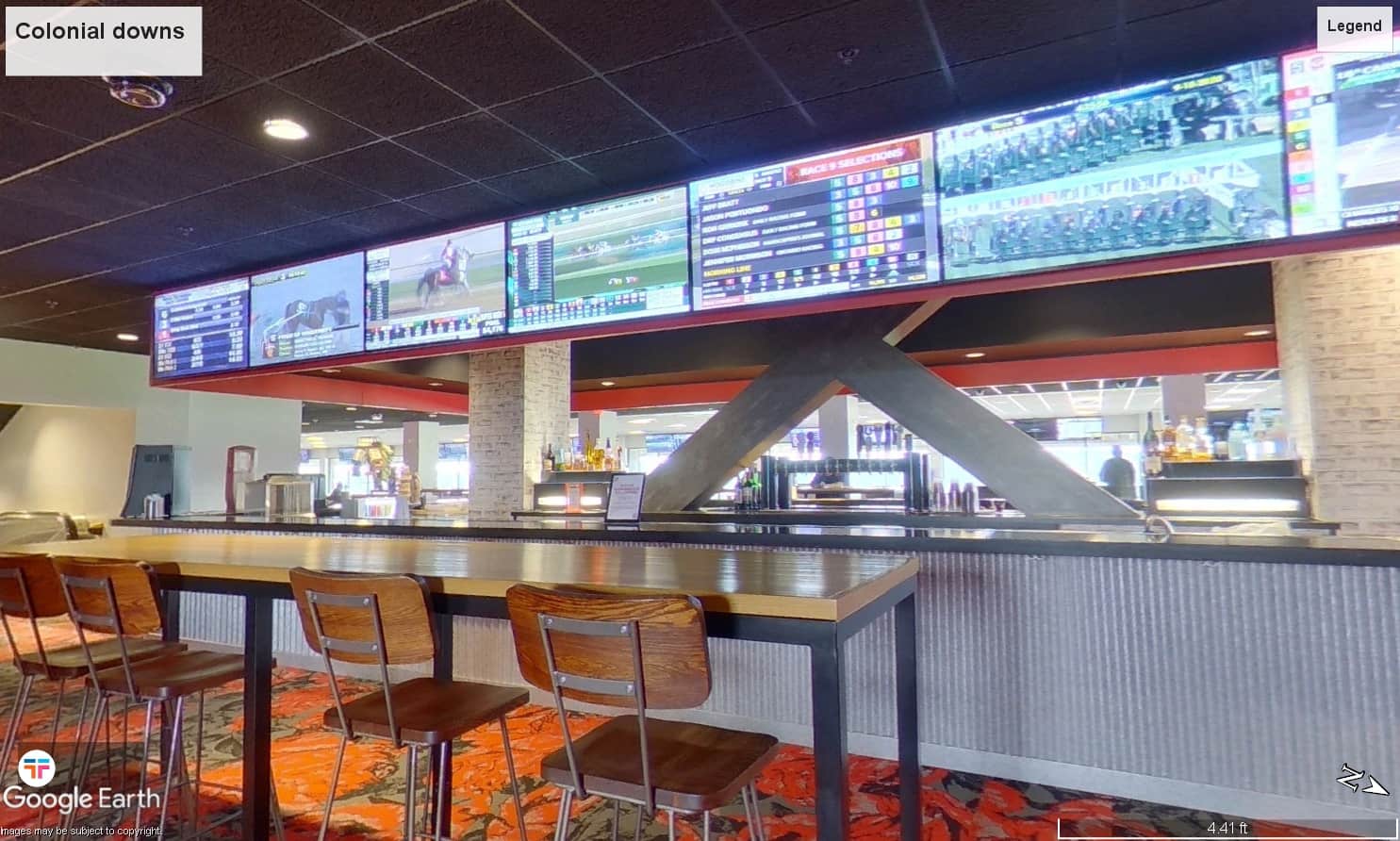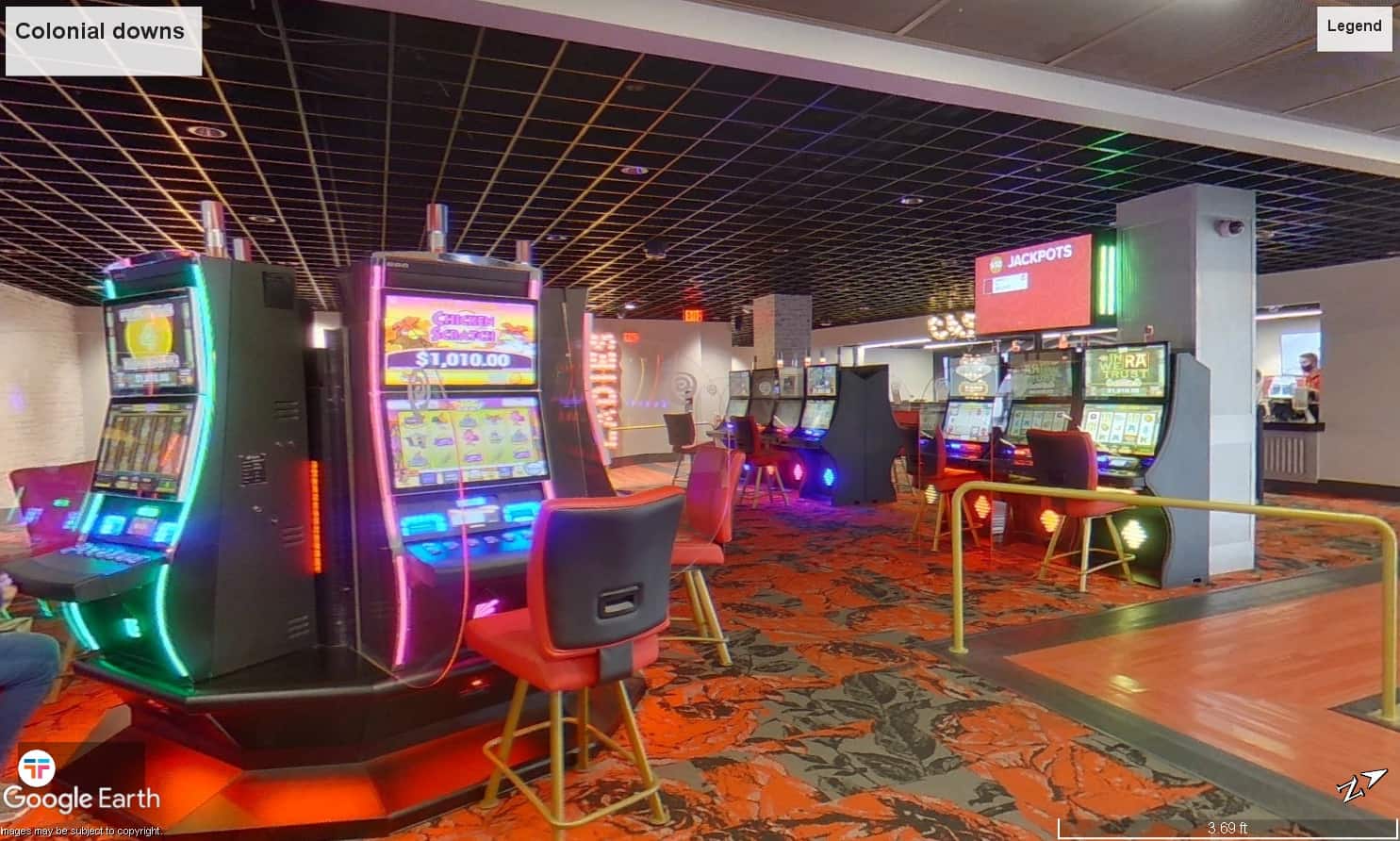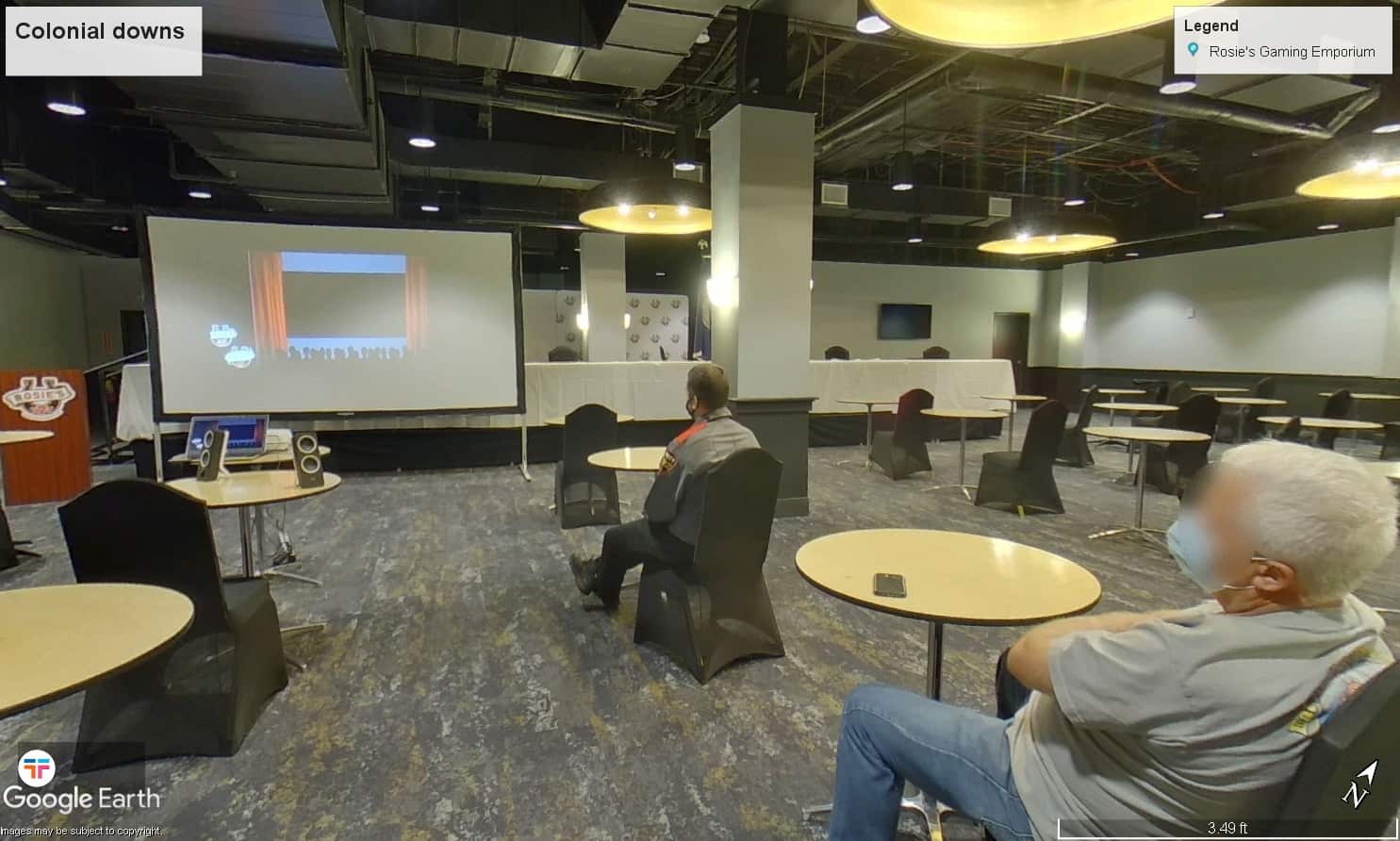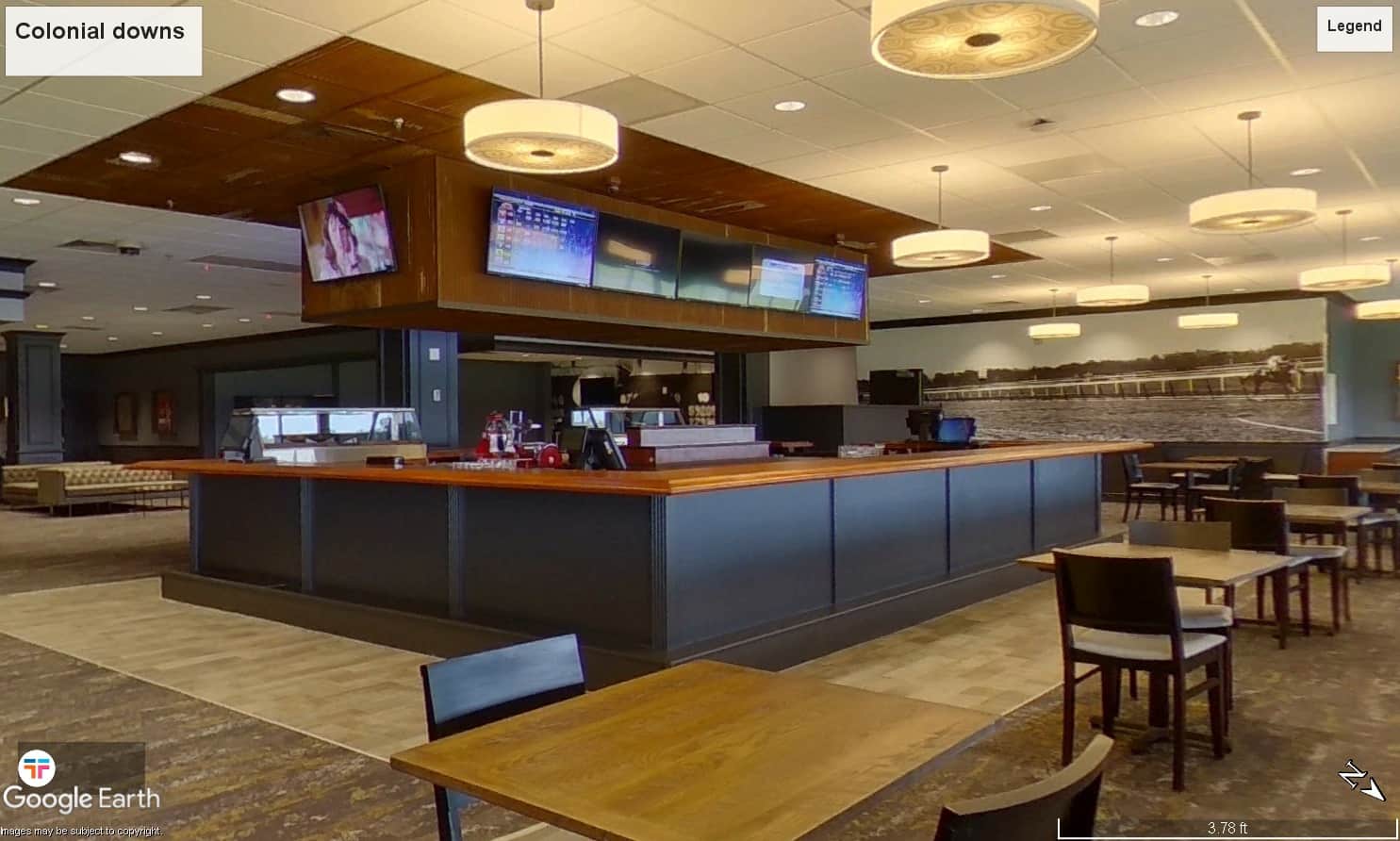 🐎Sky Suites

It can accommodate up to 28 guests.
It includes daily Colonial Downs live racing programs.

🐎Jockey Club

It has indoor seating.
Ticket pricing includes a buffet and a daily live racing program.

🐎Jockey Club Social

It features lounge seating, cocktail tables, dining tables with racetrack views, multi-program television options, and access to Whiskey Bar and Rosie's Gaming Emporium.
Capacity

Banquet: 40 per tier, 240 total
Reception: 60 per tier, 360 total
Theater: 40 per tier
Executive Meeting: 30 per tier

🐎1609 Turf Club

It has indoor seating.
Ticket pricing includes a premium view, balcony access, and daily Colonial Downs live racing program.
It offers an A la carte restaurant service, and a beverage menu will be provided for an additional fee.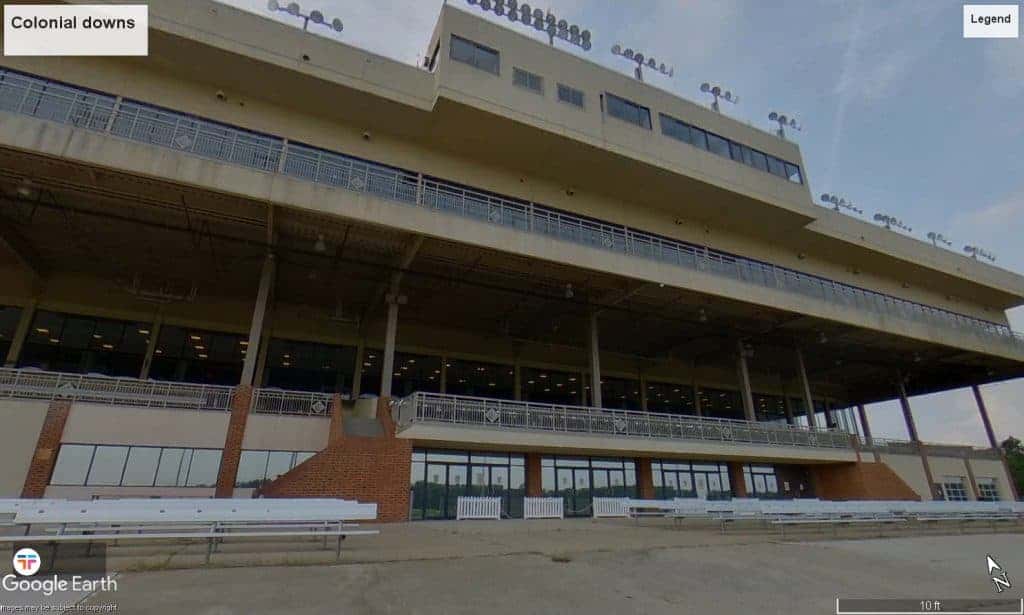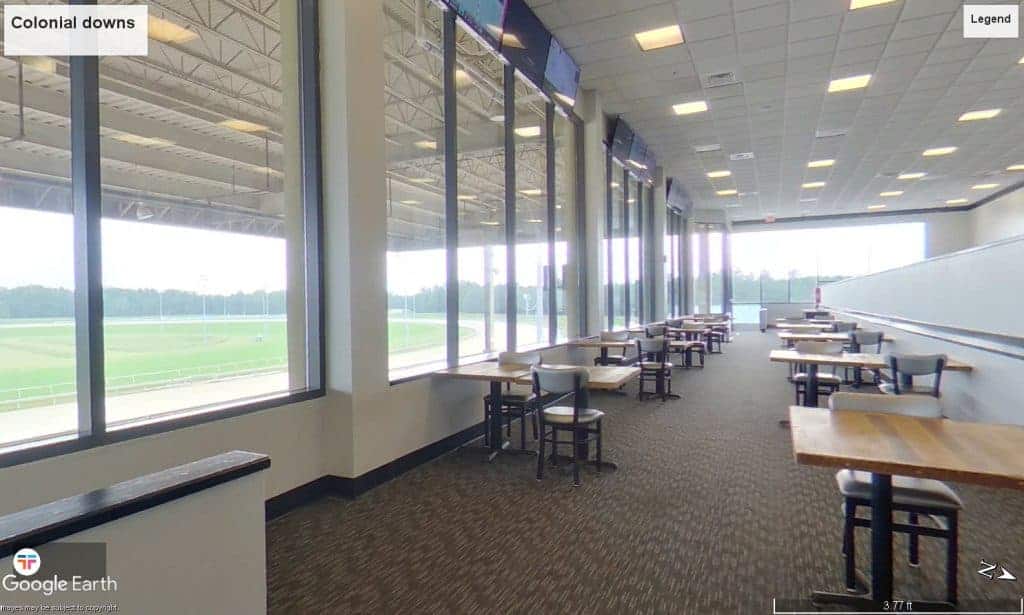 🐎Grandstand Reserved

It is the ticketed outdoor seating in the Grandstands.
Ticket pricing does not include food or beverage service but offers concessions.

🐎Grandstand Boxes

It is a covered outdoor box in the Grandstands.
Ticket pricing includes a daily live racing program but does not include food or beverage service.
Only concessions are available.

🐎Turf Club Sky Suites

It is located at the 4th-floor suites that overview the racetrack.
The suites can accommodate breakouts, executive board meetings, private parties, and receptions.
Capacity

Dimensions: 20' x 35'
Footage: 700 sq. ft.
Banquet: 14 per suite
Reception: 30 per suite
Theater: 25 per suite
Executive Meeting: 14 per suite
🐎Turf Club Ballroom

Capacity

Dimensions: 63' x 57'
Footage: 3591 sq. ft.
Banquet: 250
Reception: 300
Theater: 150
Executive Meeting: 50
Capacity Pre-function

Dimensions: 30' x 29'
Footage: 870 sq. ft.
Reception: 200

🐎Unique Outdoor Space

Guests can request and create a customized atmosphere.
Install a tent, pull up a bus, and have a cocktail reception, a wedding ceremony, a cornhole tournament, or a barbecue competition.
The huge parking space can be utilized as well for space.

🐎Party In The Paddock

Prime space for a reception, garden party, or hunt club outing.
It is located adjacent to the dirt and turf tracks and overlooks the electronic tote board
Capacity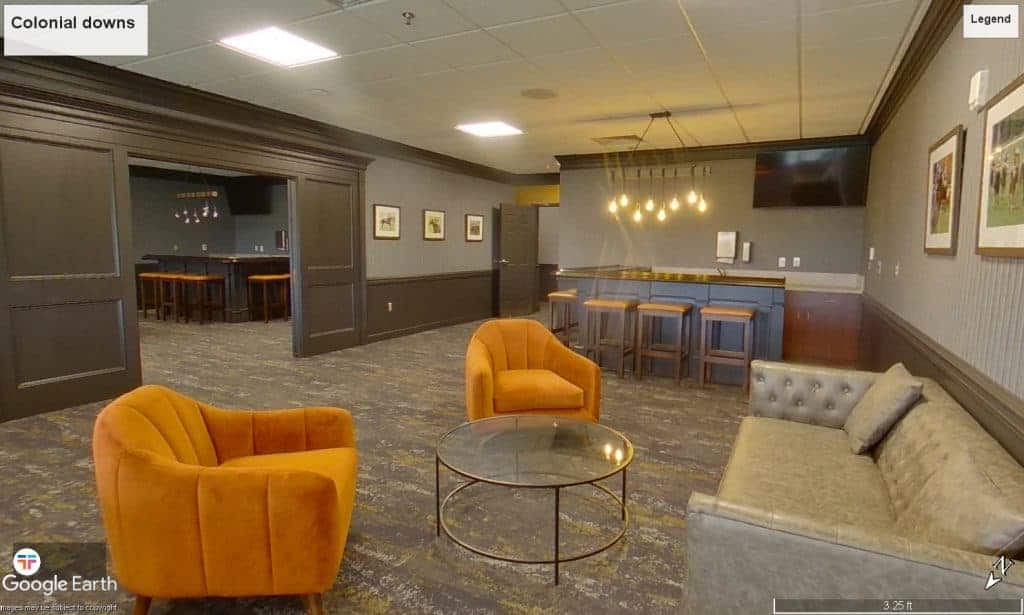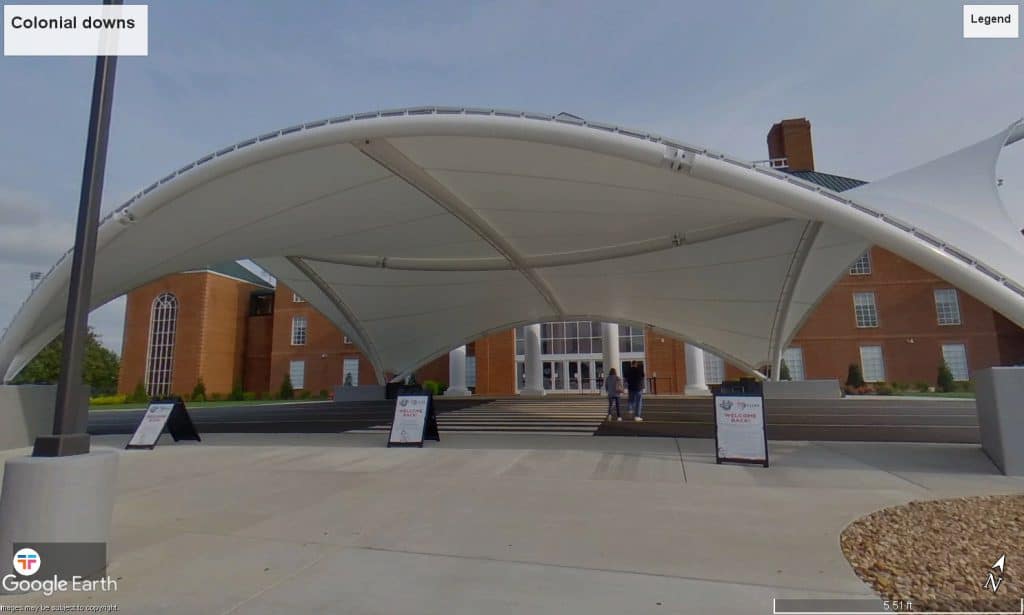 Race Schedule and Major Events & Races
🐎Live Racing Schedule

It featured an autumn harness racing meet.
Live racing is every Thursday to Saturday from July to September.
Post time: 1:30 pm EST
It hosts nine thoroughbred races daily (Monday, Tuesday & Wednesday) and runs about 30 minutes apart.
Grade II

🐴

Secretariat Stakes

🐴

Beverly D. Stakes
Other racetracks are sorted and listed on the page "List of Racetracks". To view the full list, hit the button below. You can also check the horse racing types and breeds to have a lot more in-depth knowledge about horse racing. 
You can also check Colonial Downs entries and Colonial Downs results using our AmWager platform for FREE!
It is easy to access and fast as 1, 2, 3!
So what are you waiting for?
STOP HORSING AROUND, GET SERIOUS, GET AMWAGER !
Sign Up now for FREE and wager like a PRO with AmWager