Don't forget you can wager on the races with AmWager
Wager on live horse races like a Pro with AmWager.
Simple…We are the best online wagering platform today. Real-time updates, exclusive tools, custom wagering types, player-focused design. Not using AmWager is like playing in the kiddie pool.
Powerful, fast, innovative, secure, yet easy to use! All because we value and listen to our customers.
Dover Downs
Dover Downs is a a hotel, casino, and racetrack complex in Dover, Delaware, United States. It opened in 1969, at North Dupont Highway.
1969 – The horse track and the speedway were opened simultaneously. It began with the concept of a multi-sports facility. Horse racing was conducted on the inner dirt oval, while auto racing was on the one-mile outer oval. In March 1969, thoroughbreds paraded for the first race on the track, and on November 19, Standardbreds made their first appearance.
1974 – The pacers and trotters (harness racing) still run, but the flat runners (thoroughbreds) disappeared at the end of 1974.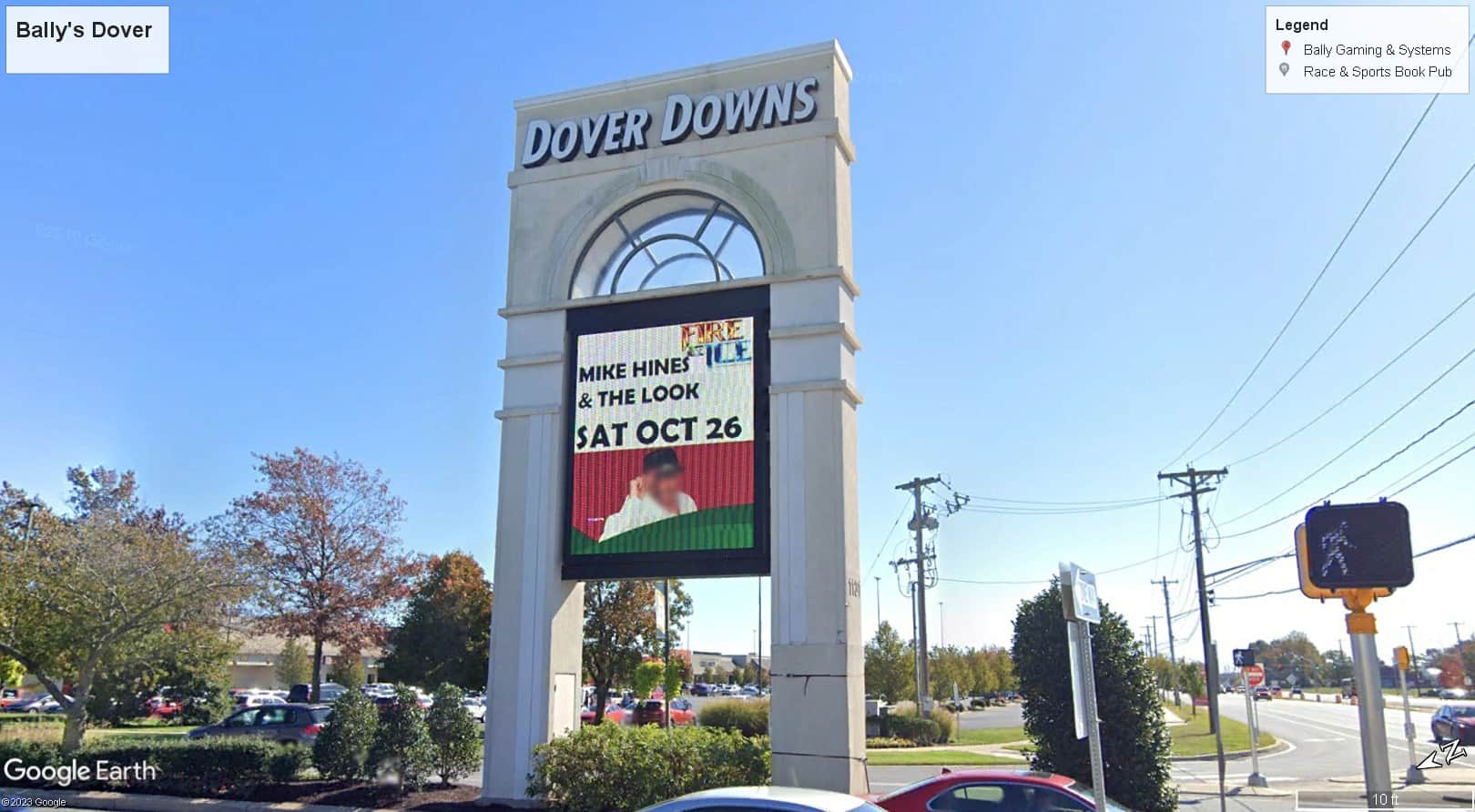 1995 – The State of Delaware approved slot machines.
2002 – The complex's parent company, Dover Downs Entertainment, spun off the horse track and casino as an independent company, Dover Downs Gaming & Entertainment. A hotel and conference center was also added to the complex. Then changed its name to Dover Motorsports.
2007 – By the autumn of 2007, they expanded the hotel, adding 268 additional rooms, including 52 suites and 11 spa suites, for 500 hotel rooms – making the Dover Downs the largest hotel in Delaware. The Toppers Spa/Salon opened on December 29, 2007.
2010 – The casino added table games when the state authorized them.
2011 – Dover Downs ran its usual meet from October to April when racing moved to Harrington.
Late 2013 – They started to expand their influences into the online gambling realm.
2019 – Dover Downs Gaming & Entertainment completed a reverse merger with Twin River Worldwide Holdings (later Bally's Corporation), a Rhode Island-based company with several casino and racetrack properties. Dover Downs shareholders were left with a 7 percent stake in the combined company.
2021 – Bally's sold the land and buildings of Dover Downs to Gaming and Leisure Properties for $144 million and leased them back for $12 million per year in June 2021. The property was renamed Bally's Dover in November 2021 as part of Twin River's rebranding to Bally's Corporation.
Track Details and Other Facilities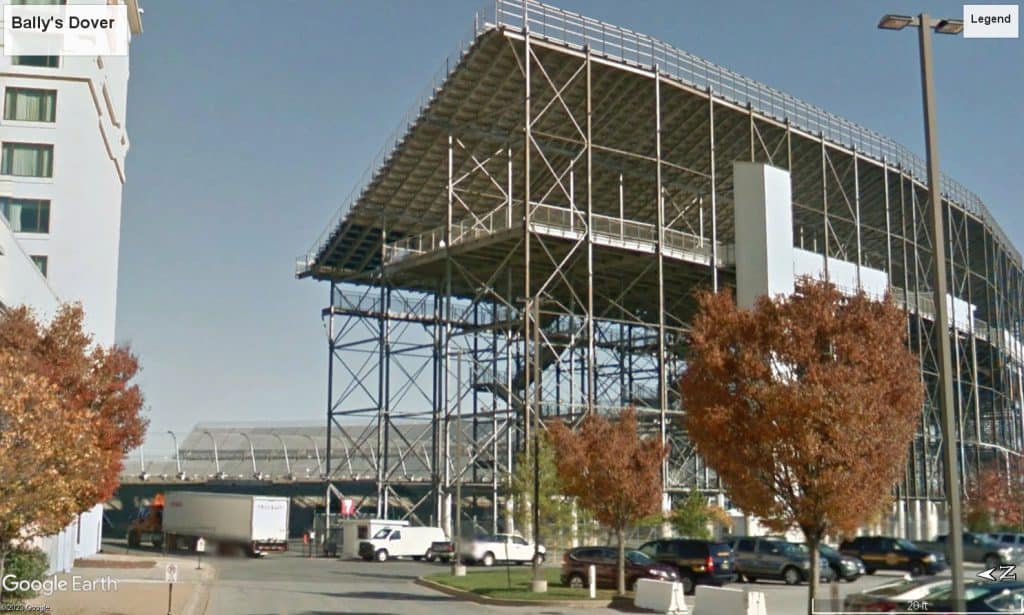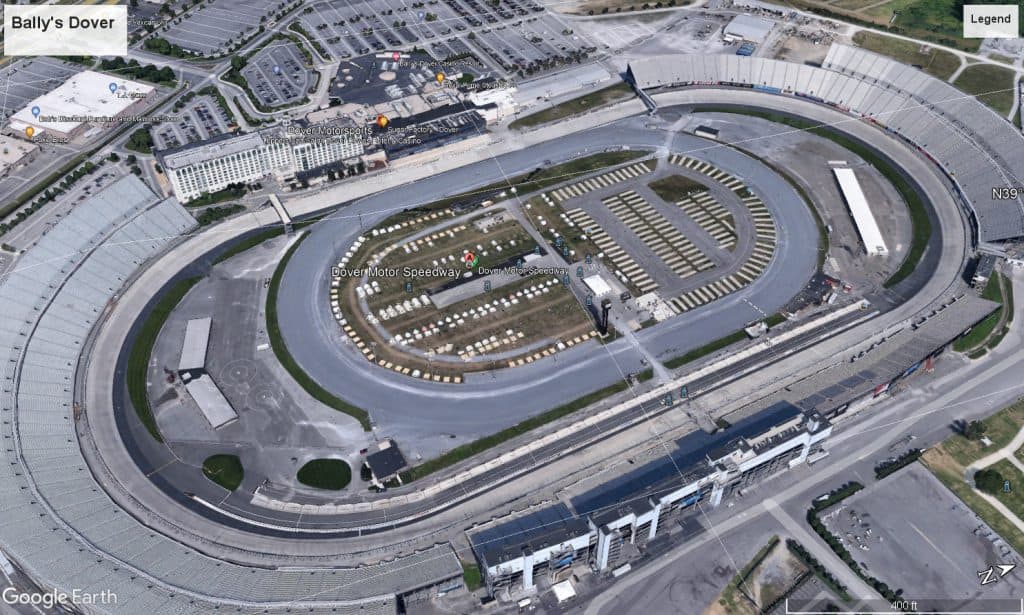 🐎 Harness Racing

The main track is 5/8 mile (1.006 km), bowl-shaped
The

length

of the homestretch is 500 feet
There are 8 starters behind the gate
It is an open stretch.
The grandstand can accommodate 4,200 seats, while the clubhouse is 400, and the parking lot fits 1,200 vehicles.

🐎 Speedway

NASCAR events on a 1 mile (1.6 km) concrete surface. The Sprint Cup track is now known as Dover International Speedway.
🐎

Casino

The room for video lottery machines measures up to 91,000 square feet.
There are 2,200 slot machines, including progressives.
There are 33 table games.
The Sportsbook is open on Saturdays and Sundays – 11:00 am to 8:00 pm.
🐎

Hotel Amenities

Indoor pool
Concierge 
Free Parking 
Fitness center 
Spa and Salon (with FREE Valet Parking)
Free Wi-Fi 
Meeting & event facilities 
Valet parking
🐎

Rollins Center

Rollins Center provides live music, comedy shows, and family-friendly entertainment.
It has an 18,000-square-foot (1,700 m2) multipurpose ballroom which features entertainment and hosting business conferences, conventions, and banquets.

🐎 Wedding Venue

Services

Venue design and décor
Custom-tailored catering
Floral designs
Photography
Entertainment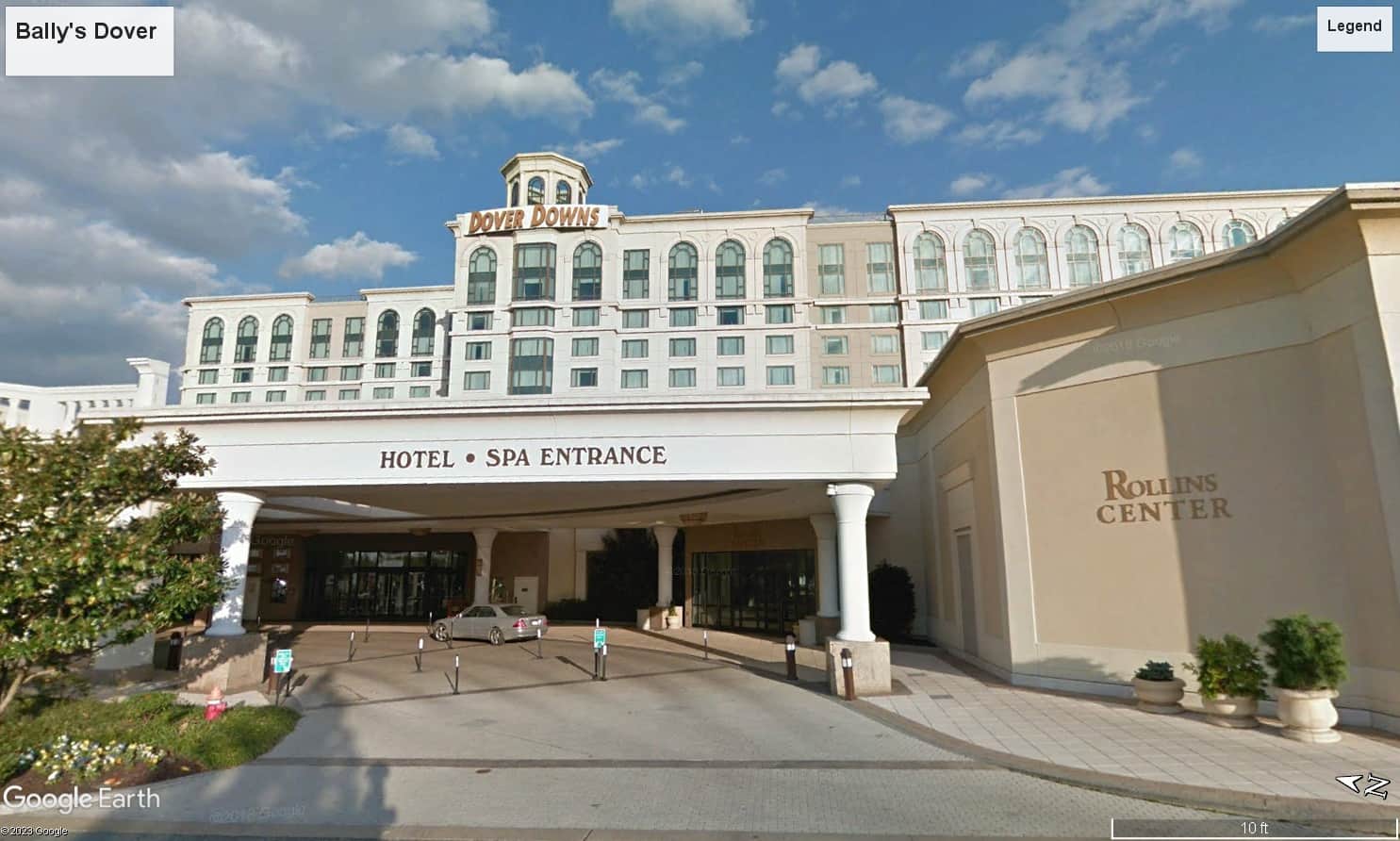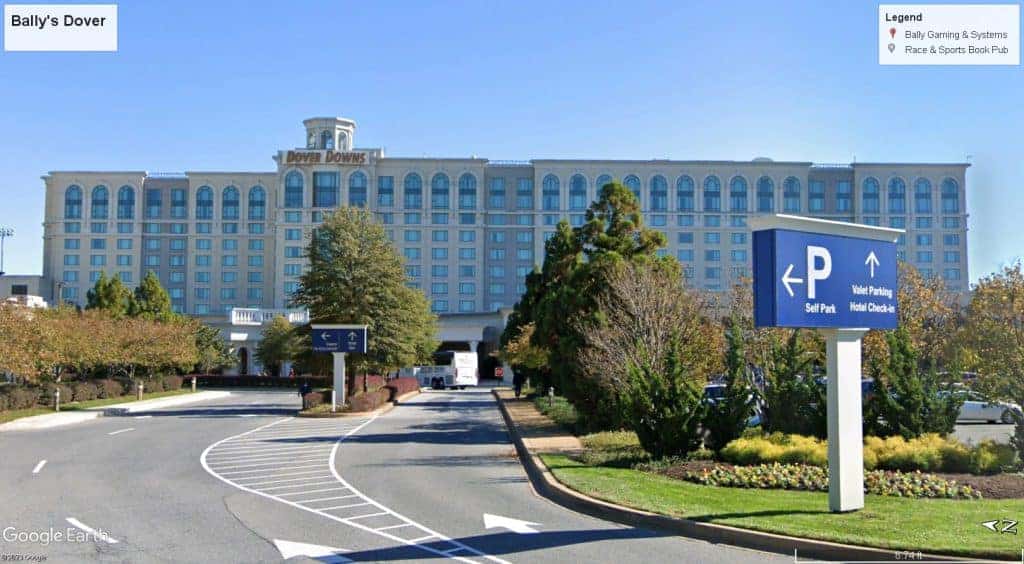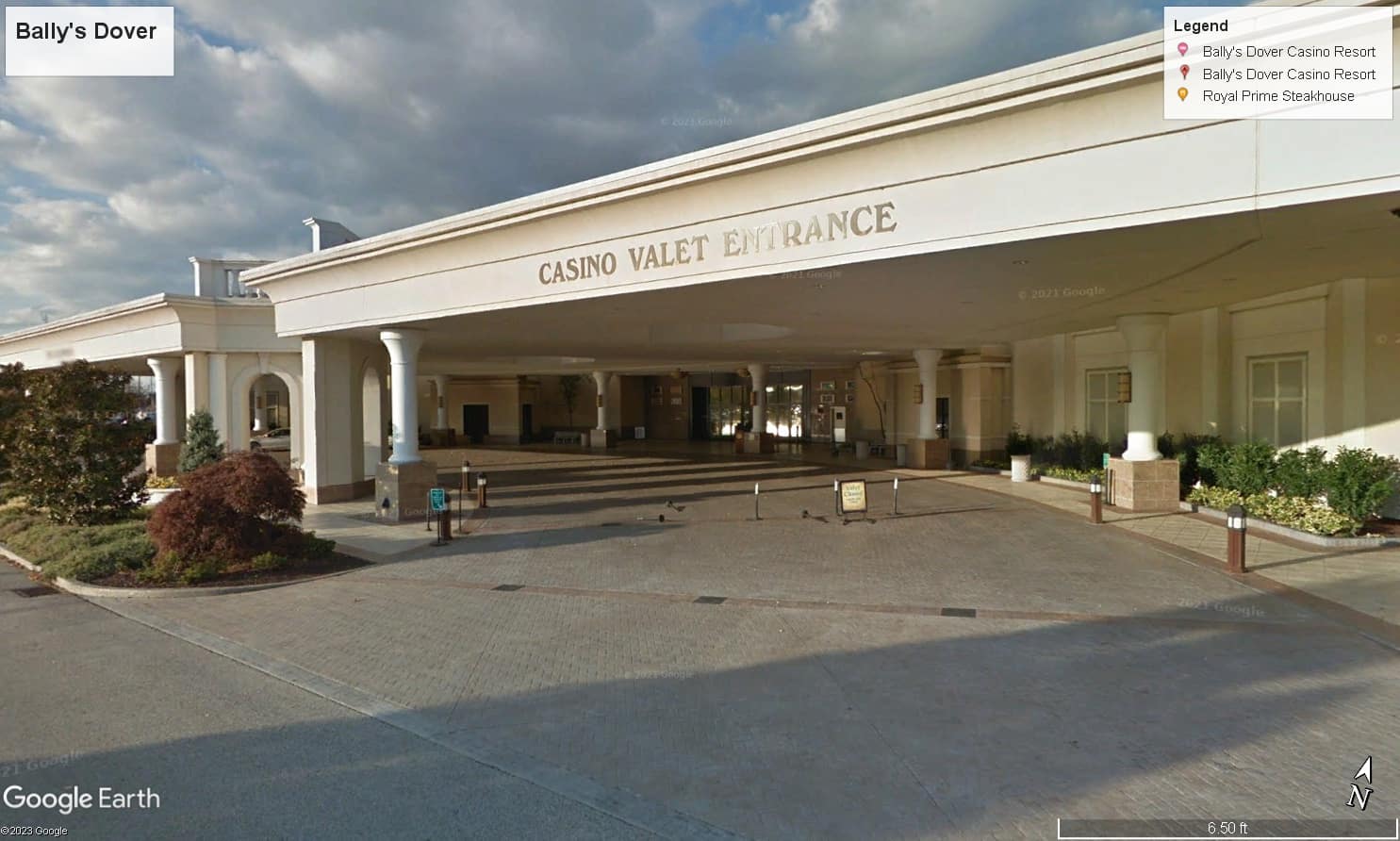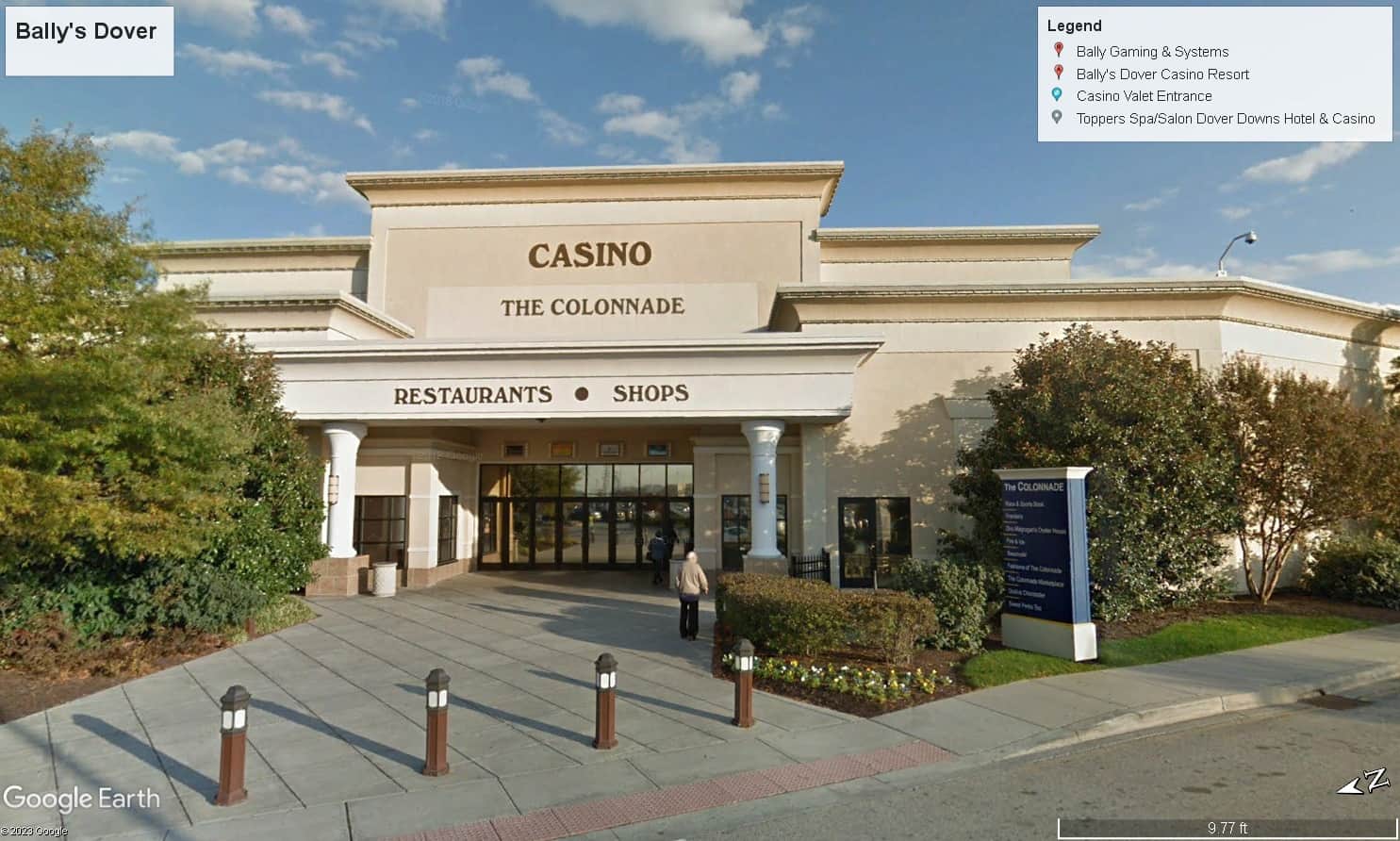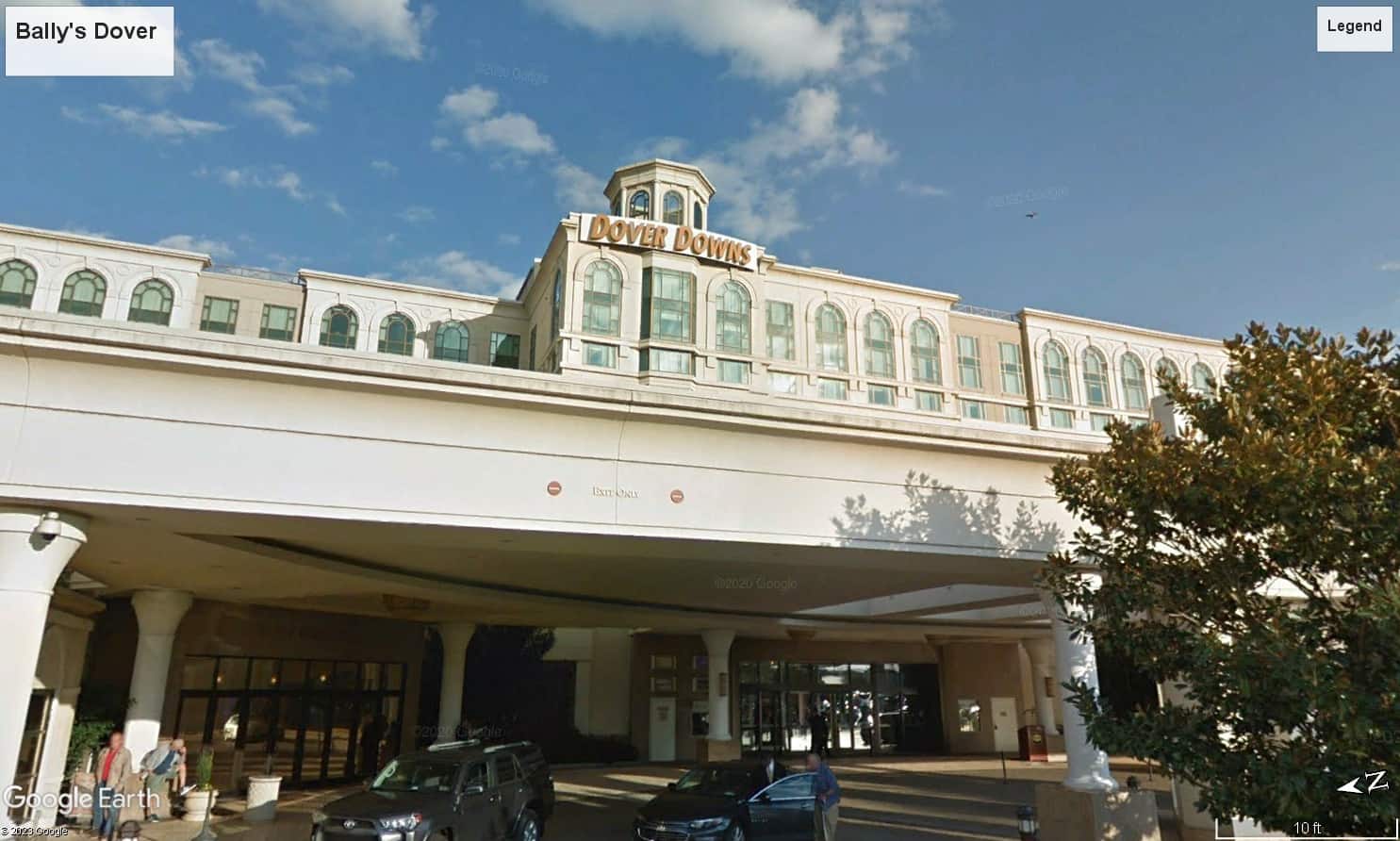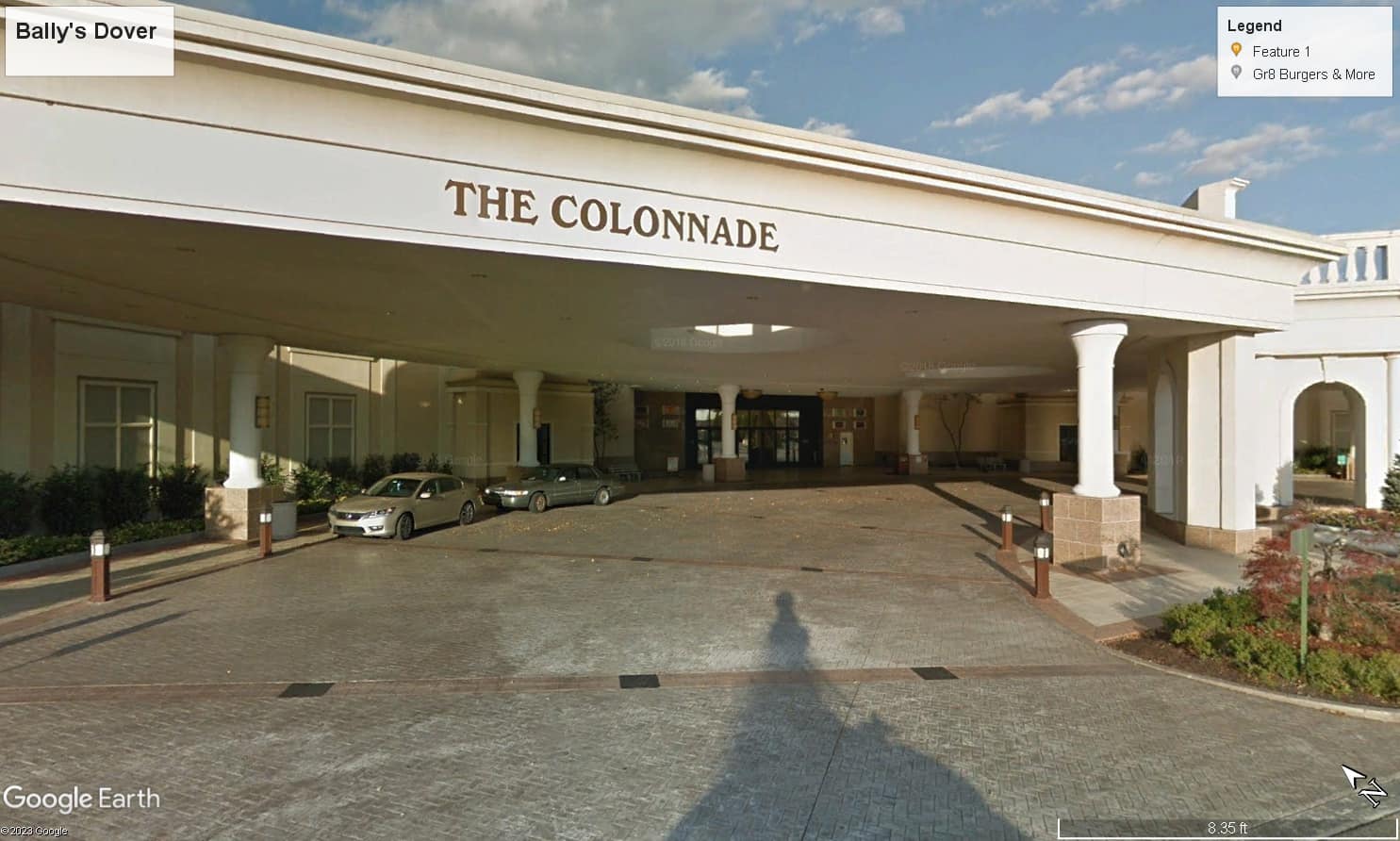 🐎 Jerry Longo's Meatballs & Martinis

Open Hours

Thursday – 4:00 am to 10:00 pm.
Friday & Saturday – 4:00 pm to 11:00 pm.
Sunday – 4:00 pm to 10:00 pm.
🐎 Macau Kitchen Express

Open Hours

Friday – 6:00 pm to 12:00 midnight.
Saturday – 6:00 pm to 12:00 midnight.
🐎 Royal Prime Steakhouse & Steakhouse Lounge

Open Hours

Wednesday & Thursday – 4:00 pm to 10:00 pm. 
Friday & Saturday – 4:00 pm to 11:00 pm.
Sunday Brunch – 10:00 am to 3:00 pm.
🐎 Sugar Factory

Open Hours

Monday to Thursday – 12:00 noon to 10:00 pm.
Friday – 12:00 noon to 12:00 midnight.
Saturday – 8:00 am to 12:00 noon.
Sunday – 8:00 am to 12:00 midnight.
🐎 Sweet Perks Too

Open Hours

Sunday to Thursday – 8:00 am to 10:00 pm.
Friday & Saturday – 8:00 am to 2:00 am.
🐎 Bally's Dover Bars

Open daily from 9:00 am to 1:00 am.
🐎 Just Breakfast

Open Hours

Monday to Friday – 8:00 am to 11:00 am.
Race Schedule and Major Events & Races
Dover Downs Race Schedule
🐎Live Racing Schedule

Its live racing is from October or November to March or April, with a racing calendar scheduled every Sunday, Wednesday, Thursday, and Saturday. 
🐴Progress Pace
🐴Matron Series
🐴2022 Delaware Standardbred Breeders Fund (DSBF)
🐴2023 Delaware Standardbred Breeders Fund (DSBF) "Overnight" Series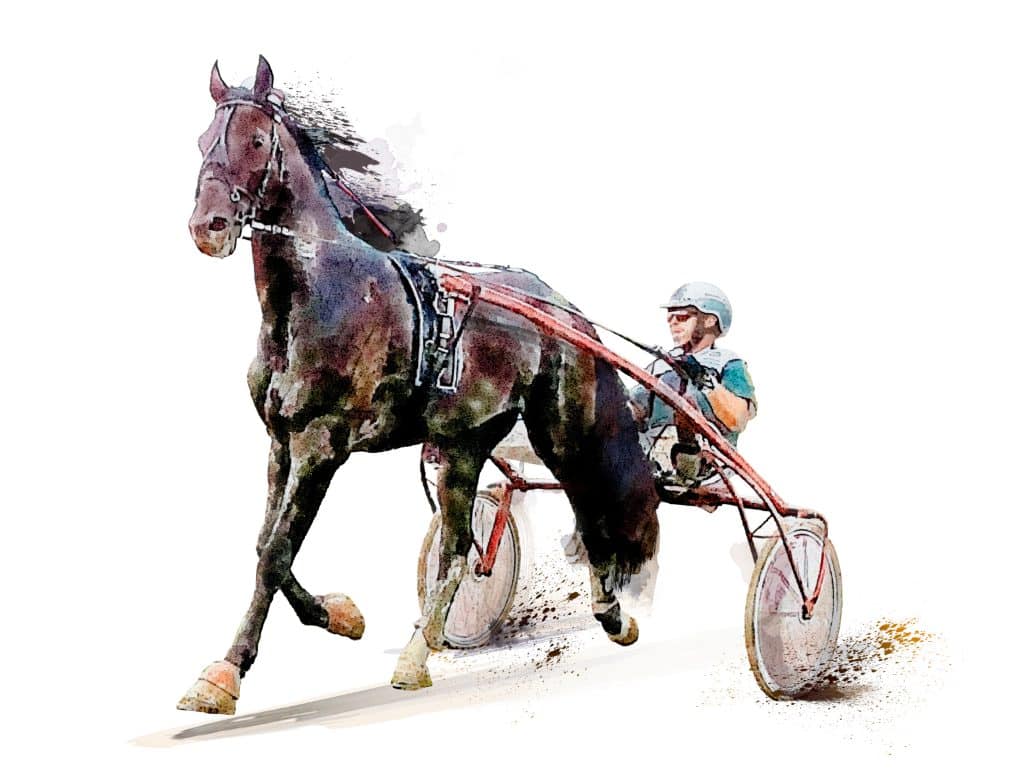 Location and Access to the Racecourse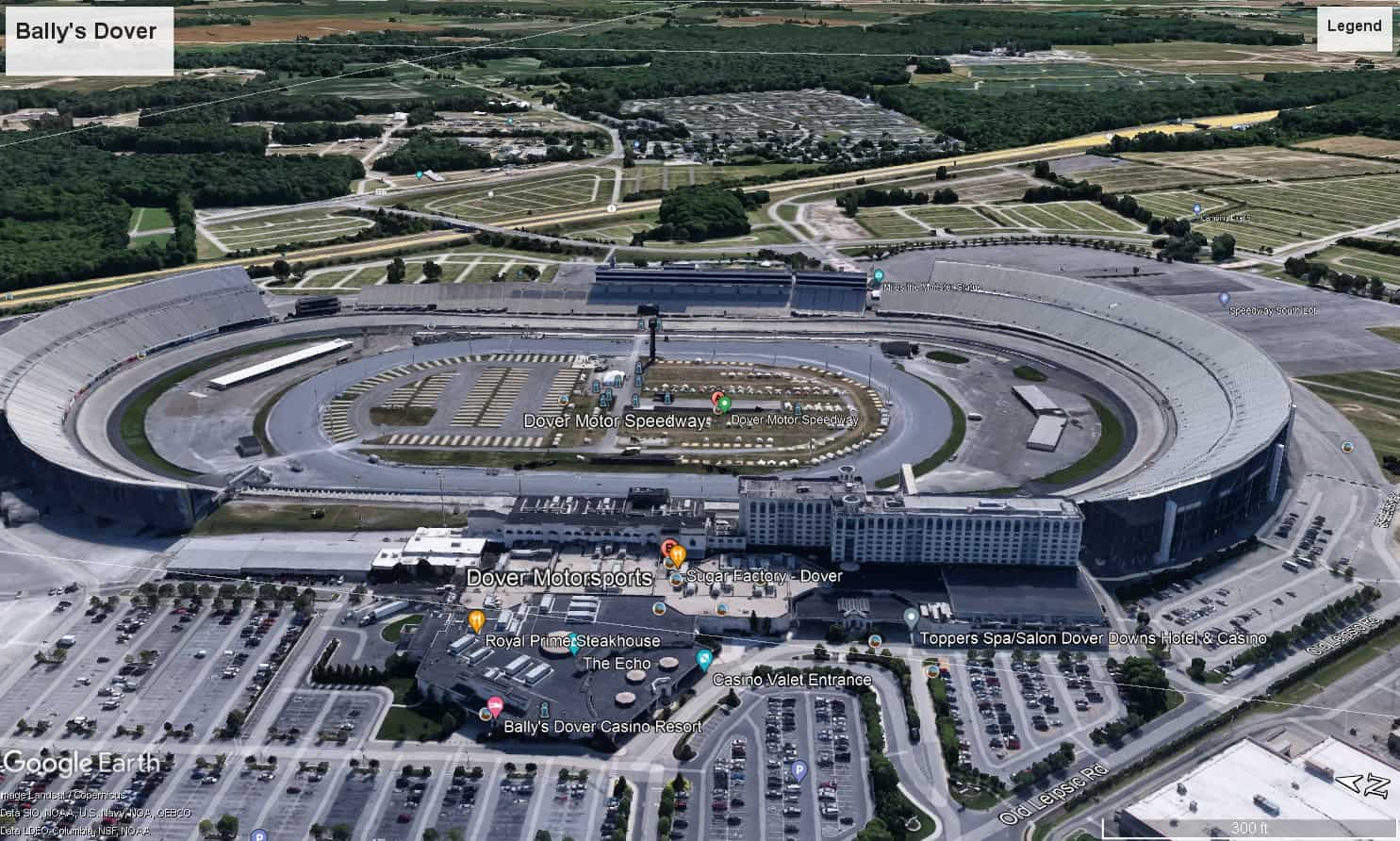 Specifically, it is located at 1131 North Dupont Highway, Dover, Delaware, now owned by Twin River Worldwide Holdings.
In Dover, turn left onto U.S. 13 North (N. DuPont Hwy.). Bally's Dover Casino Resort is approximately two miles further on the right. Dover is about 50 miles from the Bay Bridge.
Race Office Hours: Racing days – Open at 9:00 am
Dover Downs Marker: at the intersection of North Dupont Highway (U.S. 13); Entrance to Dover Downs on North Dupont Highway; and the right on a grass plot as you enter the grounds of Dover Downs.
Other racetracks are sorted and listed on the page "List of Racetracks". To view the full list, hit the button below. You can also check the horse racing types and breeds to have a lot more in-depth knowledge about horse racing. 
You can also check Dover Downs results and Dover Downs entries using our AmWager platform for FREE!
It is easy to access and fast as 1, 2, 3!
So what are you waiting for?
STOP HORSING AROUND, GET SERIOUS, GET AMWAGER !
Sign Up now for FREE and wager like a PRO with AmWager