Ellis Park Racing & Gaming
Don't forget you can wager on the races with AmWager
Wager on live horse races like a Pro with AmWager.
Simple…We are the best online wagering platform today. Real-time updates, exclusive tools, custom wagering types, player-focused design. Not using AmWager is like playing in the kiddie pool.
Powerful, fast, innovative, secure, yet easy to use! All because we value and listen to our customers.
Ellis Park Racing & Gaming
Ellis Park Racing & Gaming is a horse-racing track in Henderson, Kentucky, United States. It opened in 1922, at US Highway 41.
History of Ellis Park Racing & Gaming
1922 – Ellis Park is originally called Dade Park, established in 1922 by the Green River Jockey Club. It was first named after the famous race starter A. B. Barrett Dade, a director and one of the Green River Jockey Club organizers. Although the course was built for Thoroughbreds, its opening race was a Grand Circuit Harness met on October 19, 1922. Then on November 18, 1922, the gates opened for the first Thoroughbred meet.
1925 – After three years of operation, the Green River Jockey Club became bankrupt in 1925. In the same year, it was purchased by James C. Ellis, a Rockport businessman,  who brought many changes to the track, including adding a tote board wagering system and a terrace grandstand.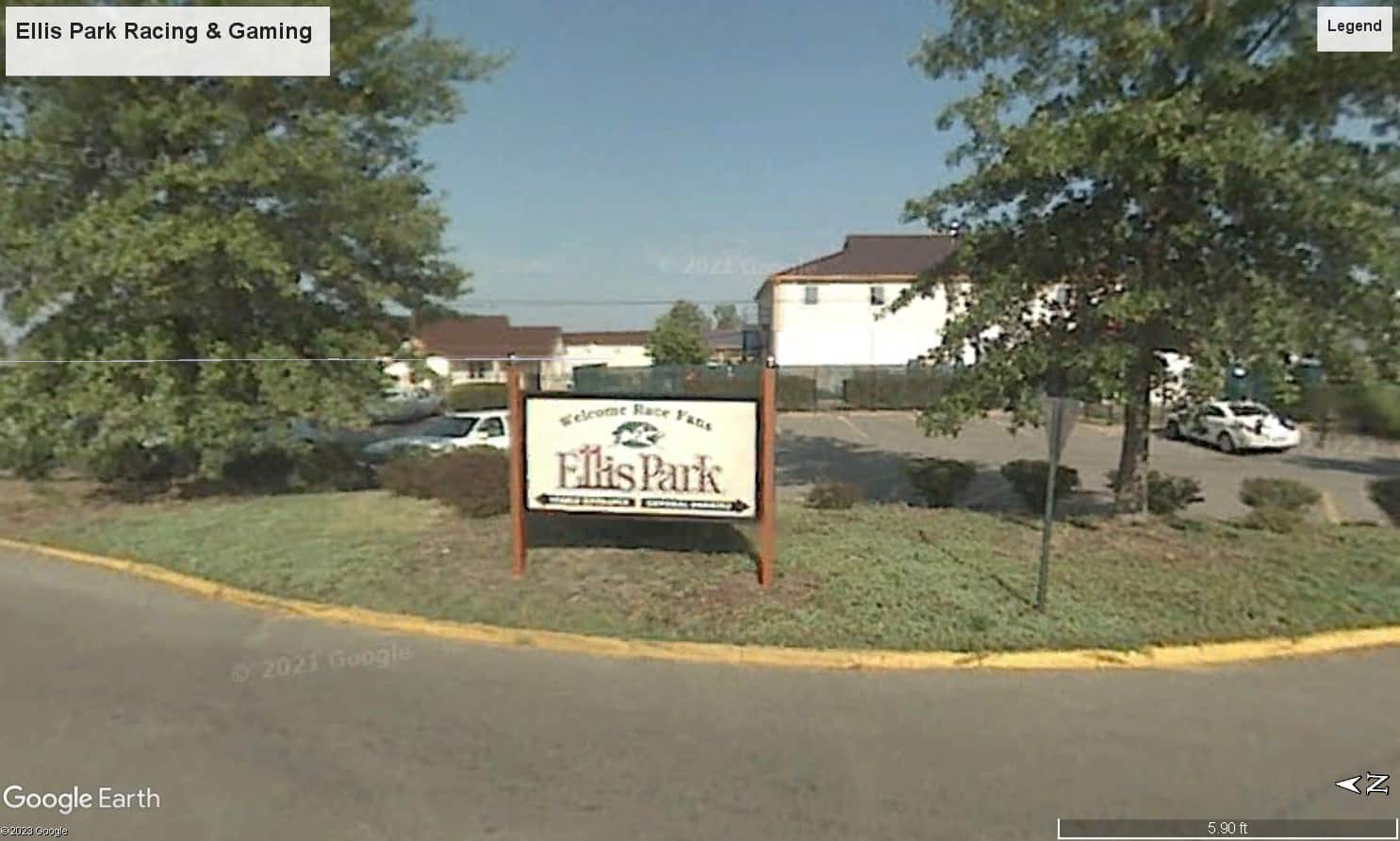 1938 – A photo-finish camera was utilized for the first time.
1940 – A mechanical starting gate was utilized at Dade Park for the first time.
1954 – It was officially changed to Ellis Park, whose name originated from the longtime owner, James C. Ellis.
1955 – The Miller Field in Owensboro was moved to Ellis to become the new Paddock Grandstand, and new box seats were added.
1956 – After James C. Ellis died in 1956, the track management was passed to Lester E. Yeager. Under Yeager's leadership, a new paddock and jockeys' quarters, clubhouse, and stable areas were constructed.
1957 – The film patrol and a detention barn for post-race testing were installed.
1960 – The new open paddock, walking ring, and jockey quarters were completed.
1962 – A new clubhouse was built to accommodate 1,000 more patrons.
In the 1960s – Lester gave the leadership to Ruth Adkins in the mid-1960s. Under Mrs. Adkin's, all attendance and pari-mutuel handle records were established. She also expanded race meets to fifty-nine days from twenty-nine days.
1972 – Ellis Park offered race replays on closed circuit television for the first time during the 39-day meet.
1981 – Sunday racing was introduced at Ellis Park.
1985 – The track was sold to Roger and Lila Kumar in April 1985. Their contribution was building the sky terrace atop the grandstand and pushing for Kentucky's inter-track wagering legislation.
1989 – Roger and Lila sold the track to the Racing Corporation of America.
1998 – The Racing Corporation of America also sold the track to Churchill Downs Incorporated.
1999 – Capital improvements were completed, including a new finish line pole, improved landscaping, a new jumbo television in the clubhouse, and new chairs in the dining rooms. Purses also rose to an all-time high under first-year Racing Secretary Ben Huffman.
2005 – A tornado destroyed northwestern Kentucky and southwestern Indiana, significantly damaging Ellis Park in November 2005. The tracks Grandstand Terrace, adjacent to the main Grandstand structure, the paddock, jockey's quarters, and infield tote board sustained heavy damages. It also devastated 11 barns in the stable area and caused light to moderate damage to several others. Three of the 158 horses on the grounds died from injuries due to the storm. However, despite the calamity, the scheduled 2006 live meet continued to operate as planned.
2006 – Ron Geary, a local Kentucky businessman, purchased Ellis Park from Churchill Downs, Incorporation in September 2006.
2007 – Ron returned the 9th edition of the Claiming Crown to Kentucky on August 4, 2007.
2019 – In the summer of 2019, Ellis Park was again purchased by Ellis Entertainment, LLC. It is a subsidiary of Laguna Development Corporation in New Mexico.
2022 – Churchill Downs Incorporated purchased the racetrack on September 26. The acquisition also includes Ellis Park's future gaming and simulcasting facility in Owensboro.
Track Details and other Facilities​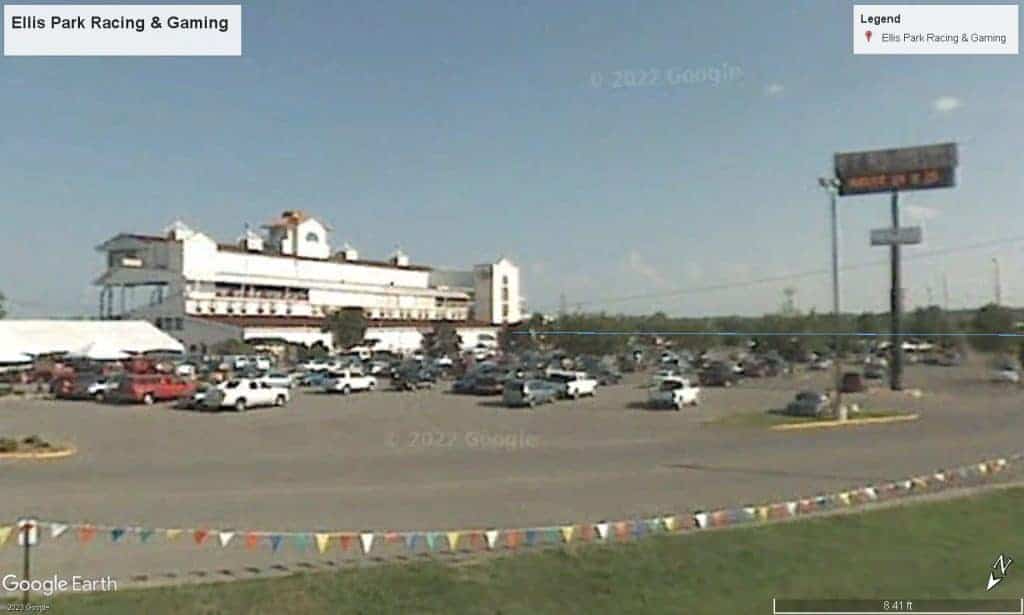 The design of the track was inspired by the Saratoga Race Coursein Saratoga Springs, New York.
It features a 1.125-mile dirt track, with chutes for seven-furlong and one-mile (1.6 km) races.
The main grandstand's 210 acres (0.85 km2) can hold up to 6,000 seats. The main course is a 1 1/8-mile oval. It can also provide stabling for up to 1,300 horses. They also offer catering and hosting services for private parties and events.
Guests can dine in Dade Park Grill.
It has a casino offering jackpots and gaming machines.
Major Events and Schedule
Grade III

🐴Groupie Doll Stakes – Ellis Park Signature race and only Graded stakes race 
🐴 Ellis Park Breeders' Cup Turf
🐴 Governor's Handicap
🐴 Tri-State Handicap
🐴 Audubon Oaks
🐴 Ellis Park Derby
Location and Access to the Racecourse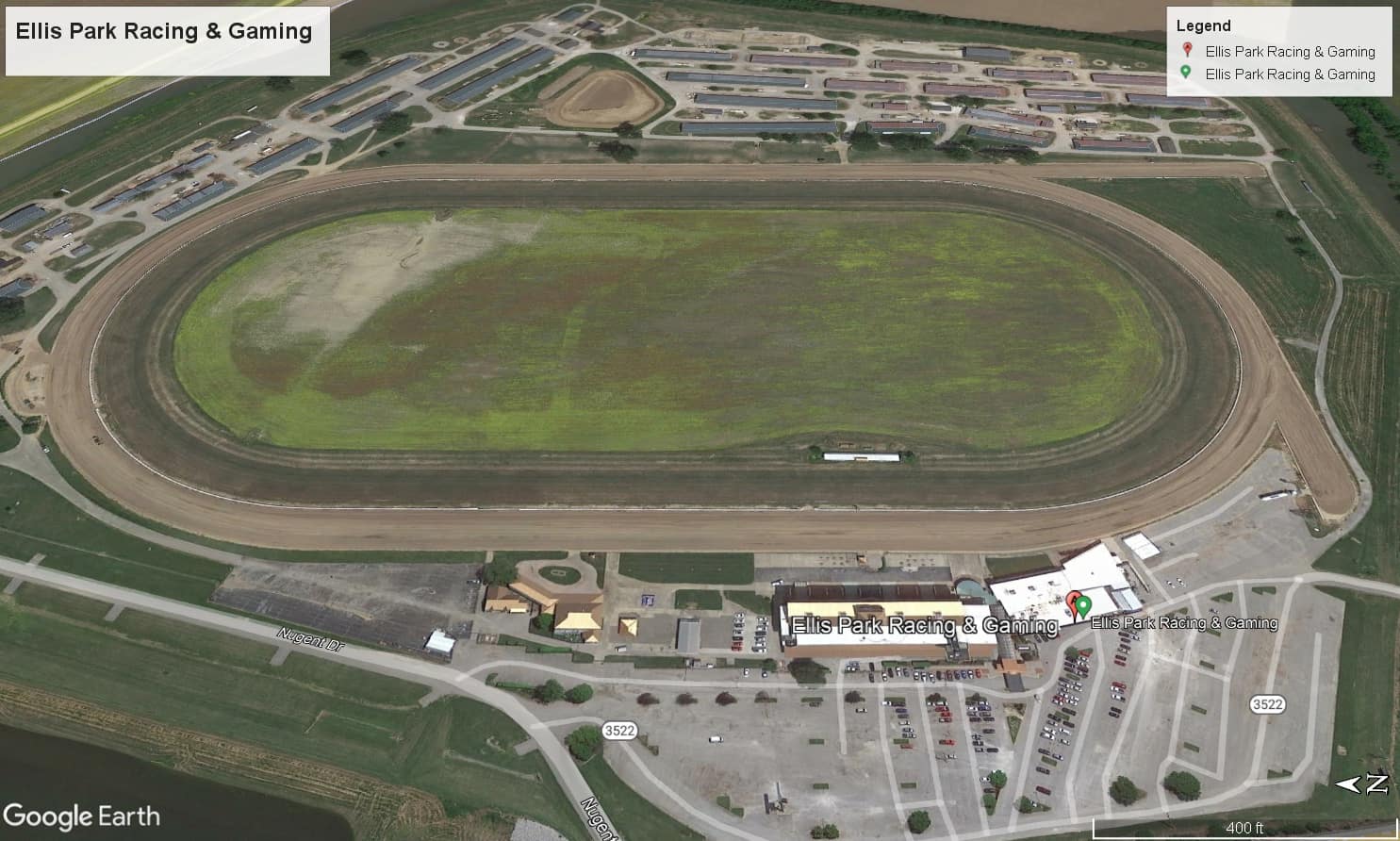 It is a thoroughbred racetrack in Henderson, Kentucky, south of Evansville, Indiana.
It is located north of the Ohio River, forming the border between Kentucky and Indiana, which would put it within Indiana. The border is based on the river's course when Kentucky became a state in 1792.
Other racetracks are sorted and listed on the page "List of Racetracks". To view the full list, hit the button below. You can also check the horse racing types and breeds to have a lot more in-depth knowledge about horse racing. 
Ellis Park Racing & Gaming
You can also check Ellis Park entries and results using our AmWager platform for FREE!
It is easy to access and fast as 1, 2, 3!
So what are you waiting for?
STOP HORSING AROUND, GET SERIOUS, GET AMWAGER !
Sign Up now for FREE and wager like a PRO with AmWager