Fairmount Park - Fanduel Sportsbook and Horse Racing
Don't forget you can wager on the races with AmWager
Wager on live horse races like a Pro with AmWager.
Simple…We are the best online wagering platform today. Real-time updates, exclusive tools, custom wagering types, player-focused design. Not using AmWager is like playing in the kiddie pool.
Powerful, fast, innovative, secure, yet easy to use! All because we value and listen to our customers.
Fairmount Park – Fanduel Sportsbook and Horse Racing
Fairmount Park is a horse-racing track in Collinsville, Illinois, United States. It opened in 1925, at Collinsville Rd.
History of Fairmount Park
1925 – On September 26, 1925, the racetrack was opened
1969 – Ogden Corporation purchased the racetrack.
1974 – Fairmount Park was the first track (mile) to run under the lights back in 1947. In the same year, Fairmount Park was destroyed by fire.
1997 – Fairmount Park racing dates declined from 232 live racing days to 90 days per year on Tuesdays, Fridays, and Saturdays.
1999 – Standardbred harness racing ceased to continue.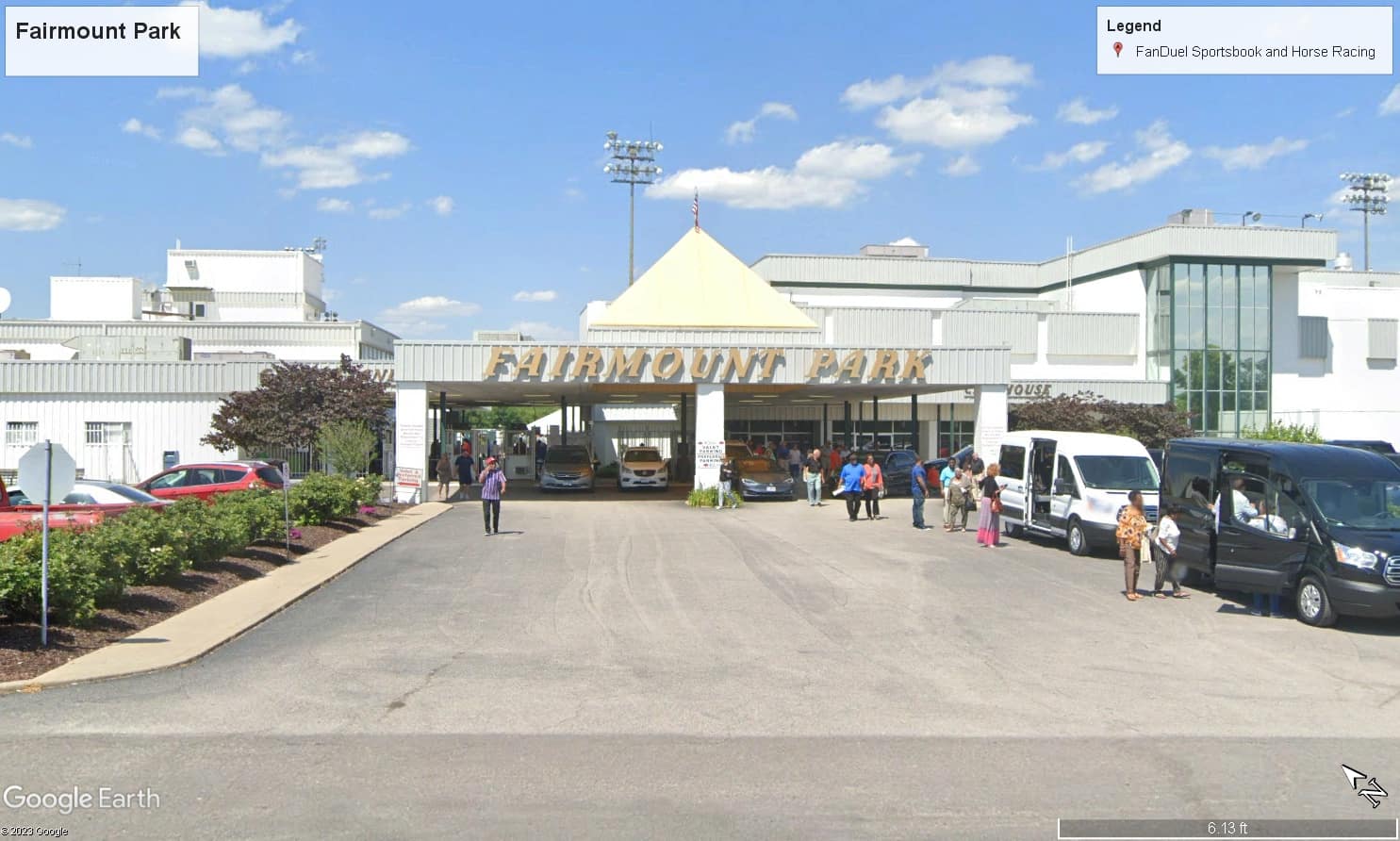 2000 – The racetrack was sold to Bill Stiritz. He is the chairman of Ralston Purina Co. and the principal owner of St. Louis Park Ltd. He owned 95 percent in liability, while the remaining 5 percent was purchased by Brian Zander, Fairmount's current vice president and general manager.
2007 – Announced a plan to build a 20,000-seat amphitheater at the track. When the legislature did not approve slots in its regular session, Fairmount management applied to the Illinois Racing Board for 90 days of live racing but said that if lawmakers did not approve relief for horse tracks in its November veto session, the track would only run 60 days, citing declining attendance and betting handle, competition from casinos, and overpayment of the horsemen's account for purses.
2011 – Fairmount Park continued to run live racing and simulcasting, with no sign of legalized racinos in Illinois. The management also announced that Fairmount Park would be back in 2012.
2012 – Racing returned in the racetrack.
2014 – The 2014 season started at the end of April with race days on Tuesday and Saturday, with an increase to 3 days per week in the summer for what is expected to be a 90-day season.
2020 – The partnership with the New York-based online sports betting company FanDuel Group and Fairmount Park made it known as FanDuel Sportsbook and Horse Racing.
2023 – It completed a $700,000 renovation project which includes a kitchen and lounge, a wellness center, and new offices for the group representing horse owners and trainers at the facility.
It is one of three remaining horse racing tracks active in Illinois and the only one outside the Chicago, Illinois, metro area.
Track Details and Other Facilities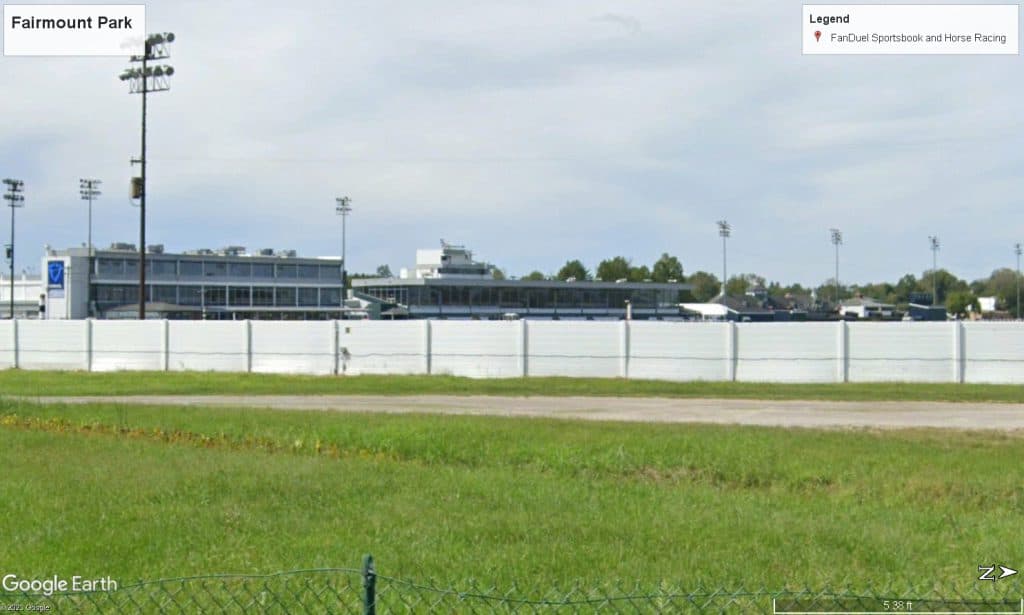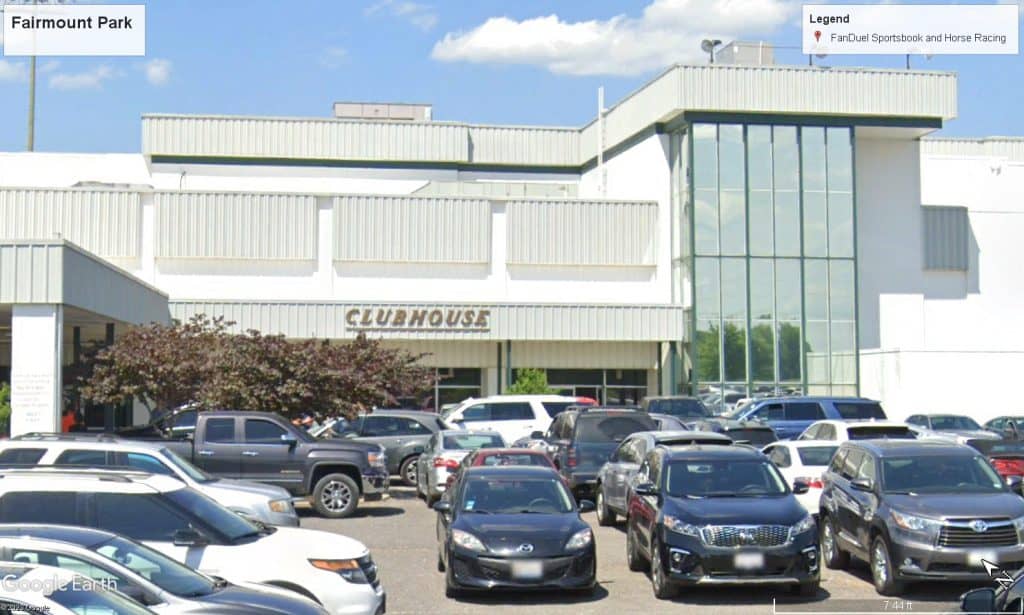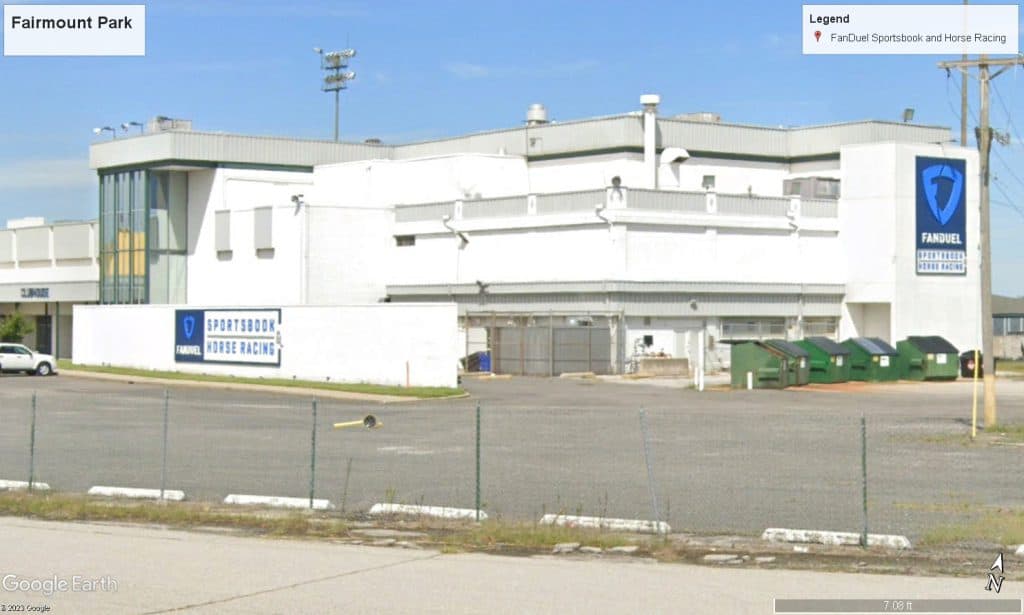 🐎Stable

There are 1,080 stalls and 22 barns.

🐎Grandstand

Seating on the grandstand for 2,198 people.

🐎Amenities

Space (Outdoor), Space (Private), has accessible wheelchairs, alcohol is also available, and catering.
🐎Top of the Turf

It offers a private TV set to zoom races.
It is located on the third floor of the Clubhouse.
It costs $2 to enter on the weekend, and a track view table has a minimum order of $8 per person.
Open Hours

Tuesday and Saturday – 11:00 am until close.
Friday – 6:00 pm until close.
🐎Black Stallion Room

It is located on the second floor of the Clubhouse.
$20 for dinner
Open Hours

Tuesday – 11:30 am to 2:30 pm.
Friday – 6:00 pm until close.
Saturday – 6:00 pm to 9:00 pm.
🐎First Turn Café

It offers a casual dining atmosphere and a traditional, contemporary café with booths, tables, a salad bar, and a wall of personal monitors for watching the race info.
It is located on the first floor of the Clubhouse.
🐎Paddock Grill & Picnic Area

It offers a Philly steak sandwich, potato salad, or cole slaw for $6.
A hot dog, brat, or barbecue hamburger with one side for $5.00
Race Schedule and Major Events & Races​
🐎

Live Racing Schedule

Hosts Thoroughbred flat racing and featured Standardbred harness racing.
Horse racing is from April until November.

Tuesdays – 1:00 pm.
Saturdays – 7:30 pm.

Features a Junior Jockey Club, a free program for children 13 years old or under that focuses on learning about Fairmount Park and horse racing in general.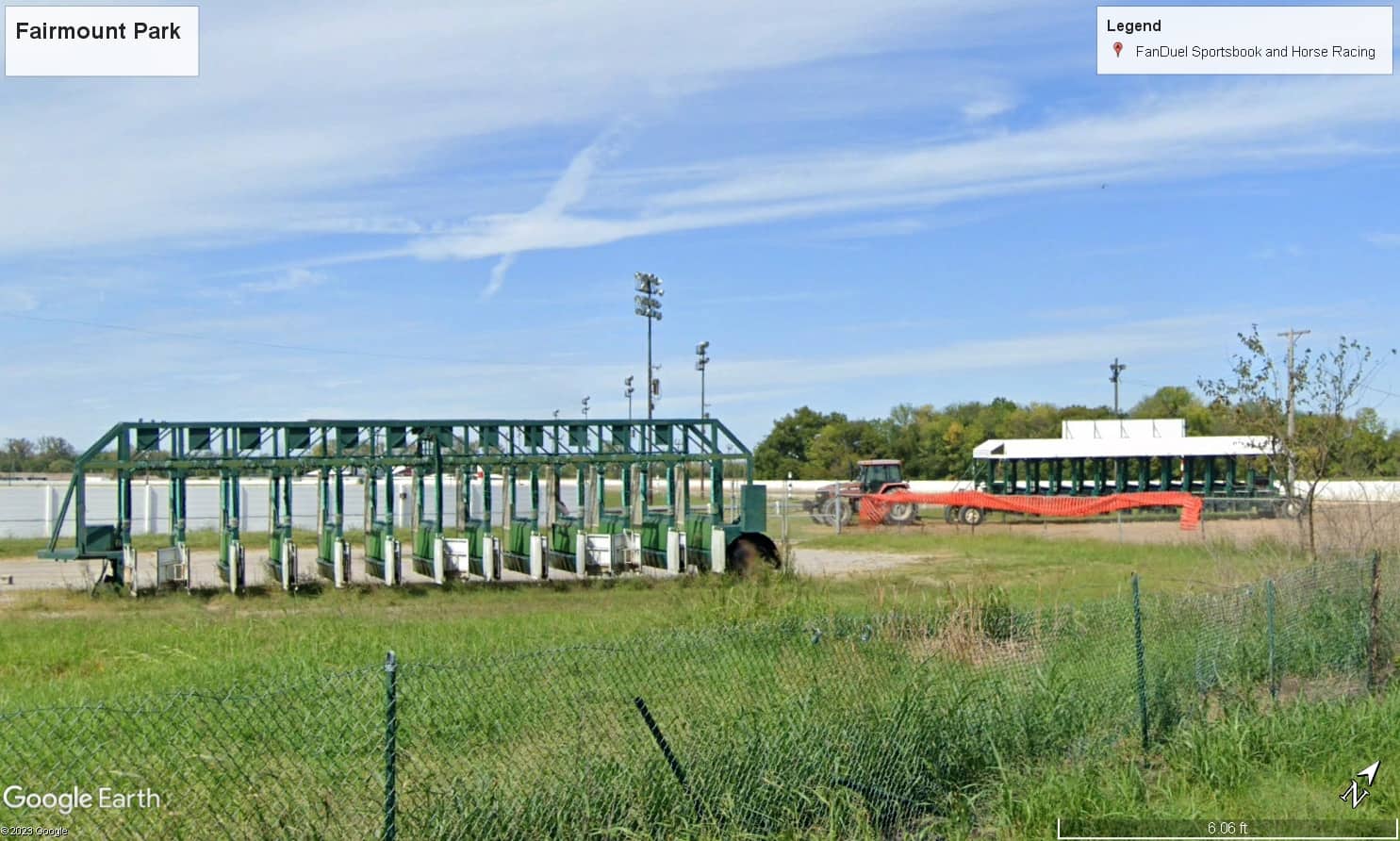 Location and Access to the Racecourse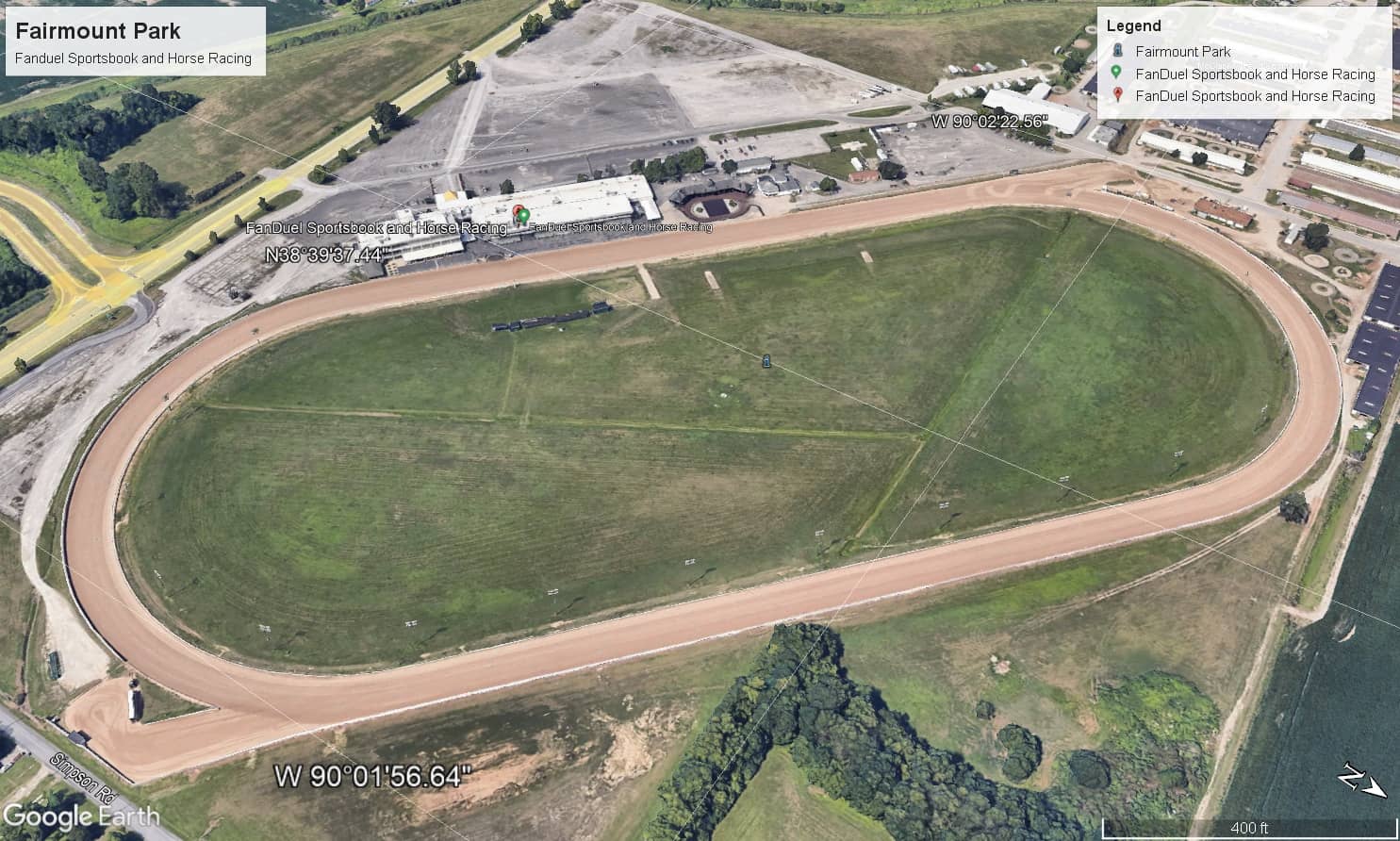 Fairmount Park Racetrack is located at 9301 Collinsville Road in Collinsville, Illinois, near Saint Louis, and part of the St. Louis metropolitan area
Price for Admission

$1.50 to get in on Tuesdays.
$2.50 on weekends.
Parking is free.
Other racetracks are sorted and listed on the page "List of Racetracks". To view the full list, hit the button below. You can also check the horse racing types and breeds to have a lot more in-depth knowledge about horse racing. 
You can also check Keeneland race results and Keeneland race entries using our AmWager platform for FREE!
It is easy to access and fast as 1, 2, 3!
So what are you waiting for?
STOP HORSING AROUND, GET SERIOUS, GET AMWAGER !
Sign Up now for FREE and wager like a PRO with AmWager