Don't forget you can wager on the races with AmWager
Wager on live horse races like a Pro with AmWager.
Simple…We are the best online wagering platform today. Real-time updates, exclusive tools, custom wagering types, player-focused design. Not using AmWager is like playing in the kiddie pool.
Powerful, fast, innovative, secure, yet easy to use! All because we value and listen to our customers.
Fonner Park
Fonner Park is a horse-racing track in Grand Island, Nebraska, United States. It opened in 1954, at the Stolley Park Rd.
1953 – The Hall County Livestock Improvement Association purchased the site in April 1953. It was originally purchased to make it a permanent home for the Hall County Fair. Its name originated after August L. "Gus" Fonner, its original landowner. This same group of businessmen planned to build a racetrack and grandstand facility shortly.
1954 – First year of live thoroughbred horse racing with thirteen days of racing was held. Before its inaugural season (April 29, 1954), its first livestock exhibition in September was The Old Reliable Hereford Show and Sale. On April 29, 1954, it opened for pari-mutuel racing in Grand Isle.
1956 – Al Swihart was appointed as General Manager of Fonner Park in January.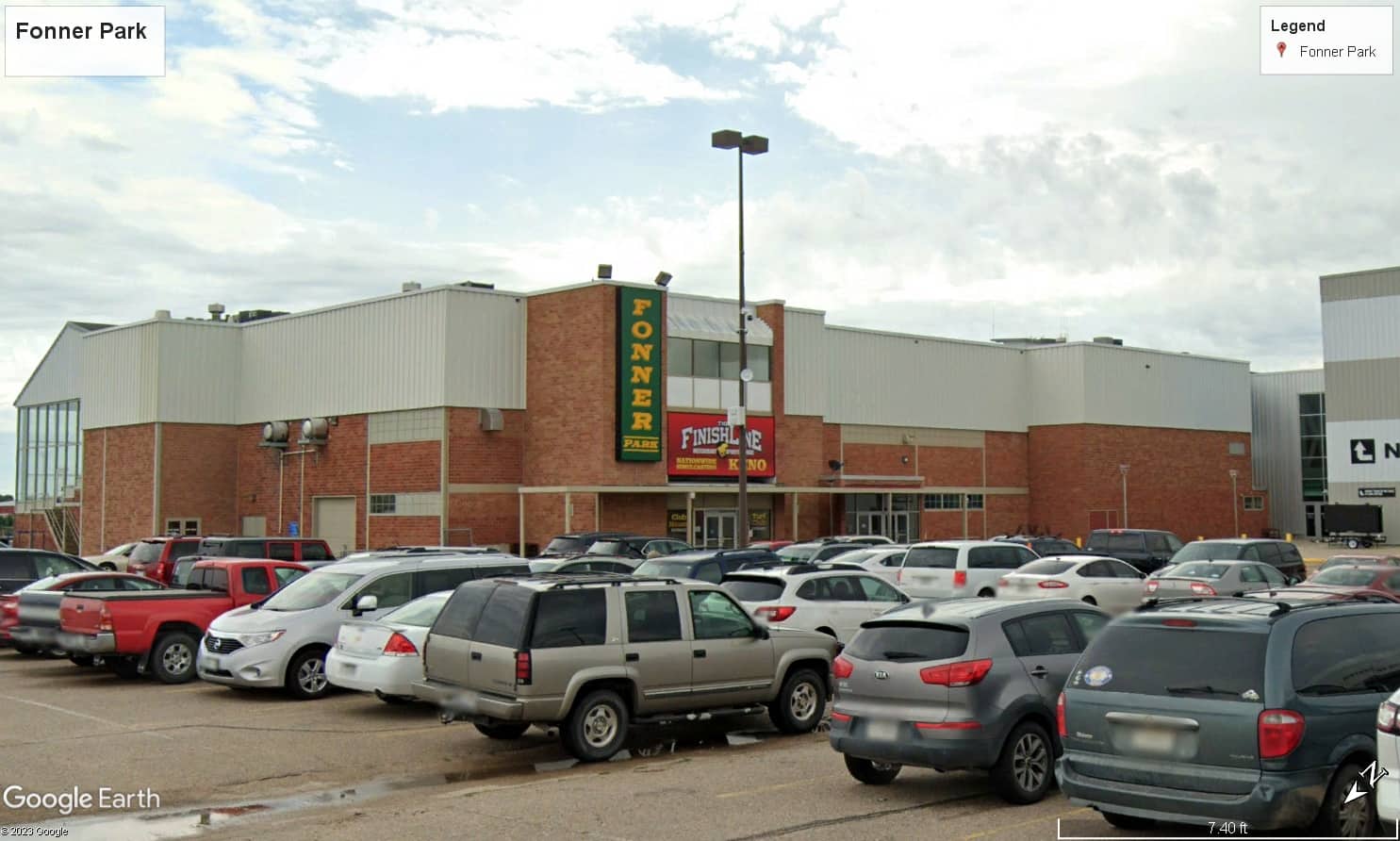 1958 – In March, a new concourse, main entrance, canopy, and enclosing the grandstand with glass was completed.
1959 – Gus Fonner passed away.
1962 – A mezzanine was added to the grandstand.
1962 to 1968 – The seven additional barns were constructed.
1965 – 100 ft. was added to the south end of the grandstand. I extended the grandstand and added a new paddock, jockey's quarters, first aid station, general offices, and inside rail.
1966 – New paddocks, jockey quarters, and general offices were added.
1970 – Big Red Barn was built, followed by a clubhouse, grandstand seating, an indoor quarter-mile training track, and other amenities.
1972 – Fonner Park Clubhouse was added – the first in the State.
1975 – An electronic tote board was added.
1976 – Completed Clubhouse addition and new third-level Skyline addition.
1978 – In February, Fonner Park celebrated its 25th anniversary. In November, Sunday racing was sought. Senator Ralph Kelly and the ministers of Grand Island led a petition drive against it. Trinity United Methodist Church was against Sunday racing. Al Swihart promised to print a page in the Saturday racing form of all Grand Island churches, their times of worship services, and addresses.
1979 – In March 1979, Fonner Park started to have Sunday races for the first time. Mr. and Mrs. B.L. Thompson donated $100,000 toward the building of Thompson 4-H Arena. Fonner traded Tuesday racing for Sunday and added 1,543 new box and grandstand seats.
1980 – In April, the jockeys walk out on operations because of the "unfit" track surface. While on May, the Grand Island voters rejected the continuation of Sunday racing by a vote of 4,183 against 3,079. In October, Hall County Livestock Improvement Association filed a lawsuit claiming the City's right to vote on Sunday racing issue was unconstitutional. Lancaster Co. District Court Judge William Blue ruled in favor of the state law allowing cities to prohibit Sunday racing by-elections. Fonner Park had no immediate plans to appeal.
1981 – In February, customers were introduced to a new form of wagering. The Legislature passed LB 136, which changed the State's Sunday racing law. A countywide vote can now be held to determine the future of Sunday racing. In April, Fonner reached its first $1,000,000 mutuel handle in a day.
1982 – In July, Fonner Park tentatively planned to build onto the clubhouse, providing seating for 370 more spectators.
1983 – The upper level of the clubhouse was added. In February, Al Swihart, General Manager, passed away. In March, Hugh Miner, Jr., was appointed General Manager of Fonner Park. In November, Construction began on the 4-H Building and Cafe.
1984 – In January, the New 4-H Building and Cafe was completed. The Concourse mural was completed in the following Month (February).
1985 – 1/2 mile training track and the 180 Stall Barn "R" were established. In December, Fonner Park introduces trifecta wagering.
1986 – The New racing office complex was constructed. In July, Fonner Park planted 250 trees, installed a two-railed white fence around the property border, and completed the new office building. Over 400 people gathered at Fonner Park to pick up petitions in August. 1,891 signatures are needed by September 1 to put on the election ballot. 7,000 signatures were collected to put the issue of Sunday racing at Fonner Park on the November ballot. While on October, The Grand Island Ministerial Alliance came out against Sunday racing.
1987 – A new four-lane driveway was added to Fonner Park via South Locust Street.
1988 – A new Turf Club started to construct. In February, Nationwide simulcasting became available at Fonner Park. Fonner Park hosts 362 days of simulcasting each year. In May, Fonner added a new Fontana Safety Rail with "gooseneck" uprights, resurfaced the track, and banked the turns. Added the Fonner Park "message center" on South Locust. 
1989 – In March, the Turf Club opened.
1991 – New General Offices and an Executive suite were completed.
1992 – In December, Fonner was designated to operate the Hall County Keno lottery.
1993 – Fonner Keno and Simulcasting Center were added.
1994 – In February, Barn "K" was tragically burned down. Thirty-five thoroughbred racehorses and one pony died in the fire.
1995 – In March, Horse owners filed $610,000 worth of fire claims. In July, Fonner Park changed from a "stockholder" organization to a "membership" organization. In October, Fonner explored expanding gaming options.
2002 – Emma (Fonner) Corey passed away.
2004 – On December 10, construction began on the Heartland Events Center.
2006 – In August, Heartland Events Center opened with the first concerts for the Hall County Fair.
2009 – In July, the construction of over a half million square feet of buildings commenced in preparation for the relocation of the Nebraska State Fair from Lincoln. The Fonner Park soccer fields were relocated to land in north Grand Island near the Nebraska Veterans Home.
2006 – The Fonner Park Exposition and Events Center, Inc. d/b/a the Heartland Events Center opened its doors at Fonner Park, providing a 6,000-seat arena with an attached 8,000 sq. ft. conference center.
2010 – In August, the Nebraska State Fair relocated to Grand Island from Lincoln. The NSF takes possession of the Fonner Park grounds for 60 days each year, and Fonner Park becomes Nebraska State Fair Park. The fair lasts eleven days, starting in late August and ending on Labor Day each year. Fonner Park owns the property and is responsible for the upkeep of all buildings.
2012 – In June, a partnership between Fonner Park, the Nebraska State Fair, and Five Points Bank was formed to rename the Livestock Arena to the Five Points Bank Arena.
2013 – Construction began in May in the Nebraska Building/Nebraska State Fair offices. In July, a partnership between Fonner Park, the Nebraska State Fair, and Pinnacle Bank was formed to rename the Expo Center to the Pinnacle Bank Expo Center.
2014 – The Nebraska Building was opened.
2015 – In March, four community partners, including Fonner Park, the Nebraska State Fair, the Grand Island Chamber of Commerce, and the Grand Island/Hall County Convention and Visitors Bureau, joined together to create the Grand Island Livestock Complex Authority (GILCA). It is an organization to market and promote the year-round use of the State Fair livestock buildings at Fonner Park. In June, Hugh Miner, Jr., retires after 45 years of service. July welcomes Bruce Swihart to become the new CEO of Fonner Park.
2016 – A herpes virus outbreak on April 17 defined Fonner Park's live race meet. The Thompson Arenas were upgraded with assistance from the Nebraska State Fair Foundation and renamed Thompson Foods Outdoor Arena. In October, the existing Fonner Park sign on Stolley Park Road was replaced with an updated one for Fonner Park, Heartland Events Center, and Nebraska State Fair.
2017 – Notable new events at Fonner Park include Rodeo Grand Island and SkillsUSA. The existing Director's Room was renovated and renamed the Triple Crown Room. New signs were placed in the infield recognizing yearly corporate sponsors. The Aksarben Stock Show, Quiz Bowl, and Purple Ribbon Auction held their first annual events at Fonner Park. Issues escalated with the HBPA and NE Thoroughbred Breeders, and legal counsel was retained.
2018 – In February, a partnership between Fonner Park, the Nebraska State Fair, and Aurora Cooperative was formed to rename the Swine Arena to the Aurora Cooperative Pavilion. A partnership between Fonner Park, the Nebraska State Fair, and Tom Dinsdale Automotive was also formed to rename the Cattle Barn to the Tom Dinsdale Automotive Cattle Barn. Moreover, major sanitary sewer line repairs were completed at the direction of the City of GI in the same year. An equine warm-up arena was constructed west of the Aurora Coop Pavilion. April 19 marked the untimely death of Todd Otto, a long-time employee of Fonner Park.
2019 – An area in the Skyline was upgraded with bar service, lighting, pub tables, and chairs and was renamed the Skyline Pub. Fonner lost one weekend of racing in March for the first time due to inclement weather. On April 7, a new record attendance of 11,000+ was hit. Ostrich and camel races were held for the first time. Bruce Swihart, CEO of Fonner Park and the Heartland Events Center retires on July 31 after 43 years of service. Chris Kotulak was named CEO of Fonner Park and the Heartland Events Center on August 1.
2020 – On March 16, 2020, live racing at Fonner Park was suspended due to health and safety concerns related to the COVID-19 pandemic. However, it is one of the few tracks that continued to operate behind closed doors. They resumed their operation on March 23, with races moving from weekends to a Monday–Wednesday schedule, with only essential personnel at the track and additional safety protocols. On April 22, the Nebraska Racing Commission approved the addition of 12 additional days of racing in May, extending Fonner Park's season through May 27, 2020. On November 3, 2020, Nebraska voters overwhelmingly approved casino gaming by passing three separate ballot initiatives to allow games of chance in the State. The legislation limits games of chance to occur only at licensed racetrack enclosures.
Originally, it was built as a permanent home for the county fairgrounds. Whenever the fair was not operating, it was utilized for other activities and events.
Track Details and Other Facilities
🐎

Stable

The stables can house 1,600 horses.

🐎

Parking Space and Seats

The parking lot can capacitate 5,000 cars.
The seating capacity for horse racing is 5,800.
🐎

RV PARK

It was built in conjunction with the arrival of the Nebraska State Fair in 2010.
The RV Park is open to vendors and carnival staff during the State Fair.
🐎

The Eihusen Arena

Surrounded by break-out/meeting rooms, team locker rooms, and dressing rooms.
The hi-def Daktronics scoreboard and digital video boards offer all the technical equipment for sporting events and tournaments.
Twelve leased Suites overlook the Eihusen Arena in addition to four concession stands.
Capacity: 30,000 sq. ft. of floor space, 6,000 seats (permanent seating), and 1,500 optional seats on the arena floor.
🐎

The Bosselman Conference Center

Offers a professional setting for business and educational meetings, training, conferences, wedding receptions, and large organizational banquets.
Capacity:

Theatre Style – 100 per room
Classroom Style – 70 per room (6'x18″ tables with 4 chairs each)
Banquet Style – 72 per room (60″ round tables with 8 chairs each)
Grand Island Casino Resort
🐎

Casino

It measures a 37,000 square foot gaming floor.
It features 650 slot machines, 20 table games, and a sports book.
Approximately 300 of the latest slot machines.
Electronic Roulette, Blackjack, and Baccarat (Live table games coming soon).

🐎

16-room boutique hotel

It offers standard King and Queen rooms, including ADA-accessible rooms.
The rooms overlook the Fonner Park race track.

🐎

Snack Bar

It offers hot and cold quick bites and beverages.
Beer on tap and full bar are also available.
No Alcohol Sales after 1:00 am daily.
Open Hours

Sunday to Thursday – 8:00 am to 12:00 midnight.
Friday to Saturday – 8:00 am to 1:00 am

🐎

Ruthie's Steak and Seafood

It offers a rooftop dining experience and a grab-and-go option.

🐎

Show Lounge

It features entertainment and TV's around the casino bar.

🐎

Spa

Offering massage, salon services, manicures and pedicures, saunas, ice rooms, and comfortable lounge rooms.
Livestock and Expo Buildings
🐎

Five Points Bank Arena

Hosting National Livestock events, this premier arena with state-of-the-art audio and video systems.
Bleacher seating for 2,200

🐎

Pinnacle Bank Expo Center

Provides 100,000 square feet (224′ x 450′) of exhibition space.
It is a climate-controlled facility with over 270-20 amp drop-down electrical outlets, concrete flooring, and multiple overhead doors.
Best suited for trade shows, conventions, and large banquets.
 

🐎

Tom Dinsdale Automotive Cattle Barn

Attached to the Five Points Bank Arena, offers Rock Bottom Tie Stalls for up to 1,350 head of cattle.
An outdoor tie-out area is adjacent to the facility's backside.
Stalls: Rock Bottom Tie Stalls for 1,350 head cattle

🐎

Sheep Barn

Attached to the Five Points Bank Arena, offers the flexibility of small animal pens, cattle ties, and poultry cages.
This Sheep Barn houses Draft Horses, Sheep, Goats, Poultry, and Rabbits during the Nebraska State Fair.
Pens: 1,600+ small animals.
🐎

Aurora Cooperative Pavilion- Barn & Arena

One of the most versatile facilities on the Fonner Park Campus.
During the Nebraska State Fair, this facility was utilized for Swine and Alpaca/Llama shows.
The other ten months of the year, it became multi-functional. Wedding receptions, fundraisers, cattle sales, large implement training, liquidation sales, teen dances, craft shows, and an unlimited list of other events continue to be attracted to this space.

🐎

US Foods Outdoor Arena & Thompson Foods Horse Arena (Indoor)

The finest Equine Center in central Nebraska.
The Fonner Park State 4-H Horse Show is held yearly in Grand Island.
750 Bleacher Seats (permanent) – US Foods Outdoor Arena
1200 Bleachers (permanent-metal) – Thompson Foods Horse Arena

🐎

Nebraska Building

It is located on the Fonner Park Campus.
The Nebraska State Fair takes possession of the Fonner Park Campus each August and September to set up and host the 11-day Nebraska State Fair before cleaning up and returning the property to Fonner Park.
Open Hours

Monday to Friday – 9:00 am to 12:00 pm and 1:00 pm to 5:00 pm.

🐎

Grand Island Community Fieldhouse

Gra r nd Island's most popular fall and winter hangout.
The Fieldhouse is 70,000 square feet.
Inside are batting cages, turf sports fields, basketball courts, volleyball courts, pickleball courts, meeting rooms, and a playground for young children.
Race Schedule and Major Events & Races​
Fonner Park Race Schedule
🐎

Live Racing Schedule

Features Thoroughbred Horse Racing
The racing season starts from Mid-February through early May.
🐴Craft Shows
🐴Family activities
🐴Recreational shows and giveawaysz
🐴Bosselman/Pump and  Pantry Gus Fonner Stakes.
🐴

The Grasmick Stakes

🐴

The Bold Accent Stakes

🐴

The Ogataul Stakes

🐴

The Orphan Kist Stakes

🐴

The Budweiser-Tondi Stakes

🐴

The Pepsi Stakes

🐴

The Baxter Stakes

🐴

The Runza Stakes
🐴

The Dowd Mile Stakes

🐴

The Fonner Park Special Stakes

🐴

The Bosselman/Pump and Pantry Gus Fonner Stakes

🐴

The Al Swihart Memorial Stakes

🐴

The Coors Starter Allowance

🐴

The Nebraska HBPA Stallion Stakes

🐴

The Kemling Family Stakes
🐴The Buzz Bar Stakes
🐴Diamond Joe Stakes
🐴The Spice Swirl Stakes
Location and Access to the Racecourse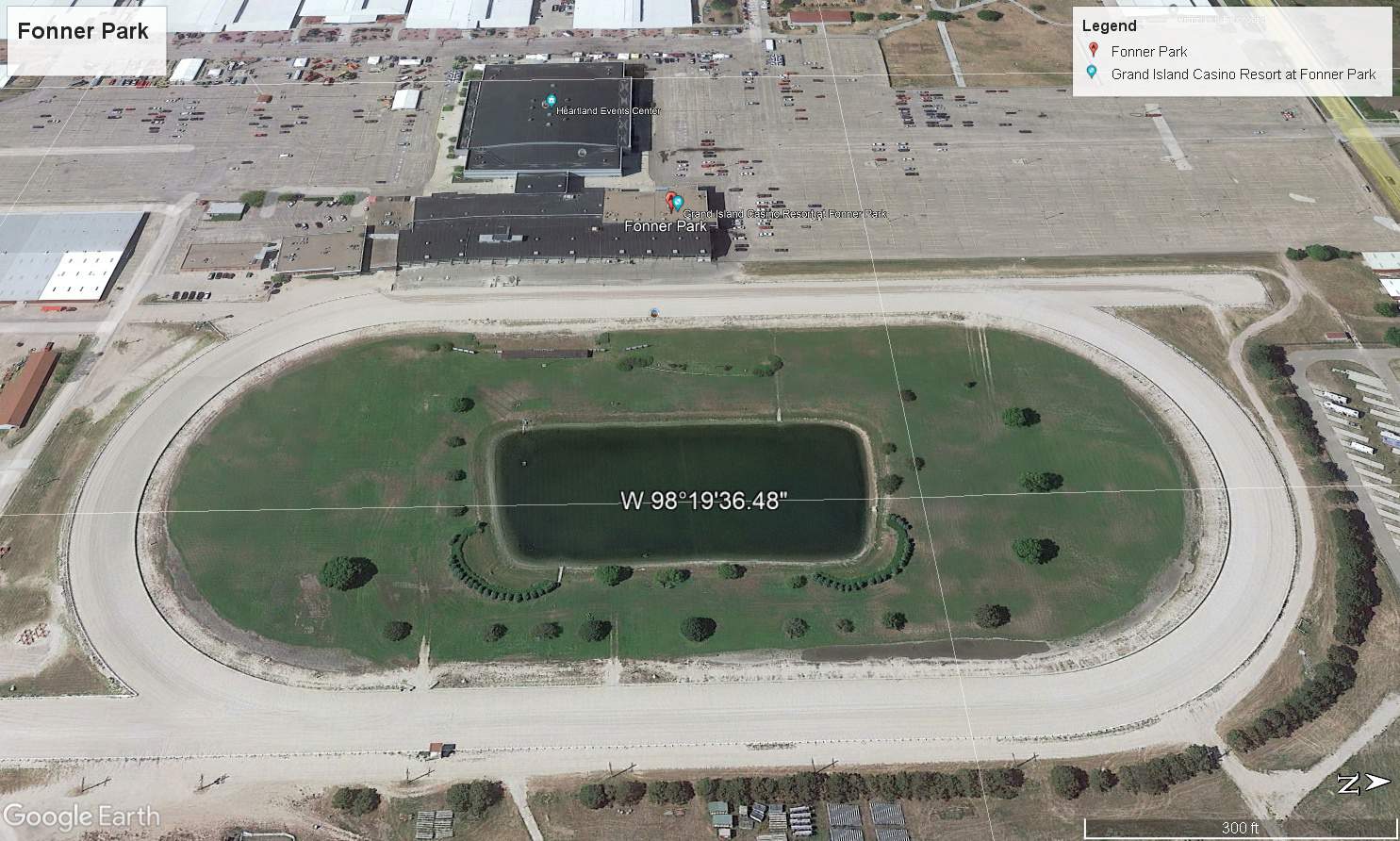 It is in Grand Island, Nebraska, near Eihusen Arena and the grounds of the Nebraska State Fair.
There are free general admission and box seats.
Clubhouse, Skyline, and Turf Club seating have additional charges.
Members pay a $50 Lifetime Membership Fee.
Members are invited to the annual meeting.
Other racetracks are sorted and listed on the page "List of Racetracks". To view the full list, hit the button below. You can also check the horse racing types and breeds to have a lot more in-depth knowledge about horse racing. 
You can also check Fonner Park race results and Fonner Park race entries using our AmWager platform for FREE!
It is easy to access and fast as 1, 2, 3!
So what are you waiting for?
STOP HORSING AROUND, GET SERIOUS, GET AMWAGER !
Sign Up now for FREE and wager like a PRO with AmWager