Harrington Raceway and Casino
Don't forget you can wager on the races with AmWager
Wager on live horse races like a Pro with AmWager.
Simple…We are the best online wagering platform today. Real-time updates, exclusive tools, custom wagering types, player-focused design. Not using AmWager is like playing in the kiddie pool.
Powerful, fast, innovative, secure, yet easy to use! All because we value and listen to our customers.
Harrington Raceway and Casino
Harrington Raceway and Casino is a Racino in Kent County, Delaware, United States. It opened in 1946, at South DuPont Highway.
History of Harrington Raceway and Casino
1920 – The Harrington racetrack track was built for the first Kent and Sussex County Fair.
1962 – Harness racing and other races were conducted annually as part of the fair (which changed its name to the Delaware State Fair in 1962).
1934 – The fair became an organization to coordinate harness racing dates at fairs in the Mid-Atlantic region. This organization is called the Central Fair Circuit.
1945 – The directors of the fair organized the Kent and Sussex Racing Association to conduct an annual racing meet. It happened after the state legalized pari-mutuel wagering on harness racing.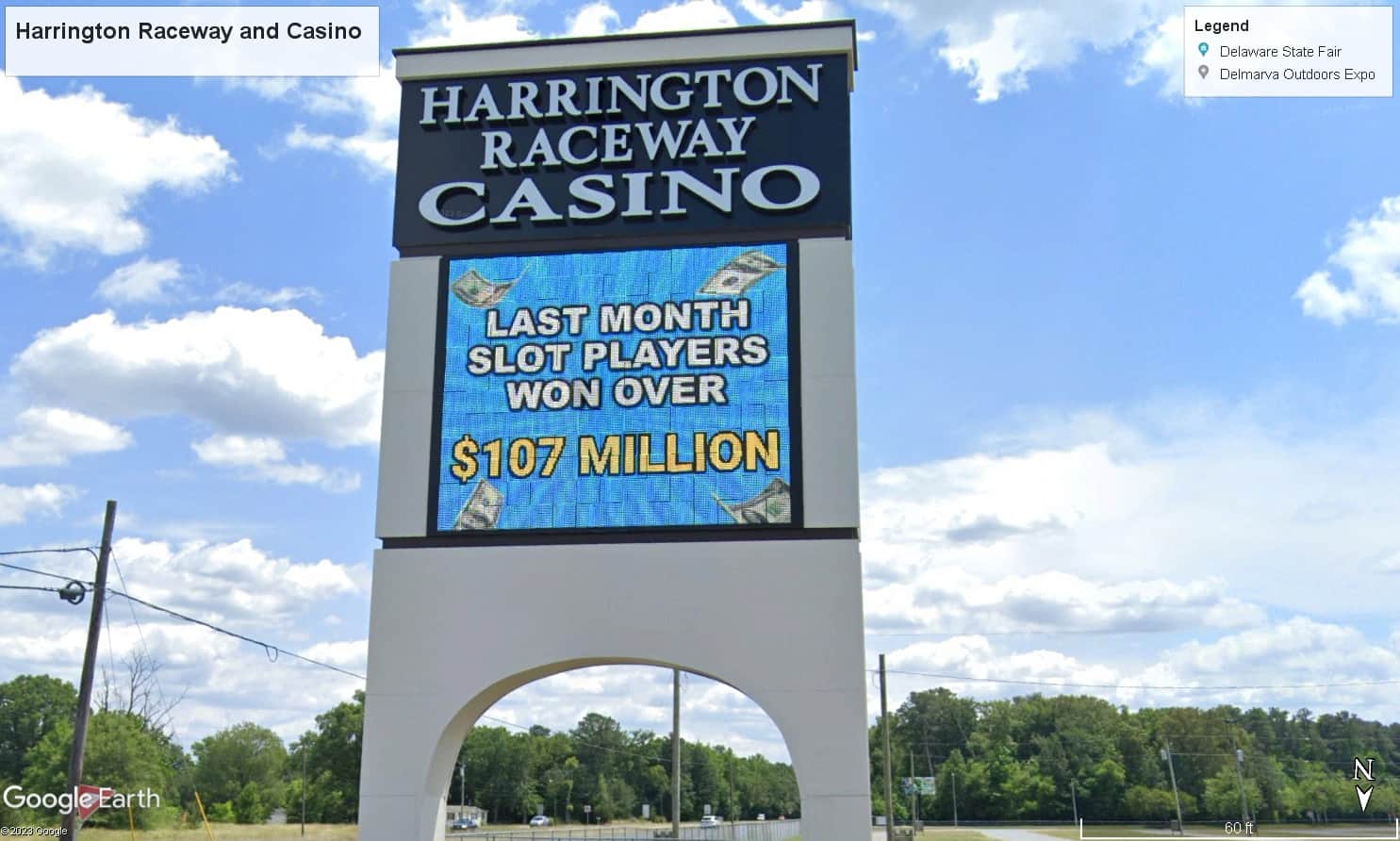 1946 – Harrington has been a harness racing town since a group of enthusiasts held a 60-day fairground meet in 1946.
1947 – The group formed an association called "The Harrington Raceway" and built the present-day track.
1964 – The racing association began planning to renovate the facility to match the weather to give a comfortable environment for the spectators during the colder autumn months when the racing meet was held.
1966 – Plans were formalized to construct a new track to the south of the existing facility. However, the high cost canceled the plan. Instead, a $1-million project was undertaken to build an enclosed clubhouse to enhance the grandstand and improve the heating.
1967 – Along with the improvements, the track's name was changed from the Kent and Sussex Raceway to Harrington Raceway.
1968 – The construction was completed.
1994 – Delaware legalized slot machines at the horse tracks to save the racing industry. 
1995 – The majority of the fair board of Directors voted to build a slot parlor in March 1995.
1996 – Harrington's slot machine parlor, Midway Slots, and Racebook opened on August 20, 1996.
2003 – The track was widened, and the turns were enhanced to become gentler, making it safer and more attractive to horse riders.
2006 – A $50-million expansion and renovation of the slot parlor commenced. 
2007 – As part of the project, the Midway Slots name was dropped, and the entire property became known as Harrington Raceway & Casino. Full House also ceded day-to-day operations of the gaming facility to Harrington.
2008 – The expansion was completed by adding a new restaurant, lounge, coffee shop, high-stakes gaming areas, an expanded buffet, and increasing the number of slot machines in the casino from approximately 1,600 to 2,100.
2010 – Table games were added following their legalization earlier in the year.
2011 – The management agreement expired, leaving Harrington Raceway full control of the casino.
2022 – Due to technical difficulties, the racino closed on December 27, 2022. But reopened in the same year – December 31, 2022.
Track Details and Other Facilities
🐎Main Track

The track is a half-mile oval.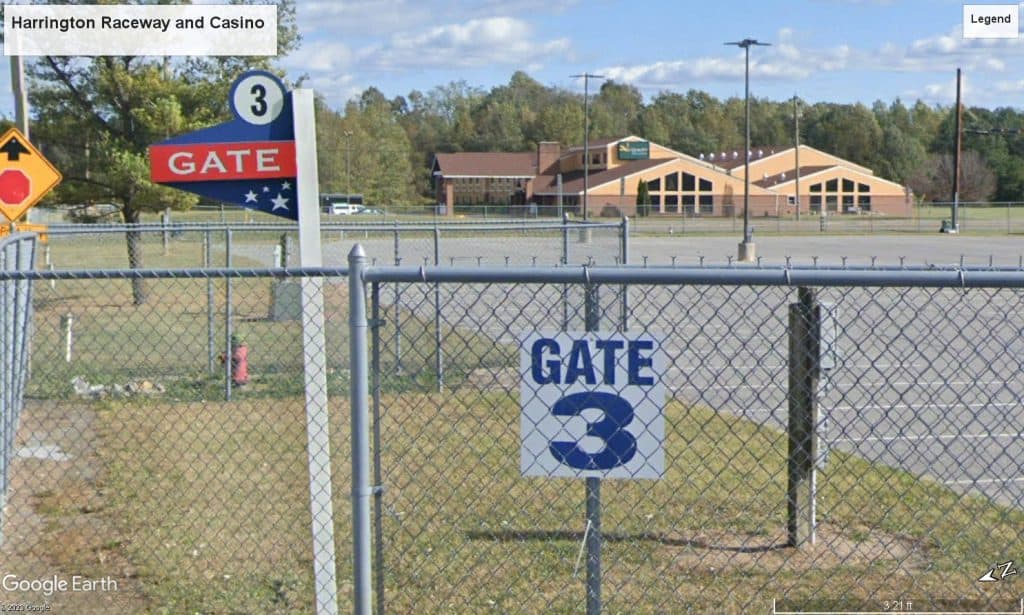 🐎Grandstand

The capacity of the grandstand is 3,200, while the clubhouse is 400

🐎Casino

It is formerly known as Midway Slots.
It has 1,300 slot machines, table games, simulcasting, and sports betting.
The tables are open at Harrington Casino from 9:00 am to 2:00 am, but slots and poker runs are always open.
🐎Bōnz Lounge

The Nightlife at Harrington Raceway & Casino.
It offers Live Entertainment, Wine, and Dine.
🐎Weddings

You can customize the menu and design the entertainment and services
Inclusive Wedding packages provide five hours of space for your function, complimentary table centerpieces, and adaptable dining options:

Hors D'oeuvres Assortment
House Salad / Warm Rolls with Butter
Buffet or Plated Meal Option
Starch and Vegetable
Freshly Brewed Coffee, Decaf Coffee, and Iced Tea
🐎Banquets and Meetings

It is suitable for gatherings and business meetings.
🐎

Bōnz Restaurant & Lounge

Open Hours

Wednesday to Sunday – 5:00 pm until closing.
🐎

Onion Jack's

It features a certified Angus Beef® New York Strip Steak, Chesapeake Bay Crab Cakes, and Jack's housemade IPA.
Open Hours

Vary during the week
Sunday to Thursday – 9:00 am to 10 pm.
Friday and Saturday – 9:00 am to 1:00 am.
🐎

Bolo's Sandwiches

It is located inside the Harrington Raceway & Casino.
Open Hours:

Sunday to Thursday – 11:00 am to 9:00 pm.
Friday and Saturday – 11:00 am to 1:00 am.
🐎

Grab & Go Hours

Open Hours

Monday to Thursday – 8:00 am to 4:00 am.
Friday and Saturday – 24 Hours.
🐎Murphy's Sports Bar

Open Hours

Sunday to Thursday – 12:00 noon to 9:00 pm.
Friday and Saturday – 12:00 noon to 10:00 pm.
🐎Clubhouse

It can view the trackside during live racing.
It was currently closed.
Race Schedule and Major Events & Races​
🐎Live Racing Schedule

Features Harness racing, which runs approximately 70 days of live racing per year (split between a spring meet and an autumn meet)
Races are generally held Monday through Wednesday evenings.
Racing Months starts in April and ends in October.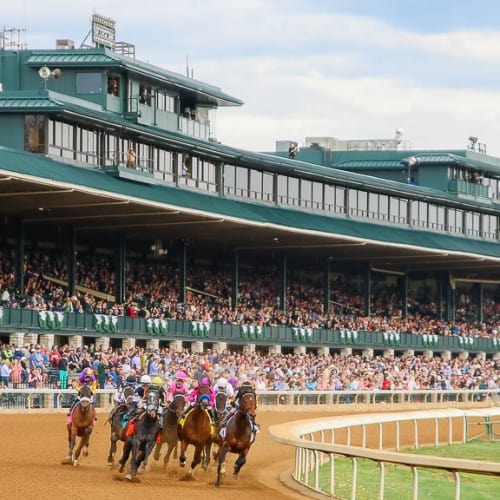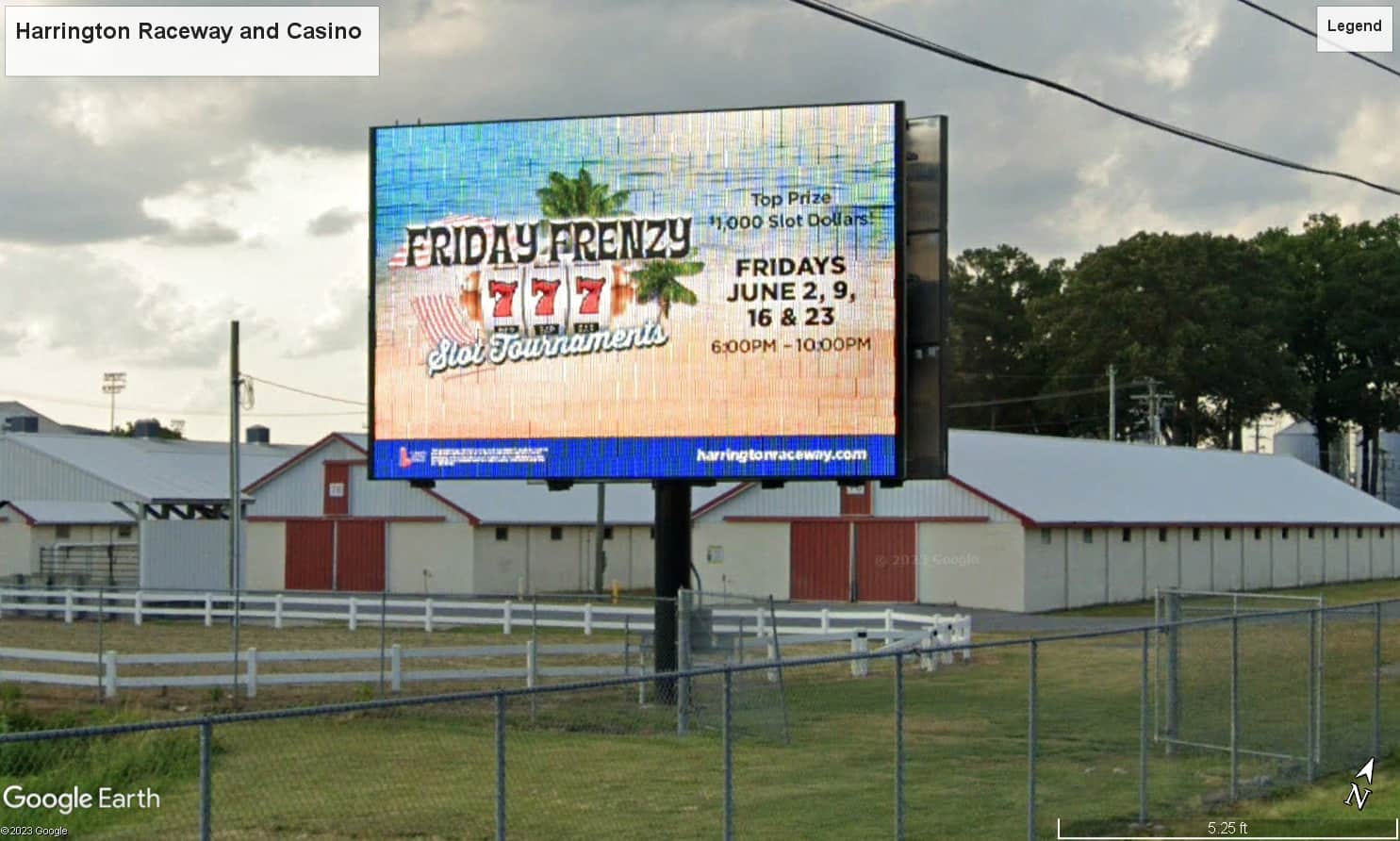 Location and Access to the Racecourse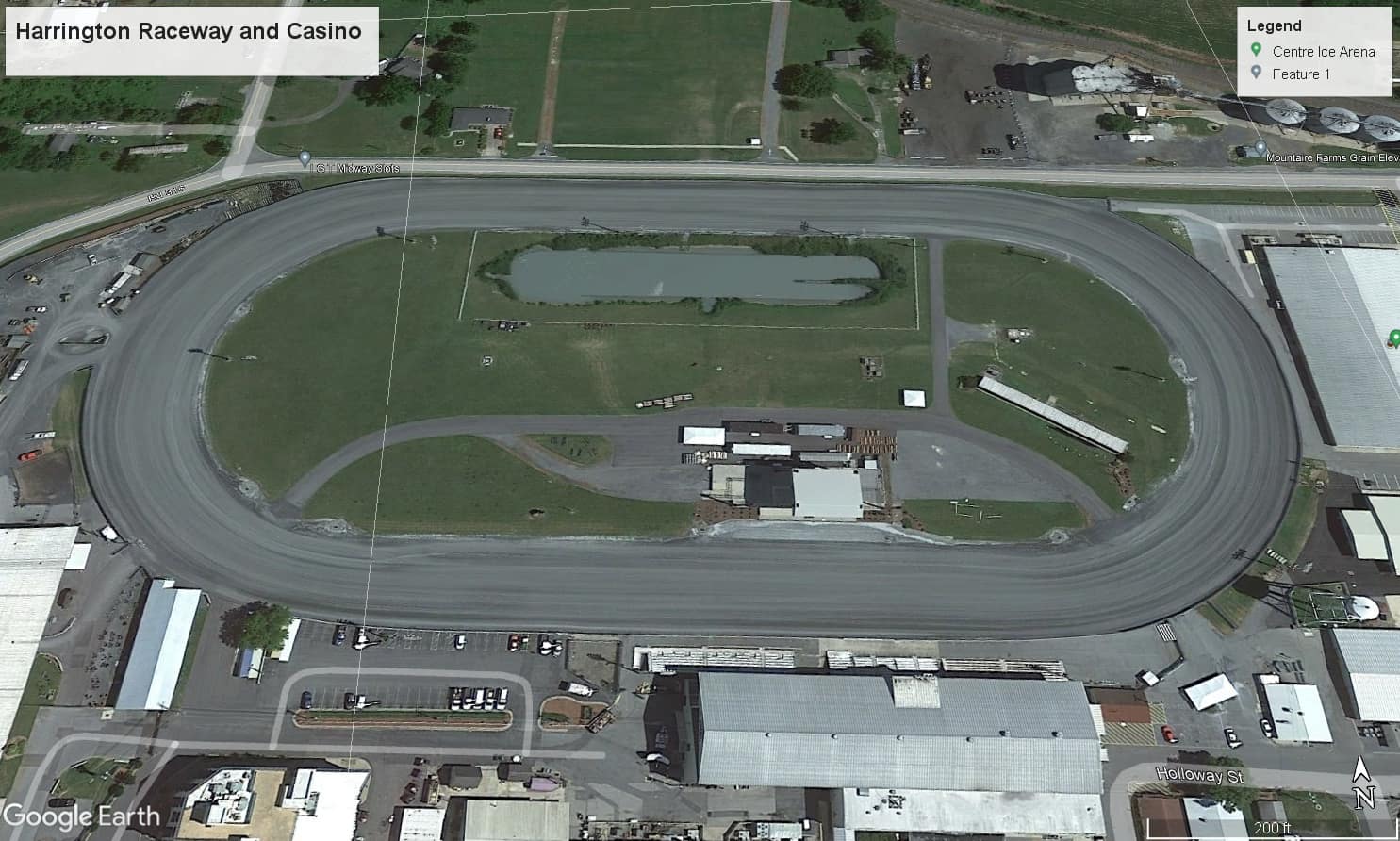 It is located on the fairgrounds of the Delaware State Fair, just south of Harrington, Delaware, 16 miles (26 km) south of Dover.
It is approximately 40 minutes from the Bay Bridge and approximately 2 1/2 hours from the Bridge Tunnel.
No entrance fees.
Free Parking.
Other racetracks are sorted and listed on the page "List of Racetracks". To view the full list, hit the button below. You can also check the horse racing types and breeds to have a lot more in-depth knowledge about horse racing. 
Harrington Raceway and Casino
You can also check Harrington race results and Harrington race entries using our AmWager platform for FREE!
It is easy to access and fast as 1, 2, 3!
So what are you waiting for?
STOP HORSING AROUND, GET SERIOUS, GET AMWAGER !
Sign Up now for FREE and wager like a PRO with AmWager