Don't forget you can wager on the races with AmWager
Wager on live horse races like a Pro with AmWager.
Simple…We are the best online wagering platform today. Real-time updates, exclusive tools, custom wagering types, player-focused design. Not using AmWager is like playing in the kiddie pool.
Powerful, fast, innovative, secure, yet easy to use! All because we value and listen to our customers.
Hastings Racecourse
Hastings Racecourse is a horse-racing track in Vancouver , British Columbia, Canada. It opened in 1889, at Renfrew St.
History of Hastings Racecourse
1888 – It all started in 1888 when a request was sent to the provincial government in Victoria for land in the Hastings Townsite for a new park. East Park was granted for the City to use as "recreational and enjoyment" of the public.
1889 – Recorded the first thoroughbred race staged in Vancouver down the middle of what was to become Howe Street.
1890 – The City received a request from a group of interested citizens for a small parcel of the new park for horse racing. The new track was intended to relocate the popular horse racing activities near Howe and Nelson, near the original Hotel Vancouver. 16 acres were leased to the newly formed British Columbia Jockey Club for their horse racing activities. The Jockey Club members were a who's who of the early City; they included city council members, prominent business people, and even a former Lt. Governor of the province.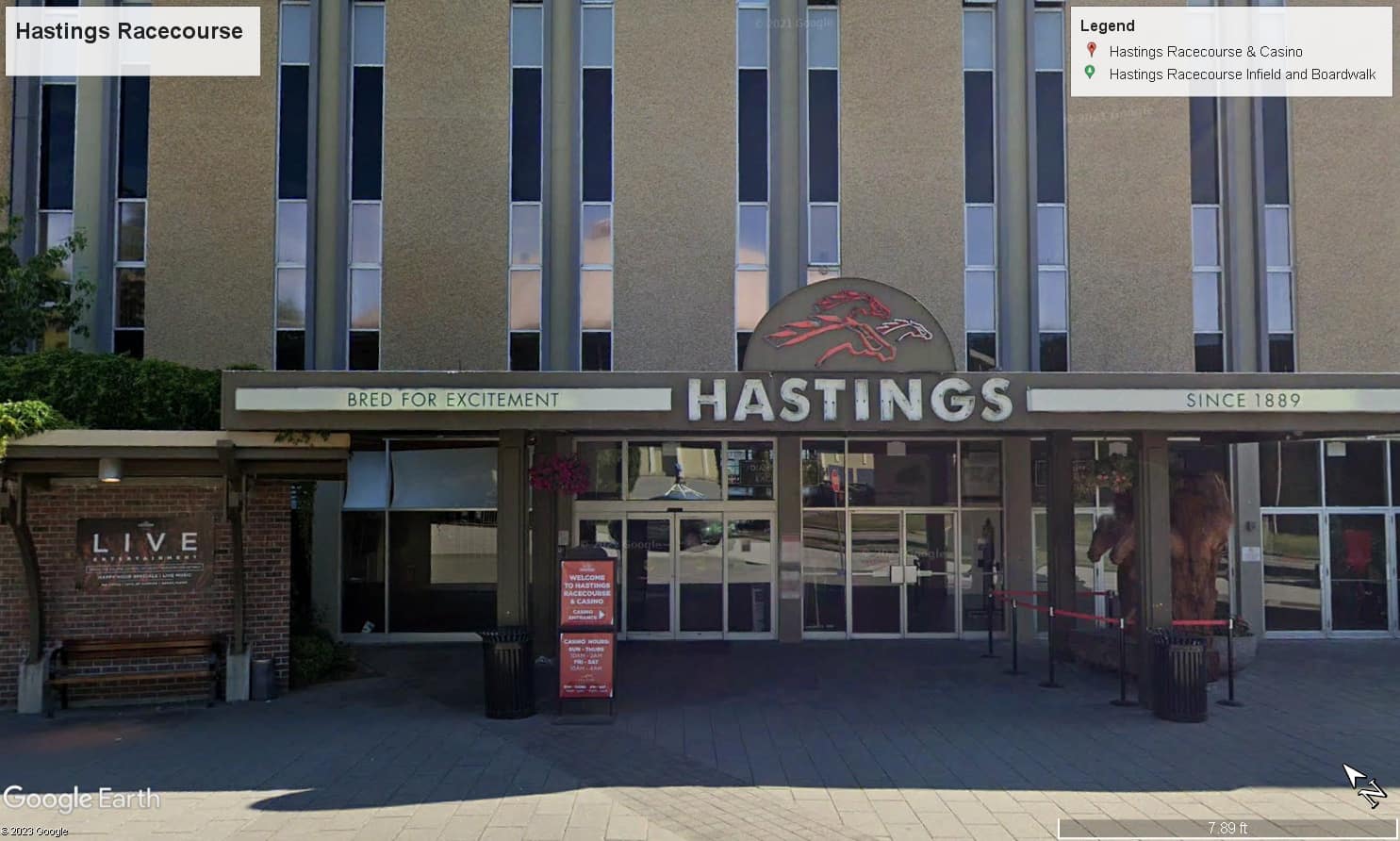 1892 – A racetrack had been built, and regular races were held.
1926 – Happyland (now Playland) opened on the site. The grounds were seconded for wartime mobilization, parades, and patriotic gatherings during World War I and II.
1939 – July 1, 1939, marked the first time thoroughbred racing used an electric starting gate, the invention of Texan Clay Puett.
1942 – Large section of Hastings Park was used to detain over 8000 Japanese Canadians before they were sent to internment camps and work camps. The VEA, later named Pacific National Exhibition (PNE), was operated as a Provincial Crown Corporation (1973-2003) and leased a portion of the Hastings Park site from the City. In the same year, all racing from the two other tracks in the Vancouver area, Brighouse and Lansdowne, were transferred to Hastings racecourse due to wartime gas rationing.
1950's – The demolition of the PNE's original Giant Dipper rollercoaster resulted the expansion of the racing oval to its current five-eighths mile.
1965 – A 5,000-seat grandstand was built, and the north end was leveled. In the same year, new grandstands were added.
1968 – The installation of lights and the beginning of the night racing.
1976 – The grandstand was further expanded.
1993 – When the government did not renew its lease. The New Democratic Party (NDP) government introduced a new racing act that created the Pacific Racing Association (PRA) to operate Hastings Park racecourse.
2002 – The PRA soon found itself in a cash crunch, and racing in the province was in a downward spiral. Woodbine Entertainment Group subsequently took over operations of Hastings Park Racecourse on April 30, 2002.
2004 – In March 2004, Great Canadian Casinos and Wall Financial Corporation, representing local ownership, agreed to acquire Hastings Entertainment Inc. and assumed operations control on April 8, 2004.
2011 – The racetrack was almost to its end when it had low profits from wagering revenue, and Slots had difficulty reaching an agreeable new lease with the City on May 18, 2011. Fortunately, negotiations have been made for the survival of the track.
2012 – International headlines boosted the track when little-known Mexican-born jockey Mario Gutierrez won the Santa Anita Derby, the Kentucky Derby, and the Preakness Stakes aboard I'll Have Another.
Track Details and Other Facilities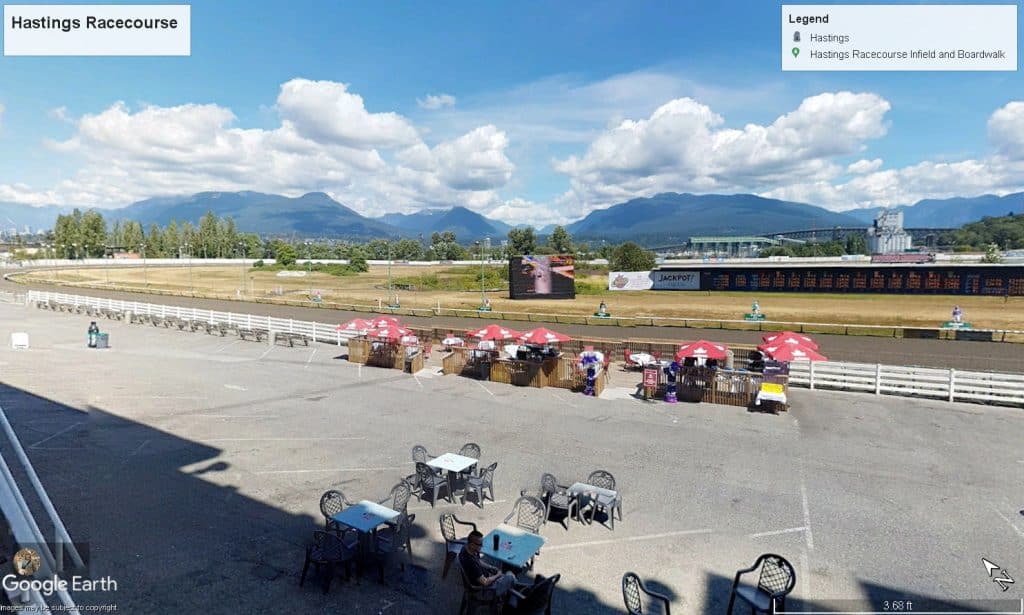 The distance from the last turn to the finish line is 513 feet.
🐎

Grandstand

The capacity of their grandstand is 5,000, with a diamond Club overlooking the track and seating up to 600 persons.

🐎

Casino Slots & Gaming Floor

Hastings Racecourse features a gaming floor with over 500 slot machines.
Encore Rewards

Encore Rewards is Casinos BC's loyalty program where members enjoy exclusive perks with their free membership:

Access to exclusive offers and VIP contests.
Birthday offers every year.
Earn points on dining purchases.
Receive $10 Free Play when signing up.

Open Hours

Sunday to Thursday – 11:00 am to 1:00 am.
Friday and Saturday – 11:00 am to 2:00 am.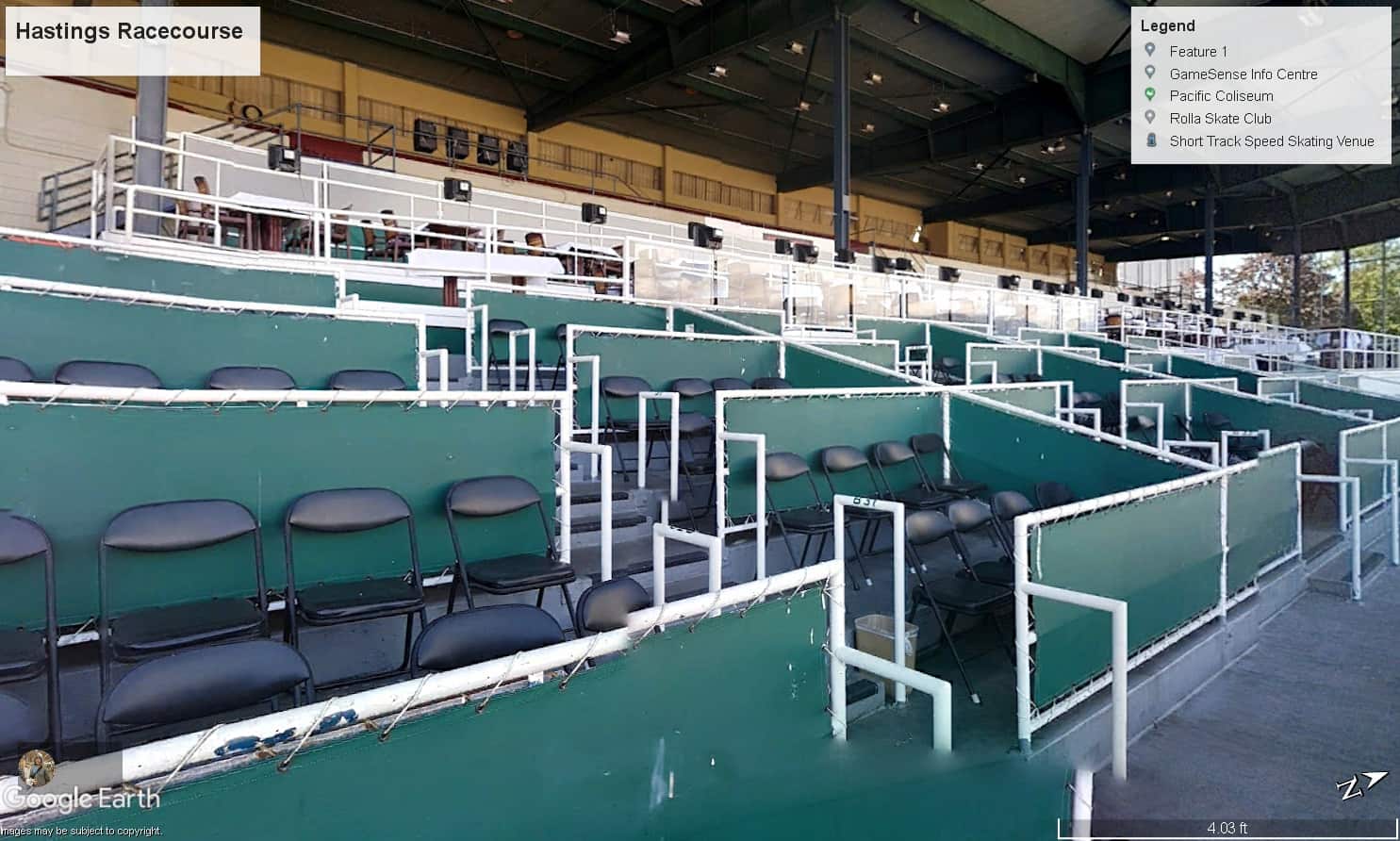 🐎

Jerome's Restaurant

It is located off the Racebook with pub-style seating.
Open Hours

Sunday to Thursday – 11:00 am to 8:00 pm.
Friday and Saturday – 11:00 am to 9:00 pm.
🐎

Silks Buffet

It is located on the upper level.
Pricing:

Adult: $29.99*
Children (Ages 7–12): $19.99
Children (Ages 6 or Younger): Free
Carvery Buffets are $37.99 for adults.

Open Hours

Buffet Hours: 12:00 noon to 3:30 pm on Race Days
Operating Hours: 11:00 am to End of Final Race.
Race Schedule and Major Events & Races​
🐎Live Racing Schedule

Its race type is Thoroughbred racing with flat five furlongs, owned by Great Canadian Gaming.
Racing Months Start from (late) April to October,
It is conducted on Saturdays and Sundays from April until November and Friday nights from June to September.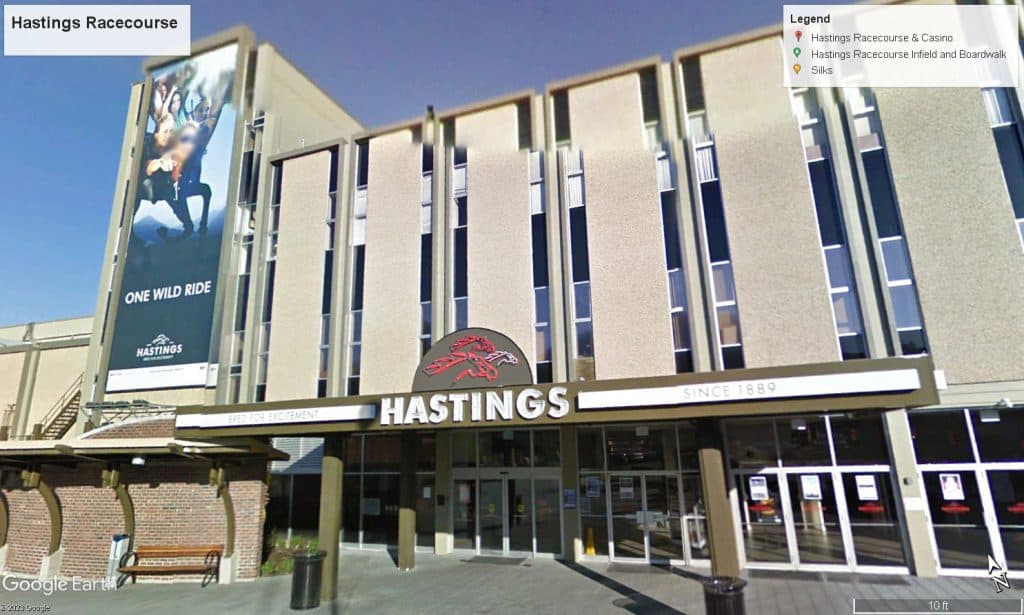 🐴The Cup (July)
🐴British Columbia (BC) Cup
🐴British Columbia (BC) Derby
🐴British Columbia Oaks
🐴G3 Ballerina
🐴G3 BC Premiers
🐴Emerald Downs
🐴George Royal
🐴River Rock
🐴Ross Mcleod
🐴Monashee
🐴Lt Governor's
🐴Supernatural
🐴Chris Loseth
🐴BC Cup Nursery
🐴BC Cup Debutante
🐴Hong Kong Jockey Club
🐴Sir Winston Churchill

🐴BC Cup Distaff

🐴BC Cup Classic
🐴CTHS 2yr Old Fillies Stake
🐴CTHS 2yr Old C & G Stake
🐴CTHS 3&4yr Old Filles Stake
🐴CTHS 3&4yr Old C & G Stake
🐴Delta Colleen
🐴S W Randall Plate
🐴BC Oaks
🐴BC Derby G3
🐴Sadie Diamond Futurity
🐴Jack Diamond Futurity
🐴Ballerina
🐴Premiers G3
🐴The Glen Todd Fantasy
🐴The Glen Todd Ascot
Location and Access to the Racecourse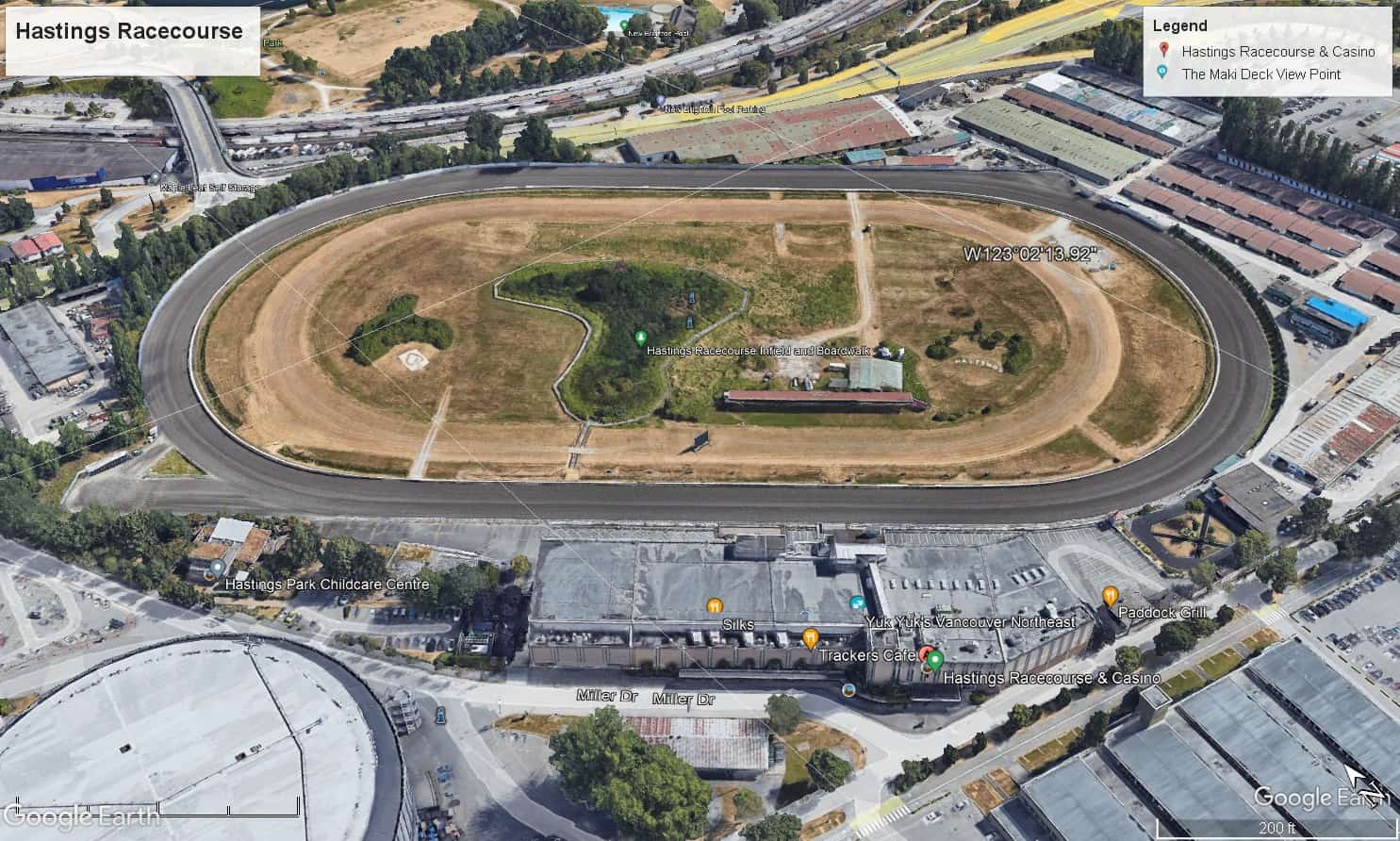 Hastings Racecourse is located at 188 N. Renfrew St., Vancouver, British Columbia V5K 3N8, just four kilometers from downtown Vancouver of the North Shore mountains and Burrard Inlet.
Pets are not permitted on the property; unless they are to assist a person with a disability.
Dress Code

There is no formal dress code, but guests are encouraged to dress appropriately for the weather as outdoor venue temperatures change throughout the day.

By Shuttle

Hastings Racecourse offers a complimentary shuttle service from Renfrew Skytrain Station on most live race days.

By Bus

Bus 16 (29th Ave /Arbutus)
Bus 135 (SFU /Burrard)
Bus 160 (Coquitlam /Vancouver)
Other racetracks are sorted and listed on the page "List of Racetracks". To view the full list, hit the button below. You can also check the horse racing types and breeds to have a lot more in-depth knowledge about horse racing. 
You can also check Hastings race results and Hastings race entries using our AmWager platform for FREE!
It is easy to access and fast as 1, 2, 3!
So what are you waiting for?
STOP HORSING AROUND, GET SERIOUS, GET AMWAGER !
Sign Up now for FREE and wager like a PRO with AmWager