Hollywoodbets Greyville Racecourse
Don't forget you can wager on the races with AmWager
Wager on live horse races like a Pro with AmWager.
Simple…We are the best online wagering platform today. Real-time updates, exclusive tools, custom wagering types, player-focused design. Not using AmWager is like playing in the kiddie pool.
Powerful, fast, innovative, secure, yet easy to use! All because we value and listen to our customers.
Hollywoodbets Greyville Racecourse
Hollywoodbets Greyville Racecourse is a horse-racing track in Greyville, Durban, South Africa. It opened in 1844, at Avondale Rd.
History of Greyville Racecourse
1844 – The history of Greyville dates back to 1844 when it hosted the province's first official horse racing event. The track has welcomed Queen Elizabeth II, the Duke of Edinburgh, and an array of notable enthusiasts from all corners of the globe.
1996 – It also became the first track in South Africa to successfully install Floodlights, enabling the course to accommodate night racing at all its midweek meetings. One of the meetings held at the racecourse is the Durban July which is also currently sponsored by Vodacom. Another prestigious meeting held at the track is the Greyville Gold Cup, a Group One race. In the same year, Gold Circle was born from the amalgamation of the Durban Turf Club, Clairwood Turf Club, Pietermaritzburg Turf Club, Phumelela Gaming & Leisure, and Kenilworth Racing.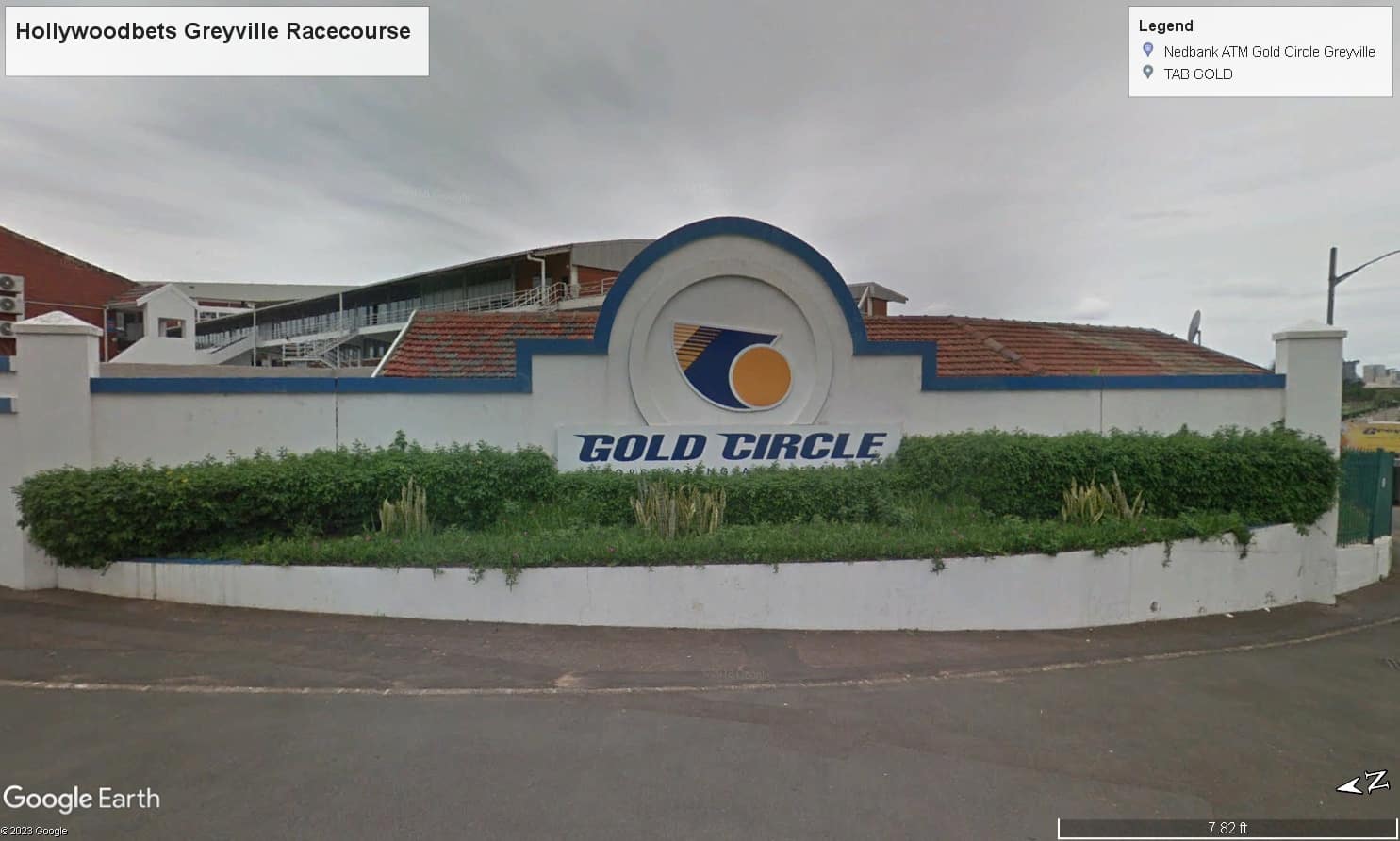 Gold Circle is part of a multi-faceted and integrated industry, organizing thoroughbred horseracing events throughout KwaZulu-Natal, and is renowned for staging the Vodacom Durban July at Greyville Racecourse every year.
2005 – Gold Circle and Phumelela established the National Racing Bureau to handle entries, declarations, and card changes for all race meetings throughout South Africa in an industry bid to streamline the administration of the sport.
2014 – An all-weather "Polytrack" was also constructed inside the existing turf track. The track's infield holds the Royal Durban Golf Club's Championship golf course.
2019 – Hollywoodbets was announced as the naming rights sponsor for Greyville and Scottsville racecourses in a 3-year deal on June 27, 2019. The racecourses will now be known as Hollywoodbets Greyville Racecourse and Hollywoodbets Scottsville Racecourse.
Track Details and Other Facilities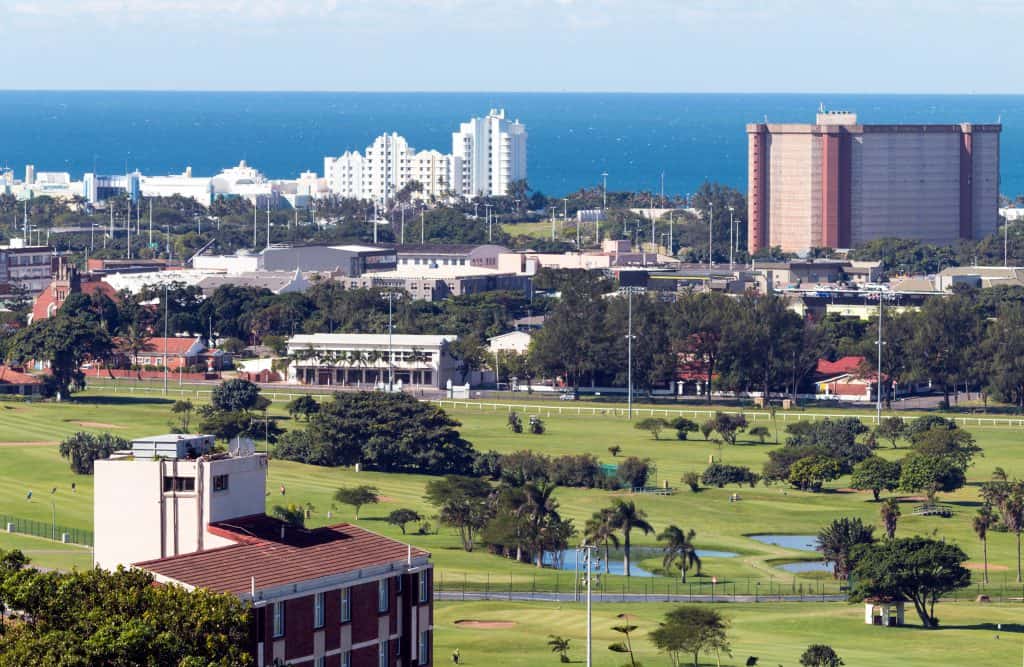 🐎Main Track

It is pear-shaped and covers a distance of 2,800 meters.
It is an uphill section from the 2,200 meters mark up to the 1,800 meters mark.
About the 1200 meters mark is a gentle downward slope.
An uphill section follows from the 1,000 meters mark into the straight.
An almost level 450 meters final straight to Greyville's famed winning post.
🐎All-Weather Track (Polytrack)
🐎Greyville Convention Centre

It is a venue for events.

🐎Saddlers Arms

It provides a unique setting for meetings, corporate networking, company events, social functions, and clinching business deals.
The capacity is 25 persons each for the boardroom, U-shape, and school room.
For Cinema, it can accommodate 80 people.
For the banquet (plated and buffet), it can host 60 people.
For the cocktail, it can host 100 people.
🐎Classic Room

This venue can accommodate any formal function, from presentations to black-tie banquets.
It can accommodate from a minimum of 25 pax up to a maximum of 300 pax.
It is located on the 2nd Floor of Greyville Convention Center.
🐎Palm Court

It is a remnant of old-world banqueting halls.
It can be used for most events, from Weddings to Matric Dances or large meetings.
It can hold 400 to 500 guests.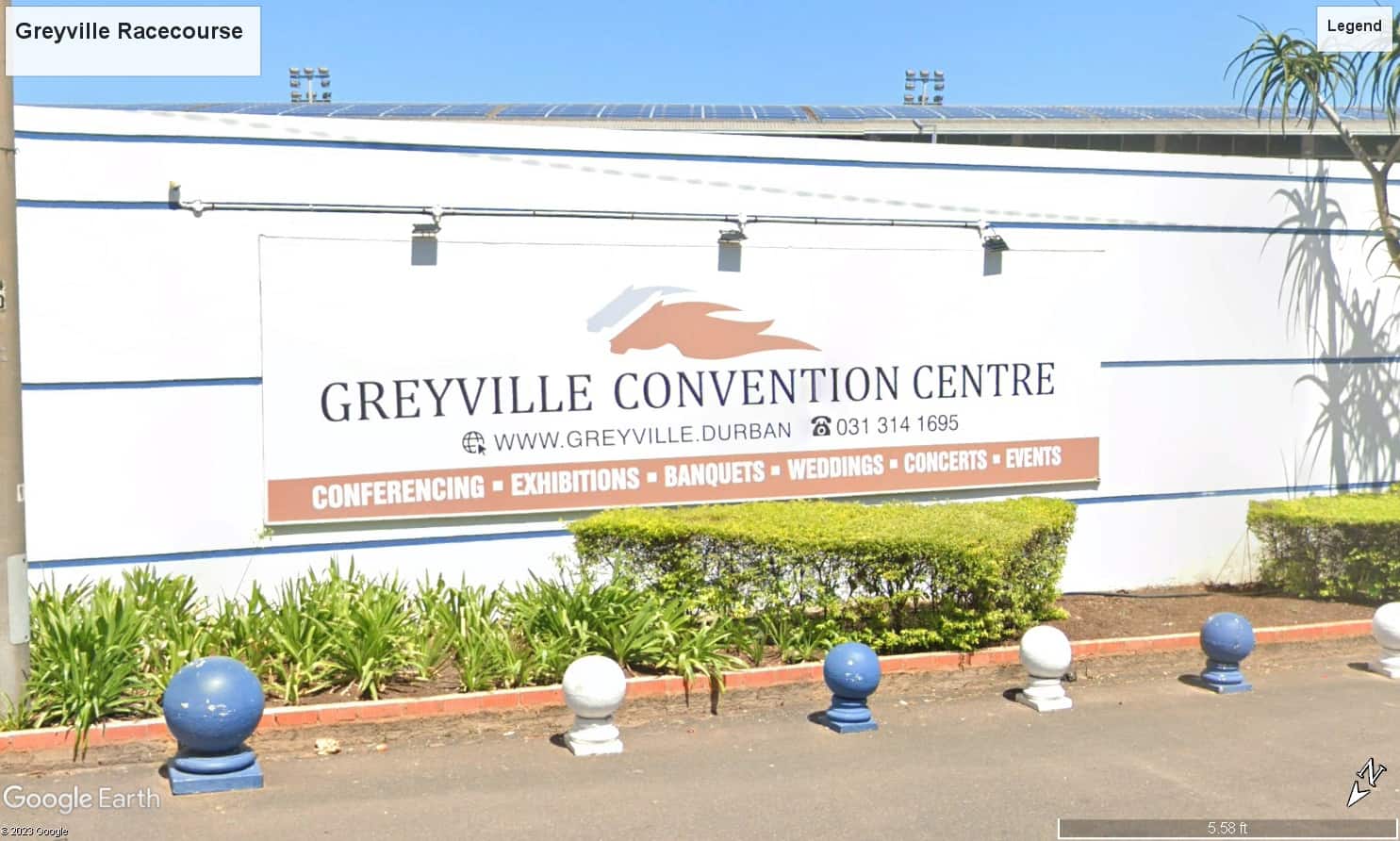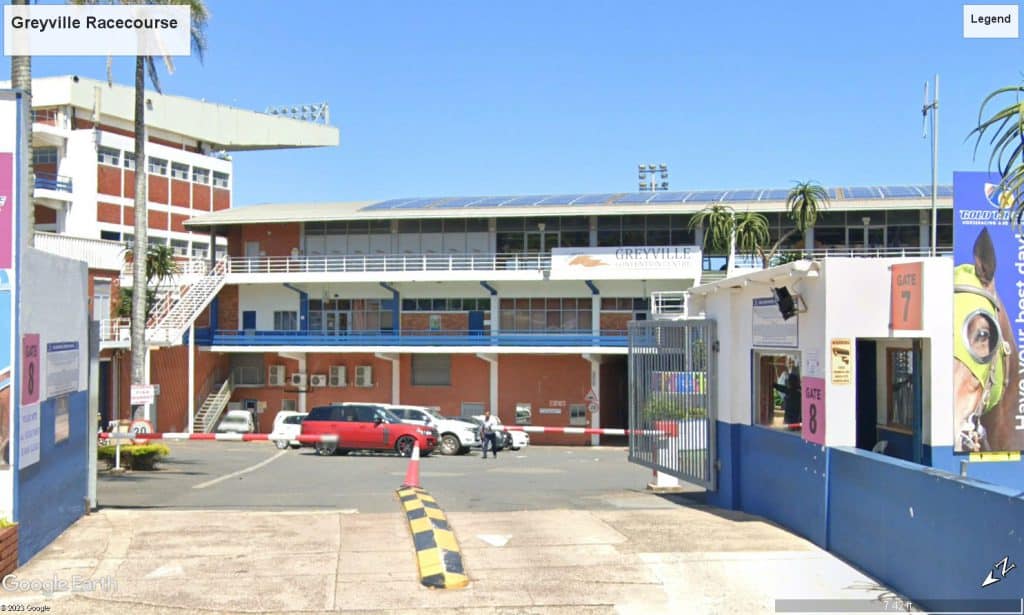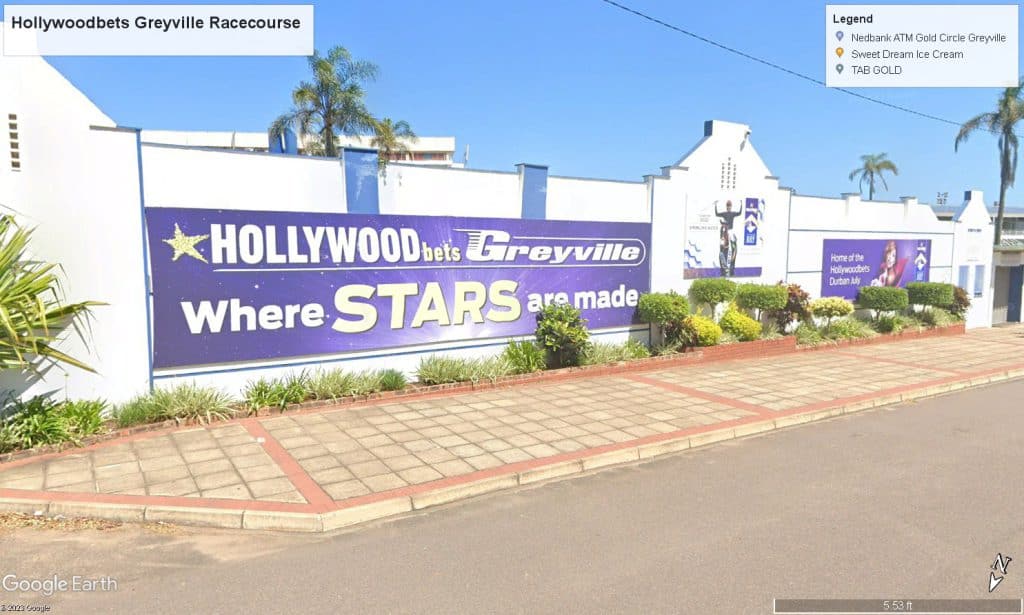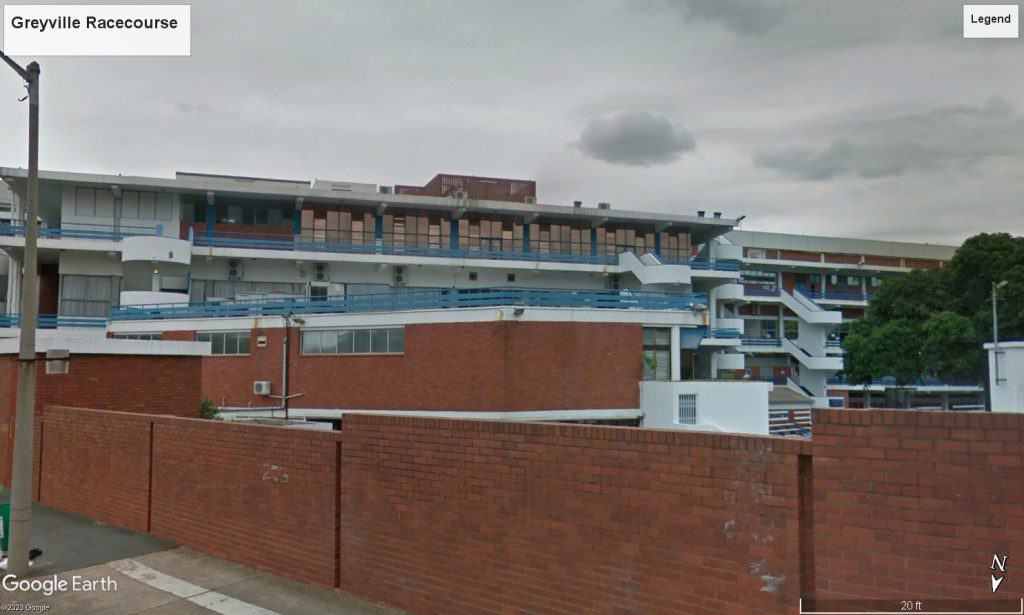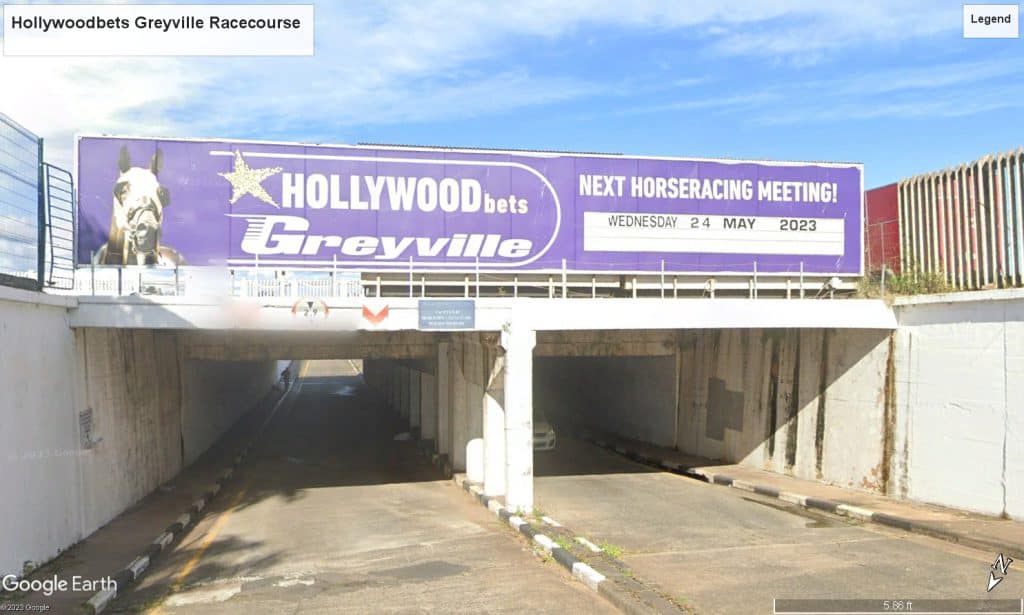 🐎

Sea Cottage

It can accommodate up to 300 guests in banqueting style and 350 guests in cinema style.
🐎

Silver Ring

This venue is for banquets, conferences, weddings, corporate functions, parties, and special events.
It is located on the 2nd floor of Greyville Convention Center.
It can capacitate up to 1000 people (depending on the stage and set requirements).
🐎

Centenary Room

It can cater different events such as weddings, banquets, and conferences.
It can accommodate 200 in each Cinema, event, and theatre. 150 in the school room, 180 in the banquet (plated), and 150 for the banquet (buffet)
🐎

Champions Room

It is an exhibition venue or a banqueting venue
o It is located at 1st Floor, Greyville Convention Center
It can accommodate 600 people each in Cinema, event, theatre, Banquet (plated), and banquet (buffet).
It can accommodate 500 people in the school Room.
🐎

Parade Ring

It hosts an outdoor Wedding Ceremony surrounded by old trees.It can accommodate 350 to 400 people.
🐎

Greyville Concert Arena

It is a premiere venue for hosting high-end concerts.
It has a 120-square-meter stage but can extend to a larger set-up.
🐎Durban View Restaurant

It has a full buffet available.
It is situated on the first floor of the grandstand.
Race Schedule and Major Events & Races​
🐎Live Racing Schedule

It hosts thoroughbred horse races from May to September.
Polytrack racing takes place every Friday night from September to April.
Grade I 

🐴

Hollywoodbets Gold Challenge
🐴Garden Province Stakes
🐴HKJC Worldpool Champions Cup
🐴Mercury Sprint
🐴Premier Champion Stakes
🐴Thekwini Stakes
🐴Daily News 2000
🐴Woolavington 2000 
Grade II

🐴

Tibouchina Stakes

🐴

Durban Golden Horseshoe

🐴

Golden Slipper

🐴

Gold Bracelet

🐴

Umkhomazi Stakes

🐴

The Debutante

🐴

World Sports Betting Guineas

🐴

Independent on Saturday Drill Hall Stakes

🐴

World Sports Betting Fillies Guineas

🐴

World Sports Betting 1900
Grade III

🐴

Cup Trial
🐴Kingdom Explorer
🐴Gold Vase (3km)
🐴Gold Cup
🐴Lonsdale Stirrup Cup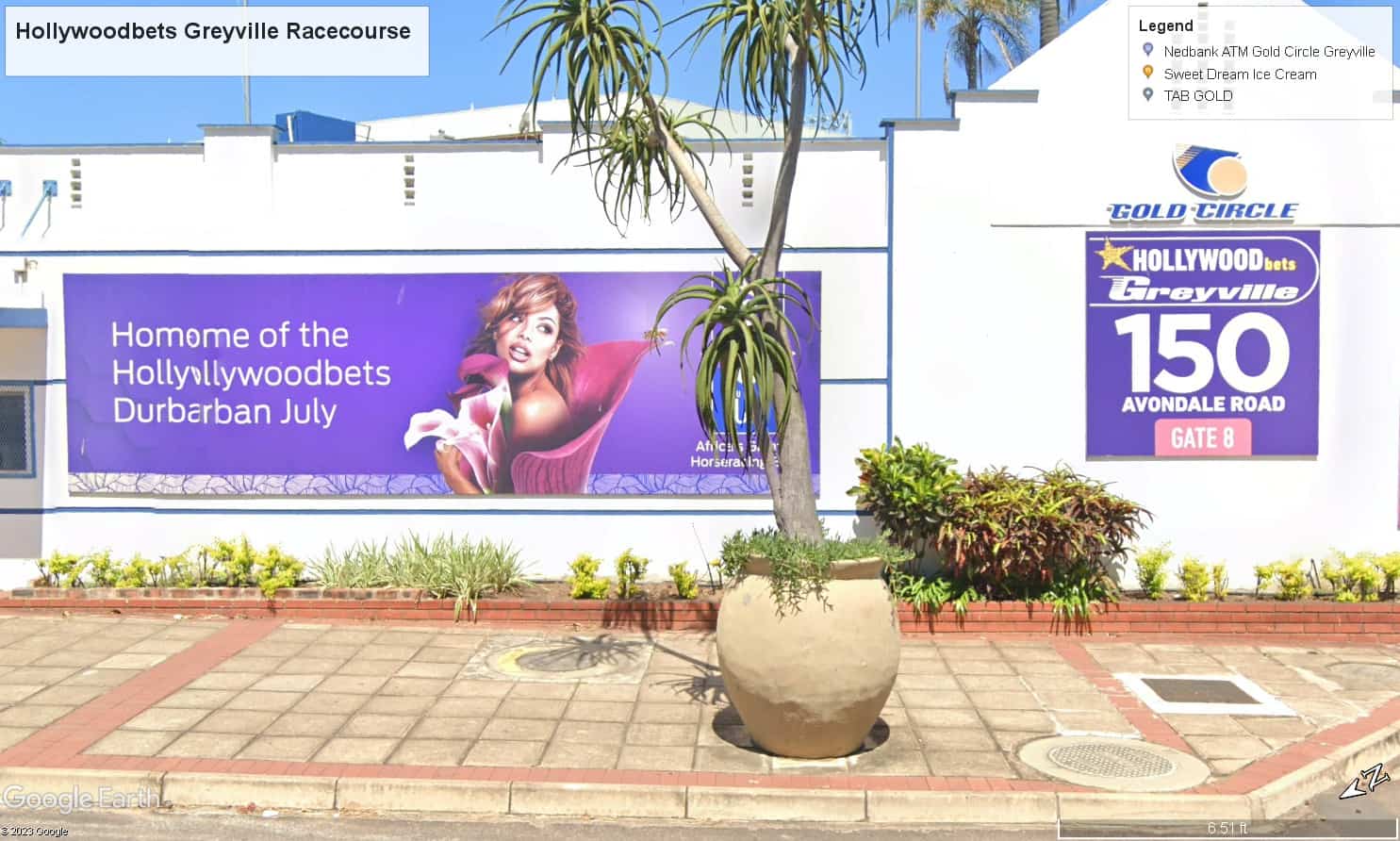 🐴Durban July Handicap
🐴The Greyville Gold Cup (August)
Location and Access to the Racecourse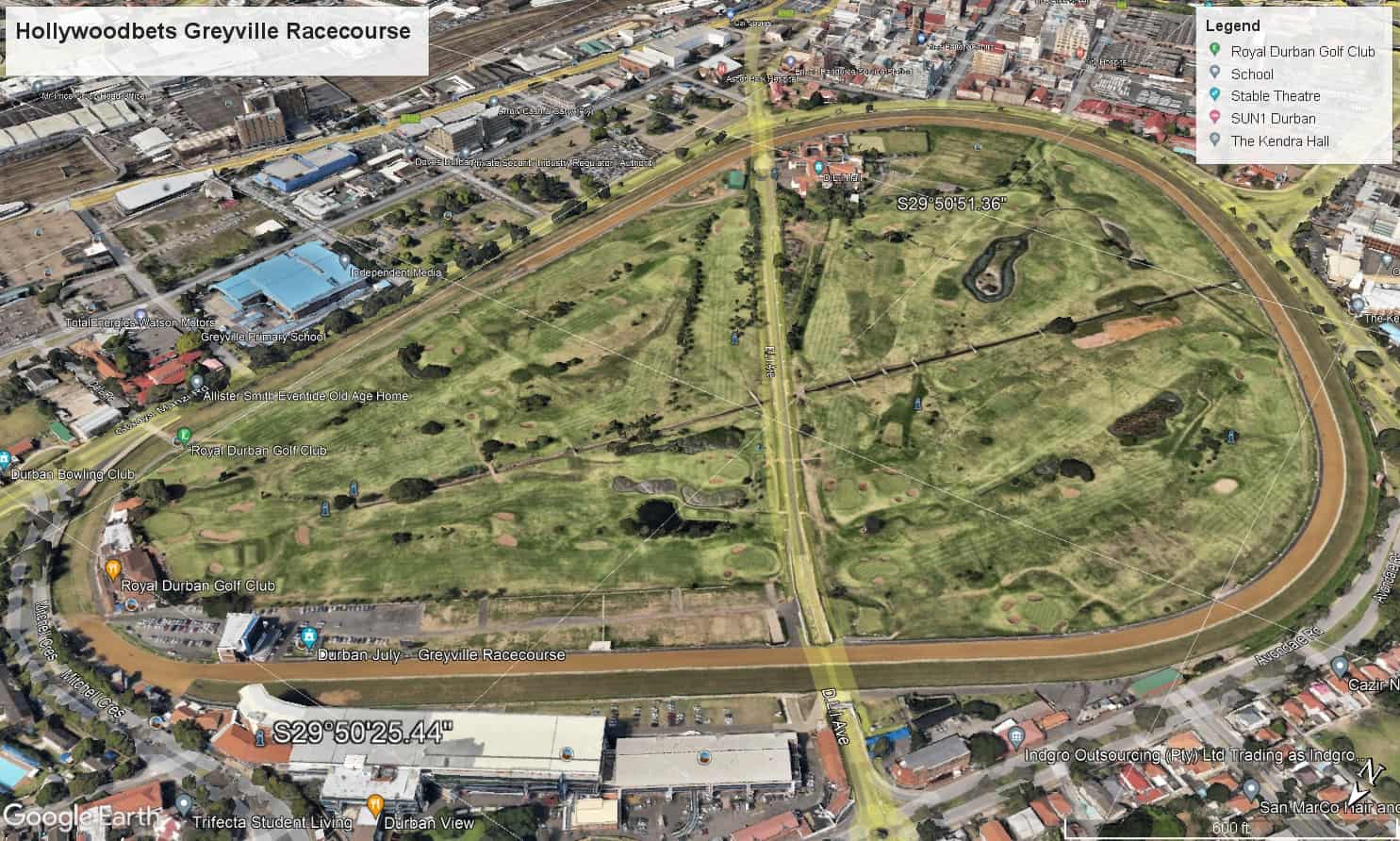 It is located at 150 Avondale Rd, Greyville, Durban, 4001, South Africa.
Entry and Parking ticket is not free.
The track's infield holds the Royal Durban Golf Club's Championship golf course.
Other racetracks are sorted and listed on the page "List of Racetracks". To view the full list, hit the button below. You can also check the horse racing types and breeds to have a lot more in-depth knowledge about horse racing. 
Hollywoodbets Greyville Racecourse
You can also check Greyville race results and Greyville race entries using our AmWager platform for FREE!
It is easy to access and fast as 1, 2, 3!
So what are you waiting for?
STOP HORSING AROUND, GET SERIOUS, GET AMWAGER !
Sign Up now for FREE and wager like a PRO with AmWager