Don't forget you can wager on the races with AmWager
Wager on live horse races like a Pro with AmWager.
Simple…We are the best online wagering platform today. Real-time updates, exclusive tools, custom wagering types, player-focused design. Not using AmWager is like playing in the kiddie pool.
Powerful, fast, innovative, secure, yet easy to use! All because we value and listen to our customers.
MGM Northfield Park
MGM Northfield Park is a racino in Northfield, Ohio, United States. It opened in 1957, at Northfield Rd.
History of MGM Northfield Park
1934 –The Northfield Park racetrack was originally known as Sportsman Park, first intended for greyhound racing. However, when the plan failed, ownership changed, and the focus became midget car racing.
1956 –Sportsman Park was demolished under the leadership of Carl Milstein.
1957 – Northfield was reconstructed and opened on August 23, 1957, by Grandview's owner, the late Walter J. Michael.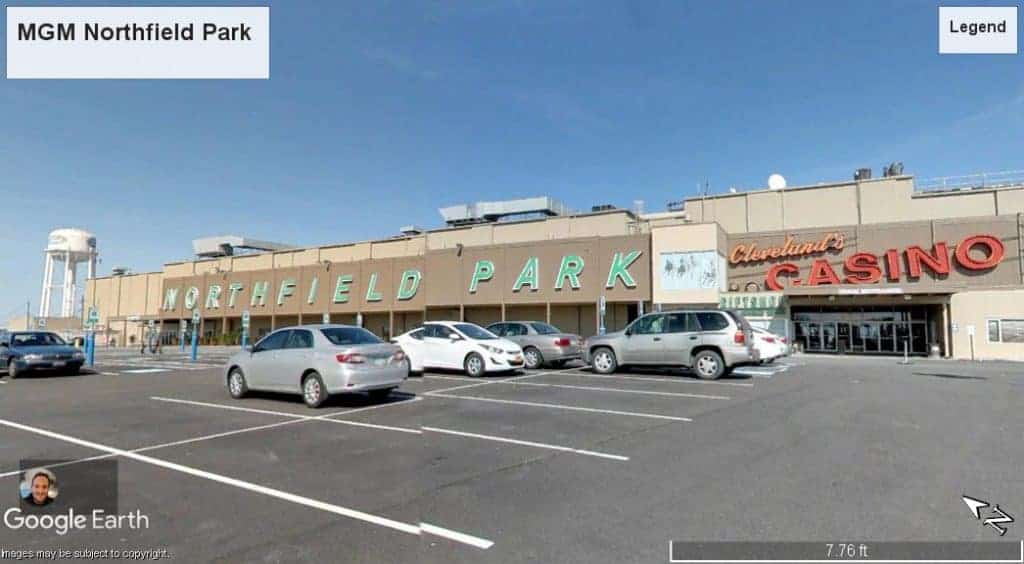 1959 – It acquired the Grandview events and the 84-acre property after a fire destroyed its grandstand and clubhouse in 1959 and utilized its remaining facilities for training and stabling.
1972 – the racetrack was again purchased by investors, including Carl Milstein, Robert Stakich, and George Steinbrenner.
1974 – Michael continued to operate the meets until 1974, when he sold the Northfield meet to Cleveland lawyer William Snyder, Dr. Vic Ippolito, and others.
1976 – They expanded its season into winter, racing over 200 days. However, the track continued to lose money in the 1970s. Hence, the operators purchased the Painesville meet from Homer Marshman to take control of all the harness racing meets in 1981.
1983 to 1984 – Unfortunately, it still lost 1 million dollars in 1983. After the racing industry received a $12.4 million tax break from the state legislature in 1984, track owner Milstein evicted the meet operators, claiming they were in arrears on lease payments and other bills. The Ohio Racing Commission gave Milstein the racing dates for the new season, who promptly added Sunday racing to the winter season and made other improvements designed to increase business.
1985 – Northfield commenced year-round racing.
1986 – The track's feature race, "The Battle of Lake Erie", was inaugurated and has enticed the top horses and drivers to the Southeast Ohio oval.
1999 – Milstein passed away in the fall of 1999, and his son, Brock, took over the operation of the track.
2002 – Myron Charna became Northfield Park's president.
2008 –Northfield Park built the Trackside Lounge in the spring of 2008.
2009 – By early 2009, the Ohio Legislature initiated legislation allowing the state's seven tracks to install 2,000 slot machines under the guidelines developed by the Ohio State Racing Commission. Then in July 2009, slot machines were approved and installed at Northfield Park pending the approval of Governor John Kasich.
2013 – The track's casino was renamed Hard Rock Rocksino Northfield Park, adjacent to the track, and was opened on December 18, 2013, with 2,300 video lottery terminals.
2018 –MGM Growth Properties purchased the racetrack from Milstein Entertainment. Hard Rock continues to handle the facility but is under a management agreement with the new owners. 
2019 – The dominant stockholder of MGM Growth, MGM Resorts International, purchased Rocksino's operating business on April 1, 2019. It assumed management from Hard Rock and rebranded the property as MGM Northfield Park. 
2022 – The Vici Properties obtained the MGM Growth and Northfield Park and is currently operated by MGM Resorts International.
Nickname of the MGM Northfield Park

The racetrack is renowned as one of Cleveland's best sports and entertainment places and the only racetrack with a microbrewery. The track's known nickname is "The Home of the Flying Turns", while its motto is "Every nineteen minutes, the place goes crazy".

Track Details and Other Facilities
🐎Main Track

Track Size

– a half-mile oval

Capacity

– 16,000. 

Length of

homestretch

–  440 ft., an open stretch with a Eurorail pylon configuration. 
Width of

Homestretch

– 80ft

 
There are 8 Starters Behind the Gate.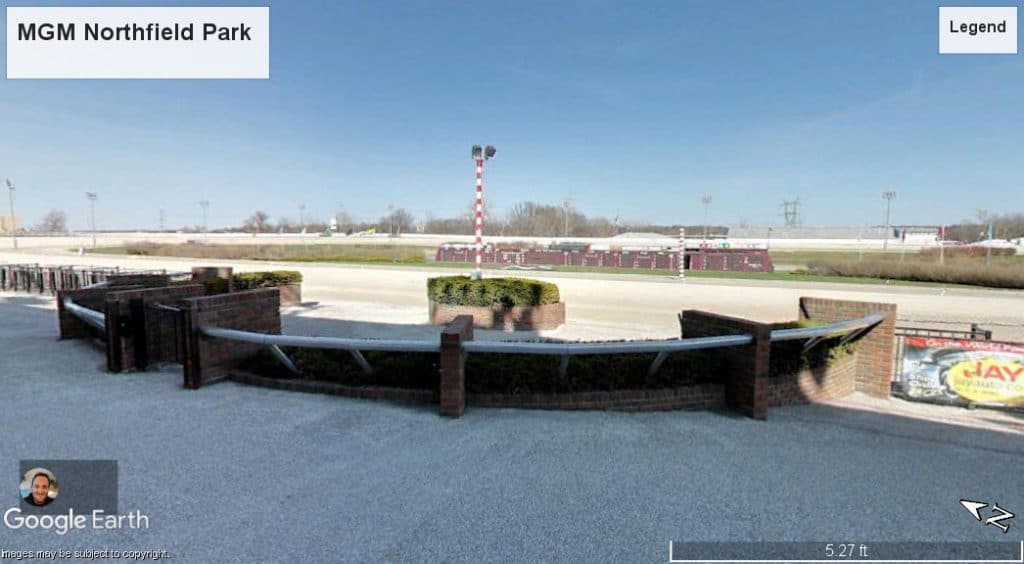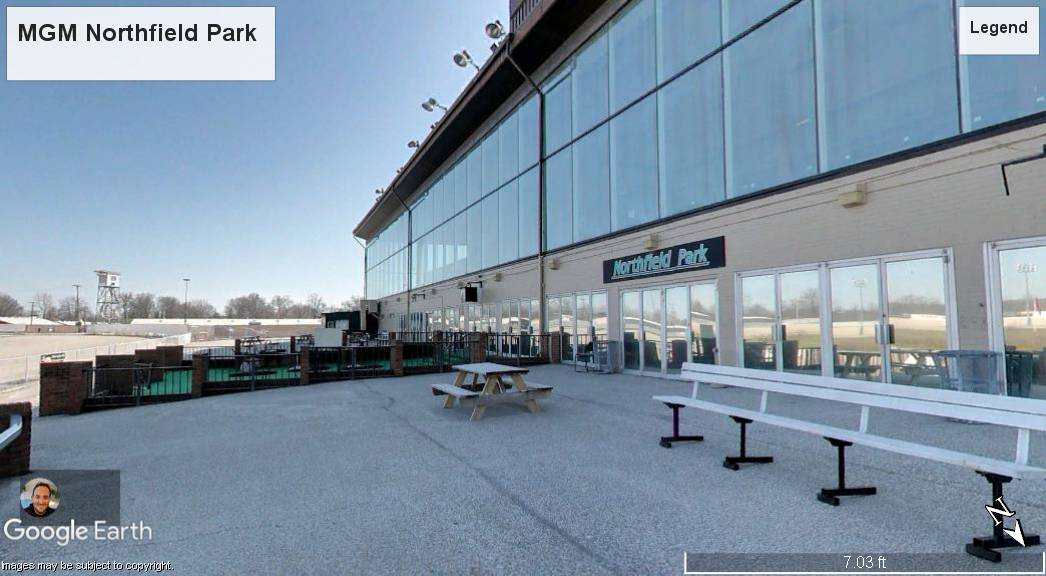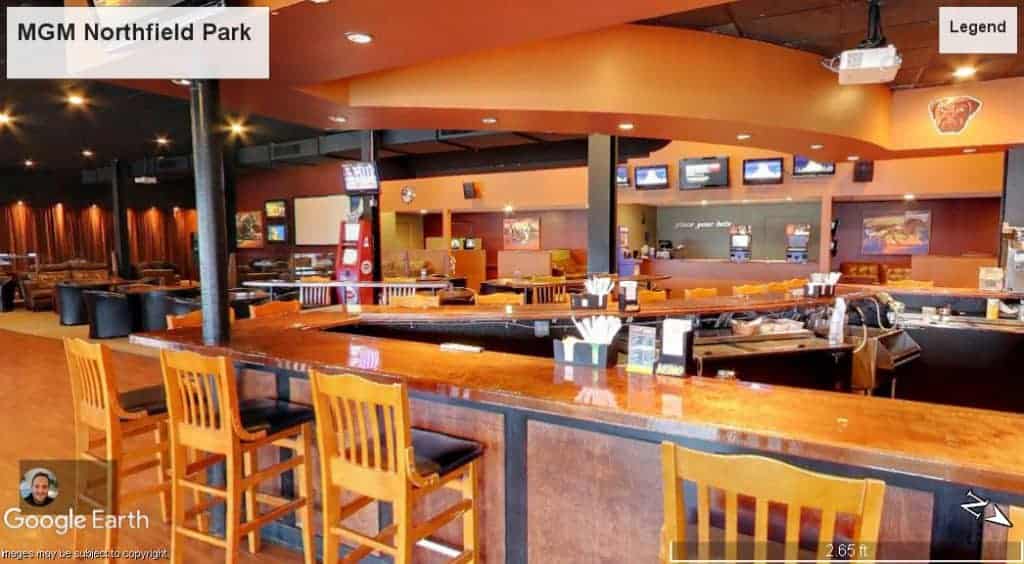 🐎

Grandstand

It is glass enclosed that can accommodate 4,300 seated guests,

🐎

Clubhouse

It has a capacity of 1,500.

🐎

Parking area

🐎

Stables

It can capacitate over 800 horses.

🐎Casino

More than 2,300 gaming devices in the casino
🐎State-of-the-art gas service station and car wash
Offers three-dozen flat-screen television monitors, private seating areas, full bar service, and a snack.
It broadcasts major sporting events such as Guardians, Cavaliers and Browns games, March Madness, the World Series, Super Bowl, NASCAR, etc. 
The space is open whenever the track is open.
The bar opens at 6:00 pm on live race nights and special events. 
Adjacent to the sports bar
An outdoor smoking-accommodation 
It offers patio-table seats with umbrella-equipped tables
In/Out Concessions

Lady Luck's Restaurant
🐎Sales Pavilion

Capacity

Sales Arena – 700

seats

Holding Ring – 120 seats, 200 cocktail

Limestone Café – 100 seats, 150 cocktail

Pavilion Bar – 100 seats, 100 cocktail

Conducts Three sales Annually

The September Yearling Sale

November Breeding Stock Sale

January Horses of All Ages Sale

Horses sold at Keeneland sales

82 horses that won 88 Breeders' Cup World Championship races:

19 Kentucky Derby winners

21 Preakness winners

18 Belmont winners

11 recipients of the Eclipse Award as Horse of the Year

Five Epsom Derby winners

Nine out of the fourteen highest-ranked horses in the Kentucky Oaks were sold in Keeneland sales.
Race Schedule and Major Events & Races
MGM Northfield Park Races Schedule
🐴Battle for Lake Erie
🐴Miller Lite Cleveland Classic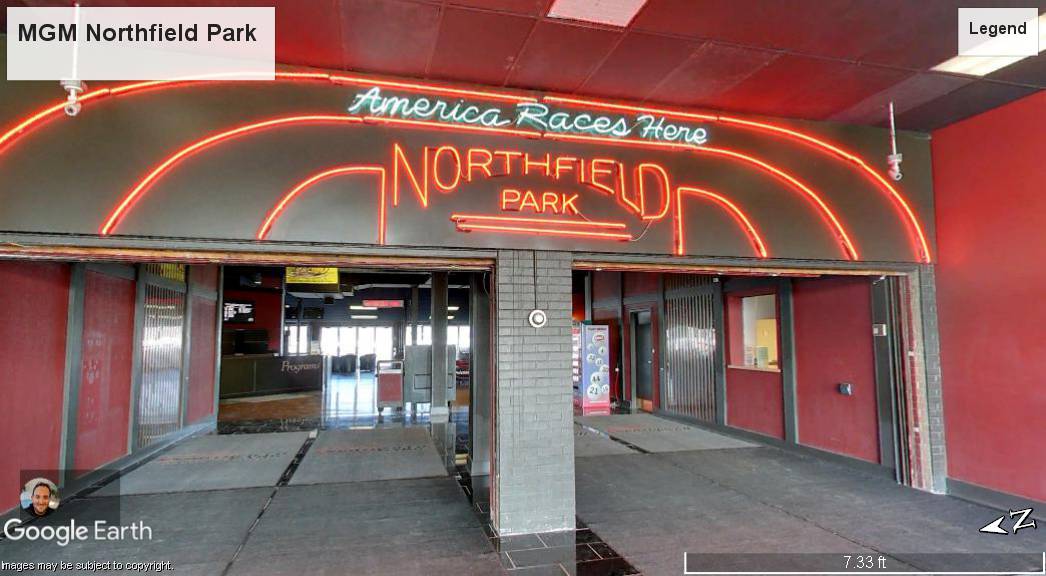 Location and Access to the Racecourse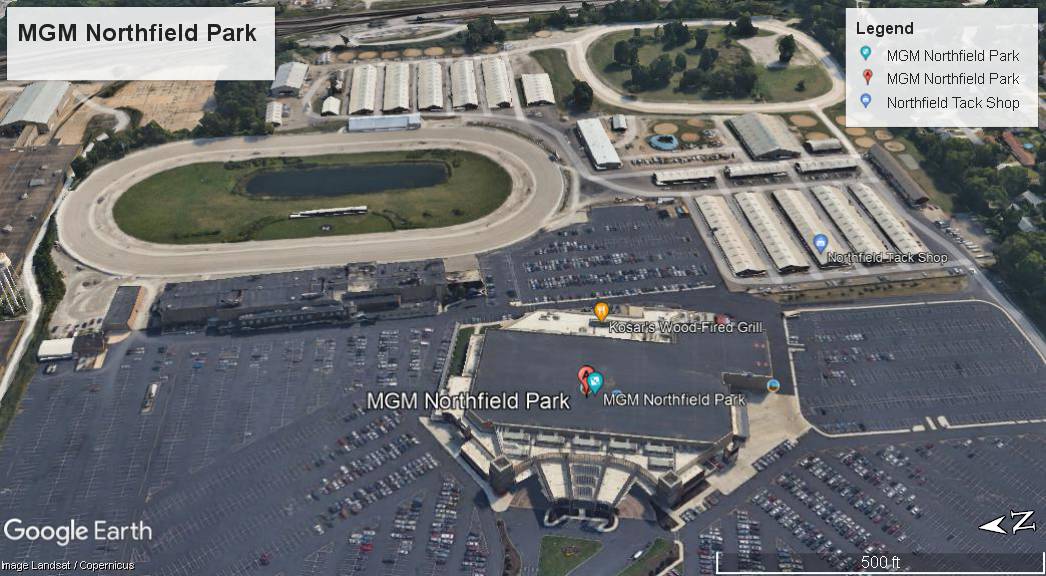 Northfield Park racing is situated 15 miles southeast of downtown Cleveland, Ohio, United States, on Route 8 (Northfield Road), off the Forbes Road exit of I-271. 

It is mid-way between Cleveland and Akron, Ohio, in Northfield, Ohio, U.S.A.
Other racetracks are sorted and listed on the page "List of Racetracks". To view the full list, hit the button below. You can also check the horse racing types and breeds to have a lot more in-depth knowledge about horse racing. 
You can also check Northfield Park entries and Northfield Park results using our AmWager platform for FREE!
It is easy to access and fast as 1, 2, 3!
So what are you waiting for?
STOP HORSING AROUND, GET SERIOUS, GET AMWAGER !
Sign Up now for FREE and wager like a PRO with AmWager