Don't forget you can wager on the races with AmWager
Wager on live horse races like a Pro with AmWager.
Simple…We are the best online wagering platform today. Real-time updates, exclusive tools, custom wagering types, player-focused design. Not using AmWager is like playing in the kiddie pool.
Powerful, fast, innovative, secure, yet easy to use! All because we value and listen to our customers.
Plainridge Park Casino
Plainridge Park Casino is a horse-racing track in Plainville, Massachusetts, United States. It opened in 1999, at Washington St.
History of Plainridge Park Casino
1999 – A harness racetrack (also one of the few tracks built in the country dedicated solely for harness racing) was opened for simulcast wagering on March 17, 1999, while the first day of live racing was on April 19, 1999, replacing Foxboro racetrack which was closed in 1997. Two competing individuals who wanted to manage the track were Gary Piontkowski, who had managed Foxboro under Sarkis, and Lou Giuliano, who applied to purchase the land and construct the track. He is a real estate developer who would lease the track to Piontkowski's company for $1 million annually. The two had been in dispute, filing lawsuits against each other. However, none succeeded, and Giuliano failed to purchase the land, retaining the ownership of Piontkowski.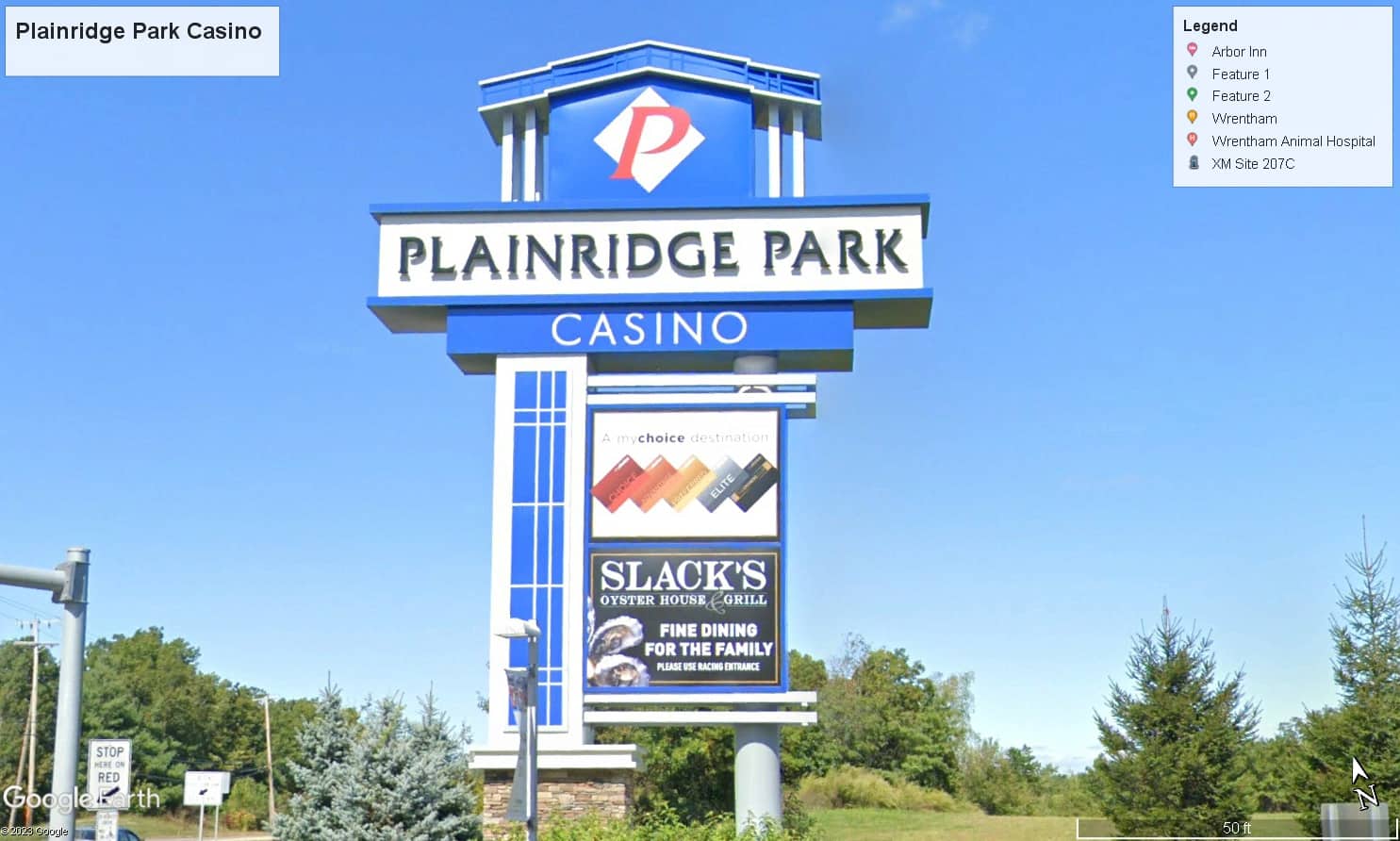 2011 – Plainridge was the State's first gaming applicant, submitting its $400,000 application fee as soon as casino legislation was approved in 2011.
2012 – The 1,000-car parking garage was constructed.
2013 – State investigators found that Piontkowski had taken over $1 million in cash from the track's money room over the years. As a result, the owners pushed Piontkowski out as president and bought out his shares. The track's new president vowed to change the organization's "culture", but the Gaming Commission called the changes "way too little, way too late" and disqualified Plainridge's application for a gaming license in August 2013. Weeks later, Penn National Gaming reached a deal to pursue a gaming license at Plainridge, with an option to buy the track if its bid were successful.  Plainville voters soon approved the slots plan by a margin of 3 to 1 in a town referendum, required as a licensing condition.
2014 – Penn National was awarded the gaming license in February 2014.
2015 – The slot parlor held a soft opening for guests on June 22, 2015, and opened to the public on June 24.
2018 – In October 2018, Penn National sold Plainridge's real estate assets to Gaming and Leisure Properties for $250 million and leased it back for $25 million annually.
Track Details and Other Facilities
🐎Main Track

The track's layout is a 5/8-mile oval with spiral turns, built in a classic European style.
The track surface comprises a gravel base with a stone dust composition and a screened stone dust layer.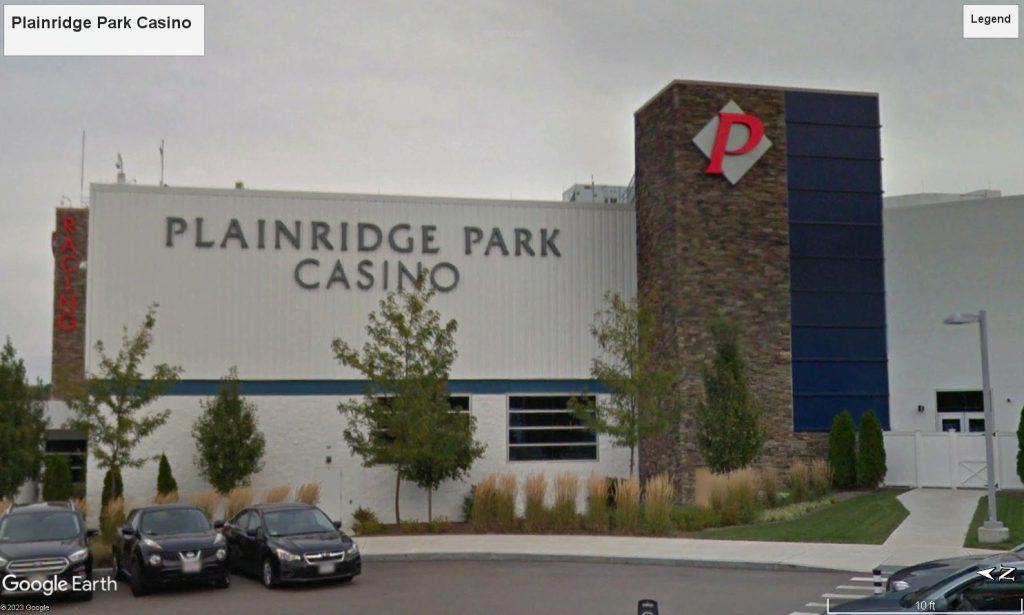 🐎

Casino

It is an open casino floor featuring over 1,200 slots,
It also offers high-limit rooms, a lounge, video poker, and electronic table games.

🐎

The Loft: Comedy Shows & Live Music

It offers from standup comedians to live music.
🐎

Revolution Lounge

Every weekend, it hosts different bands playing live music.
Open Hours

Daily – 11:00 am to 12:45 midnight.

🐎

The Patio

Open Hours

Fridays & Saturday Nights – Time varies.
🐎

Slack's Oyster House & Grill

It features seafood and a steakhouse.
Takeout is available.
Guests must be 21+ to dine.
Open Hours

Thursday – 4:00 pm to 8:00 pm.
Friday and Saturday – 12:00 noon to 9:00 pm.
Sunday – 12:00 noon to 8:00 pm.
The last dine-in seating is 15 minutes before closing.

🐎

Flutie's Sports Pub

It has over 30 LCD screens.
Flutie's Sports Pub is currently closed.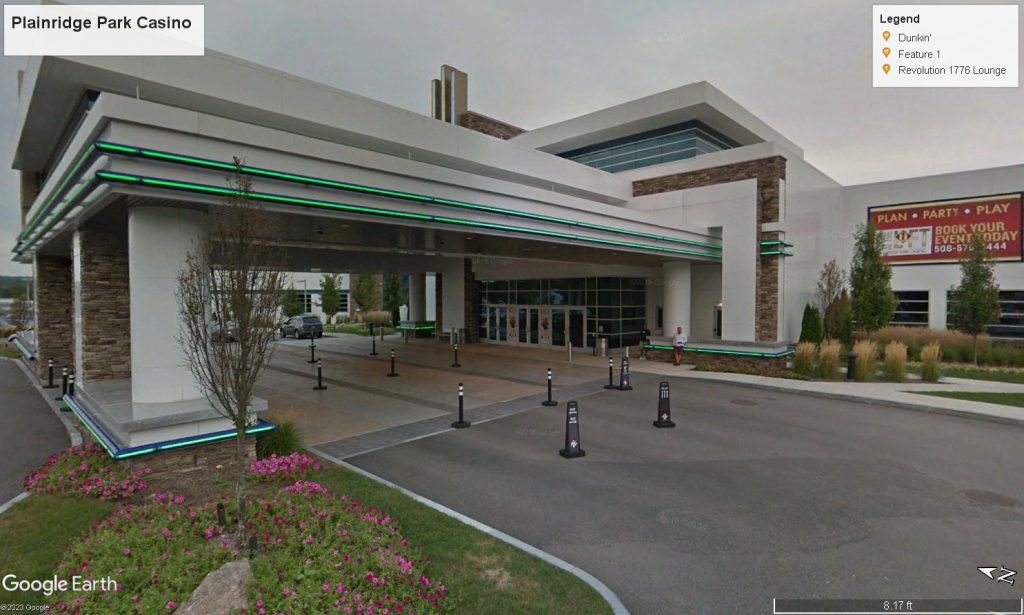 🐎

Smashburger

Open Hours

Daily – 12:00 noon to 9:00 pm.

🐎

Slice

Open Hours

Sunday to Thursday – 12:00 noon to 10:00 pm.
Friday and Saturday – 12:00 noon to 11:00 pm.
🐎

Dunkin'

Open Hours

Daily – 8:00 am to 1:00 am.

🐎

Grab & Game

Open Hours

Daily – 12:00 noon to 1:00 am.
Race Schedule and Major Events & Races​
Plainridge Racing Schedule
🐎

Live Racing Schedule

Features live harness racing on Plainridge Park's race course from April through November.
🐴The Stan Bergstein Pace
🐴The $25,000 Guy Smith Memorial Series Final
🐴The $20,000 New England Classic.
Location and Access to the Racecourse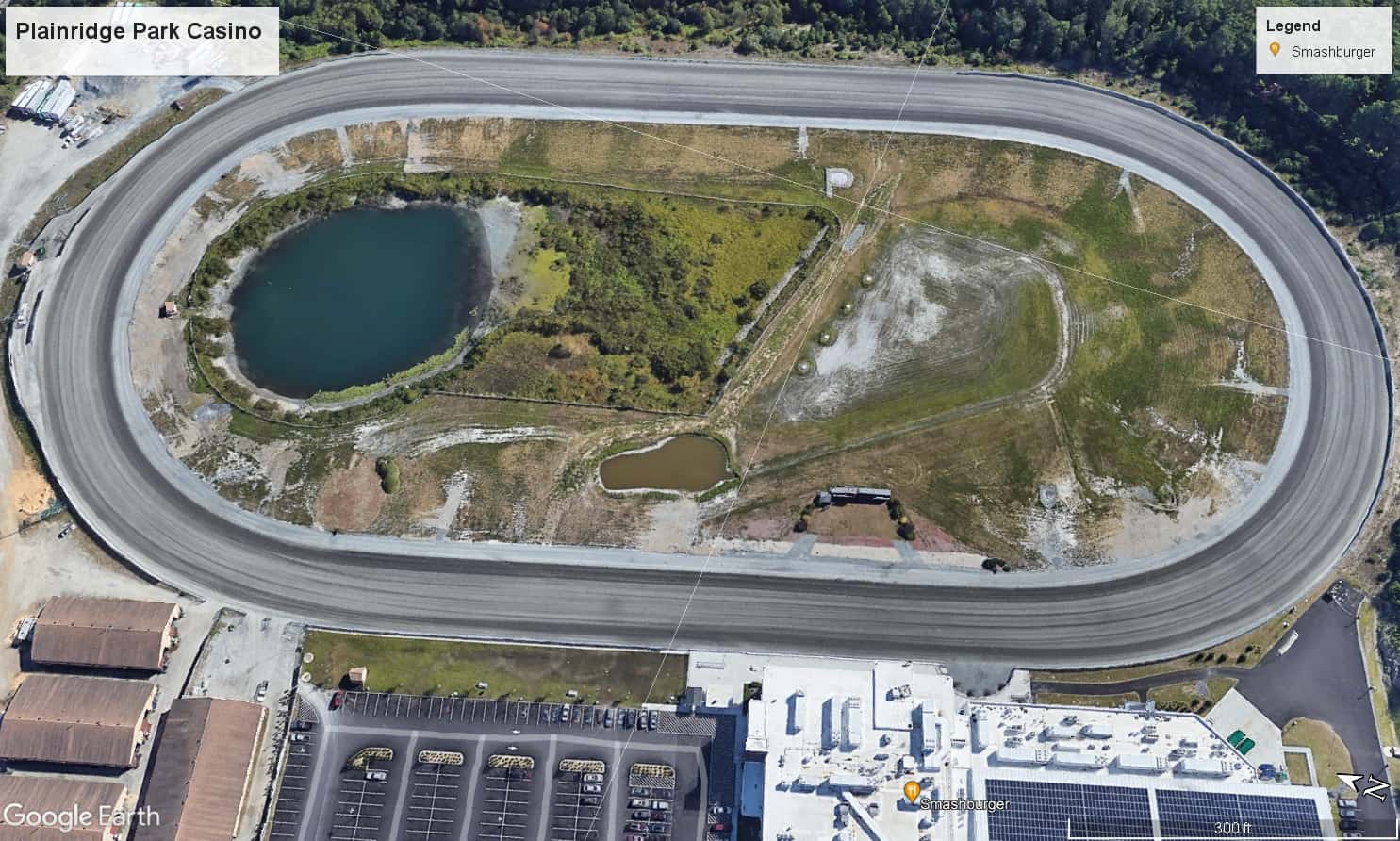 Plainridge Park Casino is just minutes from Providence, Rhode Island, and Boston, Massachusetts, conveniently located off I-495.
It offers free parking.
Other racetracks are sorted and listed on the page "List of Racetracks". To view the full list, hit the button below. You can also check the horse racing types and breeds to have a lot more in-depth knowledge about horse racing. 
You can also check Plainridge race results and Plainridge race entries using our AmWager platform for FREE!
It is easy to access and fast as 1, 2, 3!
So what are you waiting for?
STOP HORSING AROUND, GET SERIOUS, GET AMWAGER !
Sign Up now for FREE and wager like a PRO with AmWager