Pleasanton Fairgrounds Racetrack
Don't forget you can wager on the races with AmWager
Wager on live horse races like a Pro with AmWager.
Simple…We are the best online wagering platform today. Real-time updates, exclusive tools, custom wagering types, player-focused design. Not using AmWager is like playing in the kiddie pool.
Powerful, fast, innovative, secure, yet easy to use! All because we value and listen to our customers.
Pleasanton Fairgrounds Racetrack
Pleasanton Fairgrounds Racetrack is a horse-racing track in Pleasanton, California, United States. It opened in 1858, at Alameda County Fairgrounds.
The Pleasanton Fairgrounds Racetrack is located at the Alameda County Fairgrounds in Pleasanton, California, race track for Thoroughbred, Quarter horse, and Arabian racing. In 1858, the sons of Spaniard Don Agustín Bernal built this third-oldest horse racing track in the United States, even older than New York's popular Saratoga racetrack. In the past, local Spaniards and rich owners in the Eastern United States often chose Pleasanton as a training ground for their horses.
Then in 1876, the track became known as the Pleasanton Trotting Park, and the same year, Joseph Nevis purchased and managed the racetrack and constructed the first grandstand. In 1939, pari-mutuel wagering commenced at Pleasanton. Then in 1940, the track was purchased by Alameda County. In 1941, during its nine-day meet, the track achieved a national record for the average daily handle.
Although the Pleasanton was closed for three consecutive years during World War II, the rack achieved remarkable improvement after the war. In 1963, the old wooden grandstand was remodeled into a modern concrete and steel structured grandstand. In 1975, a nine-hole golf course supplanted the venue's inner racecourse, while in 1991, a facility for simulcast horse race betting was opened.
The main track is a one-mile oval consisting of sands and soils with one chute at 2 furlongs and the other at 6 furlongs, while the homestretch measures 1,085-feet long and 60-feet wide. The grandstand can accommodate about 6,700 spectators. The barn has 700 horse stalls on the site, while the parking space can fit 600 cars. The Pleasanton's satellite wagering facility also features early California mission-style architecture.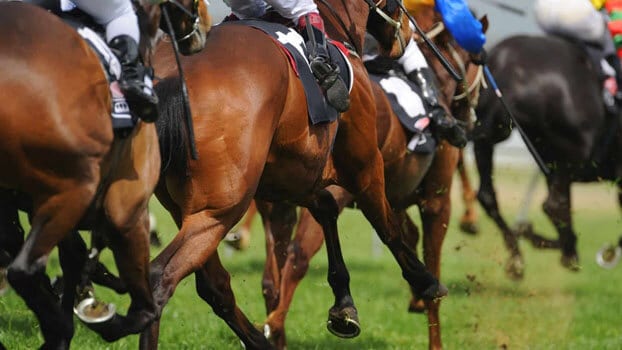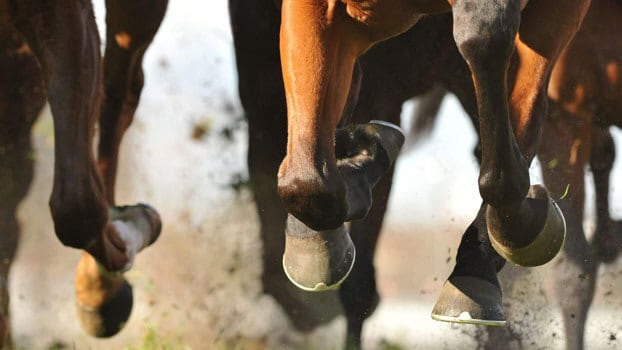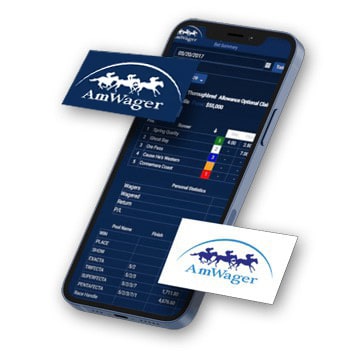 Pleasanton Fairgrounds Racetrack
Don't forget you can wager on the races with AmWager
Wager on live horse races like a Pro with AmWager.