Don't forget you can wager on the races with AmWager
Wager on live horse races like a Pro with AmWager.
Simple…We are the best online wagering platform today. Real-time updates, exclusive tools, custom wagering types, player-focused design. Not using AmWager is like playing in the kiddie pool.
Powerful, fast, innovative, secure, yet easy to use! All because we value and listen to our customers.
Prairie Meadows
Prairie Meadows is a horse-racing track and casino in Altoona, Iowa, United States. It opened in 1989, at Prairie Meadows Dr.
History of Prairie Meadows
1980's – It all started when several local business people visioned that creating a racetrack would improve Iowa's agricultural community, economic development, and job hiring in central Iowa and build a dynamic entertainment venue enticing visitors from all over the Midwest.
1983 – Pari-mutuel betting was legalized
1984 – Prairie Meadows acquired the Iowa Racing and Gaming Commission license to operate the track.
1989 – On March 1, 1989, the track was opened and conducted its first day of racing.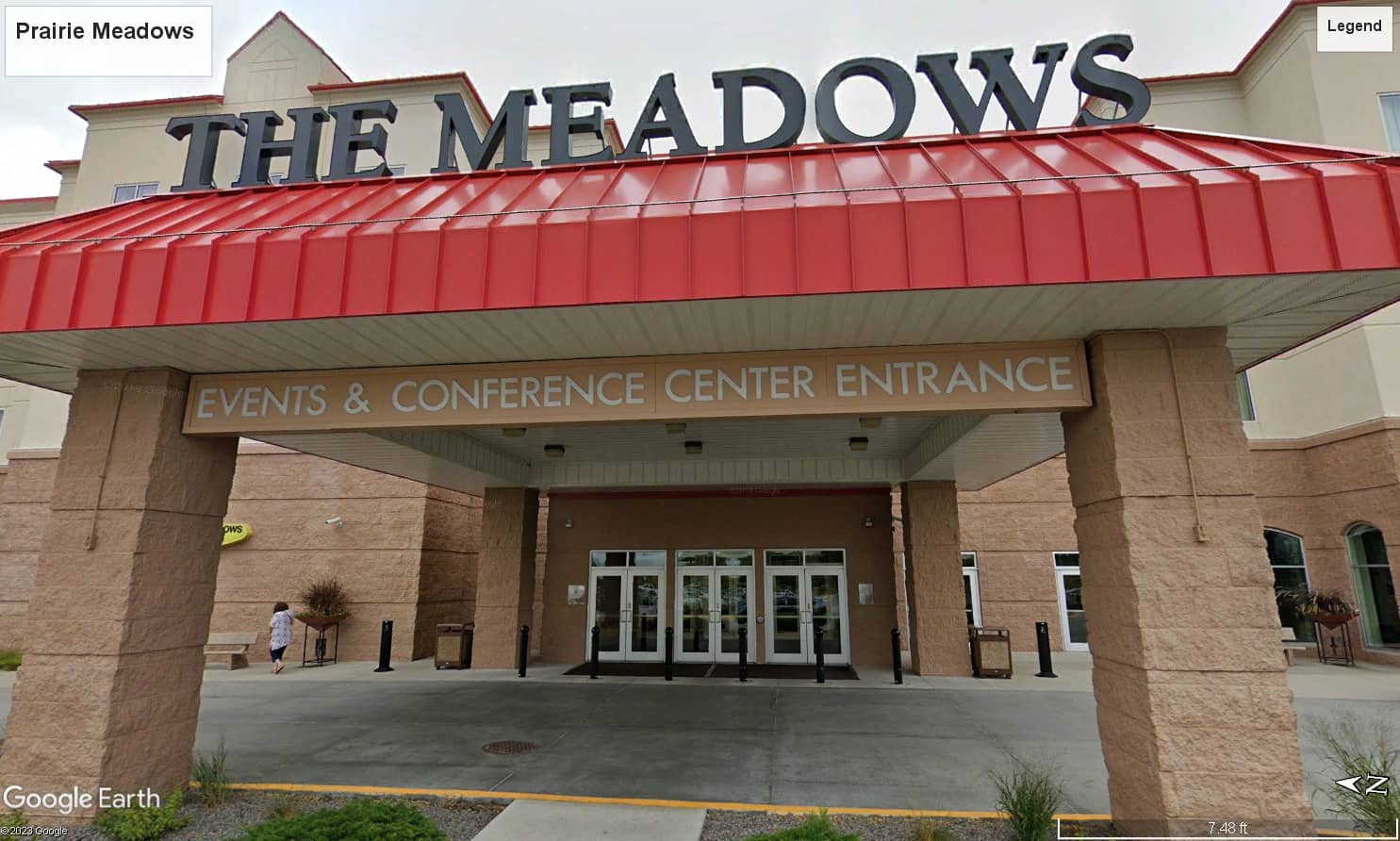 1991 – During its first few years of operation, it went bankrupt in November 1991.
1992 – Live racing was suspended before revenues from off-track betting allowed racing to resume the following year.
1994 to 1995 – On May 17, 1994, legislation allowing the installation of slot machines at Prairie Meadows was passed, and slot machines were installed on April 1, 1995. This brought success to the track, and they could finally pay their debts.
1996 –  By December 1996, Prairie Meadows had paid off $89.3 million in debt to Polk County, setting the stage for the gambling operation to become a cash cow for the county.
1997 – But Prairie Meadows was engulfed in a new controversy in 1997 when the Iowa Racing and Gaming Commission threatened to revoke its state gambling license. State regulators were concerned that Polk County's landlord was operating Prairie Meadows instead of the licensee, the Racing Association of Central Iowa. A settlement was finally reached after a two-day proceeding that resulted in a new agreement between Polk County and the racing association.
1998 – The expansion of racetrack gambling followed a lawsuit filed in 1998 challenging much higher state gambling tax rates imposed on racetrack casinos compared to tax rates for riverboat casinos.
2004 – On December 14, 2004, Prairie Meadows became a full-fledged casino as they added table games to the casino mix, such as blackjack, craps, and roulette. The track continued to flourish and had a high demand for the addition of tables;
2005 – The facility's expansion was approved on January 25, 2005. The construction started in September 2005.
2006 – The track was opened again in August 2006.
2007 – The next year (February 2007), another two new restaurants and a 1,200-seat concert hall known as "The Meadows" were opened.
2012 – In 2012, Prairie Meadows Hotel was opened, and another restaurant named Café at the Meadows was added.
2016 – By 2016, an all-new loyalty program titled Prairie Gold Rewards was launched at Prairie Meadows. This robust program rewards both gaming and non-gaming guests while offering the best casino rewards benefits in the Midwest.
2019 – On January 16, 2019, Prairie Meadows announced a partnership with bookmaker William Hill in preparation for the proposed legalization of sports betting in Iowa.
Track Details and Other Facilities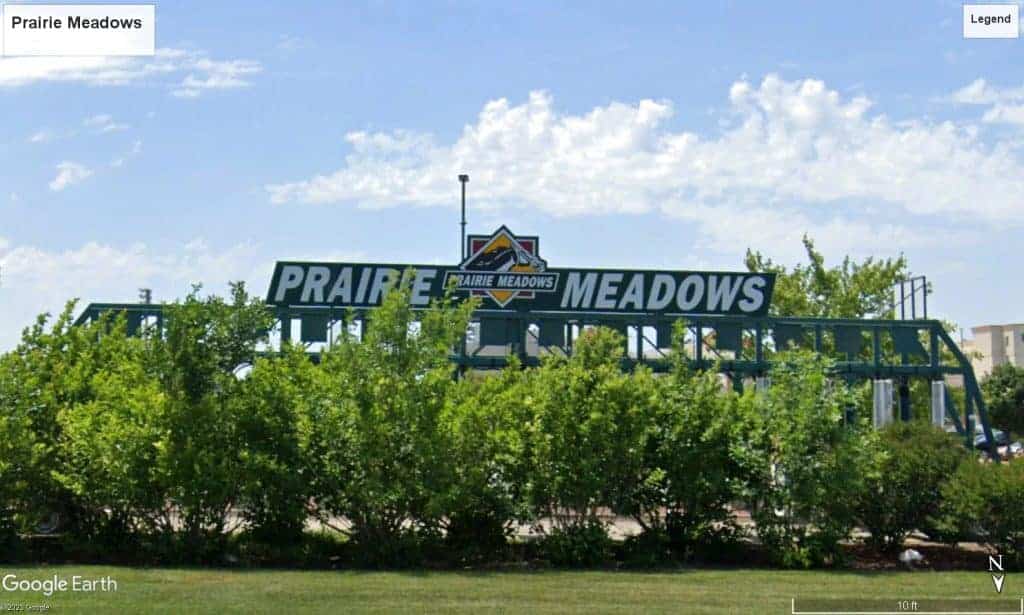 🐎Main Track (Dirt)

 A one-mile

dirt

track (oval)

Stretch

width of 90 feet,

Length

of home Stretch is 990 feet
Running direction is counterclockwise.
🐎

Casino

Open 24/7
Guests

should be 21 or older in the casino gaming areas.

It has slot Machines, Table Games, Electronic Table Games, and a Poker Room
The Gift Shop

is

located near the main casino entrance.

🐎

Prairie Meadows Hotel

It has a Saltwater Pool, Fitness Center, Photo Finish Lounge, and Business Center

🐎

Meetings and Events

The venue offers events, meetings, and wedding situations.

🐎

Seating Capacity

The seating capacity is 1400, the clubhouse seating capacity is 2500, and the grandstand seating capacity is 2300.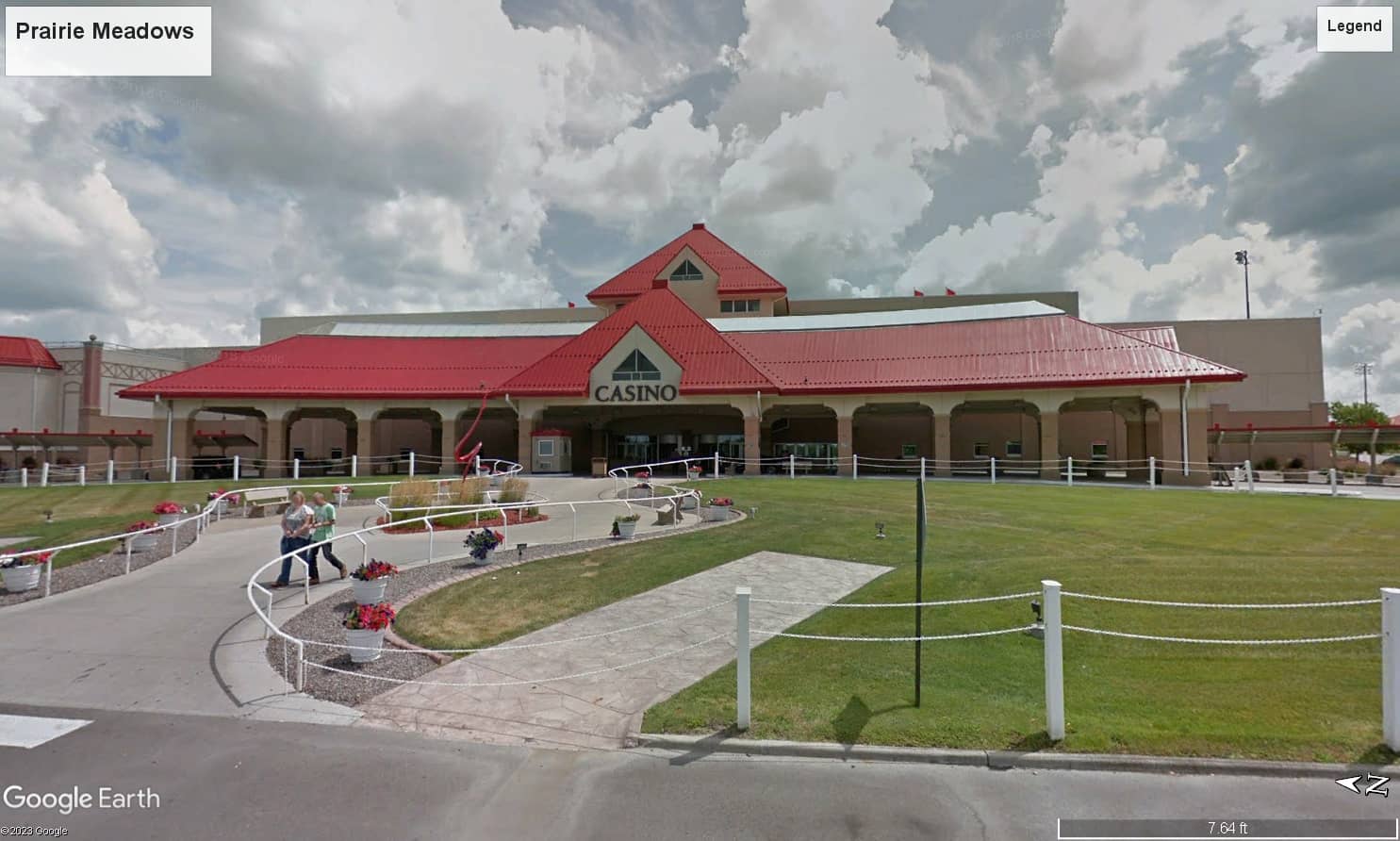 🐎AJ's Steakhouse

It is located on Level 1 of Prairie Meadows
With a Party Room
Open Hours

Wednesday, Thursday, and Sunday – 4:00 pm to 9:00 pm.
Friday & Saturday – 4:00 pm to 10:00 pm.

🐎

The Paddock Grill

It is located on Level 2 of Prairie Meadows
Open Hours

Sunday to Thursday – 8:00 am to 2:00 am.
Friday & Saturday – 8:00 am to 4:00 am.

🐎

Café at the Meadows 

It is located on Level 1 of Prairie Meadows
Open Hours

Sunday to Tuesday – 7:00 am to 8:00 pm.
Wednesday & Thursday – 7:00 am to 2:00 pm.
Friday & Saturday – 7:00 am to 9:00 pm.
🐎CHAMPIONS

Racing Season Hours

Friday to Saturday – 5:00 pm to 8:00 pm.

🐎PRAIRIE COFFEE COMPANY

It is located on Level 2 of Prairie Meadows
Open Hours

Open Daily – 6:30 am to 1:00 am.
Race Schedule and Major Events & Races​
Prairie Meadows Race Course Schedule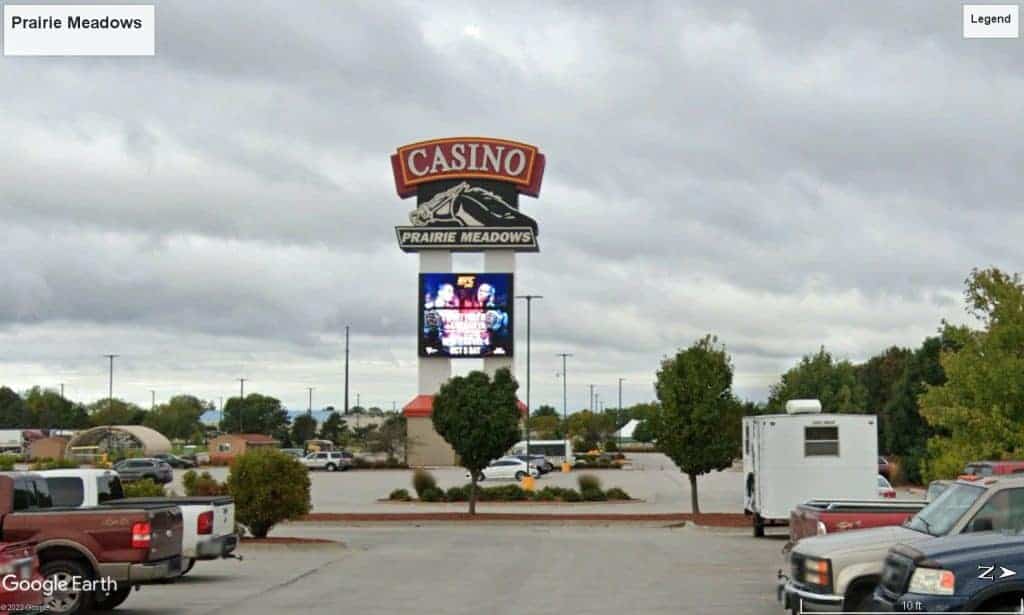 Grade III 

🐴 

Iowa Oaks

🐴 

Prairie Meadows Cornhusker Handicap
Location and Access to the Racecourse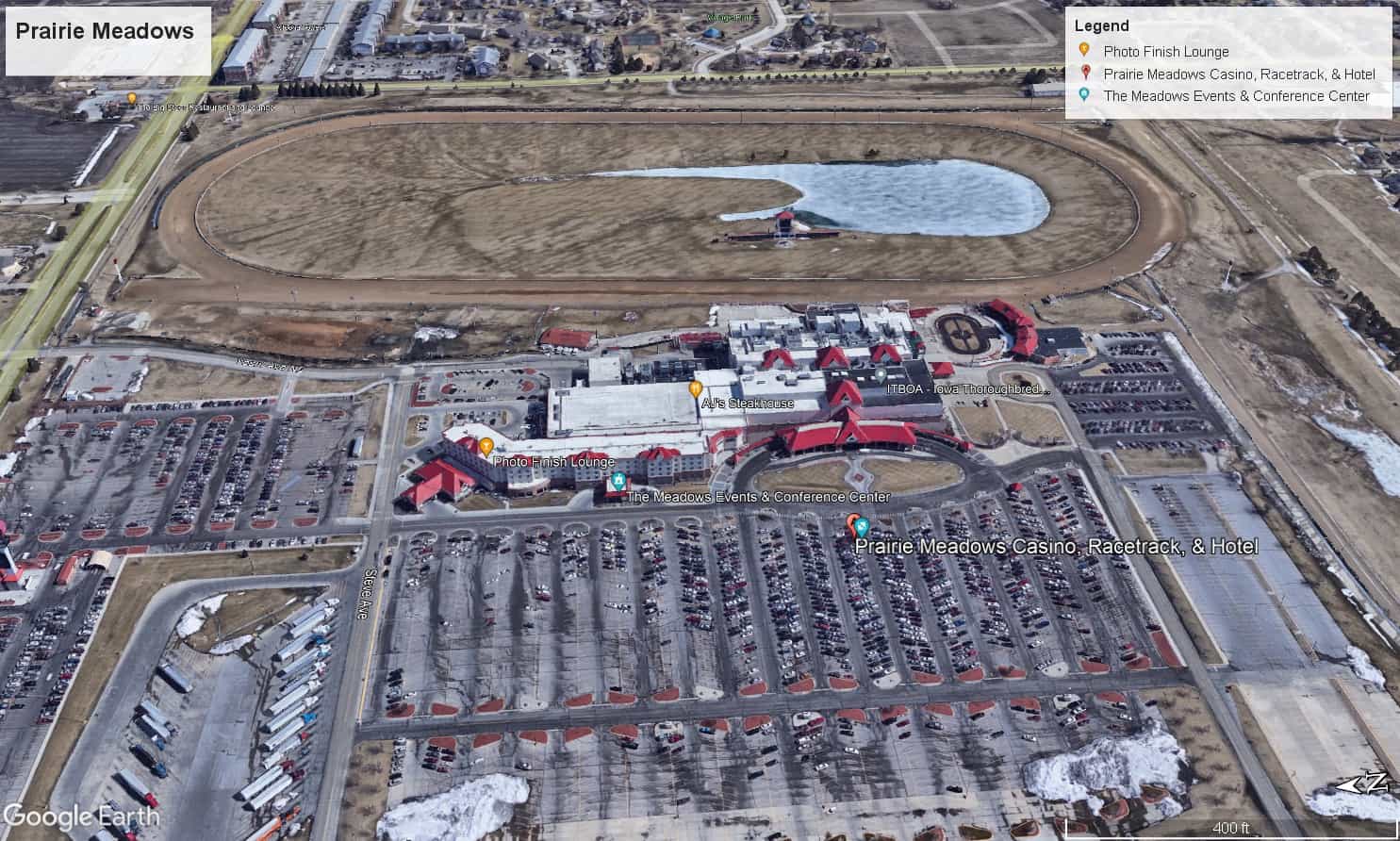 Prairie Meadows Casino, Racetrack & Hotel is in Altoona, Iowa, United States.
Near theme parks at 1 Prairie Meadows Drive.
Minors must be accompanied by an adult to racing events and restaurants.
 It also offers various types of live racing and

simulcast

action, owned by Polk County, Iowa, and operated by the 13-Member Board of Directors. 
Other racetracks are sorted and listed on the page "List of Racetracks". To view the full list, hit the button below. You can also check the horse racing types and breeds to have a lot more in-depth knowledge about horse racing. 
You can also check Prairie Meadows race results and Prairie race entries using our AmWager platform for FREE!
It is easy to access and fast as 1, 2, 3!
So what are you waiting for?
STOP HORSING AROUND, GET SERIOUS, GET AMWAGER !
Sign Up now for FREE and wager like a PRO with AmWager