Don't forget you can wager on the races with AmWager
Wager on live horse races like a Pro with AmWager.
Simple…We are the best online wagering platform today. Real-time updates, exclusive tools, custom wagering types, player-focused design. Not using AmWager is like playing in the kiddie pool.
Powerful, fast, innovative, secure, yet easy to use! All because we value and listen to our customers.
Saratoga Casino Hotel
Saratoga Casino Hotel is a horse-racing track in Saratoga Springs, NY, United States. It opened in 1941, at Jefferson St.
History of Saratoga Casino Hotel
1941 – The track, originally dubbed Saratoga Raceway, was opened in 1941 as a facility for American harness racing and was the third racetrack to have pari-mutuel wagering. On June 26, 1941, the 1st day of racing at Saratoga Raceway occurred.
1946 – The original two-tier Clubhouse was completed.
1974 – Equine Hydrotherapeutic facility (a pool for horses) constructed in the stable area
1987 – Upstate Harness Racing, Inc. took over Saratoga Raceway with Joe Gerrity, Jr. as President and Chairman.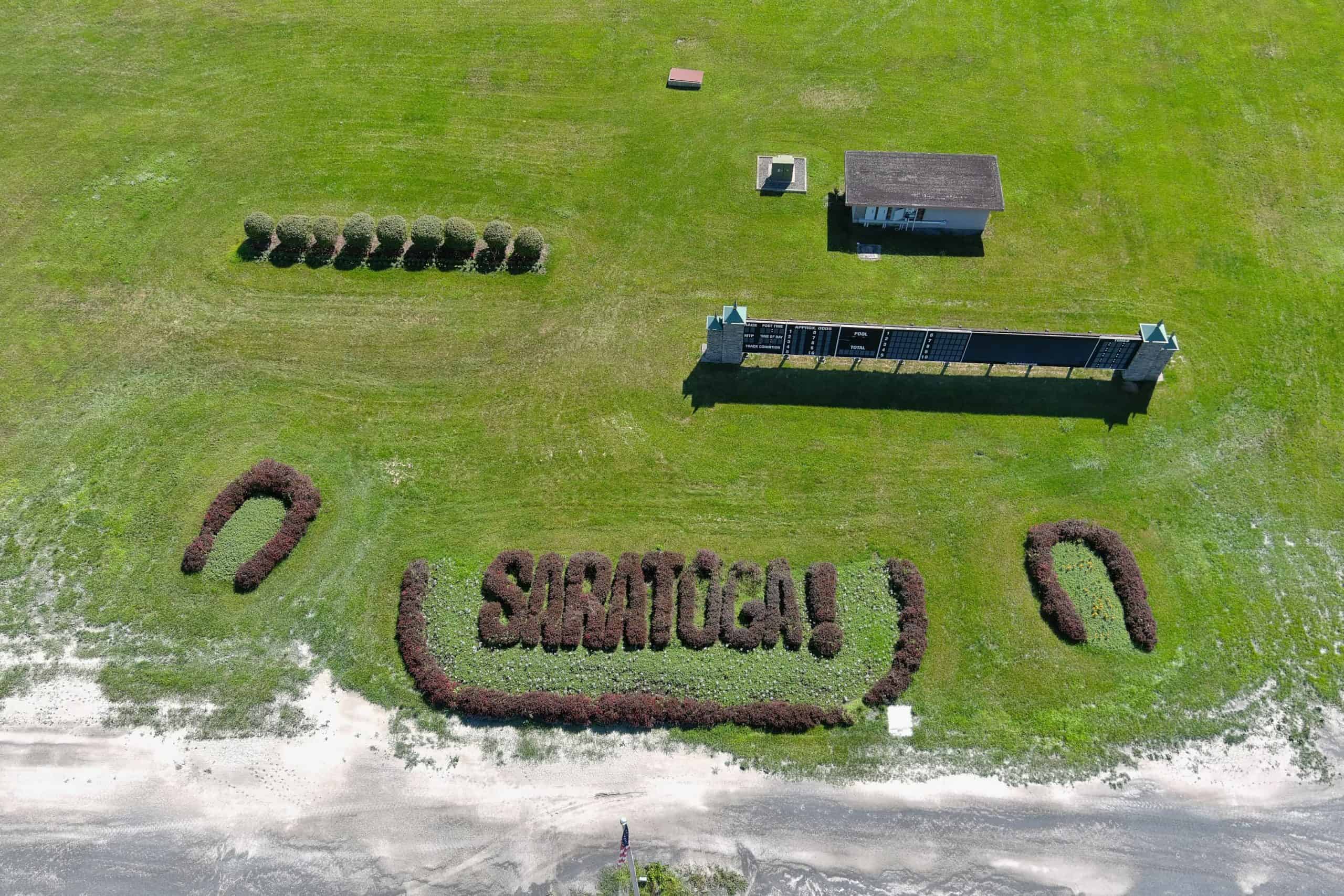 1980's to 1990's – The track was notorious in the early 1980s for being where Niatross collapsed and fell on the inner rail on the stretch run home, dealing him his first-ever career loss. Niatross (1977–1999) was an American champion standardbred racehorse many believe was the greatest harness horse ever. But the advent of off-track betting and the economy led towards sour times for racing at the Raceway. Not giving up, the management changed the name of Saratoga Raceway to Saratoga Equine Sports Center in the 1990s to reflect the plans to bring more horse-related activities to the facility. However, it did not give the result they desired, and the track management had to import races from other tracks across New York State to offer to fill up a nine-race card.
2001 – The change for Saratoga Raceway came in 2001 when government officials in New York State approved a bill allowing VLTs to be installed at racetracks across the state. The track management was then applied to install the VLTs.
2002 – In early 2002, Saratoga County officials approved the installation of the terminals at Saratoga Raceway.
2003 – Construction began, transforming the racing facility into a modern-day gaming floor.
2004 – Saratoga Gaming and Raceway's newly constructed casino, the first at a NY harness track, opens with 1,300 video gaming machines on January 28, 2004. To align their new facility, the Saratoga Equine Sports Center changed its name to Saratoga Gaming and Raceway.
2006 – A hotel was constructed on the north end of the property where a training track once existed.
2007 – A 45,000 sq ft expansion started, including Vapor and the Garden Buffet.
2011 – The facility changed names again to Saratoga Casino and Raceway, reflecting the plans to introduce electronic table games and increase the diversity of gaming options at the racino. The New York Sire Stakes Night of Champions returned to the racino for a third time on October 1, 2011.
2012 to 2018 – In May 2012, the track's parent company, Saratoga Harness Racing, agreed to buy Fitzgeralds Casino in Black Hawk, Colorado, for $28 million. The sale closed in January 2013, with plans to spend $40 million on expansion and rename the property to Saratoga Casino Black Hawk. Moreover, the company acquired a minority stake in Ellis Park Race Course in Kentucky in 2012 and then fully owned the track in 2018.
2013 – The management made the biggest race of the year, "the Joe Gerrity Jr. Pacing Series," into a single "Free For All" pace worth $275,000.
2015 – Construction of a brand-new hotel began on the facility's north side, where a training track once resided.
2016 – The 117-room luxury hotel opened in July 2016, causing the management to change the name to the current name of Saratoga Casino Hotel.
2019 – Starting in February of 2019, Saratoga Casino began an $8 Million upgrade to include new features and amenities such as an Outdoor Gaming Terrace, a Sports Bar, and a VIP Lounge.
According to the history books, the Saratoga harness racing legend was born when two horses named Lady Suffolk (aka The Old Gray Mare) and Moscow were set against each other in a staged race in Saratoga Springs.
During the height of racing, thousands of fans would visit to cheer on the horses. The track would offer grand-circuit racing, attracting some of the biggest racing names to the half-mile facility that day.
Track Details and Other Facilities
🐎Main Track

It has a 1⁄2-mile oval standardbred racetrack.
Horses do two laps to complete the commonly used 1-mile (1.6 km) distance in US standardbred races. Because of the landscaping in the infield and the country feel, the track has been dubbed "The most beautiful 1⁄2-mile track in the country.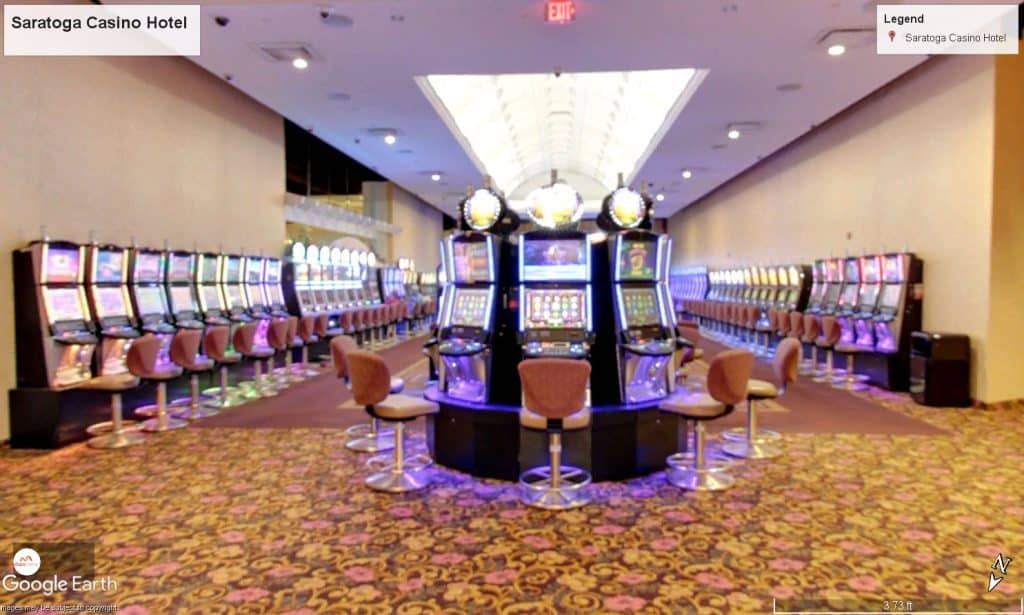 🐎

Casino

It has 1200 slots, video poker, keno, or electronic table games, including blackjack, roulette, and craps.
All machines work on a voucher system.
It is located in historic Saratoga Springs, Saratoga Casino Hotel.
Open Hours

Open Daily – 9:00 am to 5:00 am.

VIP Lounge

The VIP Lounge is open with limited offerings.
🐎

Entertainment

It offers live entertainment and nightlife.
Vapor Nightclub

It is open for special events and private corporate events throughout the summer.
Guests should be 21 years old and above.
🐎

Hotel (Four-Diamond Award)

It is located minutes from downtown Saratoga and the iconic Saratoga Race Course.
It offers an indoor resort pool with spa whirlpool, outdoor patio, fire pit, Morton's® The Steakhouse, lobby bar, marketplace, fitness center, shuttle, luxury suites, and more than 3,000 square feet of meeting and event space.
🐎Corporate Meetings & Conferences

Venue options include a hotel ballroom that can be subdivided into three breakout rooms: pre-function and break areas and three fully-appointed boardrooms.
Other non-traditional options are the Trackside restaurant and Vapor. It provides a stage ideal for presentations with a 16′ overhead screen and over 15 additional presentation screens with optimal viewing from every room angle or for use to feature event sponsors.
🐎Weddings

The Intimate Indoor Setting

It is ideal for smaller weddings.

The Large Outdoor

A tent with a wood-plank concrete floor, lighting, and fabric ceiling liner can fit up to 200.
The lush private grounds of The Lodge also offer an ideal setting for the reception and the ceremony.
The Lodge is a private event venue located on the grounds of the Saratoga Casino Hotel.
It includes a fully-appointed outdoor tent that can be customized.
It also has a ballroom with over 3,000 square feet of customizable space. It features high coffered ceilings, rich woodwork, custom light fixtures, and broad French doors.
🐎Social Events & Galas

It offers venue options for celebration dinners, club banquets, holiday parties, galas, and fundraisers.
Venue options include more traditional settings, such as the hotel ballroom or a private event room at one of the restaurants on the racetrack.
The Lodge is also a private event venue. It can accommodate intimate indoor events to large-scale celebrations and galas in the fully-appointed outdoor tent.
The Vapor can be booked exclusively or during a regular nightclub hour.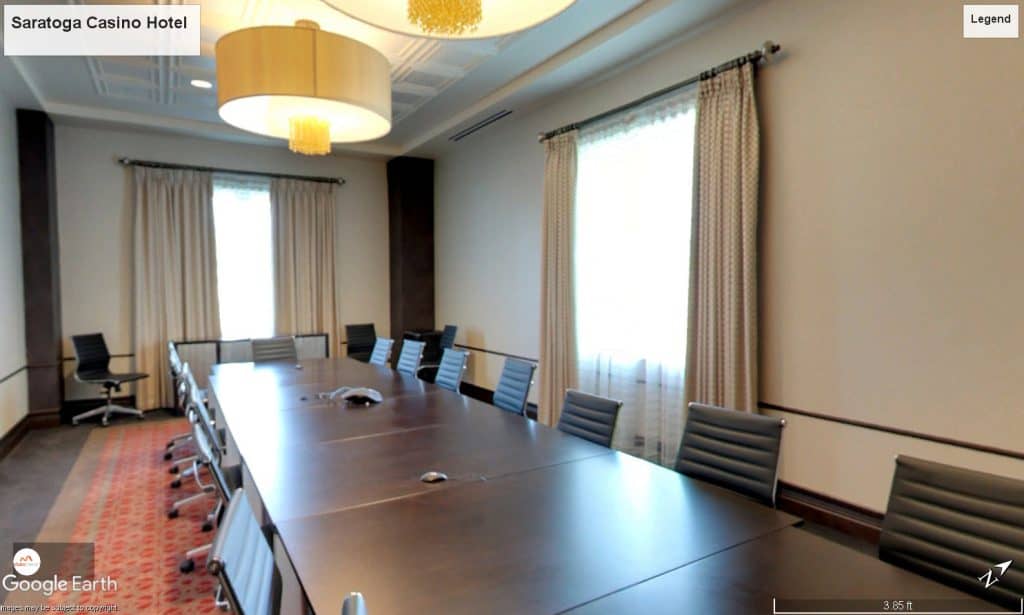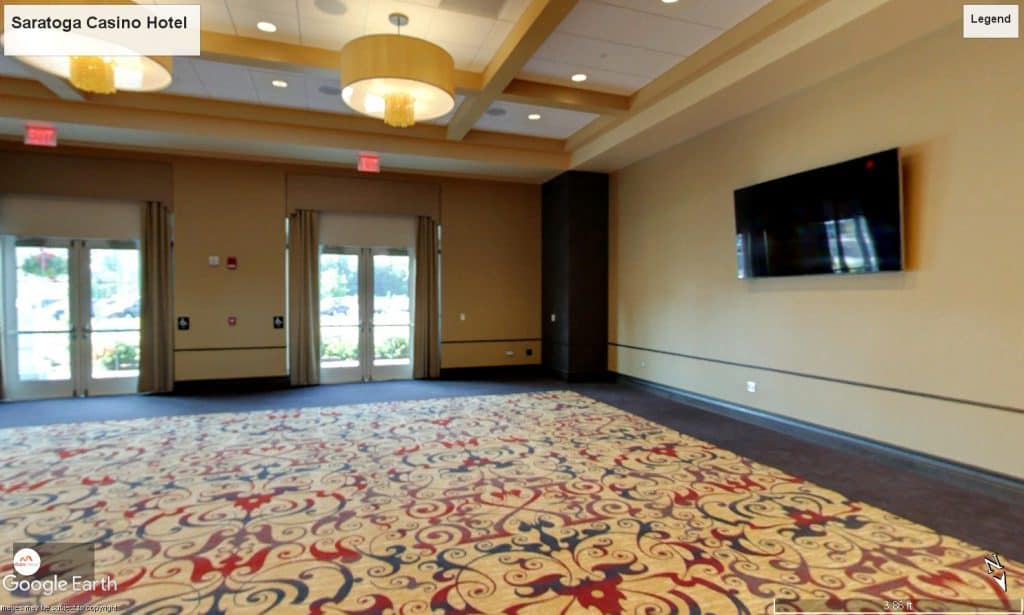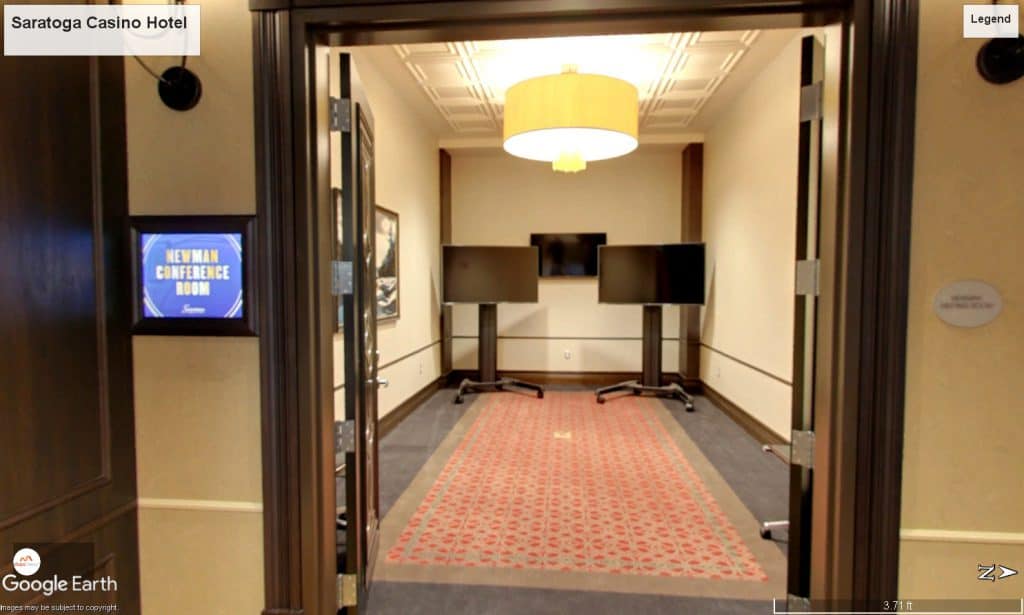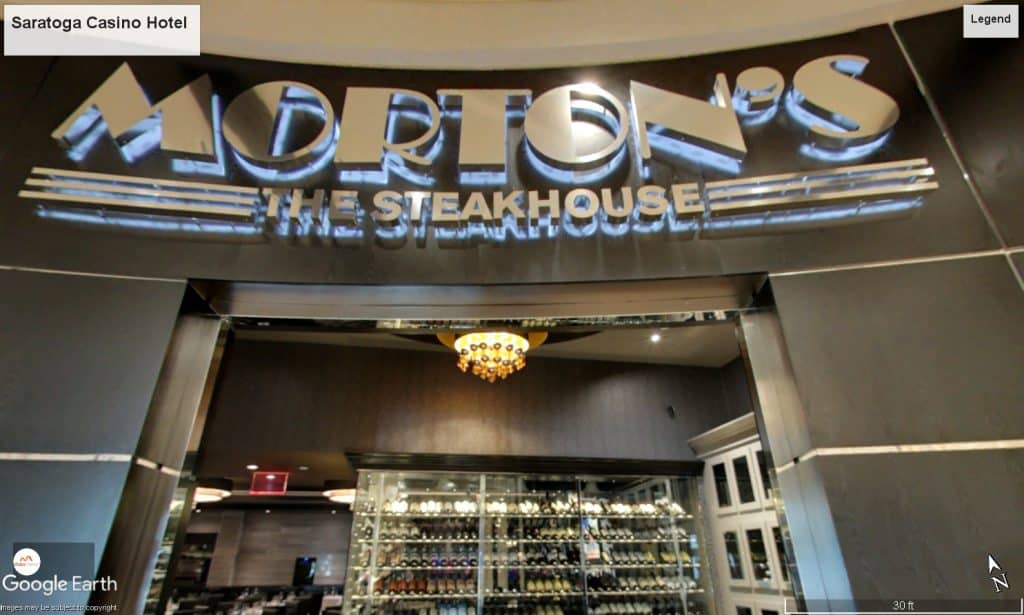 🐎Morton's® The Steakhouse

Morton's The Steakhouse is inside Saratoga Casino Hotel's hotel lobby.
The menu features the finest USDA prime-aged beef and fresh seafood.
A private dining area for larger parties is also available.
Power Hour

It offers special discounted pricing on selected drinks and bar bites at the Lobby Bar.
Wednesday to Sunday – 5:00 pm to 7:00 pm.

Open Hours

Wednesday, Thursday, and Sunday – 5:00 pm to 9:00 pm.
Friday and Saturday – 5:00 pm to 10:00 pm.
🐎Lucky Joe's

It is located just off the gaming floor and overviews the harness track near the finish line.
It features a Memphis-style BBQ, pizzas, grilled sandwiches, gourmet salads, and draft beer.
Open Hours

Sunday to Thursday – 12:00 noon to 8:00 pm.
Friday and Saturday – 12:00 noon to 10:00 pm.
🐎Mane Bar

The sports bar is located on the gaming floor.
It features 20 taps highlighting several local craft beers and over 30 multimedia screens surrounding the center of the bar.
A wide variety of high-end Bourbon, Whiskey, and Scotch from all over the world are available at the Bourbon Wall at Mane Bar.
Open Hours

Monday to Thursday – 11:00 am to 2:00 am.
Friday and Saturday – 12 noon to 4:00 am.
Sunday – 11:00 am to 2:00 am.
🐎Fortunes Restaurant

It offers trackside dining with convenient table-side wagering and flat-screen TVs.
It is open to private parties of 100 or more.
🐎Perks Marketplace at Saratoga Casino Hotel

It is open 24 hours with convenient self-serve checkout.
It offers to-go dining options, including casual bites for breakfast, lunch, and dinner. It also offers alcohol, snacks, health and beauty supplies, fashion accessories, unique gifts, and sundries.
Race Schedule and Major Events & Races​
🐎Live Racing Schedule

Feature harness racing with races held 11 months of the year.
Racing Season is from February–December. 

🐎Training Hours

Main Track

Monday to Sunday – 6:00 am to 1:00 pm (weather permitting)

Jog Track

Sunday to Saturday – 6:00 am to 1:00 pm (weather permitting)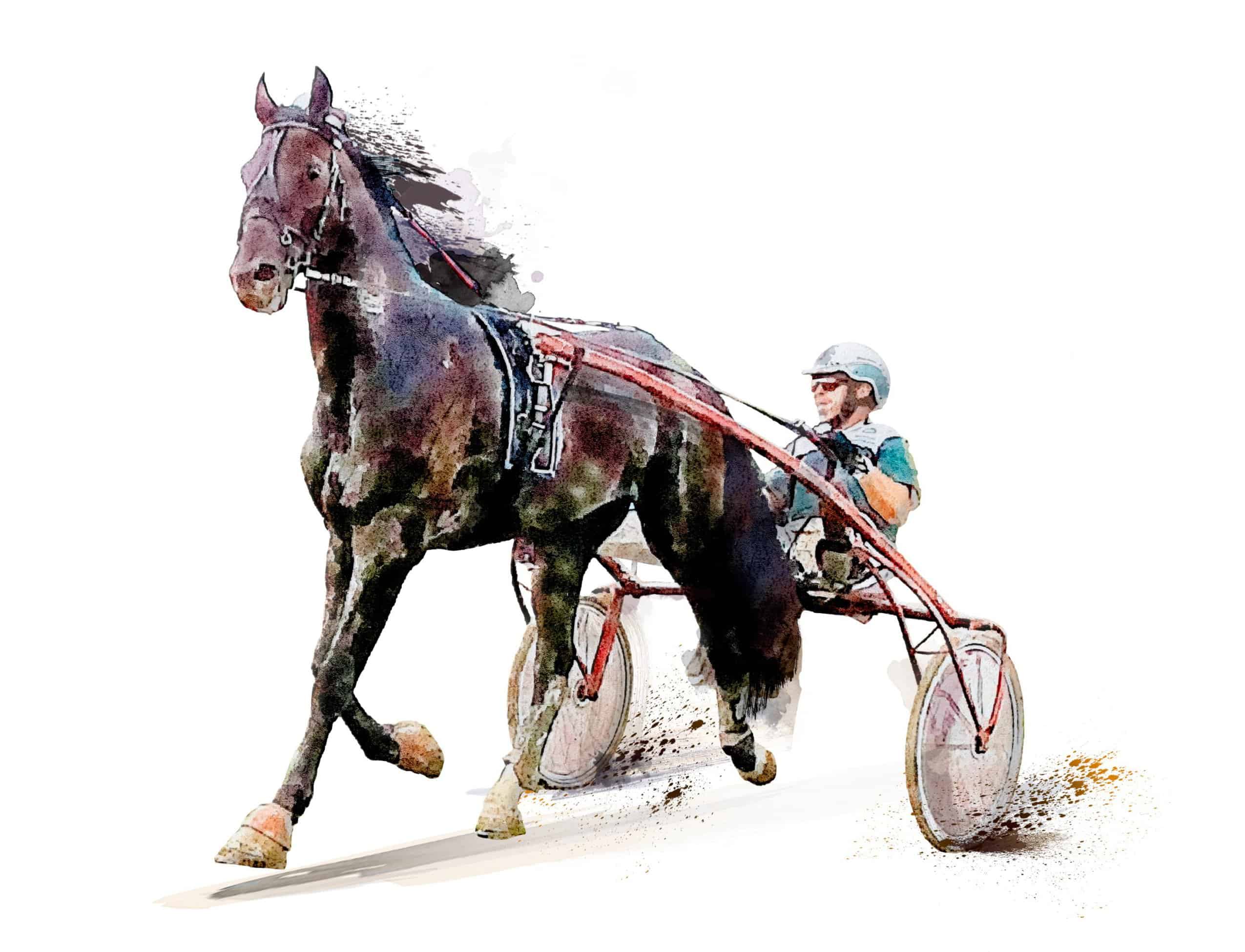 Location and Access to the Racecourse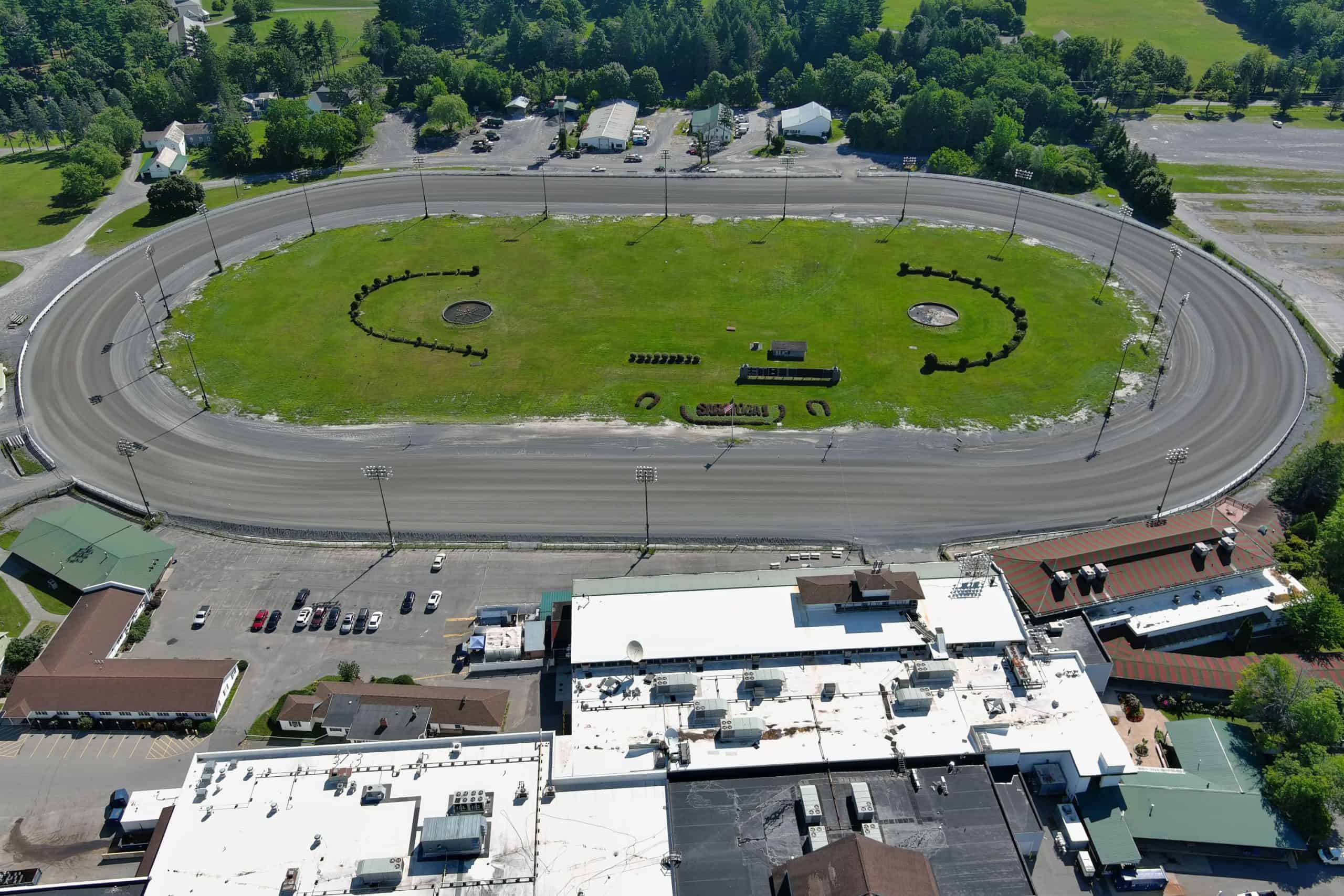 It is located in Saratoga Springs, Saratoga Casino Hotel.
It is near ski lifts, within a 5-minute walk of Saratoga Harness Museum and Saratoga Casino and Raceway.
The 4-star hotel is 1.6 mi (2.6 km) from Saratoga Racecourse and 2.2 mi (3.6 km) from Saratoga Performing Arts Center.
Saratoga Casino Hotel is not connected to the historic 

Saratoga Race Course

thoroughbred race track across the Nelson Avenue street.
Entrances

The primary entrance is on Jefferson Street, where the Saratoga Harness Hall of Fame is located.
The secondary entrance is on Crescent Avenue.
The third entrance is on Nelson Avenue, just north of its intersection with Crescent Avenue.
Other racetracks are sorted and listed on the page "List of Racetracks". To view the full list, hit the button below. You can also check the horse racing types and breeds to have a lot more in-depth knowledge about horse racing. 
You can also check Saratoga Harness race results and Saratoga Harness race entries using our AmWager platform for FREE!
It is easy to access and fast as 1, 2, 3!
So what are you waiting for?
STOP HORSING AROUND, GET SERIOUS, GET AMWAGER !
Sign Up now for FREE and wager like a PRO with AmWager