The Raceway at Western Fair District
Don't forget you can wager on the races with AmWager
Wager on live horse races like a Pro with AmWager.
Simple…We are the best online wagering platform today. Real-time updates, exclusive tools, custom wagering types, player-focused design. Not using AmWager is like playing in the kiddie pool.
Powerful, fast, innovative, secure, yet easy to use! All because we value and listen to our customers.
The Raceway at Western Fair District
The Raceway at Western Fair District is a horse-racing track in London, Ontario, Canada. It opened in 1961, at Rectory Street.
History of Western Fair District
1867 – Western Fair Association was founded through the union of the East Middlesex Agricultural Society and the London District Horticultural and Agricultural Society. It was granted a Provincial Charter and incorporated as an Agricultural Society on April 23, 1867.
1868 – The first official meeting of the Western Fair Association was held and the inaugural year for the annual Western Fair. Predominantly livestock shows were held on September 29 and 30 on the lands surrounding the Crystal Palace Barracks. The location was just north of what is today known as Victoria Park in downtown London, Ontario.
1887 – The fair gained legal status through the Provincial Charter and Act of Incorporation. It moved to 900 King Street in east London, where the fairgrounds remain. The present fairgrounds were purchased for $65,000.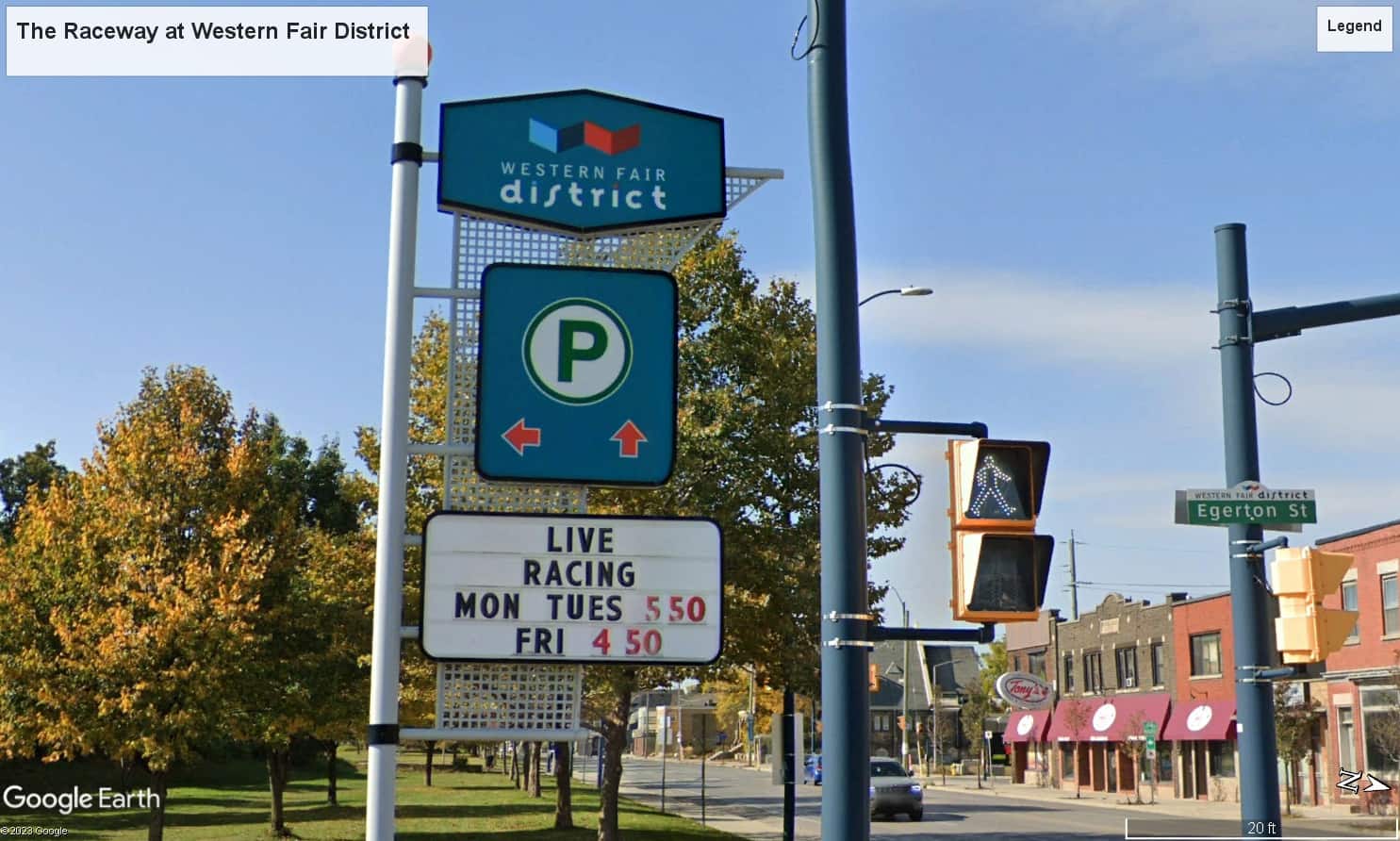 1898 –The Western Fair spans 10 days and highlights industrial and art exhibitions. Horse competitions were vast in the early days, as horses were integral to farming and transportation. Categories included light Standardbred and thoroughbred, harness and roadster classes, carriage and coach ponies, and heavy horses.
1915 – The Grandstand was reconstructed out of steel to replace the wooden one, which burnt down on Christmas Day of 1914.
1927 – A new Confederation Building was constructed to commemorate the 50th anniversary of the Canadian Confederation and for the 1927 Western Fair in September.
1939 to 1947 –  The Canadian Department of National Defence occupied the grounds for eight years.
1961 – A harness racing track for standardbreds at 900 King St, London, Ontario, Canada, owned and operated by Gateway Casinos & Entertainment Limited, opened in 1961.
1966 – Western Fair agreed to turn the title of the lands over to the City in exchange for a long-term, unencumbered lease of the property that gave the Association exclusive use of the lands. The Progress Building also added the 'east annex' and joined the Progress Building to Grandstand, making the first connection between the large complex buildings on the fairgrounds. During the fair, this area became known as the popular Patio Café, with 18 indoor, local specialty food concessions operated mainly by London churches, service clubs, and fraternal groups.
1999 – A slot machine facility on the site was opened to the public on September 28, 1999, as authorized by the Ontario Lottery and Gaming Corporation.
2007 – The current land-lease agreement with the City of London was extended to 2019 with provisions for two further 10-year renewal terms. It immediately increased the rent to $250,000 that year, with annual increases of 50k until 2014, when the annual rent would be $566,000.  The rent was to increase annually in the amount of the C.P.I. until 2019.
2008 – The facility contained 750 slot machines in April.
2011 – The Western Fair Association rebranded itself, becoming the Western Fair District. 
Track Details and Other Facilities
🐎

Grandstand

The grandstand's central use is for live racing and outdoor concert events
The area is 5,000 sq. ft. with clearances of 15' high point / 11' 4" low point.
The seating capacity is 4,000, while 934 seats are on track.
Parking west at the main entrance, additional space south of Florence St., accessible by an enclosed walkway from the Sports Centre.
It offers wheelchairs, washrooms, and ramps for exterior seating with reserved spaces.

🐎

Agriplex

It measures 126,000 square feet.
It offers an in-house system, wireless internet, D.I.D. and direct phone lines, multiple offices and boardroom space, a full-service concession, and various event hookups, including hydro, water, and gas.
The pavilion measures 90,100 sq. ft. and can accommodate over 400 booths. It features 2 loading doors and 3 loading bays.
The arena measures 24,000 sq. ft., with stadium seating for 1,500. It has 33-foot ceilings and 2 loading doors.
There is enough parking lot, including space for exhibitor trailers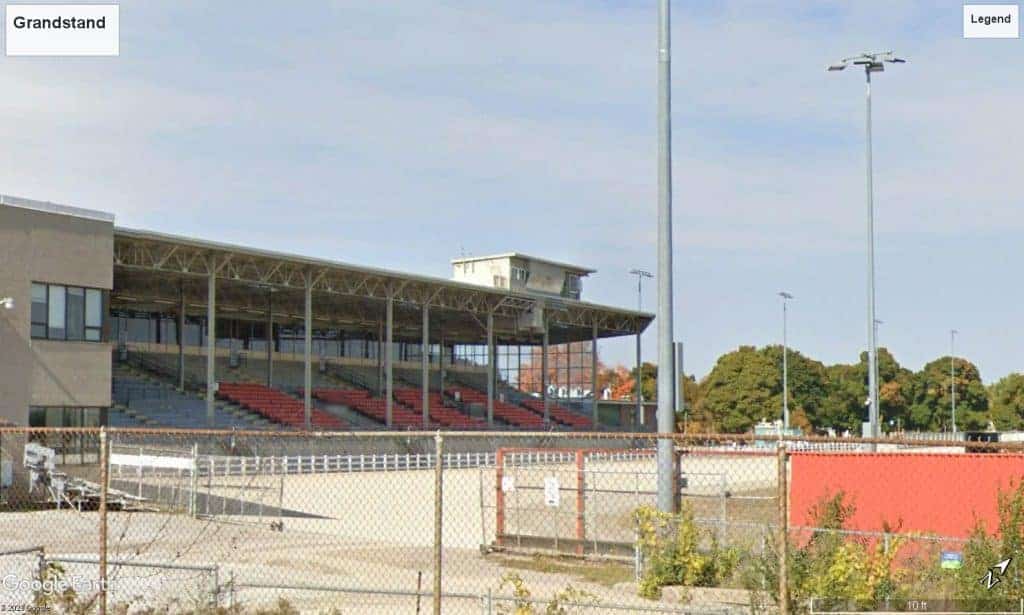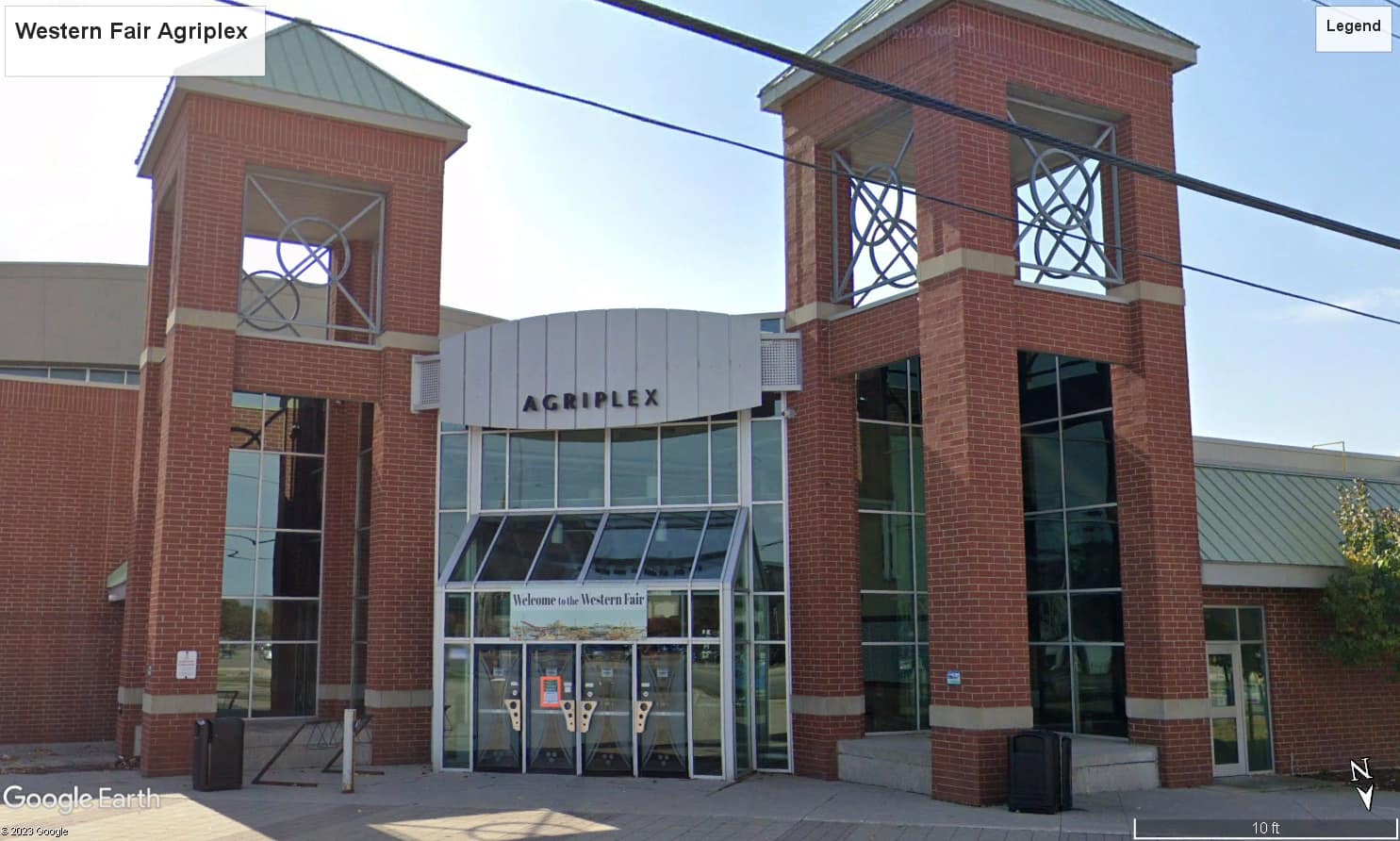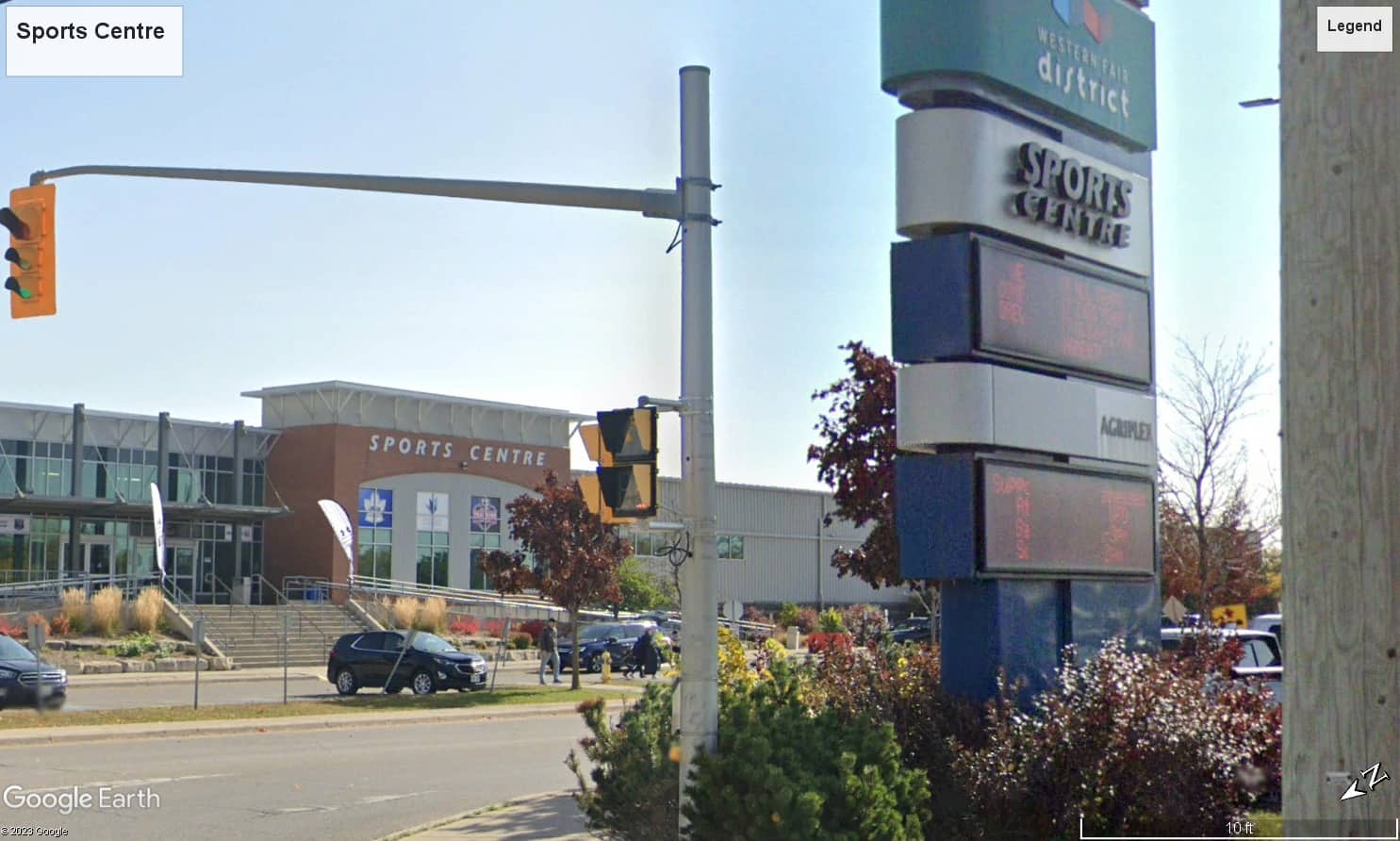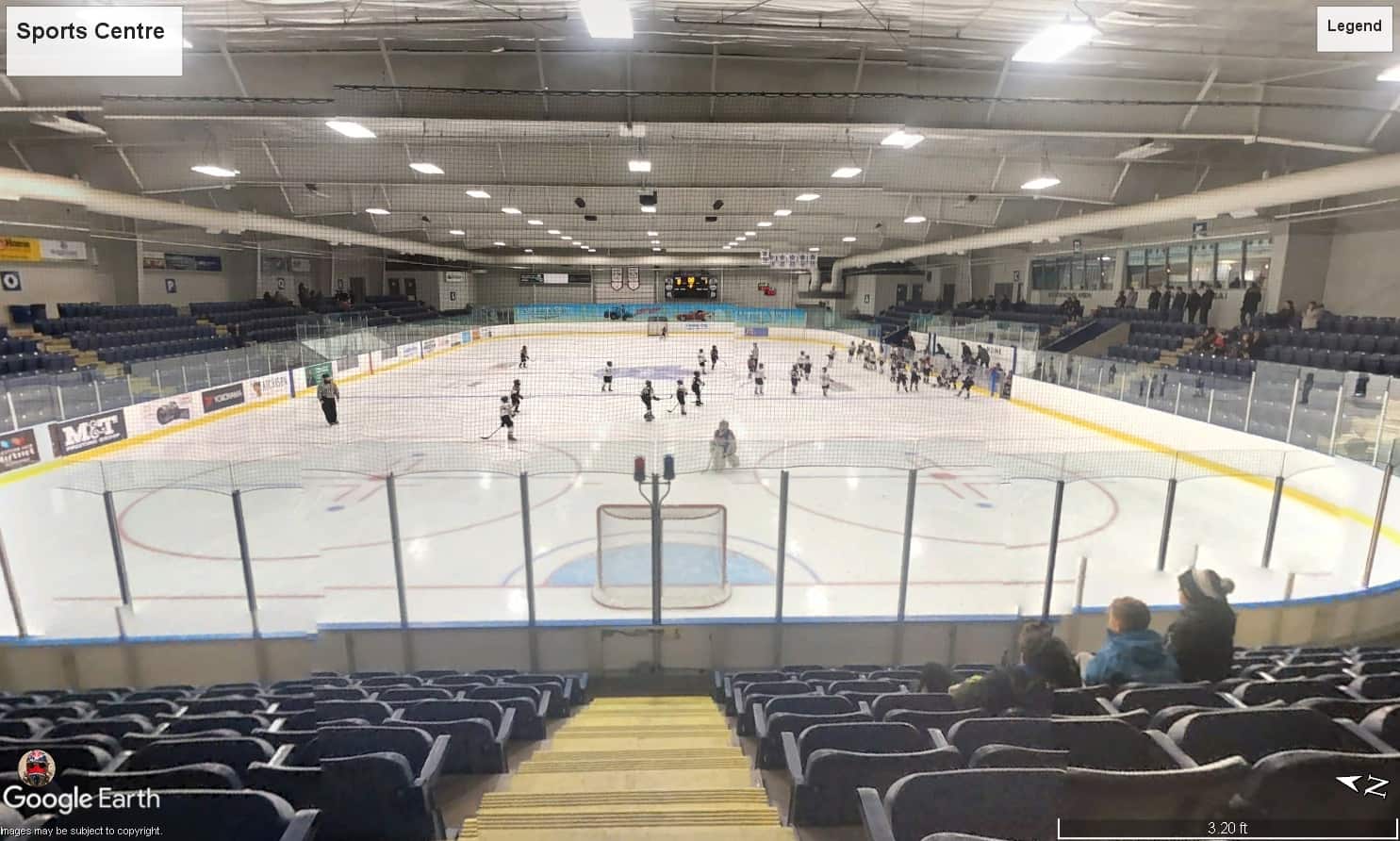 🐎

Gateway Casino London

It has 750 slots and electronic games.

🐎

The Sports Centre at Western Fair District

It is located on the South side of Western Fair property – off Florence Street.
It is a 160,000-square-foot multi-use facility.
It has NHL Ice Surfaces (85′ x 200′) with seating for 150 guests in each NHL Rink
It has Olympic Ice Surface (100′ x 200′) with seating for 1500 guests.
It offers food and beverage service.
It has 23 dressing rooms, each with a washroom and showers.
It has office and meeting rooms or banquet rooms.
It has Pro Shop/Retail Store/Skate Sharpening Operated by Herm's Pro Shop.
It offers wheelchairs.
Two ice pads are designed to accommodate Sledge Hockey Players.
Dining options: Deke's Bar & Grill and concession foods.
Room Rentals

It offers the Tournament Office for rent.
It can be used to hold board meetings, team meetings, parties, and other uses.
It features an H.D. Plasma T.V. and a small whiteboard.
🐎IMAX theatre

An IMAX film theatre was situated at the Western Fair site for nine years but closed on September 30, 2005, due to low attendance.
After removing the IMAX equipment, the theatre was leased and renovated by Dale Henderson, a retired engineer and former leader of the Stardust Orchestra, who opened the London City Music Theatre in October 2007.

🐎The Market

It is a gathering place in the heart of Old East Village.
It has two floors and over 90 vendors.
It offers free parking every Saturday and Sunday.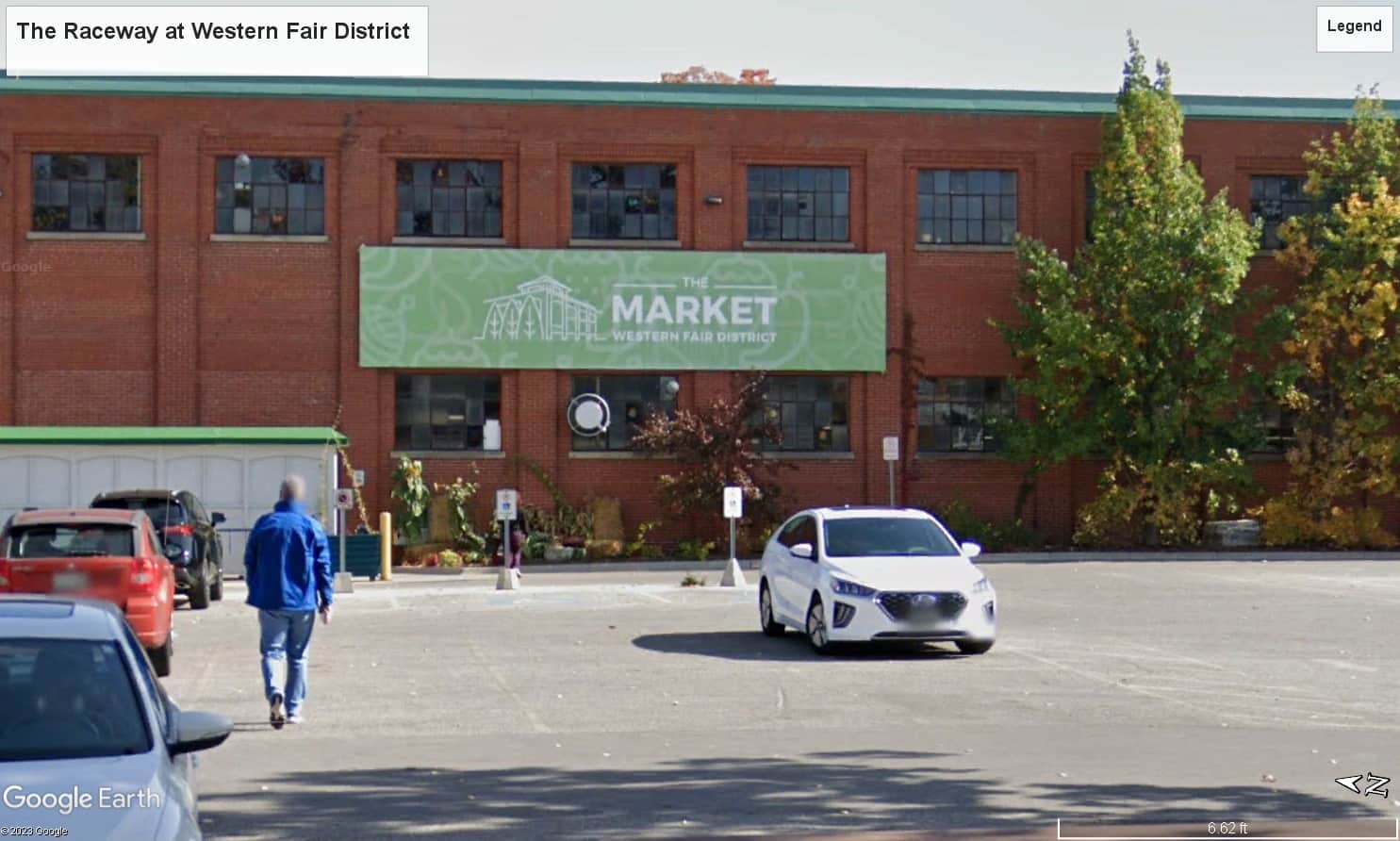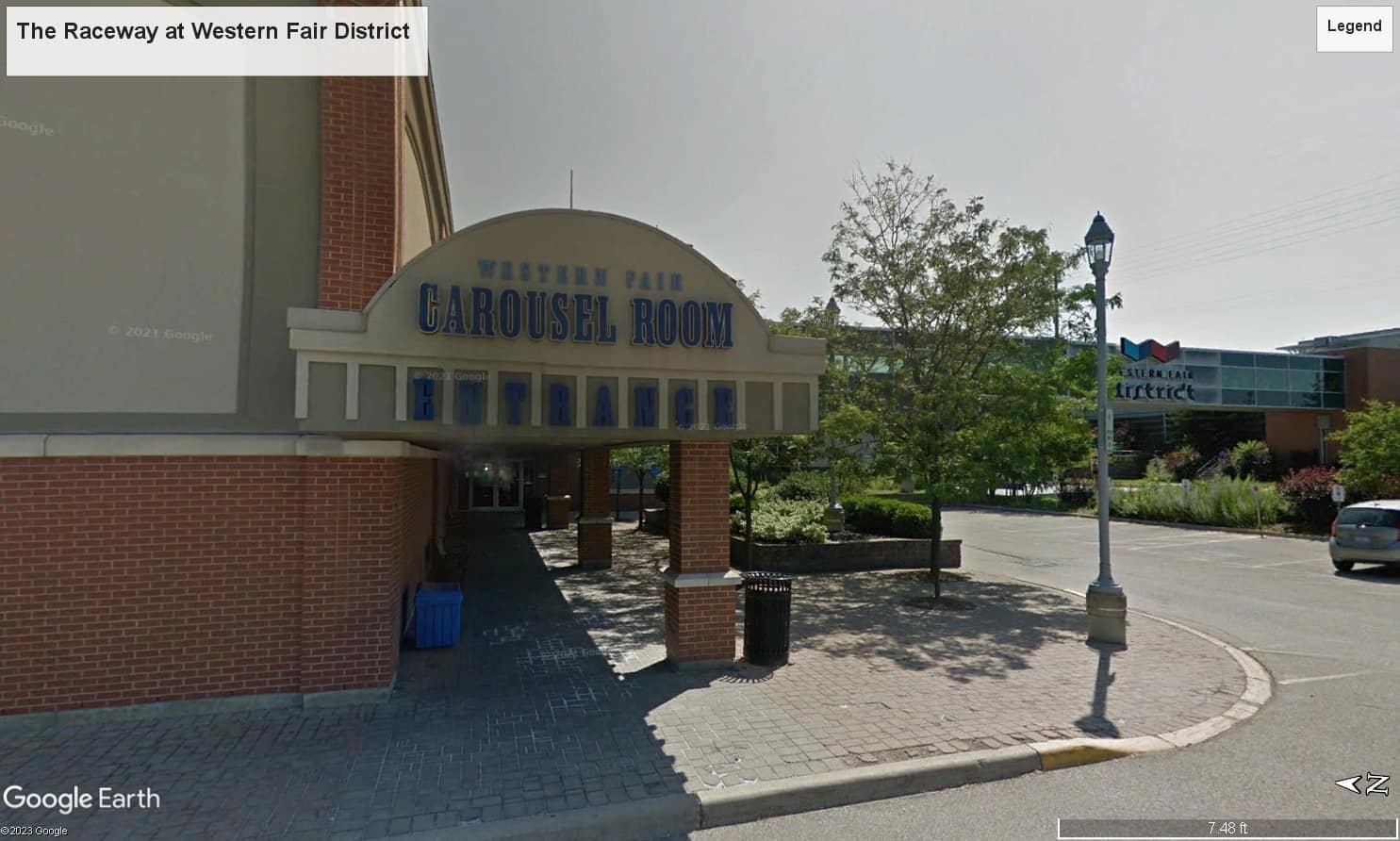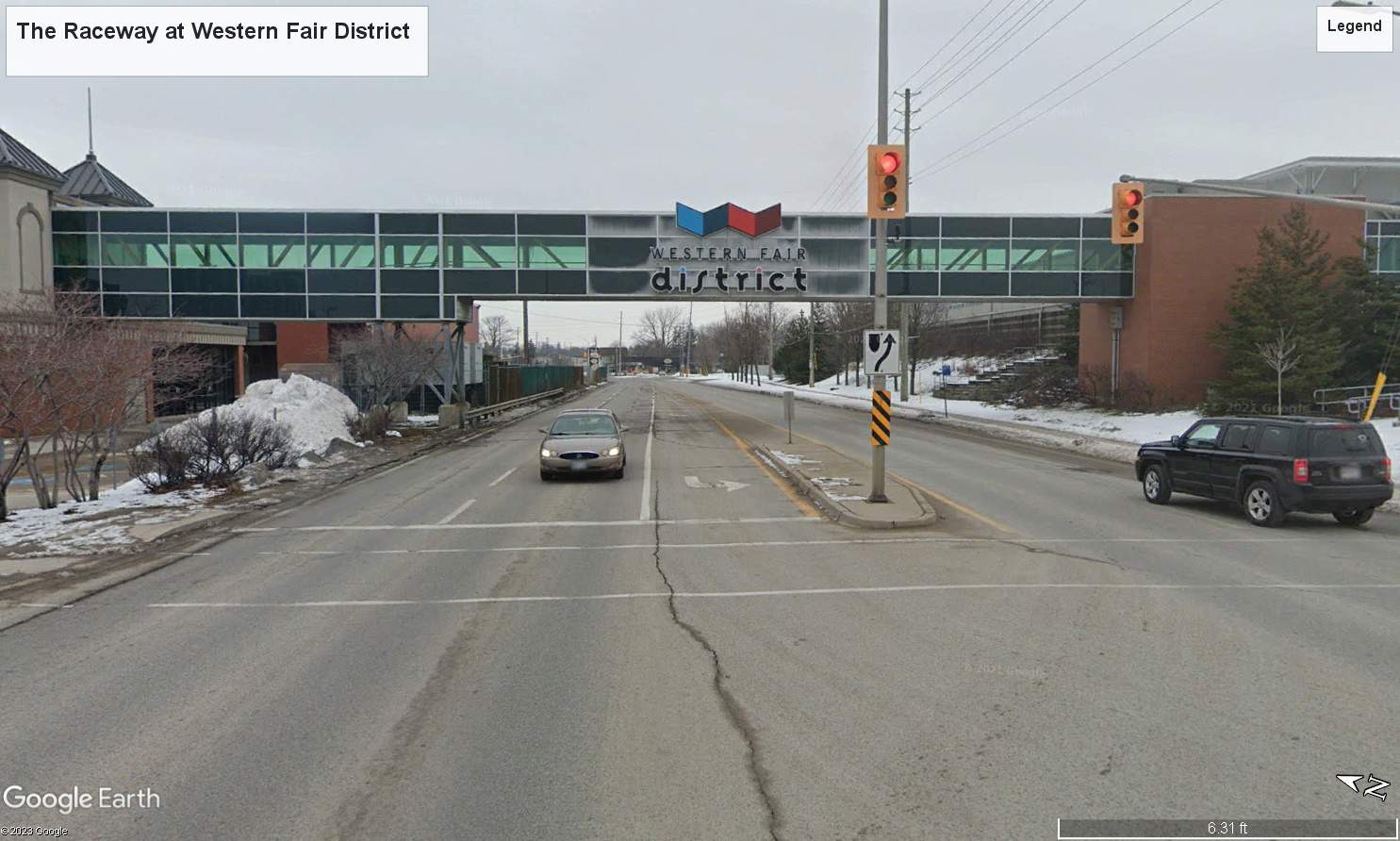 🐎

Top of the Fair Restaurant

It is located on the third floor of the Grandstand building at 900 King Street.
It is spacious, with floor-to-wall windows that overlook the racetrack.
It also has T.V. monitors on the tables.

🐎

Season'D at The Market

It is located on the second floor of The Market at Western Fair District.
Open Hours

Saturday – 8:00 am to 3:00 pm.
Sunday – 10:00 am to 2:00 pm.

🐎

Deke's Bar & Grill

It is located inside the Sports Centre.
It is a full hockey-themed restaurant.
Guests can watch Live Hockey Games.
It has HD Televisions.

🐎

Raceway Lounge

It is located on the second floor of the grandstand.
Open Hours

Monday, Tuesday, and Wednesday – 5:00 pm to 11:00 pm.
Thursday, Friday, Saturday, and Sunday – 11:30 am to 11:00 pm.

🐎

Graze-N-Go Food truck

Food Trucks have become a part of popular culture, and whatever you can get in restaurants, you can get the same experience in our Graze 'N' Go food truck. Our food truck features unique offerings of every type.
Race Schedule and Major Events & Races
🐎

Western Fair Live Racing Schedule

It runs races three to four times weekly, from October through May.
Monday, Tuesday, Wednesday, and Friday with a post time of 5:50 pm.
🐴Ontario Sires Stake's Grassroots Divisions
Location and Access to the Racecourse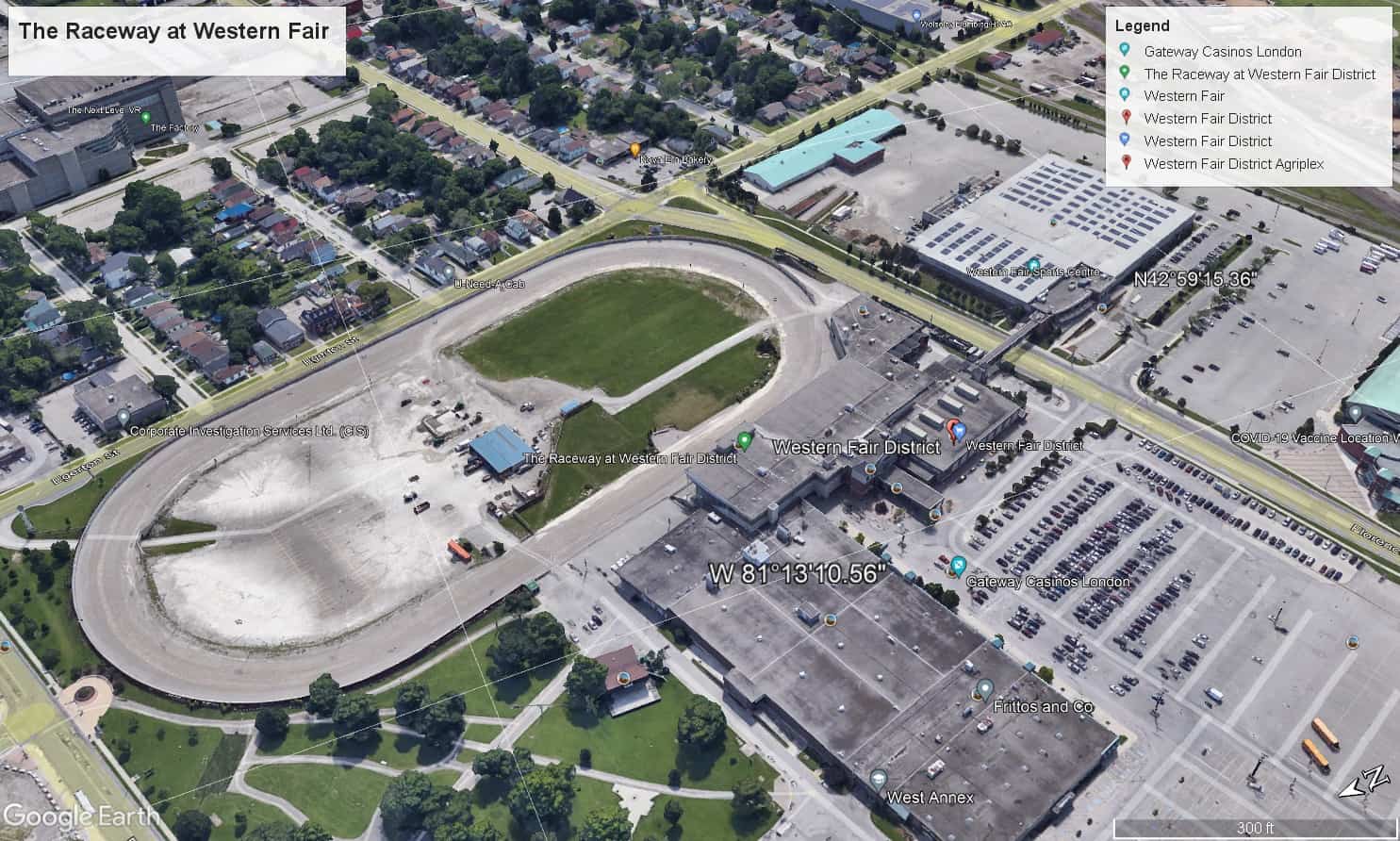 It is a harness racing track for standardbreds located at 900 King St, London, Ontario, Canada, owned and operated by Gateway Casinos & Entertainment Limited, opened in
The parking space is located at the main entrance, and another space is at the south of Florence St. that is accessible by an enclosed walkway from the Sports Centre.
Other racetracks are sorted and listed on the page "List of Racetracks". To view the full list, hit the button below. You can also check the horse racing types and breeds to have a lot more in-depth knowledge about horse racing. 
The Raceway at Western Fair District
You can also check Western Fair results and Western Fair entries using our AmWager platform for FREE!
It is easy to access and fast as 1, 2, 3!
So what are you waiting for?
STOP HORSING AROUND, GET SERIOUS, GET AMWAGER !
Sign Up now for FREE and wager like a PRO with AmWager