Don't forget you can wager on the races with AmWager
Wager on live horse races like a Pro with AmWager.
Simple…We are the best online wagering platform today. Real-time updates, exclusive tools, custom wagering types, player-focused design. Not using AmWager is like playing in the kiddie pool.
Powerful, fast, innovative, secure, yet easy to use! All because we value and listen to our customers.
Wolverhampton Racecourse
Wolverhampton Racecourse is a horse-racing track in Wolverhampton, West Midlands, United Kingdom. It opened in 1887, at the Dunstall Park
History of Wolverhampton Racecourse
1825 – Racing began in Wolverhampton at Broad Meadows.
1878 – Racing ceased when the course owner, the Duke of Cleveland, sold it to the Corporation.
1887 – The Dunstall Park Club Company was formed in 1887 and worked towards re-establishing a meeting at Wolverhampton on a 130-acre site it purchased. A new course was formed at Dunstall Park (the current location of the racecourse).
1888 – The first race meeting held in Dunstall Park was on August 13, 1888.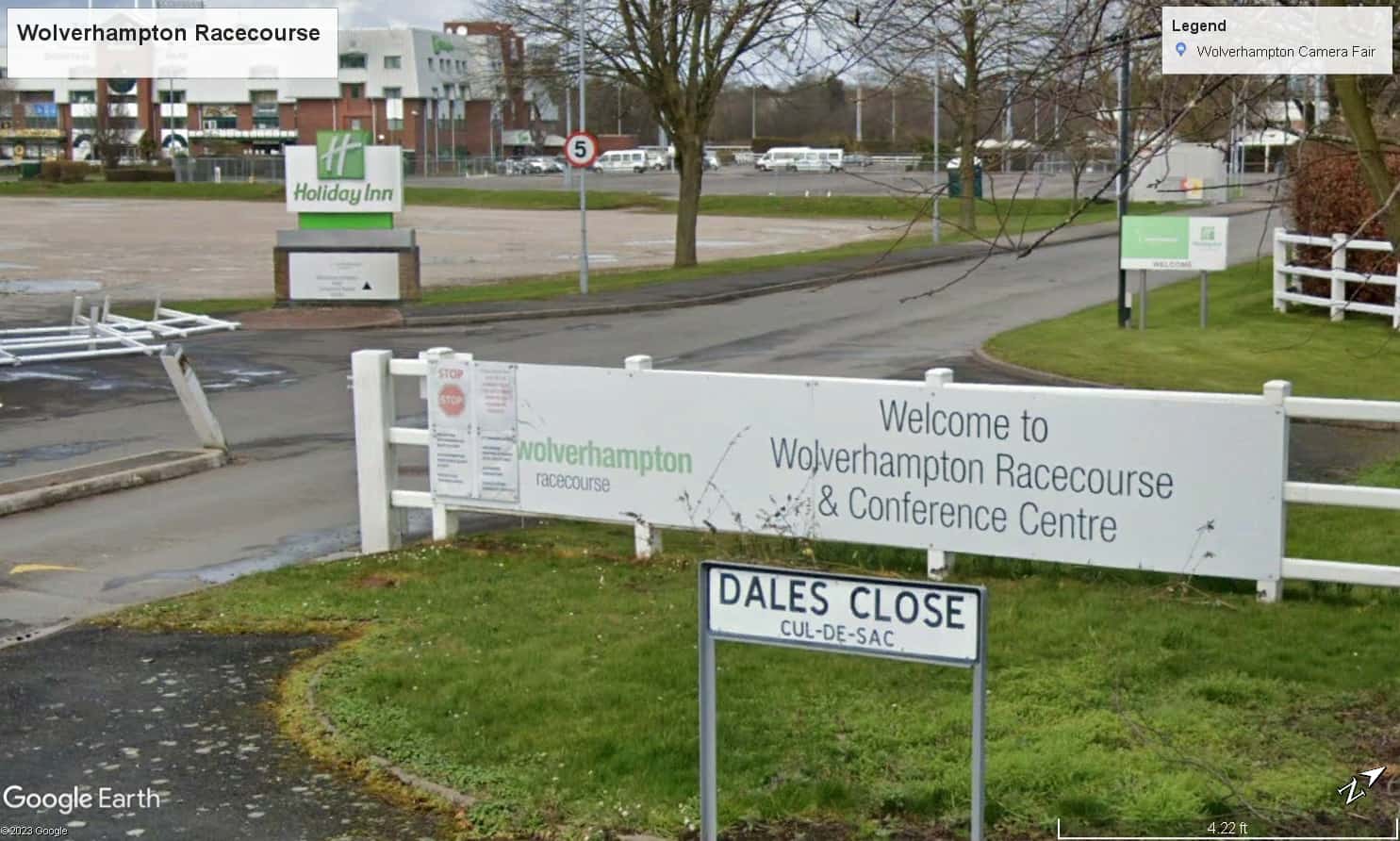 1993 – The course was redeveloped with floodlights and a new all-weather Fibresand track that ran alongside the turf track in December 1993. At the same time, a hotel, new Grandstand, restaurant, and executive boxes were also established.
1994 – HRH Queen Elizabeth II reopened the new Wolverhampton Racecourse.
1999 – Arena Leisure purchased the privately-owned Racetrack.
2004 – The Fibresand and turf tracks were replaced with a single Polytrack surface, then commenced to host flat all-weather races only.
2014 – The Polytrack surface was replaced with a brand new Tapeta track, making it the first British course to adopt the new artificial surface, which was already popular with many venues in North America.  The course reopened on August 11, 2014.
Track Details and Other Facilities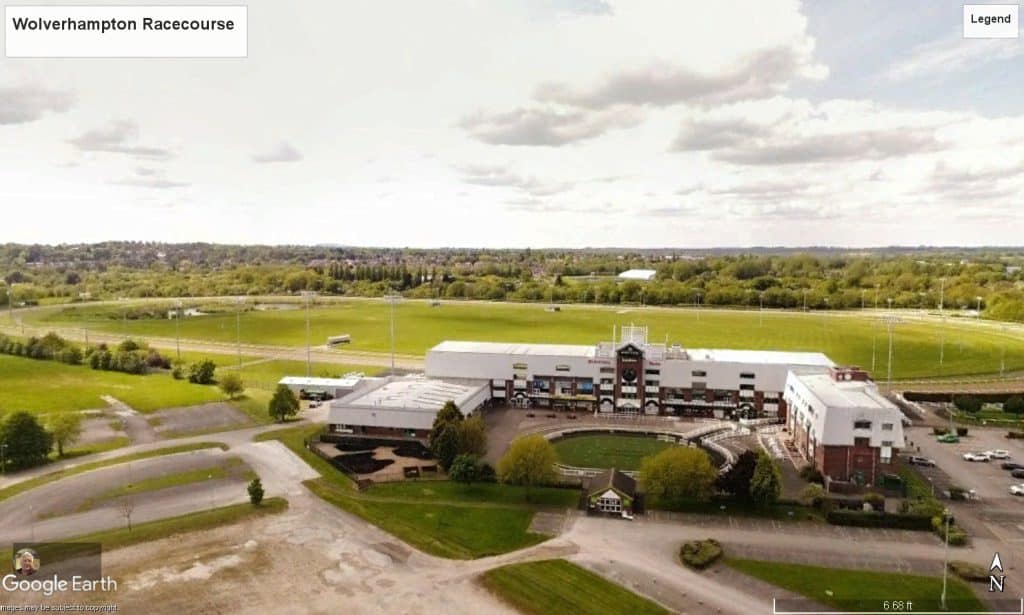 Main Track

The home is a 130-acre site
The course is one mile (1,609 m) in circumference, with tight left-hand turns, flat, and an oval circuit.
The bends are fairly sharp, with a narrow straight under two furlongs.
🐎Corporate Hire

Offers the flexibility to accommodate a wide range of conferences, exhibitions, festivals, and business meetings.
Outside is the large space that offers hard-standing grounds and extensive grassed areas.
The varied infrastructure of gated entrances, turnstiles, sound systems, digital screens, and free parking for up to 1,500 vehicles.

🐎Weddings

It can hold hundreds of guests.

🐎Parties and Celebration

It hosted the Express and Star annual awards to Audi's Annual Charity Ball.

🐎Christmas Parties

It features a traditional Christmas to present a Classic Christmas Party.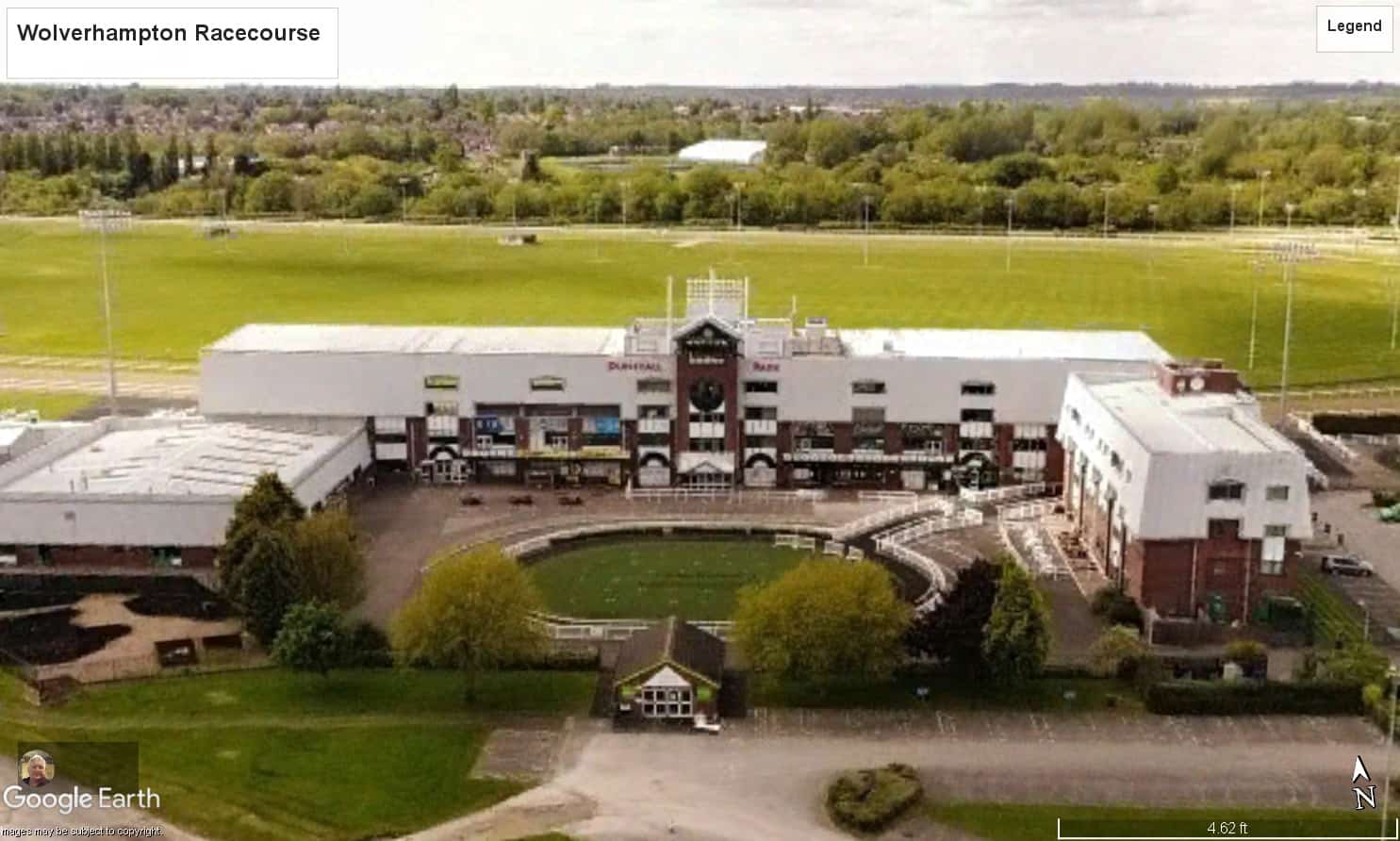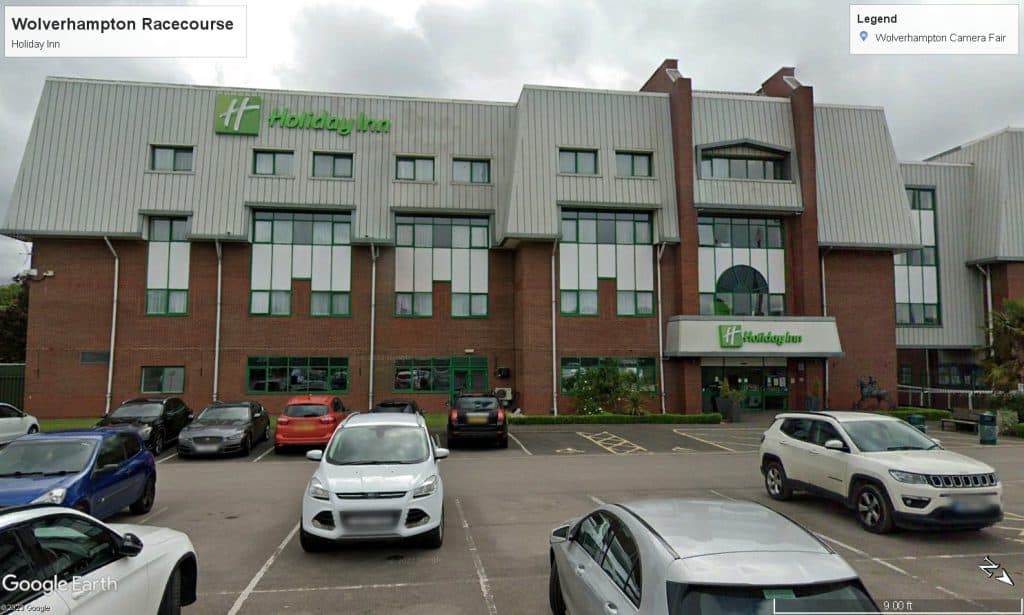 🐎Bars

Holiday Inn Bar

It can offer a place for meetings.
The bar is situated within the adjoining hotel and is open to the public during licensing hours.

Weigh Inn Bar

It is on the ground floor between the Parade Ring and the trackside.

Chasers Bar

It is on the ground floor beside the Ringside Restaurant/EBC Technology Suite.
It has easy access to the trackside and bookmakers.

Premier Enclosure & Bar

The Premier Bar is situated on the first floor.
It offers a full range of bar snack meals, drinks, and betting facilities.
Concourse Food Stalls

The Concourse offers a wide variety of quick food options, with gluten-free and vegetarian options.
Premier Enclosure

The Premier Enclosure is located on the first floor of the Grandstand.
It has a bar and freshly cooked food.

On The Hoof

Adjacent to the parade ring, situated in the recently refurbished 'Open Lobby' within the onsite Holiday Inn Hotel.
🐎Restaurants

Ringside Restaurant

The restaurant is situated adjacent to the Parade Ring and has easy access to the trackside.
It offers a 400-seat dining area.
It has three giant TV screens inside, three bars, and betting facilities near the restaurant.

Private Boxes

It has private balcony access.
The package includes access to the Premier Enclosure, Parade Ring area, Winners Enclosure, and trackside.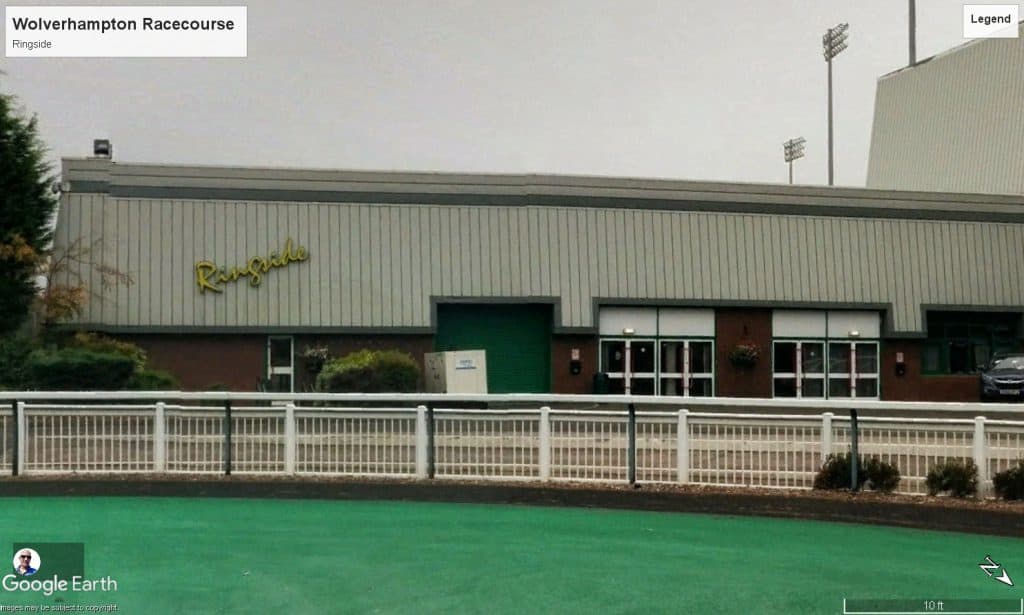 Horizons Restaurant

It is set over three tiers.
It is a glass-fronted and panoramic restaurant.
It accepts guests from afternoon to evening.
It has flat-screen TV's on every table and operates a full table service for drinks and betting.
It hosts live enterta inment every Saturday evening after racing.
Race Schedule and Major Events & Races​
Wolverhampton Race Schedule
🐎Live Racing Schedule

It features thoroughbred Horse Racing (Flat Racing) all year round.
There are typically 77 race days spread across the entire year.
It offers Afternoon and Evening racing with floodlit.
🐴Live Music
🐴Family Fun Days
🐴Fun Runs
🐴Fireworks
🐴Christmas Parties
🐴All-Weather Championships
🐴Boxing Day Racing
🐴Ladies Day
🐴Lady Wulfruna
Location and Access to the Racecourse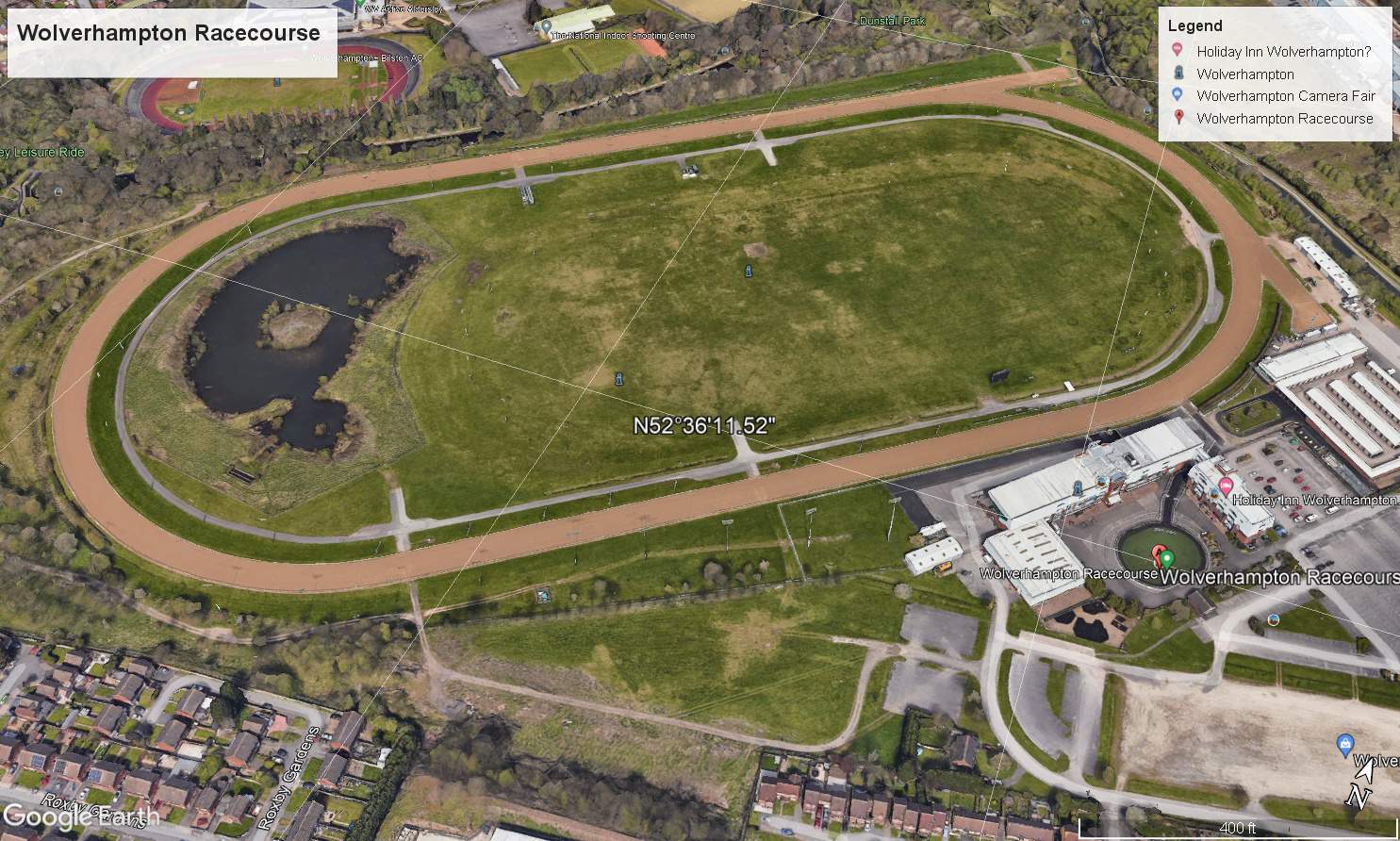 It is located on the outskirts of Wolverhampton City Centre at Dunstall Park, in Wolverhampton, West Midlands, England.
Birmingham International Airport (BHX) is approximately 25 miles from Wolverhampton.
The racecourse has an onsite Helipad if you wish to arrive by helicopter.
Annual Membership includes:

Access to all Wolverhampton fixtures
Entry to 500+ fixtures across Arena Racing Company racecourses
Metal Membership Badge
£50 worth of discount vouchers to purchase food and drink across the racecourse and in the restaurant
Enrolment in the ARC Racing Club with access to owners' tickets
Free car parking
Four free guest passes
Other racetracks are sorted and listed on the page "List of Racetracks". To view the full list, hit the button below. You can also check the horse racing types and breeds to have a lot more in-depth knowledge about horse racing. 
You can also check Wolverhampton race results and Wolverhampton race entries using our AmWager platform for FREE!
It is easy to access and fast as 1, 2, 3!
So what are you waiting for?
STOP HORSING AROUND, GET SERIOUS, GET AMWAGER !
Sign Up now for FREE and wager like a PRO with AmWager