AmWager 2.0 – Making Great Even Better
By Papo Morales 
On Monday, February 27th AmWager 2.0 will go live. What is AmWager 2.0 you ask? It's an upgrade to our current online wagering platform, AmWager. We took what was great about our current wager pad and gave it a substantial boost to further separate ourselves from the competition.
Upon logging in for the first time you will notice the layout is crisp. You now have the ability to customize the wager pad "skin" to "classic", modern "blue", or a cutting edge "grey." The wager pad layout is larger and the functionality remains top class. Designed by professional players, the wager pad optimizes your ability to build, stack, and place wagers with ease.
The wager pad is split into three main sections (race information, wager/bet list, and data matrix) yet all are viewable simultaneously on one screen.  The race information section shows all the bet types available, runners in the race, morning line odds, and current odds (in both fractional and decimal form). You have the ability to customize the wager pad so that it automatically defaults to your favorite wager upon logging in.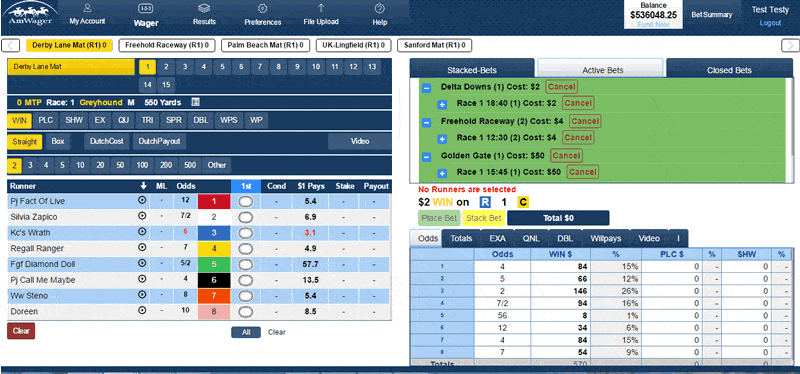 The wager/bet list is an open window that shows your stacked bets, active bets, and closed bets. Stacked wagers are bets that you build but have yet to place. There is no limit to the amount of bets you can stack daily. You can then place all you stacked wagers with the click of a button. Once a wager is live, it goes to the active window. You can cancel it, again with just one click, or let it stay active until the gates open and the pools close. Once the race has been declared official the wager then flows into the closed bet window. The key here is that you can see all your wagers, whether stacked, active, or closed all on the same screen. No need to search for your bets.
The data matrix shows current odds, pool totals, will pays, exacta and quinella probables, and has the live race video tab.  When formulating your thoughts on wagering all this information is available to you on the wager pad. Once again, no searching or opening other windows needed.
AmWager's exclusive dutching tool is back and is just another feature that makes our wager pad the best in the industry. Dutching (available for win, daily double, and exacta wagers) is an advanced algorithm built into the wager pad that takes the runners you have selected and disseminates your money across the runners based on the current odds in the appropriate pools. This allows you to maximize every dollar wagered, therefore increasing your return on investment (ROI).  You can dutch by total dollar bet or a total payout that you are trying to reach. Sound advanced? Yes, it is. But, AmWager does it for you.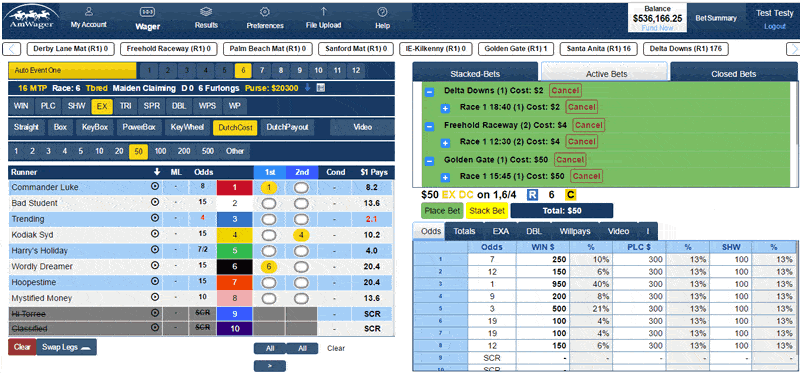 If you enjoy playing trifectas, then you'll love the swap feature that allows you flip/switch your legs within the trifecta with the click of a button. With any bet, once placed, AmWager gives you the option to repeat the bet with just one click so that you can hammer your opinion.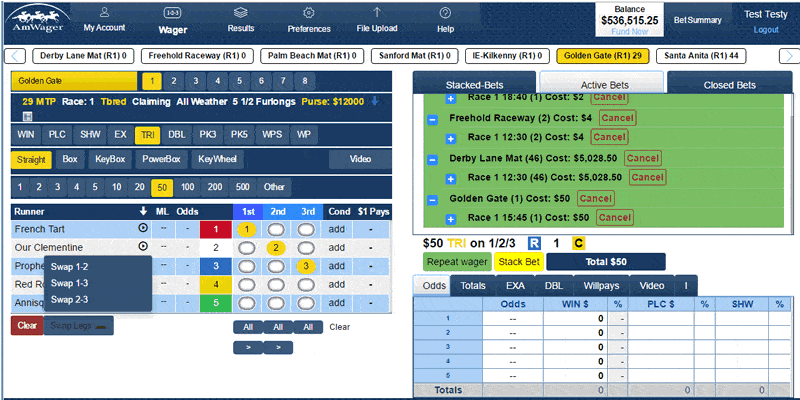 Small details matter which is why your account balance and bet summary are both visible on the wager pad. The bet summary provides crucial information including your total bet today, total won, profit/loss, active bets, and a real-time profit/loss statement.
Additional features include easily denoting your favorite tracks, wager types, custom bet amounts, wagering limits and conditional bet parameters. It's one thing to handicap a race and it's another to bet it. AmWager 2.0 is more efficient, faster, and optimized to help you become a better player.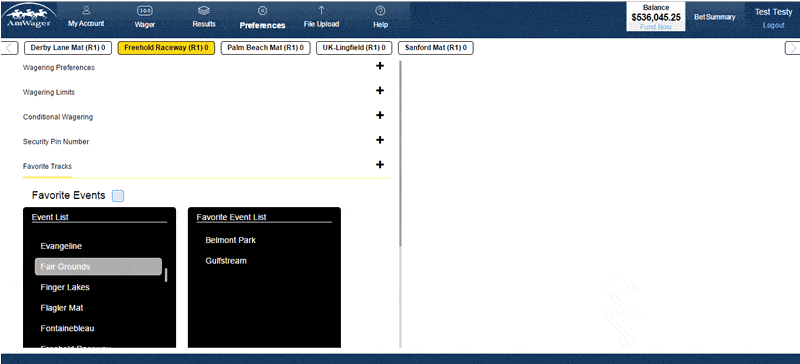 Prefer to wager "on the go?" Then use AmWager's new mobile platform to bet from your phone or tablet. All the tools and functions available on the PC version are available on your mobile device. Place bets and cash tickets at the grocery store, ball park, or wherever your travels take you.
AmWager is dynamic and our new platform will only continue to add innovative features and functions. Why be good when you can be great? Evolve and bet with AmWager today.