New Year, New Me: Le Chevalier's Lesson to Live By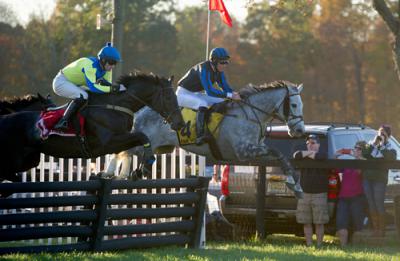 Le Chevalier (grey horse on left) competes in the NJ Hunt Cup.
Photo by Tod Marks.
By Bailey Bianco, AmWest Entertainment
Passion. It's what this sport is all about. It's what we love most about horse racing. We all have that moment in our lives where we have to ask ourselves, "What is my passion?" And, often times, we ask ourselves this question in the New Year. The same goes for our equine athletes. Horses, unfortunately, can't simply tell us the answer to this question. However, they can show us. When horses are passionate for what they do, you can tell. You see that fire in their eyes and heart in their stride. This display of passion is apparent in Le Chevalier.
Le Chevalier, by Broken Vow out of Orellana, started his career as a flat racehorse for AmWest Entertainment's founder and CEO, Nelson Clemmens. Clemmens purchased this horse at the Keeneland September sales, named and raced him in his Stone Spire silks. It was clear to see that Le Chevalier was not the next Secretariat. And although he ran as a less-than-spectacular racehorse, you could see that Le Chevalier had the passion of any successful athlete. So, he took the "New Year, New Me" career approach.
At the conclusion of his flat race career, Clemmens sold Le Chevalier privately to Bill Wofford. Wofford comes from a European style of training with 120 acres of land for grazing and large turf training gallops in Lexington, KY. Everything is done in the best interest of the horse. It is with Wofford that Le Chevalier's true passion was discovered: steeplechase.
Now owned by Otter Racing and trained by Julie Gomena, Le Chevalier dominates his competition. In a highly competitive field of six horses for the $50,000 New Jersey Hunt Cup at 3-1/4 miles over 20 timber fences, Le Chevalier, fiercely left his soldier competitors in the dust. On the first circuit, he started out unhurried, mid-pack. Then, on the second turn, he moved up to press the pace. When jockey, Mark Beecher, asked for more on the final turn, Le Chevalier started to take command. He was a clear lead to the last jump and drew away quickly.
On October 15th, 2016, Le Chevalier personified passion and reinvented his racing career. Le Chevalier, which is French for "knight," is a true warrior. He showed us what it means to chase after what you love and attain your goals. Like Le Chevalier, AmWest Entertainment is passionate. Passionate for striving for – and attaining – not only the success of horse players, but also the success of the sport and the horses themselves. In always being mindful of the horse's well-being, during racing careers and after, AmWest Entertainment's support for the equine industry is all-encompassing. Through its service to the racing industry, horse players and horses alike, it is easy to see how passion leads to success.