Bluff's Run Open Final – Race 12, Saturday
Good day and thanks for checking in on my blog. In this entry we will be taking an in-depth look at the Bluffs Run Open Final, the 12th race on the Saturday program from Bluffs Run Greyhound Park.
This race will be contested over the 550-Yard Course. Eight of the fastest greyhounds in the country will be competing for the winner's share of the $60,000 purse.
#1 Boc's Tony Romo – This greyhound comes into this race on a tremendous form spree. In his four qualification races, this son of Flying Penske and Boc's Slim N Fit chalked up three wins and a second place finish. This 71-pounder has some of the best late speed in the entire country. If he can avoid trouble in the first turn, he will be very tough to keep "off the board"
#2 Boc's Sailfish – This is a greyhound who has been using his fantastic box speed to immediately open up leads in his last couple of races. A stakes winner earlier in the year at Bluffs, this son of Djays Octane and Boc's Mc Raisen could help out Tony Romo by going wide out of the box and in the escape turn. A must use on trifecta and superfecta tickets.
#3 Boc's Hank Jr – The current win leader at Bluffs with 18 wins, Hank will need a minor form reversal in this race. After chalking up two wins in Rounds 1 and 2, this son of Kiowa Mon Manny and Boc's Miss Rodeo has encountered traffic problems in the first turn in his last two races and finished out of the quiniela in both of his starts. Would be shocked to see a greyhound pass him in the stretch if he were to make the lead in this contest.
#4 KJ'S Jomax – This greyhound will almost certainly be the rank outsider in this stakes contest. This son of KC and All and Gilded Rose made the final thanks to his two shocking wins in Rounds 1 and 2 at over 22 to 1 in both races. This brindle male will need to run a career best just to hit the trifecta.
#5 DS Phoenix – The Rodney Dangerfield "No Respect" Greyhound in this fantastic finale. Despite never going off as the favorite, this daughter of Bd's Grayson and Ds Mariah tallied two wins and two second place finishes in her qualification races. I would not be surprised to see her use her sharp early speed to pull off the upset in this contest.
#6 Illuminate – This is another greyhound who will likely be a huge long shot in this contest. Unfortunately for this son of Kiowa Sweet TRey and Driven Lee, he drew a very tough post position. He will need to run his career best race in order to pull off a shocking upset.
#7 O Ya Spunky – This is a greyhound who drew quite nicely in this contest. This son of Kiowa Sweet Trey and O Ya Queenie is a wide runner who could take advantage if the inside runners were to "jam up". Spunky comes into this race off a solid victory and is another who is definitely capable of pulling off the mild upset.
#8 Bart's Bold Ruler – The post position draw was very kind to this midtrack runner. This son of Pacific Mile and Barts Companion was one of two greyhounds (along with Tony Romo) to win three qualification races. It has to be noted that Ruler has a marvelous record when starting from the extreme outside. A definite threat to have his picture taken after the race.
Possible Wagers – This is a fantastic race with plenty of decent valued bets available. In a race full of early speed greyhounds, my wagering key will be the #1 (Boc's Tony Romo). I am going to "key" him second and third in trifectas behind the #3 (Boc's Hank Jr), #5 ( DS Phoenix) , #7 (O Ya Spunky), and the #8 (Barts Bold Ruler)
For those with larger bankrolls, I might play a few "saver bets" off the #8 Barts Bold Ruler – who simply loves the extreme outside starting position.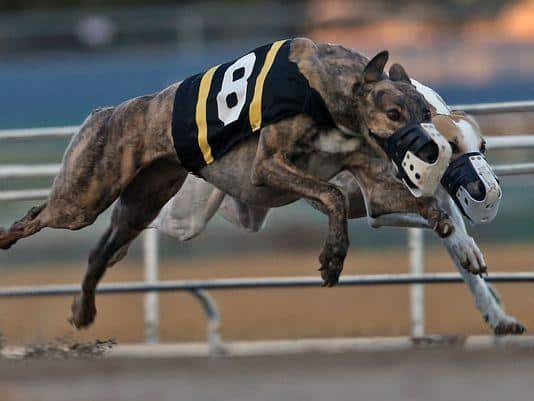 I would like to wish these greyhounds and their connections the best of "racing luck" in this edition of the Bluffs Run Open Sprint.