Good day and thanks for checking in on this blog entry. In this article, I will be offering some quick thoughts and ideas on four races taking place at Bluffs Run Greyhound Park.
All four races are quarter final races for the $60,000 Juvenile Stakes – they will be run over the Bluffs Run 550 yard course.
Race #4 – This quarter final race is loaded with three greyhounds who could easily be crowned the Juvenile Champion in a couple of weeks. Blink It (#2), Barts Bold Ruler (#3), and Boc's Executive (#4) all appear to tower over this field with their tremendous speed and class. I will be boxing the three of them in quinielas and exactas. I will also be betting on Boc's Executive (#4) to win.
Race #5 – I think this race will be won by either Sweet Cheeses (#3) or Half Way There (#8). Sweet Cheeses (#3) has the best early speed of any greyhound in this race and comes into this quarter final race off a win and second place finish. Half Way There (#8) is the best posted greyhound in this race. He is a wide runner who should benefit from the #7 greyhound cutting to the rail.
I will be boxing the 3, 4, 8 and the 3, 7, 8 in quinielas and exactas. In the Pick-4 … I will only be using the 3 and 8.
Race #7 – Barts Trump Card (#8) looks to be a complete stand out in this contest. This red male appears to have the best class, early speed, and post position of any of the seventh race competitors. In both of his qualification races, this son of Deerfield Mover and Barts Mercy Me has gone right to the front, opened up a multi length lead, but has gotten run down in the stretch. Will be keying the #8 with the 1, 2, 3, 7 in quinielas and box exactas.
Race #8 – I will be looking for bounce back performances from both Boc's Red Neck (#1) and Dare Devil Deven (#3) in the last quarter final race of the day. In their last race (both of them ran on Saturday in the fifth race), both greyhounds were completely eliminated in the escape turn and lost all chance for the win. I will be keying the 1 and 3 in trifectas … using the 4, 5, 7, 8 to fill out the second or third place spot.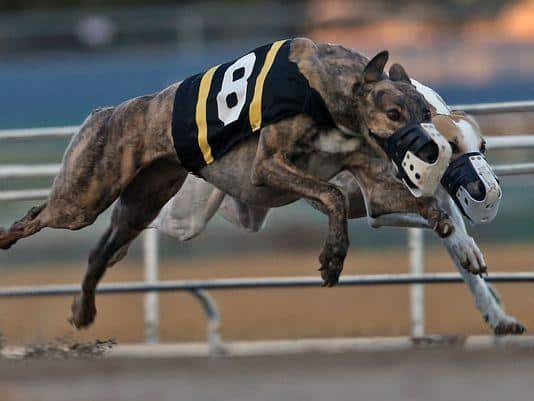 Thanks for reading and good luck!!