The 2015 Southland Derby Final – 11th race, Friday Night
Jason Gill is our new resident greyhound handicapping expert. Jason has been attending and wagering on greyhound races since 1980. A third-generation greyhound racing fan, Jason taught many handicapping classes and seminars at the now defunct Multnomah Greyhound Park outside of Portland Oregon.
---

Good day and thanks for checking in on my blog. In this entry we will be taking an in-depth look at the Southland Derby final, the 11th race on the Friday Night program from Southland Greyhound Park.
This race is one of the premier greyhound races in the country – the final of the $60,000 Southland Derby contested over their 583-yard course. Eight of the finest greyhounds in the country will go to post looking to take home the winner's share of one of the richest greyhound races in America.
#1 Dark N Demure – This greyhound enters the finals on an absolute form spree. In her four qualification races, this daughter of Kiowa WW Brother and Super C Arias rang up two wins and two second place finishes. Because she is a wide runner, this 58-pounder must break very sharply and secure a good running position to the escape turn. Drawing the coveted red blanket is rarely a bad thing in a stakes final. Demure runs for the Lester Raines Kennel.
#2 – CBJ Butterfinger – This greyhound will need a minor form reversal this evening to pull off the upset. After posting victories in rounds two and three of the qualification races, this daughter of Gable Sour Cream and CBJ Jordy Brown ran a dismal last in her last qualification race. If Butterfinger is going to pull the upset, she will have to break cleanly and clear the #1 greyhound in the early stages of the race. Butterfinger races for the Mike Harris Kennel.
#3 – Mega Umberto – In my opinion, this is the "wild card" greyhound in the race. After showing good early speed in a couple of his qualification races, this son of Kiowa Mon Manny and Kiowa Cry Pike showed good late speed to overcome a very tardy start and finish third in his last race. Umberto is a talented greyhound who is a must use on all trifecta and superfecta tickets. Umberto competes for the David Blair Kennel.
#4 – Counselor – This greyhound has the best late speed of anybody in this contest. This son of Kiowa Mon Manny and TNJ Kasa Kid has used his brilliant "late kick" to run in the trifecta in all four of his qualification races. I would be surprised if Counselor were to win this final … but would be even more surprised if he did not at least run in the superfecta. Counselor races for the Mike Harris Kennel.
#5 – Flying Fired Up – To show you just how strong this field of eight is, I consider Fired Up to be the greyhound least likely to capture the top prize. If this son of Rhythmless and Flying Ablaze is to pull off the major upset (IMO), then he must have a career best break and clear on or near the lead. Fired Up runs for the Lester Raines Kennel.
#6 – Chasmo's Octane – In my opinion, this is the second best closer in the race behind Counselor. This son of Djays Octane and Chasmo's Layla has used his good late speed to run in the top four in all of the qualification races. An inside runner, this 75-pounder was done no favors by drawing the yellow blanket. Will probably be the rank outsider (odds wise) in the race. Octane races for the Lester Raines Kennel.
#7 CBJ Irish Cream – The probable favorite comes into this race on an incredible roll. This litter mate to CBJ Butterfinger has won seven of his last eight races – including his last three qualification races. If this wide runner can show his customary early speed and clear on the lead, he is likely to be having his picture taken in the post-race ceremonies. Cream runs for the Mike Harris Kennel.
#8 Mega Madrid – This is another greyhound who is very well posted this evening. This son of Trent Lee and Bella Glenda had his qualification wins come while wearing the same black and gold blanket that he will wear in this contest. If Madrid can overcome his tendency to break a step slow, he should have a good chance to "hit the board". Madrid competes for the David Blair Kennel.
Possible Wagers – I think that the #7 (CBJ Irish Cream) is the obvious key in the race. He is very well posted and should have a great chance to clear on the lead in this star studded Southland Final. I will be using the #4 (Counselor) and the #8 (Mega Madrid) behind Irish Cream in trifectas and superfectas.
For those with larger bankrolls, I would consider playing some dime superfectas with the #4 (Counselor) to run in the superfecta behind the #1 (Dark N Demure), #3 (Mega Umberto) and #7 (CBJ Irish Cream)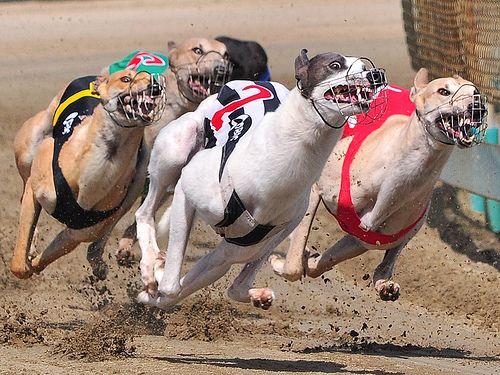 I would like to wish these talented greyhounds and their connections the best of racing luck in this running of the Southland Derby.