Gulfstream Park: Track Profile, Racing Schedule & Amenities
From Humble Beginnings
Gulfstream Park first opened its doors on February 1, 1939 and held the first race with roughly 18,000 spectators. Today, the racetrack and accompanying casino is one of the most important venues for horse racing in the United States. It operates horse racing nearly year-round, with most races held between Thursday and Sunday. Due to its balmy climate, it is a major hub for racing in the winter.
Gulfstream Park Through the Decades
The well-known racetrack has certainly seen its fair share of excitement and changes throughout the year. Listed below are some of the years that stand out in its almost 100 year history.
1939: Gulfstream Park opens its doors
1959: Gulfstream Park opens their first turf course.
1961: Following his father's death, James Donn Jr. became president and erected the world's largest tote board.
1972: The park was awarded "middle dates" and allowed to expand their races from 20 days to 40 days running from January through April.
1982: The Grandstand finished a renovation complete with newly designed architecture.
1984: The Clubhouse completed its renovation.
1986: The entire track was renovated to include a domed dining area called the Gulfdome.
1989: Gulfstream Park Racetrack was selected to host the Breeders' Cup for the first time. They would go on to host it again in 1992 and 1999.
1990 – 2011: Gulfstream Park was purchased and sold several times, but in 2011 the current owner, The Stronach Group, took ownership.
2002: The track opened its Thoroughbred training facility in Palm Beach County.
2006: Gulfstream went through another needed renovation adding on a casino.
2017: The Pegasus World Cup was born earning the Grade 1 rating and at the time was the richest horse race in the world. The race would later be known as the Pegasus World Cup turf race when the purse amount was reduced to $7 million.
Famous Horses That Ran At Gulfstream Park
Gulfstream has hosted many famous racehorses over the years due to hosting some of the most premier races in the world. These famous horses have been heard at Gulfstream and are now known around the world.
Swaps – The Horse of the Year winner and 1955 Kentucky Derby winner. The colt set a world-record of 1:39 3/5 for a mile and 70 yards carrying 130 pounds.

Bold Ruler – The 1957 Horse of the Year after winning the Preakness Stakes and Trenton Handicap. The horse defeated Hall of Famers Round Table and Gallant Man that year.
Holy Bull – Winner of the 1994 Florida Derby and the 1994 Horse of the Year. In 1995, he suffered a career-ending injury in the Donn Handicap at Gulfstream.
Cigar – Cigar won the Donn Handicap and Gulfstream Handicap in 1995. He would go on to become America's top money earner with $9,999,815 before Curlin broke his record in 2008.
Thunder Gulch – Won the Fountain of Youth Stakes and the Florida Derby in 1995. He would go on to win the Kentucky Derby at 25-1 odds.
Monarchos – Monarchos also won the Florida Derby in 2001 before going on to win the Kentucky Derby. He retired in 2002 with a tendon injury.
Barbaro – In 2006, Barbaro won the Holy Bull Stakes and the Florida Derby. He would go on to win the Kentucky Derby. He suffered life-threatening, and eventually fatal, injuries breaking his hind leg in more than twenty places in the Preakness Stakes.
Gulfstream Park's Famous Jockeys
There are hundreds of jockeys that have raced inside gulfstream, but three particular jockeys set themselves apart from the rest:
Angel Cordero Jr. – He is the first Puerto Rican to be inducted into the US Racing Hall of Fame. He won the Kentucky Derby three times, the Preakness Stakes twice and the Belmont once.
Julie Krone – Julie Krone is the first female jockey to win a Triple Crown race when she rode Colonial Affair in the Belmont. In 2003, she became the first female jockey to win a Breeders' Cup race.
Jerry Bailey – The Hall of Fame jockey rode his last race on Silver Tree in the Sunshine Millions. He also won the Florida Derby on Barbaro.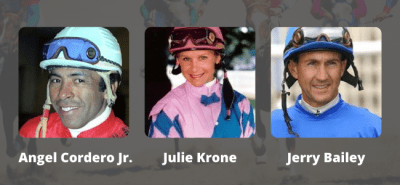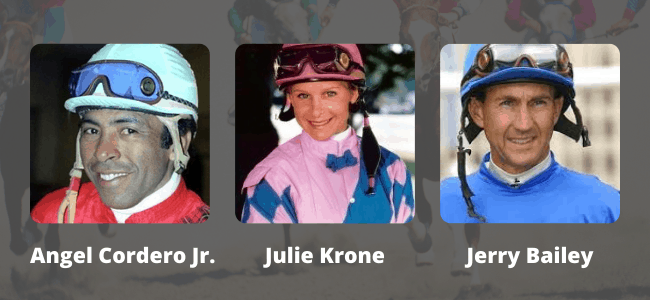 Amenities of Gulfstream Park
Gulfstream park isn't just a horse track, it's a destination venue with thrills at every turn. There is dining, shops, entertainment, a full casino, and of course, racing nearly all year long.
The Track:
Horses, jockeys and trainers compete 10 out of 12 months at Gulfstream Park Racetrack. The dirt course that is 1 ⅛ miles in circumference with a 1 mile backstretch chute. The turf course is seven furlongs and 170 feet wide. The track can hold 16,627 people with both indoor and outdoor seating available along with private suites and luxury boxes.
Indoor table seating is available on live race days that include: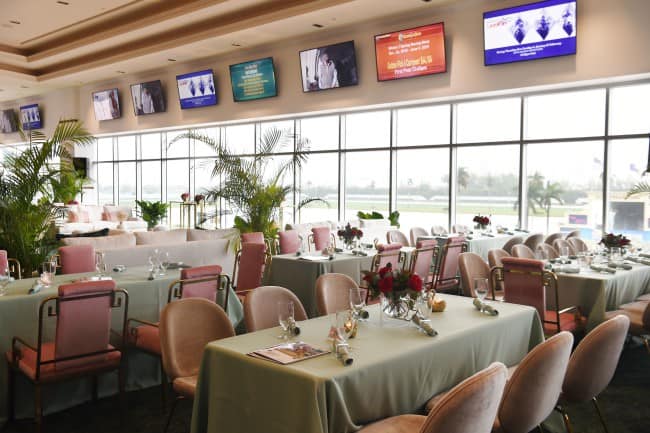 ALL-YOU-CAN-EAT Buffet
Complimentary Glass of Wine
Racing Program
Wagering Guide
Betting Voucher
Outdoor stadium style seating is also available on live race days which include: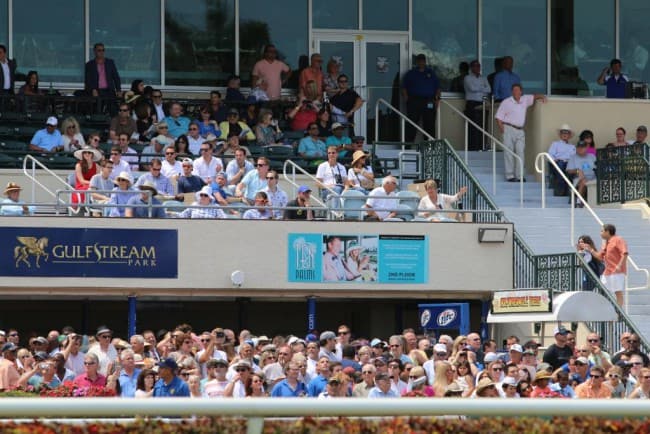 Reserved Seat
Meal Voucher
Racing Program
Wagering Guide
Betting Voucher
The Casino:
This is South Florida's hottest casino. Open year-round, it features not only one, but two floors of high energy entertainment with Las Vegas style slots, a live action poker room with stakes ranging from casual to ultra high, and captivating promotions and tournaments.
To date, the casino has;
750 Las Vegas Style Slots
9 Electronic Table Games
20 Live Action Poker Tables
Entertainment: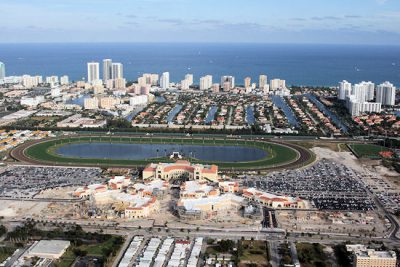 Gulfstream Park is a premier home design, dining, shopping and entertainment destination. The open air mall includes a plethora of signature home stores, an international array of restaurants, world-class art galleries, a bowling alley, outdoor cafes and nightclubs, fashion boutiques, and health and beauty services.
For the kids, there is also bowling, karaoke, Pegasus Park, arcade games, cooking classes, and three sweet treat destinations.
Gulfstream Park Racetrack Schedule
Races are run 10 months out of the year so there is always something to keep you at the edge of your seat. For the most up-to-date information on upcoming races, visit Gulfstream Park's racing schedule.
Gulfstream Park Horse Racing Picks
Before placing your online horse racing bets, read the expert handicapping advice from our very own in-house handicapper. Our expert horse handicapper digs into past performances and race videos to come up with strong race predictions. Using a handicapper gives you the benefit of extensive knowledge and experience of the horses, even for beginners who are just getting into the sport.
On Your Mark, Get Set, Bet!
When you're ready to place your bets on the next Gulfstream Park race, you can do it from the comfort of your own home. All you need is the racetrack name, race number, dollar amount, type of bet, and the horse numbers. You can get all the information you need, review the odds and the favorites and make your own luck with AmWager for every race at historic Gulfstream Park.
On your mark, get set, bet!
$300 Deposit Match. Cashback Rewards.
Bet on live horse races like a Pro with AmWager.