$2.6 million Maple Leaf Trot & Canadian Trotting Classic card set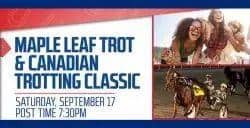 by Woodbine Entertainment
CAMPBELLVILLE, September 14 – All eyes will be on harness racing's finest trotters Saturday evening at Mohawk Racetrack for Maple Leaf Trot and Canadian Trotting Classic night.
An outstanding card featuring the best trotters of all ages has been assembled with over $2.6 million in purse money on the line.
The $687,000 Canadian Trotting Classic for three-year-olds and the $632,000 Maple Leaf Trot for older trotters headline the 13-race program.
The stacked undercard features the $436,000 Elegantimgage for three-year-old trotting fillies, $363,000 Peaceful Way for two-year-old trotting fillies and the $350,000 William Wellwood Memorial for two-year-old trotters.
Marion Marauder will look to add a victory in the Canadian Trotting Classic to his fairytale season. The son of Muscle Hill is the favourite to win Canada's biggest trotting event for local trainers Mike Keeling and Paula Wellwood.
Marion Marauder won just once in 13 starts last season, but has dominated as a three-year-old with nine wins in 11 starts this season. The Keeling-Wellwood trainee won the Goodtimes at Mohawk on June 18th to start his dream summer.
Marion Marauder colt captured the $1 million Hambletonian on August 6th at The Meadowlands and the $500,000 Yonkers Trot on September 3rd at Yonkers Raceway.
Owned by Jean Wellwood and Devin Keeling, Marion Marauder has earned more than $1.1 million this season to bring his career earnings to over $1.5 million.
Marion Marauder made a triumphant return to his home track last week by capturing his Canadian Trotting Classic elimination by four lengths in 1:52. Former WEG regular Scott Zeron sits behind Marion Marauder and the duo will start from post four.
Bar Hopping upset Southwind Frank to win the other "Trotting Classic" elimination last Saturday. The Jimmy Takter trainee has won four of 12 starts this season, including the $300,000 Zweig Memorial.
Tim Tetrick will drive Bar Hopping from post position three.
Southwind Frank will look to bounce back and capture another major race in Canada. The Ron Burke trainee didn't have his best in the "Trotting Classic" elimination, but is always dangerous, especially at Mohawk.
Last year, Southwind Frank captured the William Wellwood Memorial over Marion Marauder. He also defeated the Hambletonian champion in the $500,000 Colonial Trot on August 20th at Pocono.
Southwind Frank and driver Yannick Gingras will start from the rail.
The Hambletonian winner has won three of the last four editions of the Canadian Trotting Classic. The $687,000 "Trotting Classic" is carded as Race 10.
The Maple Leaf Trot is annually one of the biggest trotting events in the world and the international flavour is certainly felt in this year's edition.
Five-year-old stallion Resolve and four-year-old mare Hannelore Hanover captured last Saturday's eliminations. Resolve is searching for redemption after finishing second in last year's event, while Hannelore Hanover was a $45,000 supplemental entry.
Trained by Swedish native Ake Svanstedt, Resolve has won three of nine starts this season and was second in Sweden's Elitlopp back in May. The son of Muscle Hill is a 13-time winner with over $1.4 million in earnings.
Resolve will be driven by Svanstedt and start from post position one.
Hannelore Hanover has dominated this season, but faces her toughest challenge in the Maple Leaf Trot. The Ron Burke trainee has won 14 of 15 starts this season, but is _09
tackling the sport's best older trotters for the first time.
A daughter of Swan For All, Hannelore Hanover was an easy-winner in her elimination and has victories this season in the Armbro Flight, Hambletonian Maturity and Muscle Hill. She has banked $719,134 this year to bring her career earnings to over $1 million.
Hannelore Hanover and driver Yannick Gingras will start from post four.
The Maple Leaf Trot has attracted many stars from overseas throughout the years and this year's edition features 2013 Elitlopp winner Nahar. The 11-year-old Swedish sensation is trained by Robert Bergh for owners Daniel & Henrik Sedin of the National Hockey League's Vancouver Canucks.
Nahar, who finished fourth in his elimination, is a 39-time winner with over $1.8 million in career earnings. He will start from post eight with trainer Bergh handling the driving duties.
The $632,000 Maple Leaf Trot is carded as Race 7.
The Elegantimage Stakes headlines the undercard with Caprice Hill going for her fifth consecutive victory. The Tony Alagna trained sophomore trotting filly has seven wins this season and has yet to finish out of the top two in 10 starts.
Caprice Hill fired home in :26.4 to win her elimination last week in 1:52.4. The daughter of Kadabra recently surpassed $1 million in career earnings and will start from post four with driver Randy Waples at the controls.
The $436,000 Elegantimage Stakes is carded as Race 9.
The top rookie trotters will also be on display Saturday in the $363,000 Peaceful Way and $350,000 William Wellwood Memorial.
Ariana G has been arguably the top two-year-old in the sport this season and the rookie trotting filly is the horse to beat in the Peaceful Way. The Jimmy Takter trained filly is undefeated in six starts and won her elimination last week by almost eight lengths in 1:53.2.
A daughter of Muscle Hill, Ariana G has earned $285,870 and is a homebred for owners Marvin Katz and Al Libfeld. She will start from post four with Yannick Gingras driving.
The William Wellwood Memorial will feature local standout Seven And Seven.
The Tom Durand trainee won his elimination in 1:56 and has won three of six starts to begin his career. A son of Chapter Seven, Seven And Seven has shown impressive closing speed early in his career and has banked $51,768.
Durand has driven the rookie trotting colt in each of his previous six starts, but will hand the lines over to John Campbell for the Wellwood final.
Ron Burke trainee What The Hill will be looking for another major victory in the Wellwood. The son of Muscle Hill captured the $294,450 Peter Haughton Memorial on August 6th at The Meadowlands.
What The Hill won his Wellwood elimination last Friday in 1:55.3 for his third victory of the season. David Miller will drive the rookie trotter in Saturday's final.
Seven And Seven will start from post two, while What The Hill has post three.
The $350,000 William Wellwood Memorial is carded as Race 5.
Here are the fields for the Maple Leaf Trot and Canadian Trotting Classic.
$687,000 Canadian Trotting Classic
1. Southwind Frank – Yannick Gingras – Ron Burke
2. Waitlifter K – Brian Sears – Andrew Harris
3. Bar Hopping – Tim Tetrick – Jimmy Takter
4. Marion Marauder – Scott Zeron – Mike Keeling
5. Tony Soprano – John Campbell – Bob McIntosh
6. Dia Monde – Randy Waples – Tom Durand
7. Winter Harbor – Jody Jamieson – Tony Alagna
8. Brooklyn Hill – Corey Callahan – Jonas Czernyson
9. Bee In Charge – Chris Christoforou – Per Henriksen
10. Warrawee Roo – Sylvain Filion – Luc Blais
AE: Will Take Charge – Paul MacDonell – John Bax
$632,000 Maple Leaf Trot
1. Resolve – Ake Svanstedt – Ake Svanstedt
2. Lookslikeachpndale – Sylvain Filion – Luc Blais
3. Flanagan Memory – Brian Sears – Rene Dion
4. Hannelore Hanover – Yannick Gingras – Ron Burke
5. Il Sogno Dream – Scott Zeron – Chris Beaver
6. JL Cruze – John Campbell – Eric Ell
7. Windsun Revenge – Rick Zeron – Jeff Durham
8. Nahar – Robert Bergh – Robert Bergh
9. Musical Rhythm – Mario Baillargeon – Ben Baillargeon
10. Shake It Cerry – David Miller – Jimmy Takter
AE: Etruscan Hanover – Mario Baillargeon – Ben Baillargeon​