Betting Line takes the Little Brown Jug, ties world record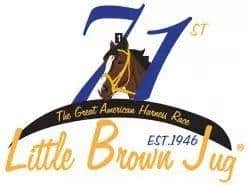 From LittleBrownJug.com
DELAWARE, OH—Betting Line used a first over trip and a confident drive by David Miller to win the second heat in a world record tying 1:49 to win Thursday's 71st edition of the Little Brown Jug presented by the Ohio Harness Horseman's Association.
In the second heat, Scott Zeron sent Dr J Hanover to the lead from post #5 and forced the elimination winners Western Fame (Mark MacDonald) and Betting Line into second and third. Western Fame was not content to sit in the pocket and took the lead before the quarter in :26 4/5. Betting Line tipped to the outside and cleared the lead before the half in :54 4/5. Lyons Snyder (Sylvain Filion) pressured the leader past the ¾ pole in 1:21 4/5. Betting Line cruised home in :27 1/5 to defeat Western Fame and Dr J Hanover. The eight length margin of victory was a LBJ record.
The sophomore son of Bettor's Delight is owned by West Wins Stable, Christine Calhoun and Mac T. Nichol and trained by Casie Coleman. Betting Line earned $291,576 on the day, pushing his career earnings to nearly $1.8 million. With his two Jug wins, Betting Line pushed his win streak to thirteen straight races.
Driver David Miller won his fourth Jug title and Coleman hoisted the trophy for the third time.
In the first elimination, the heavily favored Betting Line came off the pace and defeated the field of six in 1:50 4/5. Check Six (Yannick Gingras) led the field until the top of the stretch when Betting Line swooped past the leader and a challenging Lyons Snyder (o win by 2 ½ lengths over Lyons Snyder and Dr J Hanover. Check Six finished fourth but was scratched from the second heat.
The second $92,320 elimination went to Western Fame with a front running effort in 1:50 1/5. Racing Hill mounted a mid-race challenge on the outside. Western Fame hung tough and defeated a pocket sitting Big Top Hanover (Yannick Gingras) by 1 ¼ lengths. Racing Hill was third and Manhattan Beach was fourth. The connections of Racing Hill called it an afternoon and scratched from the second heat.