Bold Eagle back in action Thursday am ET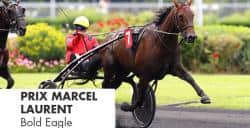 The French trotting sensation Bold Eagle is back in action Thursday (Nov. 10) afternoon at Vincennes, where he will race in the Prix Marcel Laurent over the 1-5/16 mile distance.
Bold Eagle, during his preparation last Thursday for the winter meeting.
This is the first step during the prestigious winter meeting for Bold Eagle as he points towards the Prix d'Amerique, where he is the defending champion.
Nine trotters were entered in the Prix Marcel Laurent and between them four were sired by Ready Cash. The total purse is 120,000 Euro or $130,000.
The Winter meeting took off Nov. 2 and will last until March 3.
During that period there will be 88 race days and 733 races — 244 of those will be raced under saddle. The total purses are 44,019,000 Euros or $48.3 million.