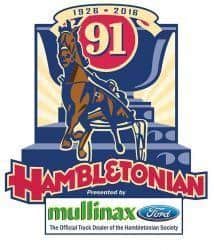 From the Meadowlands
Big Hambo Day For Great Scott
Saturday, August 6, 2016
For Scott Zeron, Hambletonian Day might just have been the best one he's ever had.
The 27-year-old driver guided Marion Marauder to victory in the 91st Hambletonian for 3-year-old trotters Saturday afternoon at the Meadowlands before a crowd of 20,122.
The winner came first over to grab the lead in the stretch before holding off the late charge of 2-1 second choice Southwind Frank to win by a nose in 1:51.4.
Marion Marauder upped his 2016 record to six wins in seven starts and returned $7.00 to win as the third choice in the betting. Sutton finished third. Bar Hopping, the even-money favorite, led to three-quarters, but faded and finished fifth.
But Zeron, the Big M's leading driver, had another huge score on the card.
Shamballa and Zeron worked out a perfect second-over trip to pull off a surprise in the US Pacing Championship for Scott's father, trainer Rick Zeron.
Always B Miki, the 1-2 favorite, led most of the way, but faded midstretch and finished fourth. Wiggle It Jiggleit finished second, a length behind Shamballa, who paid $19.80 and completed the mile in 1:47.1.
A LOOK AHEAD: What The Hill emerged late on the scene from off the pace and now assumes the role of early Hambletonian favorite for 2017 after winning the Peter Haughton Memorial for 2-year-old colt and gelding trotters for driver David Miller and trainer Ron Burke.
The Muscle Hill colt paid $18.60 and trotted the mile in 1:54.4.
UP IN 'TIME': All The Time tipped off live cover and crushed her foes in the Hambletonian Oaks for 3-year-old trotting fillies. The Yannick Gingras-driven, Jimmy Takter-trained daughter of Muscle Hill completed the mile in 1:52.1 and paid $9.20 to win.
FIVE MILLION PLUS: All-source wagering on the program totaled $5,656,698.
Here's a quick look at the balance of the major races on the Hambo Day Card, with winner, driver, trainer, win price and time:
• Shady Daisy (3-year-old pacing fillies): Darlinonthebeach, David Miller, Nancy Johansson, $4.80, 1:49.1
• Fresh Yankee (Free For All trotting mares): Hannelore Hanover, Gingras, Burke, $2.20, 2:05 (1 1/8 miles)
• Jim Doherty Memorial (2-year-old trotting fillies): Ariana G, Gingras, Takter, $3.20, 1:53.1
• John Cashman Memorial (Free For All trotters): Resolve, Ake Svanstedt (driver/trainer), $4.40, 1:50.2
• Cane Pace (3-year-old pacers): Control The Moment, Brian Sears, Bradley Maxwell, $3.20, 2:02.4 (1 1/8 miles)
• Vincennes (Invitational trot): Meladys Monet, Jason Bartlett, Kevin McDermott, $15.40, 1:51.4
• Lady Liberty (Free For All mare pacers): Lady Shadow, Gingras, Ronald Adams, $3.80, 2:03 (1 1/8 miles)