Hambletonian Oaks Elims on Saturday at the Big M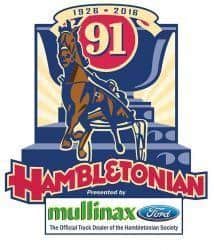 From Hambletonian Society
Fillies Force Two Hambletonian Oaks Elims for Saturday, July 30
East Rutherford, N.J. (July 25, 2016) – Twenty fillies entered today for the $500,000 Hambletonian Oaks, the filly division of the Hambletonian.
The fields and preview for the eliminations follow:
$50,000 Oaks Elim #1
PP Horse Trainer Driver
1 Wildflower Ake Svanstedt Ake Svanstedt
2 Celebrity Eventsy Staffan Lind John Campbell
3 Spicedbourbongirl Jeff Gregory Jeff Gregory
4 Synonymous Hanover Chris Oakes Brett Miller
5 All The Time Jimmy Takter Yannick Gingras
6 Double Exposure Tony Alagna Tim Tetrick
7 Miss Tezsla Jimmy Takter Brett Miller
8 Broadway Donna Jim Campbell David Miller
9 Southwind Pearl Jonas Czernyson Scott Zeron
10 Gracie Hanover Ake Svanstedt TBA
$50,000 Oaks Elim #2
PP Horse Trainer Driver
1 Side Bet Hanover Jonas Czernyson Corey Callahan
2 Unica Steed Jimmy Takter Tim Tetrick
3 Black Broadway Michael Eaton Brian Sears
4 Dream Child Linda Toscano John Campbell
5 Caprice Hill Tony Alagna Tim Tetrick
6 Dancing In Thehall Ake Svanstedt Ake Svanstedt
7 Womans Will Julie Miller Andy Miller
8 Windowshopper Ake Svanstedt Ake Svanstedt
9 Ginny Weasley Ake Svanstedt Ake Svanstedt
10 Flowers N Songs Paul Reid Yannick Gingras
Favorite in the field will be Dan Patch divisional Champion Broadway Donna, a daughter of 2007 Hambletonian winner Donato Hanover and 2009 Oaks winner Broadway Schooner. Owned by Jules Siegel's Fashion Farms and trained by Jim Campbell, Broadway Donna has made just three starts this year, with 2 wins and a second. She prevailed by a gritty half-length in her division of the Del Miller Memorial over All The Time and Celebrity Eventsy on July 16 at The Meadowlands.
The other Miller Memorial division featured a rare deadheat between Unica Steed and Woman's Will. Those two will match up again in the same Oaks elimination along with Ontario Sires Stake star Caprice Hill, making her first pari-mutuel Meadowlands appearance after racking up more than $578,696 north of the border.
Swedish trainer-driver Ake Svanstedt entered a total of five fillies in the Oaks elims. Jimmy Takter has three representatives, including Unica Steed, a daughter of 1998 Hambletonian winner Muscles Yankee and Premier Steed by Workaholic. Unica Steed was foaled in Italy, sired in France and is owned by French stable Ecurie AB Trot, and yet has American trotting blood coursing through both sides of her pedigree.
The top five finishers in each elim will advance to the final on Aug. 6. Elimination winners draw for inside posts 1-5 and all other finalists will then be placed in an open draw. The winner of the final on Aug. 6 is the Oaks winner, regardless of elimination finish on July 30.
Entries for the Hambletonian close at 9:00 a.m. on Aug. 1 at The Meadowlands race office.
Post positions for the $500,000 final will be drawn and morning lines assigned on Monday Aug. 1, at the Hambletonian Press conference and post-positions draw, at 4:00 p.m. in Victory Sports Bar at The Meadowlands. The draw will be streamed live on the Meadowlands web site. The $300,000 John Cashman Jr. Memorial, $284,000 Cane Pace, $500,000 Hambletonian Oaks and $1 million Hambletonian will be featured on a live 90-minute broadcast on CBS Sports Network from 4-5:30 p.m. [EDT] on Aug. 6.
Hambletonian Day is closing day with a post time of 12:00 noon, and the zenith of the Championship Meet. Fans can follow the next two action-filled weekends at Hambletonian.com, meadowlandsracetrack.com and on Twitter at #Hambo16.