Handicappers, Fans and the Jockey Relationship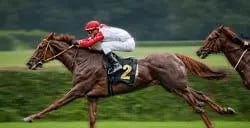 Jockeys, by definition, are the people who ride horses professionally in races. While that definition is simplistic and fits the job description, it does a lousy job of encompassing everything these athletes do.
Yes, I said athletes because these are the pilots of animals weighing an average of 1200 lbs. and that are running in excess of 35 mph around the racetrack. It would be hard enough to control and maneuver a thoroughbred by itself around one or two turns, but add eight to 12 others, all running at the same time for the identical finish line, and you can get a bit of chaos.
Oh, did I fail to mention that most of these men and women weigh less than 118lbs? The job that jockeys do is a tough one and one that requires hundreds of hours in the saddle to prepare for a career in racing. To add another pound to the discussion, many jockeys struggle to make weight and go to extreme circumstances to be ready for post time. Constant exercising and dieting are tools of the trade for these riders. Some are able to manage these behaviors, but others struggle and, in extreme cases, fall by the wayside and not only fail in their career, but also life.
Have you ever seen a horse go down in a race? It's terrible to witness, but does happen at racetracks across the country. It's bad enough to see a horse fall, but then to see the jockey catapulted out of the saddle and hit the ground rolling is a gut wrenching visual.
Many times that is not the end of the unfortunate situation, as you have to watch and pray that no other horses in the race are involved and trample the fallen rider. It is events like these that remind you how dangerous a profession it can be. Often when watching a race, you can hear fans squabble about a bad ride or a mistimed move. We all have done it. There is a difference though between criticizing a particular ride and shooting garbage out of your mouth.
I'm a handicapper and love our great game of racing. With a background in equestrian sports, I know how difficult it can be to ride our beautiful thoroughbred athletes. So I try to always keep that in mind when critiquing a ride.
We all look at the past performances before a race and identify the pace of the race and the way the race is supposed to be run on paper. I know we all can get frustrated when there is lone speed in a race and the pace horse is allowed to set uncontested pedestrian fractions on the front end. Or when a jockey is more concerned about what rivals are behind him instead of riding to the wire.
Ask my dog how I feel about bad rides as he always hears my groans and exits into the other room. Jockeys have a job to do and, as fans and handicappers, we are allowed to criticize or praise their rides. We do both. No matter what trade you ply, whether a jockey, accountant, lawyer, store manager, etc. we all get evaluated on the job at hand.
Riders are no different. We should share in their triumphs and be able to critique them when they didn't have the best day in the saddle.
Understand the difference between critiquing a ride and going into a tirade, though. If you failed to meet your sales quota, were late on a report, or didn't calculate inventory properly, I'm not sure your superior would admonish you and/or address you like a child.
As race fans we have to try to remember that we are not on that horse at the very moment they were supposed to make their winning move. Bad ride? Maybe. As someone who has a vested interest in that horse because of our wagering dollar, we are allowed to question the ride.
On that same note, however, you should praise the good rides accordingly. There is a reason you are watching from the grandstand, behind your television, or on a computer. They are the jockeys and they are the ones who put their career and life on the line every time they get in the saddle.
Riders up!