Kentucky Downs meet opens Saturday!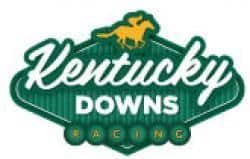 By Jennie Rees, Kentucky Downs
FRANKLIN, Ky. — A total of 189 horses were entered Wednesday for Saturday's 10-race opening card at all-turf Kentucky Downs — with nine races luring a capacity 12 horses or more, including three out of four stakes.
The stakes are each worth $350,000, which includes $200,000 of purse supplements from the Kentucky Thoroughbred Development Fund for horses born in the commonwealth and sired by a Kentucky stallion. The lone race not to get at least a dozen was the Kentucky Downs Ladies Sprint, for which nine fillies and mares were entered.
The 2-year-old maiden races, carrying purses of $130,000 for Kentucky-breds, figured to be popular — and sure were. A total of 49 two-year-old fillies were entered for the 6 1/2-furlong race. In addition to the 12 in the body of the race, there are four horses listed as "also-eligibles" who can run if there are any defections by scratch time, which is 9 Central Friday morning.
A mile first-level allowance race for girls, worth $140,000, had 28 entrants. The same race for boys attracted 24. And the $145,000 second-level allowance, with an optional claiming price of $62,500, had 16.
"Almost pitching a no hitter on opening day sets the tone for a great meet," said Corey Johnsen, Kentucky Downs president and part-owner of America's only European-style racecourse. "It's very gratifying to see the support of the horsemen, and I applaud racing secretary Tyler Picklesimer and his crew for doing a great job. The only way you get numbers like these is with all participants in the industry working together.
"I can't wait to see the next four cards after this."
Kentucky Downs runs Saturday, Sept. 8, 10, 11 and 15, with first post at 1:25 p.m. Central each day.
Here's a quick look at the stakes:
Kentucky Downs Ladies Turf: The favorite could be Cash Control, who has been in superb form in five grass races. She started off with a head victory over Ladies Turf entrant Mizz Money in the Fair Grounds' Daisy Divine, was second by a nose to Mizz Money in the New Orleans Ladies, third in Churchill Downs' Grade 2 Distaff Turf Mile (the winner was international star Tepin), won Churchill's Grade 3 Mint Julep by a head over future stakes-winner Sweet Acclaim, and most recently was second by a neck in the Indiana General Assembly Distaff.
The field for the mile race also includes She's Not Here, who won Del Mar's Yellow Ribbon (G2) for the second straight year; Secret Someone, a rallying fourth in last year's One Dreamer at Kentucky Downs and winner of the $100,000 Lady Canterbury; Susie Bee, a multiple stakes-winner in Florida. Stormin Elle — winner of three of her last four starts, including a stakes restricted to Illinois-breds — was supplemented into the race for $7,500.
Kentucky Downs Juvenile: The Steve Asmussen-trained Prados Way is 2 for 2, having won a stakes in New Mexico. Raising Rumors, trained by Randy Morse, is 2 for 3 after capturing the Prairie Gold Juvenile in Iowa. Neither has competed on grass, however, and they'll face some good-looking turf maiden-winners such as Saratoga debut-winner Ancient Warfare, the late-running Parlor and Preemptive Strike.
Kentucky Downs Turf Sprint: Regally Ready is a past Breeders' Cup Turf Sprint winner and $1.8 million-earner, while Undrafted has made $1.2 million, including Ascot's Group 1 Diamond Jubilee in England last year. The competition includes classy horses such as California invader Toowindytohaulrox, Hogy and Island Town in his turf debut.
Exacta Systems Juvenile Fillies: Caroline Test figures to be favored off finishing a good second against boys in the Ellis Park Juvenile. She hasn't run on turf, but is from an outstanding grass family. Safe With Me ran fast to win her debut on turf at Saratoga. Lull won her first race with ease over the Belmont grass, then clipped heels and fell in a stakes at Saratoga.
Kentucky Downs Ladies Turf
Race: 7 (4:56 p.m. CT). Division: fillies & mares 3yos & up. Distance: mile
pp horse (weight) jockey/trainer
She's Not Here (125) Van Dyke/V. Oliver
Cash Control (125) Bridgmohan/Cox
Susie Bee (125) Geroux/Maker
Natural Wonder (121) Castanon/Schu
Christi's Ready (121) Doyle/Pitts-Blasi
Stormin Elle (s) (125) Valdivia/Catalano
Flying Tipat (121) Rocco/Romans
Secret Someone (125) Albarado/Stidham
Mizz Money (125) Graham/Flint
(s) – $7,500 Supplemental entry
Kentucky Downs Juvenile
Race: 8 (5:28 p.m. CT). Division: 2-year-olds. Distance: 7 furlongs
pp horse (weight) jockey/trainer
Raising Rumors (122) Mena/Morse
Zunino (120) Hernandez/Stidham
Han Sense (120) Geroux/Maker
Capt. Grider (120) Van Dyke/Zanelli
Ancient Warfare (120) Lezcano/Casse
Parlor (120) Cannon/Kenneally
Preemptive Strike (120) Rocco/Colebrook
Hot Dad (120) Lanerie/Maker
B Rod Maclean (120) Villasana/Short
Prados Way (122) Graham/Asmussen
Cold Snack Thirty (120) Fadlovich/McCauley
All Right (118) Hill/Gorder
Kentucky Downs Turf Sprint
Race 9 (6:02 p.m. CT). Division: 3yos & up. Distance: 6 1/2 furlongs
pp horse (weight) jockey/trainer
Successful Native (125) Albarado/Maragh
Undrafted (125) Prado/Ward
Commute (125) Lezcano/Casse
Almasty (121) Court/Cox
Barbados (121) Graham/Tomlinson
Hogy (121) Rocco/Becker
Toowindytohaulrox (121) Pereira/D'Amato
Regally Ready (121) Geroux/Asmussen
Divine Warrior (118) Landeros/Bradley
Island Town (121) Hernandez/Wilkes
Wilbo (121) Hill/Hartman
Western Elegance (121) Valdivia/Davis
AE 13. Black Bear (121) Mena/Morse
AE-Needs scratch to run
Exacta Systems Juvenile Fillies
Race 10 (6:31 p.m. CT). Division: 2yo fillies. Distance: 7 furlongs
pp horse (weight) jockey/trainer
Zyxyz (120) Rocco/Sharp
Southern Sis (120) Lezcano/Casse
Lady Hansen (120) Castanon/Maker
Maluku (120) Marquez/Stidham
Safe With Me (120) Boyce/Motion
Lull (120) Hernandez/Clement
Caroline Test (120) Geroux/Colebrook
Macy's Attitutde (120) Villasana/Short
Royal Asscher (120) Landeros/Casse
Forest Circle (120) Albarado/Stidham
China Grove (120) Graham/Colebrook
Grandma's Princess (122) Mena/Morse
AE 13. Youngest Daughter (118) Van Dyke/V. Oliver
AE-needs scratch to run