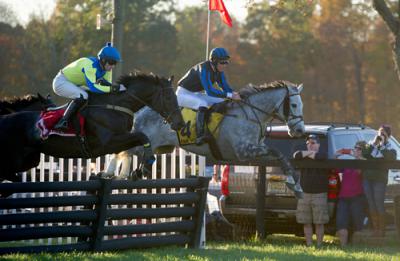 Le Chevalier (grey horse on left) competes in the NJ Hunt Cup.
Photo by Tod Marks.
By Bailey Bianco, AmWest Entertainment
We love to check in with AmWest Entertainment CEO, Nelson Clemmens' retired racehorses to see how they are doing in their new careers! Recently, we've been watching Le Chevalier take the world of Steeplechase by storm.
On March 18, 2017, Le Chevalier, affectionately called "Le Chevy," competed in the 76th running of the Warrenton Hunt Races. The Warrenton Hunt is Virginia's oldest Point-to-Point. Point-to-Point is a form of Steeplechase held at a local level, traditionally over farmland as opposed to commercial racecourses.
Point-to-Point racing, as the name suggests, began in 1752 when two neighbors challenged each other to race from one point to another – Buttevant Church to Doneraile Church, in County Cork, Ireland. The race consisted of a four-and-a-half-mile distance over stone walls, ditches and hedges all while keeping the steeple of the end point, Doneraile Church, in sight.
Fast forward 265 years to the United States and you'll find that Steeplechase consists of two forms: Hurdle and Timber. The Warrenton Hunt has been running Point-to-Point races since March 24, 1934. The jumps are similar to traditional natural obstacles however, are now man made.
Specifically, Le Chevy competed in The Springs Valley Open Timber division of the Warrenton Hunt, which is about three miles over solid, immovable, timber rail fences that can reach up to a maximum of five feet. Timber races are longer, from three to six miles, and require a different jumping style from the horse than Hurdle races. Horses like Le Chevy must jump with more of an arc than Hurdle horses due to the solidness of the obstacles. If a horse hits a Timber jump, it can be brought to an almost complete stop.
Jockey, Mark Beecher, reserved Le Chevy's energy at the beginning of the race, allowing Adios Diablo to take the early lead. With a mile and a half left to go, Beecher and Le Chevy took command, and left the field 10 strides behind them as they crossed the finish line with a total time of six minutes and thirty seconds.
AmWest Entertainment is not only proud of retired racehorses like Le Chevalier, who have made a name for themselves and succeed in their new careers, however, we also understand that we all share the responsibility of racehorse aftercare! From flat racing to jump racing and beyond, we are passionate about these horses and love to see them thrive in anything and everything they do.