Los Alamitos highlights huge Quarter Horse Weekend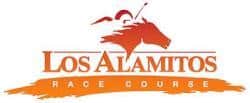 Los Alamitos Two Million Futurity
Los Alamitos Race Course will host its richest race of the year this Sunday night with the running of the $2,000,000 Los Alamitos Two Million Futurity. Ten 2-year-old horses will run in the 400-yard race, all hoping for a chance to win a first place prize of $801,381.
One of the top contenders in the rich Los Alamitos Two Million is the Jaime Gomez-trained bay gelding Katella Deli, named after the famous restaurant, bakery and delicatessen The Katella Deli, which is located ¾ miles west from the Cypress racetrack. On Saturday morning, Katella Deli, the horse, and the wonderful crew that cares for him, met three of the friendly employees from The Katella Deli, bakery manager Ana Chresaidos and team members Alyssa Pascual and Brenda Maturino.
The Katella Deli staff brought the entire Gomez racing team some of their most popular and best-selling items, a fresh tray full of delicious Christmas cookies and their world famous Cinnamon Bagel Chips and Garlic Parmesan Bagel Chips, to congratulate them and the bay runner for qualifying to Sunday's big Quarter Horse race at Los Alamitos.
"We want to wish Katella Deli best of luck and we hope he wins the Los Alamitos Two Million on Sunday night," Chresaidos said. "We'll be rooting for our restaurant's namesake."
"I love my horse Katella Deli and we love the Katella Deli," Gomez added "We are looking forward to a great race on Sunday."


Champion of Champions on Sunday
S-Quarter K LLC's Heza Dasha Fire will look to become only the fourth horse with back-to-back victories in the Grade 1, $600,000 Champion of Champions when he leads a full field of 10 in Saturday's 440-yard classic at Los Alamitos.
Heza Dasha Fire won the Champion of Champions by a 1 1/4 lengths last year to record one of the most lopsided wins ever in the 42-year running of the race. He'll now look to join all-time greats like Dash For Cash, Refrigerator and SLM Big Daddy as horses that won consecutive runnings of this race. Tailor Fit won the Champion of Champions twice, but in non-consecutive years, while the 'Fridge is the only three-time winner of this race.
SLM Big Daddy is the last horse to win Champion of Champions in straight years, accomplishing the feat in 1997 and 1998. Tailor Fit then won the race in 1999 and returned in 2001 to win once again. Rylees Boy, the oldest horse to win the Champion of Champions at age 7, is the closest one to a repeat, winning the 2012 running and then running second to Last To Fire in 2013.
Heza Dasha Fire will start from post number seven when he looks to make history on Saturday night.
"He's fantastic," owner Kathy Meneely said. "He makes all your reams come true. You can't sit back and think you're going to win. I still get nervous and yell for him to run fast. He's been incredible. We've had so much fun with him."
Heza Dasha Fire had surgery after running second in the Los Alamitos Winter Championship earlier this year, but Meneely said the Walk Thru Fire gelding came back "hard and strong."
"We are only going to run him a few more times," she added. "Possibly in the (Los Alamitos) Winter Championship again. We don't want to over run him."
Heza Dasha Fire could also go over the $2 million mark in career earnings, a figure that has only been achieved in Quarter Horse racing by the likes of Ochoa, Stolis Winner, Refrigerator, One Dashing Eagle, Blues Girl Too and Jess Good Candy. With a win in the Champion of Champions, Heza Dasha Fire would take his career earnins to $2,122,737 or less than $4,000 away from Refrigerator and into third place on the all-time list of money winners. Cruz Mendez, who has ridden Heza Dasha Fire in every single one of his races, will pilot the Washington-homebred. Jose Flores will saddle the regally bred six-time Grade 1 stakes winning gelding.
The only living horse to have won a race that featured Heza Dasha Fire as part of the field is Ed Allred's He Looks Hot, which will start from post number eight to Heza Dasha Fire's post seven in the Champion of Champions.
On paper, He Looks Hot looks as impressive as any of the rest of the horses in the field. He's won a pair of Grade 1 races, including his victory over Heza Dasha Fire in the 2014 Los Alamitos Two Million Futurity, and he could also go over the million dollar mark on Champion of Champions night. He Looks Hot, which also won the Vessels Maturity earlier this year, needs $22,515 to become a million dollar winner. Carlos Huerta will ride the Walk Thru Fire gelding for trainer Scott Willoughby.
Mike Teel's 4-year-old AJs High has been outstanding over the last two campaigns, winning 10 of 15 starts and earning over $546,000. The Apollitical Jess gelding has also been a stakes winning machine, winning four of them just in 2016. Trained by Charlton Hunt, AJs High won the Bank of America Challenge Championship in a great duel over BH Lisas Boy. Another big moment at the Orange County track would take him to $975,114 in career earnings and certainly destined to become a millionaire.
There are two half-million dollar winners in the field in the form of 3-year-old star Big Lew for Reliance Ranches and Hector Villalobos' Forget It from the barn of Jose Antonio Moreno. Trained by Mike Robbins, Big Lew won the Grade 1 Los Alamitos Super Derby and will now look to give Robbins his fourth Champion of Champions win. That would make the trainer the third all-time in Champion of Champions wins. Jimmy Dean Brooks will ride Big Lew from post number two. Forget It, meanwhile, won three derbies last year, but will be looking for his first graded stakes win of the year. Rite Regal, a two-time derby winner this year, has won seven races in 2016 and could be a big factor.


Los Alamitos Two-Week Thoroughbred Meet
The two-week meet will be highlighted by a pair of Grade I races for 2-year-olds – the $300,000-guaranteed Los Alamitos CashCall Futurity and the $300,000-guaranteed Starlet – Saturday, Dec. 10 followed a week later by $100,000-guaranteed Winter Challenge which is expected to feature the final start in California for California Chrome, who has been based at Los Alamitos for nearly three years.
The Futurity is one of the races on the "Road to the Kentucky Derby'' with the winner receiving 10 points towards a berth in the Kentucky Derby next May 6 at Churchill Downs.
Among the leading candidates for the Futurity is Mastery, who is undefeated in two starts for Hall of Fame trainer Bob Baffert, who has won both renewals of the Futurity – Dortmund (2014) and Mor Spirit (2015) – since the race was moved to Los Alamitos from the now-closed Hollywood Park.
Baffert has won the race, which was run in Inglewood from 1981-2013, a record eight times.
The Starlet – which is restricted to fillies – is one of the events on the "Road to the Kentucky Oaks.'' The winner earns 10 points towards a spot in the Kentucky Oaks next May 5.
Both the CashCall Futurity and the Starlet will be run at 1 1/16 miles.