Marion Marauder leads eight into Yonkers Trot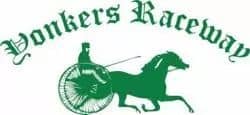 by Frank Drucker, Publicity Director, Empire City at Yonkers Raceway
Yonkers, NY — Tuesday afternoon's (Aug. 30) gods of the open draw did not torture either prohibitive favorite for Yonkers Raceway's pair of Saturday night (Sept. 3) half-million-dollar Triple Crown events.
Hambletonian winner Marion Marauder drew post position No. 4 for Yonkers Trot No. 62 and Hempt Memorial and Adios champ Racing Hill landed the 3 hole for the 61st Messenger Stakes.
The Trot goes as the eighth race on the Raceway's 13-race card (approximate post time 9:35 p.m.), with the Messenger directly after (approx. post 9:55 p.m.). First post is the usual 7:10 p.m.
The draw for Yonkers Trot No. 62:
Post-Horse (Driver)
1-Iron Mine Bucky (George Dennis)
2-Celebrity Express (John Campbell)
3-Smalltownthrowdown (Dan Daley)
4-Marion Marauder (Scott Zeron)
5-Lagerfeld (Mark MacDonald)
6-Steed (Brian Sears)
7-Hititoutofthepark (Corey Callahan)
8-Cufflink Hanover (Jason Bartlett)
The draw for Messenger Stakes No. 61:
Post-Horse (Driver)
1-Stonebridge Beach (Pat Lachance)
2-Don'tcallmefrancis (Joe Bongiorno)
3-Racing Hill (Brett Miller)
4-Western Fame (MacDonald)
5-Fernando Hanover (George Brennan)
6-Another Daily Copy (Callahan)
7-Dr J Hanover (Zeron)
8-Manny (Chris Lems)
Note that both Tony Alagna-trained horses (Racing Hill and Dr J Hanover) and both Ron Burke-trained horses (Don'tcallmefrancis and Fernando Hanover) shall race uncoupled, as per updated New York State Gaming Commission rules. Program changes, if any, shall be made Wednesday morning.
In the Yonkers Trot, the road to the big coin obviously goes through Marion Marauder, who was the handiest of winners in last week's lone, $40,000 elimination.
"He's just developed into the perfect horse to drive," Zeron said. "I raced him from off the pace both times in the Hambletonian, but he had no problem leaving the gate last week.
"I was very impressed with him in his first small-track start. The way the draw played, with me right next to Dan (Daley, Smalltownthrowdown), I can sort of assess everything at the start.
"This is my first drive in this race, and I'd love to win it."
For the season, Marion Marauder, a 3-year-old son of Muscle Hill, has won seven of his nine starts ($874,905). Paula Wellwood trains for mom, Marion, and son, Devin Keeling.
As for Racing Hill, his trainer nearly had to go for the antacid pills during the post-position pills.
"I watched it online," Alagna said, "and there were two horses and two numbers (3 and 8) left. I was envisioning having my two horses getting the 7- and 8-holes, but it worked out."
Try convincing the Manny folks of that.
Racing Hill "trained great on the half at Gaitway and couldn't be coming into this race any better," said Alagna. The Tom Hill-owned homebred son of Roll With Joe has been board-perfect (10 starts, 4 wins, 5 seconds, 1 thirds) this season ($961,702).
No eliminations were needed to this race, as only eight entered.
Alagna co-owned and trained Revenge Shark, last season's winner