Papo picks the G1 Travers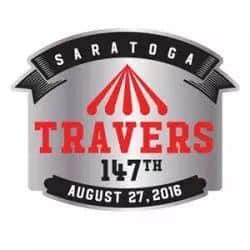 By Papo Morales, AmWager
Race 11 Grade 1 Travers Stakes:
A full field of 14 three-year-olds looking to win the 147th running of the Mid-Summer Derby, the Travers Stakes. The grade one race was first run in 1864 and was won by Kentucky at a race distance of 1 ¾ miles would which be considered a marathon distance by today's standards. The Travers was shortened to the classic distance of 1 ¼ miles in 1893 and was won by Stowaway. The winner of the race will look to join such classic horses as Man o' War, Whirlaway, Gallant Man, Damascus, and Alydar and have their jockey's silks painted on the track canoe, a tradition that first started in 1926.
Much like the Kentucky Derby, there is value to be had in this full field and I would not take a short price on anyone. Let's start the conversation with the morning favorite in Exaggerator (3-1), who is coming into this race off a gutsy win in the Grade 1 Haskell. That race was run in the mud, a surface that the son of Curlin adores, which is apparent by his undefeated record on a track rated as such. He did run second in the Kentucky Derby but even that track had some moisture in it, as it rained 55 minutes before the race. He is usable in this race but he will be a "B" on my multi-race wagers and I will try to get him out of the top spot in my intra-race bets.
The second betting choice on the morning line is Connect (4-1) for trainer Chad Brown. Another son of Curlin, this lightly raced colt has won three straight races including the Curlin Stakes, named after his sire, going 1 1/8th miles at the track. While he set the pace in that race, I am expecting him be sitting in a stalking position in this race. He is a horse on the rise but lacks some seasoning and is a relatively short price on the morning line. I will relegate him to the lower positions in my exotic wagers.
The three horses that I will be keying my wagers around are American Freedom (6-1), Destin (10-1), and Creator (15-1) as they have all proven they can get the classic distance and offer the type of value that puts a smile on this handicapper's face.
American Freedom, for trainer Bob Baffert, was beaten by Exaggerator on a muddy track in his last race. Prior to that, he won the Grade 3 Iowa Derby and Sir Barton Stakes. While he has set the pace in his last three races, Baffert may be trying to get him to stalk in this race as he takes the blinkers off, a sign that he wants American Freedom to be less on the muscle early in the race. I would still expect him to be forwardly placed, but maybe not winging it out their on the front end. He is bred for the distance being by Pulpit, out of a Pleasant Tap mare. Baffert has been high on this colt since the beginning and he is a win contender in this race.
Destin is another "A" for me in this race. The son of Giant's Causeway finished third in the local prep for this race the Grade 2 Jim Dandy. In that race, he stalked pedestrian early fractions and showed little moxie down the stretch despite being in the perfect position to win the race. He lacked focus, which is not uncharacteristic of three-year-olds. However, he is going to need the mental lightbulb to go on to win this race. I believe that's possible, based of his gut-wrenching performance in the Belmont Stakes where he was beaten by a nose. Destin has a high cruising speed and click off 24 and change fractions the entire race, a running style that has had success at the classic distance of a mile and a quarter. You get Castellano in the saddle and he knows a thing or two about winning this race, as he has won it five times.
My last "A" in this race is a juicy 15-1 on the morning line and that's Belmont Stakes winner Creator, for trainer Steve Asmussen. The Tapit colt was nowhere to be found in his last race where he finished sixth beaten nine lengths in the Grade 2 Jim Dandy. There was a lack of early pace in that race to set up his closing kick and I don't believe Asmussen had him as tight as he needed to be. He lost the battle that day but that may have been a prep for this race. He is going to have to navigate through the field with his late running style but Ortiz is more than capable of weaving through with a horse that has the fastest late pace figures.
Gun Runner (10-1) is Asmussen's other entry and I can absolutely see him picking up a minor share in this race and he will be included on my vertical wagers.
A great rendition of the Travers Stakes with value galore. Let's hope at the end of the day the canoe is painted in the colors of your winner.