Pattison International Day
From Woodbine Entertainment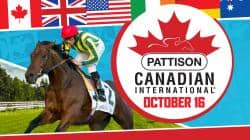 The Pattison Canadian International, contested at 1 1/2 miles over the E.P. Taylor Turf Course, is slated for Sunday, October 19 at Woodbine as part of a lucrative card that includes the grassy $500,000 Grade 1 E.P. Taylor Stakes for fillies and mares and the $300,000 Grade 2 Nearctic Stakes, a six furlong turf sprint for three-year-olds and upwards.
See the best horses from countries like: Ireland, Germany, England, France, Australia, the United States and of course, Canada. And with $1 million on the line, they'll all bring their "A" game as they take to the world-renowned E.P. Taylor Turf Course for a lengthy 1.5 Mile bout.
● Woodbine will have large guarantees ($150K early and $250K late Pick 4, $50K early and $150K late Pick 5), and will also be offering 20-cent bet minimums on all Triactor, Superfecta, Pick 3 & Pick 4 pools that afternoon.
● Why not give the Jackpot Hi5 a go? Huge potential for big pool payouts, there will be a mandatory payout on the last race of the day (11)! The carryover is currently $349,113.86
Joshua Tree, celebrated hero of the 2010, 2012 and 2013 renewals of the International, will not return to defend his crown against a talented field of 10 hopefuls led by Brown Panther.
Brown Panther, with a record of 10-4-3 from 24 career starts and purse earnings in excess of $1-million, arrives at the International from a breathtaking score in the Group 1 Irish St Leger at the Curragh.
The six-year-old Shirocco horse is owned by retired soccer legend Michael Owen, who rose to prominence as a Liverpool striker and made headlines at the 1988 World Cup becoming England's youngest player and youngest goal scorer at the time.
Horses will be descending on Woodbine throughout the week from Europe and the U.S. including the Marco Botti trained Bayrir, winner of the Grade 1 Secretariat at Arlington Park in 2012; Hillstar, a four-year-old son of Danehill Dancer trained by Sir Michael Stoute, ships to Woodbine from an impressive score in the Group 3 Arc Trial Legacy Cup at Newbury, England; and Team Block's Suntracer arrives from a dramatic last-to-first nose score in the Grade 3 Kentucky Turf Cup, at Kentucky Downs.
For more information on the field and contenders, visit CanadianInternational.Com and follow the conversation on Twitter using the official #WoIntl hashtag.


From AmWager
AmWager will offer a 20% Win Bonus on Pick 3's and Pick 4's at Woodbine on Saturday, Oct. 14th.
20% will be applied to gross winnings on all Pick 3's and Pick 4's on Pattison Canadian International Day. The bonus will be capped at a total of $50 for the day per player.
● Ex. Player hits late pick 3 and his/her gross winnings are $180 . Player gets a $36 winners bonus ($180x 20% = $36)
● Ex. Player hits pick 4 and his/her gross winnings are $500. Player gets $50 winners bonus due to cap

EARLY LOOK AT THE PATTISON CANADIAN INTERNATIONAL (10)
Horse / Trainer / Owner / Jockey
Bayrir / Marco Botti / G L & Mrs L F Huddy / TBA
Big Blue Kitten / Chad Brown / Ken & Sarah Ramsey / Joel Rosario
Brown Panther / T Dascombe / A Black & Owen Promotions Ltd / Richard Kingscote
Dynamic Sky / Mark Casse / John Oxley / Patrick Husbands
Hillstar / Sir Michael Stoute / Sir Evelyn De Rothschild / Ryan Moore
O'Prado Ole / Dale Romans / Donegal Racing / TBA
Reporting Star / Pat Parente / Copper Water Thoroughbred Company / Justin Stein
Suntracer / Chris Block / Team Block / Luis Contreras
The Pizza Man / Roger Brueggemann / Midwest Thoroughbreds Inc. / Florent Geroux
War Dancer / Kenneth McPeek / Diamond M Stable /


BROWN PINING FOR INTERNATIONAL SCORE WITH WAKE FOREST
Trainer Chad Brown has come close with his two shots at the Pattison Canadian International, sending out Hyper (2013) and Big Blue Kitten (2014) to runner-up finishes with each beaten just three-quarters of a length.
On Sunday, Brown will be looking to hit the bull's-eye when Wake Forest ships north for the Grade 1, $1 million showpiece for 3-year-olds and upward at 1 ½ miles on the turf course.
Wake Forest, a 6-year-old horse who began his career in Germany, made his first four starts for Brown at four different tracks south of the border and became a Grade 1 winner in the 1 ½ mile Man O'War at Belmont.
Most recently, Wake Forest journeyed to Woodbine for the Grade 1 Northern Dancer, also a 1 ½ mile turf race, and was beaten just a neck as the runner-up to fellow Canadian International probable The Pizza Man on Sept. 17.
"I thought he got a great trip. He ran very well, just came up short," said Brown, who conditions Wake Forest for Michael Dubb, Sheep Pond Partners and Bethlehem Stables.
Wake Forest shipped back to his Saratoga base following the Northern Dancer and has been kept on his toes with a pair of turf breezes there, the latest a five-furlong move in 1:01.20 on Friday.
"Just maintenance works; he's done well," said Brown.
And while Wake Forest will have his third consecutive rider change here Sunday, with Javier Castellano getting the call, Brown is not concerned.
"He's pretty straightforward," said the trainer.
Brown also was represented by Rainha Da Bateria and Dacita for the Grade 2 Canadian Stakes on the Sept. 17 Ricoh Woodbine Mile program and the pair ran 1-2 in the 1 1/8 mile turf race for fillies and mares.
While Dacita is headed for the Breeders' Cup Filly and Mare Turf her stablemate Rainha Da Bateria, who earned a fees-paid berth there with her Canadian victory, is opting for Woodbine and Sunday's E.P. Taylor Stakes.
The E.P. Taylor, a 1 ¼ mile turf race for fillies and mares, offers Grade 1 status and a purse of $500,000.
"She obviously ran very well over Woodbine's course as well," said Brown. "It just seems logical to go back in here; this race looks like it will be a slightly easier Grade 1 than the Filly and Mare Turf, and she's yet to win a Grade 1, so that's the reason for the decision to run here."


STRUT THE COURSE AND STACKED DECK FEATURE ON INTERNATIONAL UNDERCARD
Strut the Course, who finished fourth in the Canadian, breezed five furlongs in :59 on the main track here Saturday and will be looking to improve on last year's fourth-place finish in the E.P. Taylor for trainer Barbara Minshall.
Exercise rider Addy Amaral was aboard Strut the Course, who worked in company with stablemate Stacked Deck, a contender for Sunday's Nearctic Stakes who was clocked in :58.60 under jockey Rafael Hernandez.
The Nearctic, a six-furlong turf race, is a Grade 2 worth $300,000. "They worked awesome; both of them," said Minshall. "They galloped out strong; they're both in really good shape.
"'Deck' needs a good horse to work with. He's just that kind of horse; he's just so fast If he doesn't have a really good horse to work with, it's not really company anyways."