Sun Stakes Saturday includes big showdown in Franklin Championship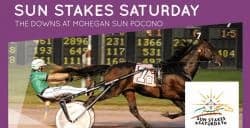 PHHA / Pocono Downs – 6/25/2016
WILKES-BARRE PA – There will be over $2 million on the line this Saturday evening at The Downs at Mohegan Sun Pocono on its Sun Stakes Saturday card. While the races for the 3-year-olds will provide exciting contests and help provide early season pecking order, the main focus will be on one event, the Showdown.
The Clash of the Titans – Always B Miki, Freaky Feet Pete, and Wiggle It Jiggleit – in the $500,000 Ben Franklin FFA Pace Championship, race 11 on the 14-race card Saturday at Pocono, which is scheduled for a 6:30 p.m. first post.
Here's an overview of the evening's activities, led of course by the Franklin:


$500,000 BEN FRANKLIN FFAP CHAMPIONSHIP (race 11 of 14 – consolation race 7)
Defending Horse of the Year Wiggle It Jiggleit got the best of the post draw among the three Indiana-sired winners in the Franklin eliminations – but then again, the other two are not noted for their quick starting speed, although they may need to show some to get the major share of the purse in the Franklin, which became a field of ten when Shamballa and Always At My Place dead-heated for third in an elimination.
The 4-year-old son of Mr Wiggles, trained by Clyde Francis for George Teague Jr. Inc. and Teague Racing Partnership LLC, shows five "clean" calls of "1" (no parked-out symbols) at the quarter among his charted lines, and being somewhere near the front has been part of driver Montrell Teague's basic modus operandi as "Wiggle" has won 31 of 38 career starts and $2,630,760 lifetime, including an easy-looking 1:48.1 score in his Franklin elimination (in which he drew over $73,000 of a $76,500 show pool). What might happen after Wiggle It Jiggleit gets the top (if he goes for the lead) makes for the drama of the story.
The 5-year-old Always A Virgin stallion Always B Miki will start from post seven for driver David Miller, trainer Jimmy Takter, and his ownership of Bluewood Stable, Roll The Dice Stable, and Christina Takter. "Miki" has forged much of his reputation as an unstoppable finisher deluxe, with several pace-controlling moves made midrace on the straightaway of a big track. He shows only one "clean 1" at the first split on his lines, in a field of six when he was 1-20* in a Meadowlands race earlier this year, but he also has shown the ability to sit outside and still be razor-sharp in the stretch, as he was at Pocono last week when he was hung the better part of ¾ of a mile, mostly uncovered, and still had strong strides to the wire to equal the 1:47 world record for 5/8-mile tracks, set by Sweet Lou in the Franklin Championship here in 2014. He may face a similar trip on Saturday – but he's shown he can handle it.
The horse that hung Always B Miki, Mel Mara (driven by Corey Callahan), should be mentioned here, as the 7-year-old Lis Mara stallion, trained by Dylan Davis for Robert Cooper Stables LLC and J&T Silva Stables LLC, drew the rail for the Franklin Championship. But Mel Mara has seldom shown early speed racing recently –which may be a strange thing to say for a horse who's been ahead at the half in 3 of his last 5 races, but he has been parked at the quarter in all three, making second-quarter moves to the top. "Mel" does not figure to benefit from the "inside geometry" of post one as much as many would.
Freaky Feet Pete was in front most of his Franklin victory, with the son of Rockin Image setting a world record of 1:47.1 for his division in his easiest of triumphs (you heard a lot of "He didn't look like he was going that fast!" comments after his elimination). But again, like Always B Miki, the only race line he shows with a "clean 1" at the quarter was a 1-20* early-season win at Hoosier. Trace Tetrick, Tim's brother, who will be putting his 1.000 lifetime UDR at Pocono on the line here (last week was his first visit to the mountain oval) for trainer Larry Rheinheimer and owners Mary Jo and Marty Rheinheimer.
With all these horses of superior and variable mid-race tactics – gathered together in a powerpacked field that collectively has earned $11.8M in their careers and has an average mark of 1:47.4 – the trip, combined with some racing luck, will probably tell the tale in this great free-for-all showdown.
(By the way, Luck Be Withyou, the defending Franklin champ, will be racing in the Consolation this year, from post 1. He won his 2015 elimination from post 8 and his final from post nine – and went wire-to-wire, with "clean 1"s, in both contests.)
$500,000 EARL BEAL JR. 3CT CHAMPIONSHIP (race 12 — consolation race 5)
Lost a bit in the uproar about the speedy Franklin elimination show last Saturday was the fact that Southwind Frank, the favorite for the August 8 Hambletonian, suffered only the second loss of his career. The three-year-old son of Muscle Hill, driven by Yannick Gingras for trainer Ron Burke and Southwind Frank Partners, was limbed out most of the first 3/8s before getting the top and went on to fast fractions before getting edged at the end by a game Bar Hopping in 1:52.1. The Beal elimination was only "Frank"'s third start of the year, and first since June 4, and he figures to be a bit better this week, although again needing to overcome post seven in a field of nine.
Bar Hopping, who caught Southwind Frank late in posting the upset last week, may have an even more difficult road to hoe on Saturday, as the pillshake was unkind enough to give him the outside in the field of nine for trainer Jimmy Takter and the ownership of Christina Takter, Hatfield Stables, Marvin Katz and Al Libfeld. But the son of Muscle Hill will be driven by Tim Tetrick, who showed the best ability to cope "against the odds" on Elimination Saturday – of the nine eliminations, seven were won by favorites, and Tetrick drove the other two: Bar Hopping ($24.60) and 3PF Newborn Sassy ($8.20).
If these two get involved in vicious early dueling, there is a horse who has proven he has a wicked closing kick – and he lives right down the shedrow from Southwind Frank. That would be Burke trainee Dayson, an altered son of Conway Hall who has never lost in his career when flat (11 for 14, with three breaks). That pattern looked in serious jeopardy as late as midstretch last week, but driver Jim Morrill Jr. got a furious late kick out of Dayson for a 1:52.3 tally, and from post two he might again be in prime position to "pick up the pieces" for Burke Racing Stable LLC, Our Horse Cents Stables, J&T Silva Stables LLC, and Rossie Smith.
$500,000 MAX C. HEMPT 3CP CHAMPIONSHIP (race 10; no consolation – only 13 in elims.)
Racing Hill and Control The Moment were 2-3 behind Hempt non-eligible Betting Hill in the recent $1MC North America Cup at Mohawk, and both followed on their fine showing in Canada by winning their respective Hempt eliminations. For the Hempt Championship, Racing Hill has the better draw, PP2 vs. PP8, and the Roll With Joe colt, trained by Tony Alagna for owner Tom Hill of the U.K., was the faster elimination winner, winning in 1:49.1 under a hold the last 1/16 by driver Brett Miller.
However, few people would be surprised if the Well Said colt Control The Moment gave a giant accounting of himself despite landing behind the 8-ball at the post draw. The Brad Maxwell trainee, owned by the Control The Moment Stable, won in 1:49.3 last week, snapping home in 27 last Saturday to hold off 2015 divisional champion Boston Red Rocks, who has post six in the Hempt Final.
If one were looking for an upsetter in the Hempt, one could make a case for the Art Major gelding Talk Show, who starts in the middle of the field of nine for driver Scott Zeron and trainer Steve Elliott (also the trainer of Boston Red Rocks). The timer malfunctioned during his elimination, and it wasn't until after the race that it was noted that Racing Hill blitzed the third quarter in 26.3 to hold off a spirited challenge from Talk Show – who was four lengths off the lead at the half, meaning he went his third quarter raw in 25.4! Such pure speed, under perfect circumstances, could find Talk Show in the thick of things in the Hempt final.
$300,000 JAMES LYNCH 3FP CHAMPIONSHIP (race 9 – consolation race 6)
Last year's division champion Pure Country went 10-for-10 in her freshman campaign. This year, largely due to some early-season sickness, the road has not been as easy for the daughter of Somebeachsomewhere, owned by Diamond Creek Racing, but as trainer Jimmy Takter notes, "She's won the two biggest races of the season for her division so far, the Miss Pennsylvania (at Pocono) and the Fan Hanover." Last week Pure Country showed her grittiness by overcoming a first-over trip to win in 1:50.1 for driver Brett Miller, as she looks to raise her "majors" record to 3 for 3; the two foes who were within a half-length of her at the wire start on either side of her Saturday: Blue Moon Stride, getting post eight after a second, and Darlinonthebeach, in post six after closing for third.
We mentioned Newborn Sassy earlier as one of two non-favorites, both piloted by Tim Tetrick, to win an elimination, and on Saturday the Western Ideal miss, trained by co-owner Jo Ann Looney-King for herself and partner CC Racing LLC, will begin from post three off her 1:51.3 elimination tally. I Said Diamonds, that elimination's chalk who came up just short after not having raced in 29 days, certainly has a license to be better off of that race, and will start from post two.
ANOTHER STAR WILL BE AT POCONO SATURDAY
Well-known baseball superstar Pete Rose will be making an appearance at The Downs at Mohegan Sun at Pocono before the evening's races (and may well stay and bet a few, if his past performances are any indication).
Wristbands to attend the session with Rose will be distributed starting at 1 p.m. in the Racing Lobby. There are a limited number of wrist bands, which will be distributed on a first-come, first-serve basis. The session with Rose will take place between 4 and 6 p.m. Only authorized photos will be distributed.
$300,000 JAMES LYNCH 3FP CHAMPIONSHIP, race 9:
1, JK Fannie, David Miller, Nancy Johansson
2, I Said Diamonds, Matt Kakaley, Matias Ruiz
3, Newborn Sassy, Tim Tetrick, Jo Ann Looney-King
4, Lindwood Beach Girl, Yannick Gingras, Mark Steacy
5, Skinny Dipper, Andrew McCarthy, Ross Croghan
6. Darlinonthebeach, David Miller also listed, Nancy Johansson
7, Pure Country, Brett Miller, Jimmy Takter
8, Blue Moon Stride, McCarthy also listed, Mark Harder
9. Penpal, driver/trainer Pat Lachance
$500,000 MAX C. HEMPT 3CP CHAMPIONSHIP, race 10:
1, More Dragon, Matt Kakaley, Ron Burke;
2, Racing Hill, Brett Miller, Tony Alagna
3, Western Fame, George Napolitano Jr., Jimmy Takter
4, JK Will Power, Yannick Gingras, Ron Burke
5, Talk Show, Scott Zeron, Steve Elliott
6, Boston Red Rocks, Tim Tetrick, Steve Elliott
7, Katies Rocker, David Miller, Jim Campbell
8, Control The Moment, Randy Waples, Brad Maxwell
9, Big Top Hanover, Gingras also listed, Ron Burke
$500,000 BEN FRANKLIN FFAP CHAMPIONSHIP, race 11:
1, Mel Mara, Corey Callahan, Dylan Davis;
2, Shamballa, Scott Zeron, Rick Zeron
3, Wiggle It Jiggleit, Montrell Teague, Clyde Francis
4, State Treasurer, Tim Tetrick, Dr. Ian Moore
5, Sunfire Blue Chip, Brett Miller, Jimmy Takter
6, Freaky Feet Pete, Trace Tetrick, Larry Rheinheimer
7, Always B Miki, David Miller, Jimmy Takter
8, All Bets Off, Matt Kakaley, Ron Burke
9, Rock N' Roll World, Yannick Gingras, Ron Burke
10 (2T), Always At My Place, Gingras also listed, Ron Burke
$500,000 EARL BEAL JR. 3CT CHAMPIONSHIP, race 12:
1, Reigning Moni, Scott Zeron, Jimmy Takter
2, Hollywood Highway, John Campbell, Staffan Lind
3, Truemass Volo, Eric Goodell, Doug Hamilton
4, Dayson, Jim Morrill Jr., Ron Burke
5, Trolley, Marcus Miller, Erv Miller
6, Brooklyn Hill, David Miller, Jonas Czernyson
7, Southwind Frank, Yannick Gingras, Ron Burke
8, Dice Man, driver/trainer Åke Svanstedt
9, Bar Hopping, Tim Tetrick, Jimmy Takter