The Fall Four at Woodbine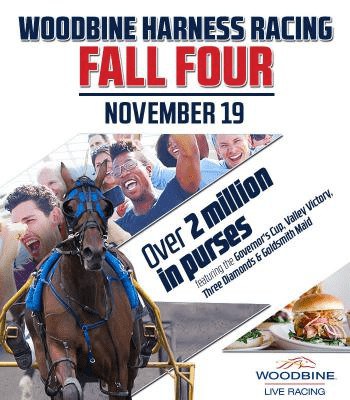 TORONTO, November 15 – The 2016 Woodbine Entertainment Group (WEG) stakes season will come to a close Saturday night at Woodbine Racetrack with nearly $1.8 million on the line in the Fall Four.
The Governor's Cup, Valley Victory, Three Diamonds and Goldsmith Maid will see many of the finest two-year-olds in the sport attempting to finish off their rookie season in style.


The Governor's Cup
The richest event of the Fall Four is the $520,000 Governor's Cup, which features a field of 11 pacing colts and geldings. Two of the fastest two-year-olds in harness racing history, Downbytheseaside and Huntsville, will go toe-to-toe in Saturday's main event.
Huntsville is coming into the Governor's Cup off a sensational 1:49.1 Breeders Crown victory on October 29.
The Ray Schnittker trained colt has won seven of 10 starts this season, including the Pennsylvania Sires Stakes (PASS) Championship and a pair of Grand Circuit events at The Red Mile.
Downbytheseaside has done his best to stay out of the shadow of Huntsville, despite finishing second to his rival on three different occasions, including the PASS Championship and Breeders Crown._Downbytheseaside.jpg
The Brian Brown trained colt has won seven of 12 starts this season. With no eliminations for the Governor's Cup, Downbytheseaside tuned up for Saturday's contest with a winning qualifier last Friday at Dayton Raceway.
The parallels between Huntsville and Downbytheseaside's rookie seasons run deep.
Both are sons of Somebeachsomewhere, both have seven victories this season, both have followed almost identical schedules and both have victories over each other, with Hunstville holding a three to one advantage.
However, the deepest connection that will long be remembered between the two standouts is October 8, 2016 at The Red Mile.
On a breezy fall afternoon in Lexington, Huntsville and Downbytheseaside each captured a division of the International Stallion Stake and both did so by equaling the World Record of 1:49.
Huntsville and Downbytheseaside is becoming one of the hottest rivalries in the sport and anticipation is already building for potential classic showdowns next season.
However, one final two-year-old battle looms for the superstar rookies and it only seems right that they will lineup side by side in the Governor's Cup.
Huntsville and driver Tim Tetrick drew post position two, while Downbytheseaside and driver David Miller landed post position three for Saturday's $520,000 event.
While the two big dogs in Saturday's Governor's Cup will have a close eye on each other, they will also have their hands full with their nine other rivals, which includes Breeders Crown third-place finisher Miso Fast, Kindergarten winner Air Strike and Dream Maker Series winner Bettors Dream.
The Governor's Cup certainly has the makings of a potential classic, but the three other Fall Four events are also loaded with talent.


Three Diamonds
The $427,000 Three Diamonds for two-year-old pacing fillies features Breeders Crown champion Someomensomewhere and Shes A Great Lady champion Idyllic Beach (
Idyllic Beach bested Someomensomewhere in last Friday's elimination by just a neck, while Caviart Ally came through with a strong effort to take the other split.
Someomensomewhere has won three of her last five going into Saturday, while Idyllic Beach is undefeated in three starts north of the border.

Valley Victory
The $404,000 Valley Victory for two-year-old trotting colts and geldings could be the scene of a "Snowstorm".
Ron Burke trainee Snowstorm Hanover turned in a dominating effort to win his elimination last week in 1:55.1. The son of Muscle Massive is red-hot going into the Valley Victory final with back-to-back wins, including a victory on November 3rd in the Matron at Dover Downs.
Local standout Jake will look to get in the way of Snowstorm Hanover. The Luc Blais trainee captured his elimination last week in 1:55.4 and has never finished out of the money in nine career starts.


Goldsmith Maid
Similar to the Governor's Cup, the Goldsmith Maid for rookie trotting fillies did not require eliminations. A competitive field of 10 is scheduled to compete for $447,000.
Princess Aurora has quietly earned $212,676 in the shadow of stablemate Ariana G this season, but with no Ariana G in the Goldsmith Maid, the Jimmy Takter trained filly will have a chance to grab the spotlight Saturday.
Princess Aurora has three victories this season and has hit the board in eight of 10 outings.
Saturday's card will be the final million dollar card of the 2016 North American harness racing season, which has seen many classic moments. With nearly $1.8 million up for grabs in the Fall Four, more signature moments will be added to the 2016 yearbook.
The full draw for the Fall Four card will take place Wednesday. Post time Saturday is 7:30 p.m.
Below are the full fields for the Fall Four Finals.
$520,000 Governor's Cup
1. Miso Fast
2. Huntsville
3. Downbytheseaside
4. Blood Line
5. Some Attitude
6. Who Said Not To
7. Filibuster Hanover
8. Western Hill
9. Tuxedo Bay
10. Air Strike
11. Bettors Dream


$447,000 Goldsmith Maid
1. Princess Aurora
2. Southwind Tesla
3. Gravitator
4. Temple Ruins
5. Myammie Drama
6. Magic Presto
7. Winter Sweet Frost
8. Cameron Hill
9. Cool Cates
10. Blinded By Lindy


$427,000 Three Diamonds
1. Someomensomewhere
2. Bettors Up
3. Idyllic Beach
4. Caviart Ally
5. Candlelight Dinner
6. Thats The Ticket
7. Rockette
8. Black Jack Pat
9. Obvious Blue Chip
10. Happy Hannah
AE: Bid Writer


$404,000 Valley Victory
1. Southwind Cobra
2. Andy M
3. Jake
4. Moonshiner Hanover
5. Snowstorm Hanover
6. Quadrangle
7. International Moni
8. Fraser Ridge
9. What The Hill
10. Sir John F
AE: Lindy The Great