The Santa Anita Derby drew a field of 9. This includes an intriguing prospect from Japan who has been enjoying success on the biggest world stages in racing the past few years. They may have two horses in The Kentucky Derby this year, and Mandarin Hero certainly looks game with 4 wins and one close second from 5 starts in Japan.
We'll look at the Santa Anita derby and see how it shakes out.
Mandarin Hero tuning up at Santa Anita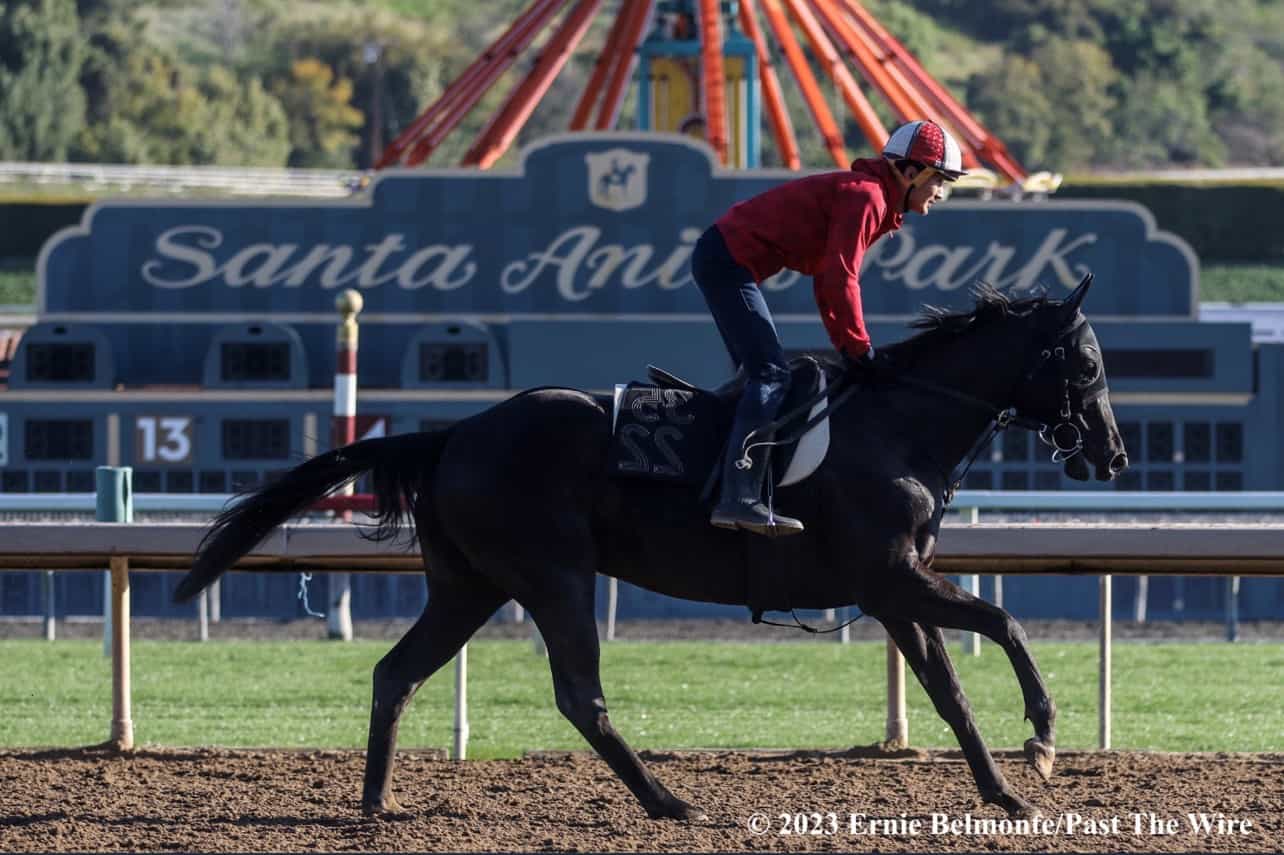 I Don't Get It drew the rail and comes in off just breaking his maiden. He is steadily improving, and I view the rail here as a positive. He looks like a perfect stalking trip is in the cards and if he gets through after saving ground, he could be a contender.
Dazzlemesilver is still a maiden, and this looks like a huge ask for this colt. He'd be a major upset and would need a major step forward to contend let alone win.
Geaux Rocket Ride is where I land. Mandella thought enough of this Candy Ride colt to toss him into the San Felipe off a six-furlong maiden breaker. He ran a decent second to the highly regarded, more seasoned and today's race favorite Practical Move. Prat sticks, and this could just be the colt I have been looking for to emerge from the shadows this year. His three works after the race are excellent. He went off favored in the San Felipe off just one start so we know he is well thought of.
One in Vermillion was dusted in the Sunland Park Derby. These are tougher. Good luck.
Practical Move is one nice horse. Chad Brown, one of the best trainers in the game bred this colt. It would also be interesting if not ironic to some extent if Tim Yakteen were to win The Kentucky Derby with one of "his horses" as opposed to one of "Bob's horses." This colt looks the goods. He showed excellent acceleration last out and is a formidable favorite. Maybe he will regress second off the lay-off or maybe Geaux Rocket Ride will go forward enough to get him.
National Treasure is one of the now Yakteen formally Bob horses. I thought he was disappointing in The Sham. He really looked like an up and comer when he ran against Forte in the Breeders' Cup Juvenile last year. He has never really taken that next step forward and it might be too early to give up on him. Johnny keeps he faith and that says something. Note Yakteen, a former Bob assistant, gave him four Bob like six-furlong works in 1:12 and 1:11 change for this.
Skinner will get his share of attention and I had him on my radar last time. He ran okay but didn't show me enough to make me a believer. He has sort of a plodder look to him at this point and I'll pass for now.
Mandarin Hero is hard to gauge. We know he's game and knows where the wire is. We know the success Japan has had in big races lately. We don't know the quality of what he has faced in Japan. He looks good in the morning, but he is supposed to, or he would not be here. He has been this distance, takes off two pounds, but he will have to show me he belongs with these. We'll know soon enough.
Low Expectations improved when he moved to dirt. He held his own in The Sunland Derby and runs back quick here. Mario stays with the O'Neill other Reddam horse on the rail, but Umberto Rispoli makes the most of his chances and this gelding has some speed. I'd look for an aggressive ride and see how far he can go.
It's Geaux Rocket Ride for me. I have been thinking there is a horse out there all year yet to emerge and we are running out of time and candidates. This just might be the one and the way Mandella is handling him makes me think he's confidant.
On another note, with all the talk about CAW's and the timing of races lately, you might want to check out TIMING IS EVERYTHING right HERE
Enjoy the races!