Hi 5 Jackpot Carryover at Woodbine is at $548,396.96!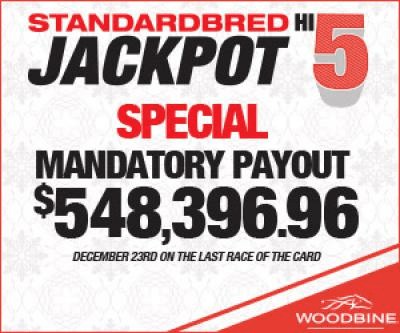 From Woodbine Entertainment
TORONTO, December 12 – Christmas spirit is in the air and so are dollar signs heading into this weekend's jam-packed Standardbred action at Woodbine Racetrack.
A deep 12-race card, featuring the Jackpot Hi-5 mandatory payout, will start the Christmas weekend Friday night at the Toronto oval, while a 12-race matinee card, featuring the Valedictory and Niagara Series, will wrap up the holiday weekend on Boxing Day (Monday). Email-Marquee-r1.jpg
Horseplayers with some last minute shopping to do may have lots of extra coin to spend on Christmas Eve following Friday's Jackpot Hi-5 mandatory payout. A massive carryover of $548,396.96 is being brought into tonight's Jackpot Hi-5 and a total pool of $2 million is a possibility.
A competitive field of 12 overnight pacers will battle in the Jackpot Hi-5 race. Travis Cullen trainee Paparazzi Hanover is the slight 4/1 morning line favourite from post position eight.
Each horse in the Jackpot Hi-5 race will receive a share of the boosted $24,000 purse, as horses finishing sixth through 12th will receive 1%.
While all eyes will be locked the Jackpot Hi-5, the $30,000 Mares Preferred will likely be the sight of a milestone.
Brent Vincent's eight-year-old pacing mare Waasmula is less than $2,000 away from reaching $1 million in career earnings. The Bruce Goit trainee will be making her 127th career start Friday.
Waasmula has been a staple of the WEG Mares Preferred in recent years and has made 108 starts on the WEG Circuit throughout her six-seasons on the track. The daughter of Million Dollar Cam is the 3-1 second-choice in Friday's feature race and will be leaving from post-eight with regular driver Trevor Henry.
The Mares Preferred is carded as Race 10.
Woodbine Racetrack will be dark on Christmas Eve and Christmas Day, but harness racing will return Monday afternoon for the annual Boxing Day matinee.
The 12-race matinee card will be highlighted by the $35,400 Valedictory Series final and $33,400 Niagara Series final.
The top-two choices in Monday's Valedictory final for three-year-old pacing colts and geldings will leave from opposite ends of the starting gate. Goit trainee Lyons Sands is the 3-1 morning line choice from post-one, while Ryan Maxwell student Awesomeness is 7-2 on the morning line from post-ten.
Both Lyons Sands and Awesomeness captured second leg divisions of the Valedictory last Saturday. J Harris will drive Lyons Sands, while Randy Waples will be at the controls of Awesomeness.
The first round of the Valedictory featured a pair of upset winners and both of those sophomores will need to repeat as underdogs to take the series finale.
Dreamfair Mesa was a 7-1 winner in the opening leg and starts from post-six Monday, while Dragon Strikes, who was a 19-1 stunner in the first round, starts from post-eight.
The Valedictory is carded as Race 5 on Monday.
A series sweep is a possibility in the Niagara Series final for three-year-old pacing fillies, but Jimbelina will have to overcome post-ten in order to complete the task.
The Rene Bourassa trainee scored impressive preliminary leg victories of 1:52.2 and 1:52.3. Jimbelina did not have the luck of the draw on her side for the final and driver Sylvain Filion will have to figure out a winning-trip from the ten-hole for the 9/5 morning-line choice.
Hot Spot Hanover will be looking to change her fortune in the Niagara from post-four. The Mike Bishop trainee was a beaten-favourite in both preliminary legs, but did hit the board on both occasions.
James MacDonald picks up the live catch-drive behind Hot Spot Hanover, as Filion sticks with Jimbelina.
The Niagara Series final is carded as Race 9 on Monday.
Also on Boxing Day, the Woodbine Entertainment Group will present its leading Driver, Trainer and Owner awards for 2016.
Sylvain Filion has nearly a 50-win lead in the driver's category, while trainer Richard Moreau leads his category by more than 60 wins. Brad Grant is the leading owner of 2016 on the WEG Circuit with 49 wins.
A winner's circle presentation will be made to Filion, Moreau and Grant during the Boxing Day card.
Post time for Friday's Jackpot Hi-5 mandatory payout card is 7:30 p.m., while Monday's Boxing Day card will start at 1 p.m.