Woodbine concludes its racing season this weekend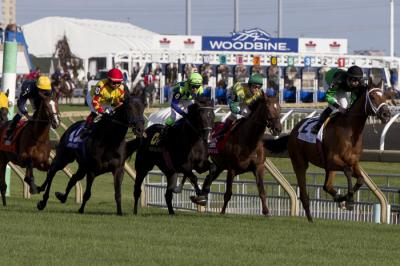 On December 3rd & 4th, Woodbine Racetrack concludes the 2016 thoroughbred racing season with an exciting stakes-laden card.
As the curtain comes down on the 60th year of racing at the Toronto oval, it has been a very successful and milestone year of racing at Woodbine.
The Saturday card will again see two-year-olds in the Display Stakes, a $125,000 (Guaranteed) purse, and also at a distance of one mile and one sixteenth. Last year's winner was New York based trainer Gary Contessa's proud victory, who shipped in Don't Be So Salty to win the Display Stakes.
Always another popular highlight of the closing day card is the running of the Grade III Valedictory Stakes, at the distance of 1-3/4 miles for three-year-olds and up on the Tapeta surface. Last year, the Valedictory winner was won in a dominating and impression fashion by Melmich. The former $20,000 claimer won by 10-1/4 lengths in a track record performance. Melmich was a finalist in voting for the Sovereign Award for Champion Older Male, awarded in April, and was a recent solid 4th place finisher in the Grade II $200,000 Marathon Stakes at Santa Anita (Breeders' Cup weekend).
● On the wagering side, Woodbine will have larger guarantees ($100K early and late Pick 4, $50K early and $100K late Pick 5) for an impressive $350K in guranteed Pick 4 and 5 pools
● Woodbine will also be offering 20-cent bet minimums on all Triactor, Superfecta, Pick 3 & Pick 4 pools that afternoon.
● Why not give the Jackpot Hi5 a go? Huge potential for big pool payouts, there will be a mandatory payout on the last race on December 4th.
New this year, and proving to be a successful addition to the track at Woodbine was the tapeta surface providing a consistent and safe track for handicappers, horses and horsemen.
Watch and wager on closing weekend December 3rd & 4th for two afternoons of stakes filled excitement! Post times 1:00pm E.T.
Official race day hashtag: #BetWoodbine