I have written and spoken a lot about steward decisions in the past few years and frankly thought I was done with it. What is the point, they make decisions that impact our money based on subjectivity with little to no accountability? There have been so many poor and illogical decisions in recent years that the whole thing just gets old. When a number is blinking who knows what will happen.
It doesn't matter if it is a small circuit or our biggest of stages. We all remember Bayern and the sucker punch he threw coming out of the gate. Arguing that didn't affect the outcome or a better placing shows two things: 1) you do not understand horseracing and what goes on when they leave the gate and 2) you have never been hit with a sucker punch and tried to recover from having the wind knocked out of you while running or recover from the pain and disorientation a square shot to the nose brings with it.
I am sure being a steward can be a thankless and tiresome job. You are almost always going to leave someone unhappy. Subjective decisions do that and also lend to favoritism and biases. This is why I am for one set of rules equally applied that define a foul, and if you commit one you come down. All this not affecting the order of finish or costing a better placing is way too subjective to ever be fair. The proof is I the pudding.
I think we can all agree that if one jockey deliberately or even accidently strikes another be it with their whip, hand or even a rein, it should be a foul. I would go as far as to say it should be an automatic disqualification and even automatic suspension and fine for the culprit rider. I fail to see how you can debate that, you can get a rider or horse killed, never mind the outcome of the race.
This is the very reason I am once again compelled to write about stewards. There have indeed been some fights between riders on the racetrack. One even occurred in the Kentucky Derby. You may have heard of Colonel Bradley, a prominent owner who has had stakes named after him. You may not know he owned the only maiden ever to win the Run for the Roses. Yes, a maiden named Broken Tip owned by the Colonel won the Kentucky Derby. Broken Tip didn't just win the Derby, he did so with a fighting finish not just with his rival Head Play who he turned for home inside of but also with his rider Don Meade going at it with Head Play's rider Herb Fisher. Thus, we had the Fighting Finish Kentucky Derby, one of the strangest and most exciting ever run.
It took a photo to separate the two horses at the wire. There were no cameras at the finish line back then however, so a discussion was had, and Broken Tip was declared the winner. There was also an inquiry and the stewards let the result stand. Whether it was favoritism to Colonel Bradley or they truly believed their justification we will never know. They ruled there were so many deliberate infractions because both riders wanted desperately to win the result would stand. This makes some of our rulings today seem reasonable.
Fighting still goes on, and I'd like to think most of us would have liked to see the stewards advance the intellect of their ruling regarding Broken Tip. They haven't as evidenced by the 5th race at Delta Downs on February 16th, 2018. The head on replay clearly shows jockey Robert Morales on the second-place finisher Delicious repeatedly striking Eddie martin aboard Chaosmos. Worse, Morales "appeared" to do this intentionally as he looked over at Martin before the strikes began. The stewards made no change. If you can I encourage you to watch the head on replay of this race. You will see clear as day why we need accountability with our stewards.
I tried in vain to capture what I could in a still shot. See below: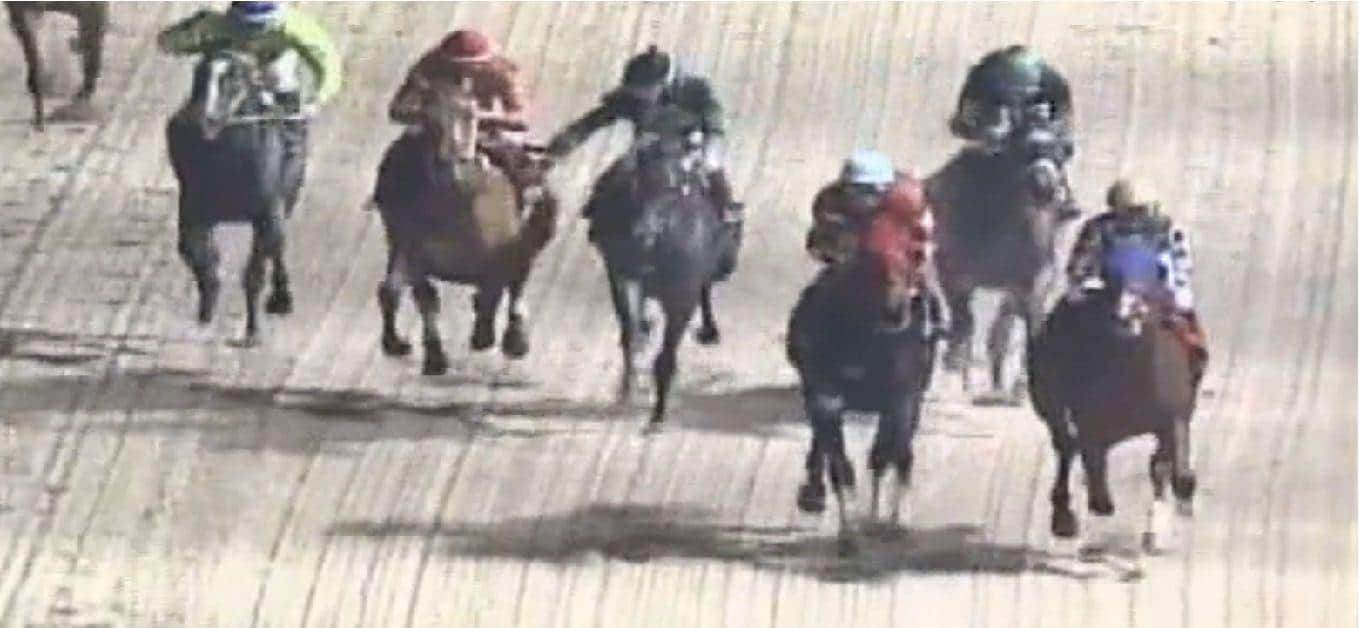 We have already accepted as players that just about anything out of the gate goes. A lot of times the stewards won't even look at a left or right turn out of the gate. Are they now asking us to accept jockeys striking other jockeys and horses during the race? I say no thank you.