What do you do when you see a horse like Charlatan in a race like the first division of Saturday's split Arkansas Derby? If you don't think he is the highly probable winner, then you don't have all that much of a problem other than coming up with the horse you think will beat him. If you do like him, are you willing to take considerably less than even money on him when logically there are some questions? He's stretching out. He's running in a new state over a new track. He's moving into a stake. Yet to most, he looks awfully good as a likely winner.
So the question remains if you like him, what do you do?
Many bettors will simply not take that short a price on any horse. I can understand that and even relate to it. Personally, I don't have that "rule" to my play. I adapt and adjust to what is in front of me. Some players will simply use all in a race like this in multi-race wagers so that if Charlatan goes down, they'll have the winner and a set up for a potential score. They'll be right on occasion and accept all the money and accolades that go with that. There is nothing wrong with that philosophy; it just isn't mine. I don't play against my opinion.
I've said before there is no value in a losing wager, and beating this game is a marathon and not a sprint. If you're a gambler, the above is as good an approach as any. If you're a handicapper and a bettor, then maybe not so much. If you have a good opinion, why bet against it?
I have liked Charlatan since I first saw him run, as did many others. The Arkansas Derby redraw and set up surely helped his chances Saturday as he is in a weaker division with little speed; if any to challenge him early and is on the rail, I'm sure Oaklawn will have fast come post time. It will probably all depends on how he breaks.
If you are going to use a horse like Charlatan, you almost have to single him. Singling him is not enough, however. He will be shorter odds wise in multi-race wagers than he will be on the board. To have a real chance at a nice ticket, you'll need another single or two and also a short leg or two. This is not a ticket I'll want for 50 cents. You want to have this ticket a few times. For me, it forces me to go real short in at least one other leg, and also to try and find another single. That is how I will structure my multi-race ticket Saturday. Two singles, one short leg with a little spreading in the other two. Note I said a little spreading. It just shakes out that way for me. I won't go fishing against my own opinion.
I think Gouvernor Morris is a nice horse who is developing. I see an improved race coming on Saturday with a nice forward move, especially if he likes the Hot Springs track. He'll be my play to come home second for an ice-cold exacta. Can he beat Charlatan? Maybe, but at this moment, I'm leaning against betting on that possibility.
If you are like me and frustrated by late odds changes, especially when they drop on the winner while the race is running, you'll want to check out AmWager's Tru Odds feature. It will show you a horse's projected true odds, which you can compare with the current odds. This can give you some insight into the overlays and underlays the syndicate models look for but also help you project late odds changes once the race is running..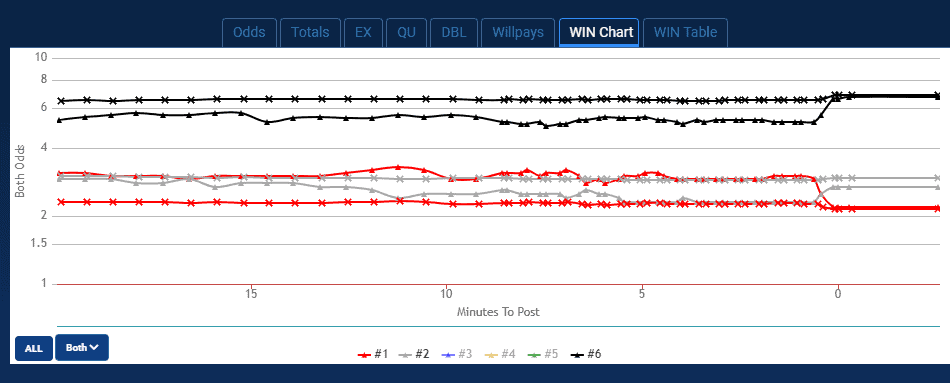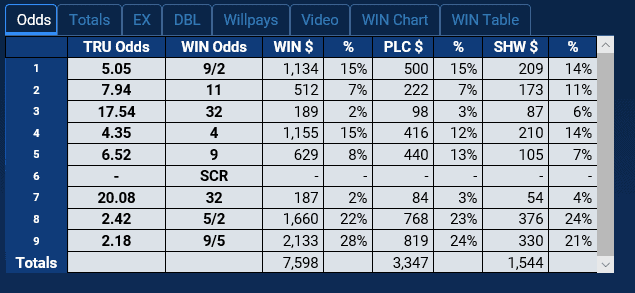 Tools and edges are more important that ever, especially with so much info out there. That's why at Tracking Trips, we not only offer our trip notes, we also offer Horses to Watch on any given day. These are horses who have angles or factors that caught our eye that others may have missed. Last week we suggested a 20-1 single to close out a pick 7. One horse in one race. Thursday at Oaklawn, we offered the info pictured below, and a big reason was first time on a fast track. He won and paid $56.80. You can't get that anywhere else consistently.