Don't forget you can wager on the races with AmWager
Wager on live horse races like a Pro with AmWager.
Simple…We are the best online wagering platform today. Real-time updates, exclusive tools, custom wagering types, player-focused design. Not using AmWager is like playing in the kiddie pool.
Powerful, fast, innovative, secure, yet easy to use! All because we value and listen to our customers.
Belterra Park
Belterra Park is a horse-racing track in Cincinnati, Ohio, United States. It opened in 1925, at Kellogg Rd.
1925 – Fifteen (15) years after closing a previous track in Cincinnati, Old Oakley Race Course was the opening of the Beleterra Park in 1925. It was originally called River Downs, located along the banks of the Ohio River, adjacent to the Coney Island Water Park and Riverbend Music Center.
1937 – The track survived the Cincinnati flood in 1937 and reopened under the name of "River Downs." 
1956 – The 7-furlong turf course was built, making River Downs the 13th track in America with a turf course.
1980's – The Miller Genuine Draft Cradle Stakes became the wealthiest race for 2-year-olds in Ohio. 
1996 – State legislation permitted full card simulcasting in the state. 
1997 – After months of renovation of the River Downs Racebook, the track was unfortunately flooded by the Cincinnati flood of 1997. The entire lower level of the Clubhouse, the first level of the grandstand, the office, and the barn area were all flooded. 
2011 – Pinnacle Entertainment purchased Belterra Park on January 2011.
2013 – Pinnacle renamed River Downs to Belterra Park on October 2013. 
2014 – Belterra Park applied to race until mid-October in its 2014 reopening, citing an opportunity created when the autumn racing dates at nearby Turfway Park were transferred to Churchill Downs.
2018 – Boyd Gaming purchased the property from Pinnacle, along with three other casinos, on October 2018.
Track Details and Other Facilities
🐎Grandstand

The grandstand seating capacity has 1,200 permanent stadium-style seats with room to add another 1,000 bleacher-style seats on larger race days.

🐎Stable

It also has a stable area that can accommodate up to 1,350 horses.
🐎

Stadium Sports Bar & Grill

It features over 50 HDTVs

Visitors should be 21 or older to dine.

Open Hours

Sunday – 11:00 am to 9:00 pm (Bar Service until 10:00 pm)

Monday to Wednesday – 11:30 am to 9:00 pm (Bar Service until 10:00 pm)

Thursday to Saturday – 11:30 am to 11:00 pm (Bar Service until midnight)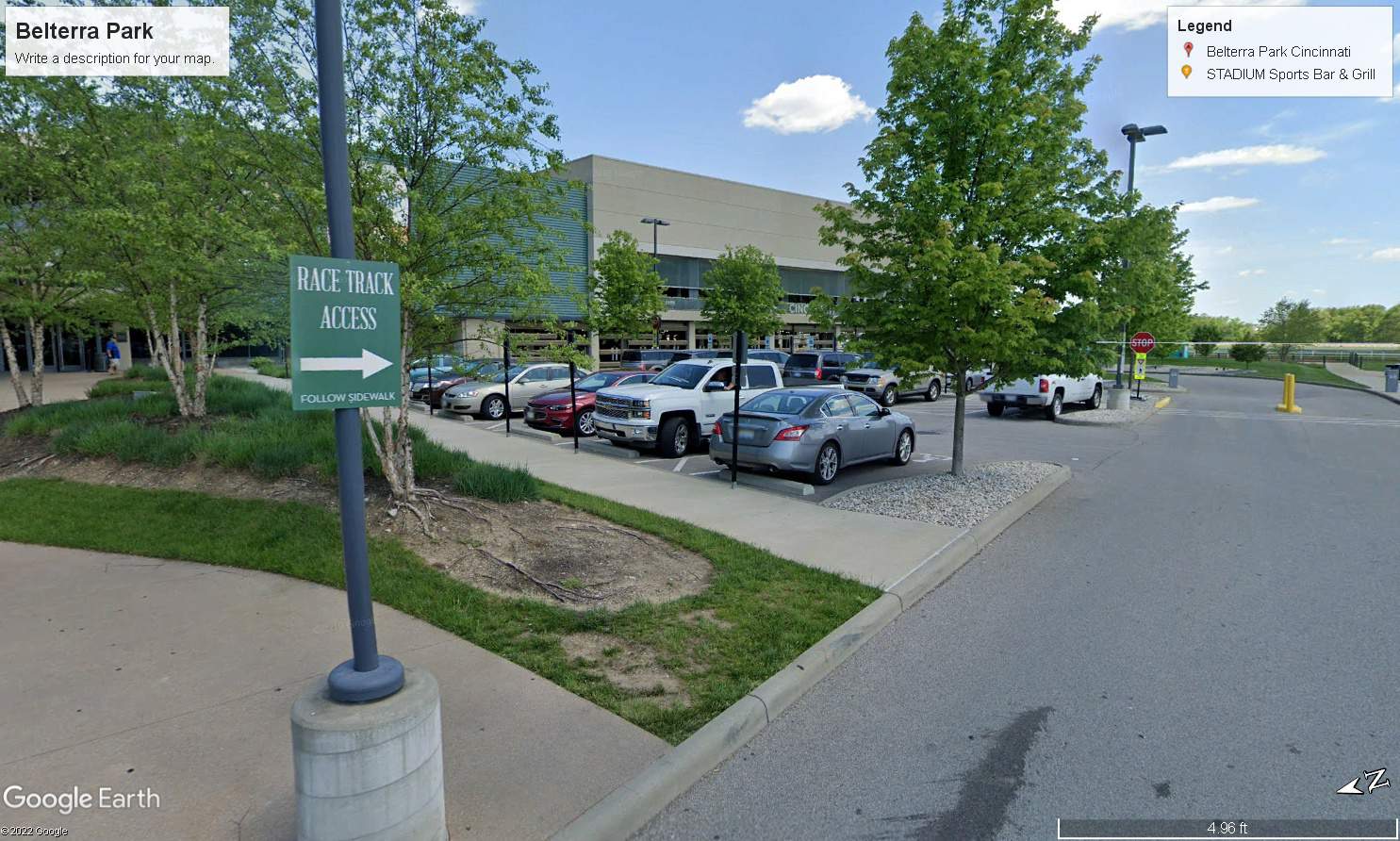 🐎Chef's Table at Favorites

Must be 21 or older to dine at Chef's Table
Open Hours

Thursdays – 4:00 pm to 9:00 pm
Fridays & Saturdays – 4:00 pm to 10:00 pm
🐎Burger Brothers

Open Hours

Thursday to Saturday – 12:00 noon to 8:00 pm
Closed on Thanksgiving Day.
🐎Club 38

All Boyd Rewards members with access to Club 38 are allowed to bring one (1) guest.
Open Hours

Dinner buffet service

Thursday, Friday & Saturday from 4:00 pm to 8:00 pm.

Happy Hour

Wednesday to Saturday – 4:00 pm to 7:00 pm.

Club 38 is closed on Thanksgiving Day.
🐎Stadium Sports Bar & Grill

It has private seating for 50 guests.

🐎Chef's Table At Favorites

It can capacitate a maximum of 75 guests.
🐎River Downs Club

It can accommodate a maximum of 200 guests.

🐎Black Gold Suite

It can accommodate a maximum of 20 guests.
Race Schedule and Major Events & Races
Belterra Park Race Schedule
🐎Live Racing Schedule

Belterra Park live racing starts in April and ends in October, with racing held on Fridays, Saturdays, Sundays, most Thursdays, Independence Day, Memorial Day, and Labor Day.

Quarter horse

racing is also featured in September and October. 
🐴Babst/Palacios Memorial Handicap

🐴Tall Stack Stakes 

🐴Tomboy Stakes 

🐴Green Carpet Stakes 

🐴Sydney Gendelman Memorial Handicap 

🐴Cincinnatian Stakes

🐴Norm Barron Queen City Oaks 

🐴Horizon Stakes 

🐴Vivacious Stakes

🐴Tah Dah Stakes

🐴Loyalty Stakes
Location and Access to the Racecourse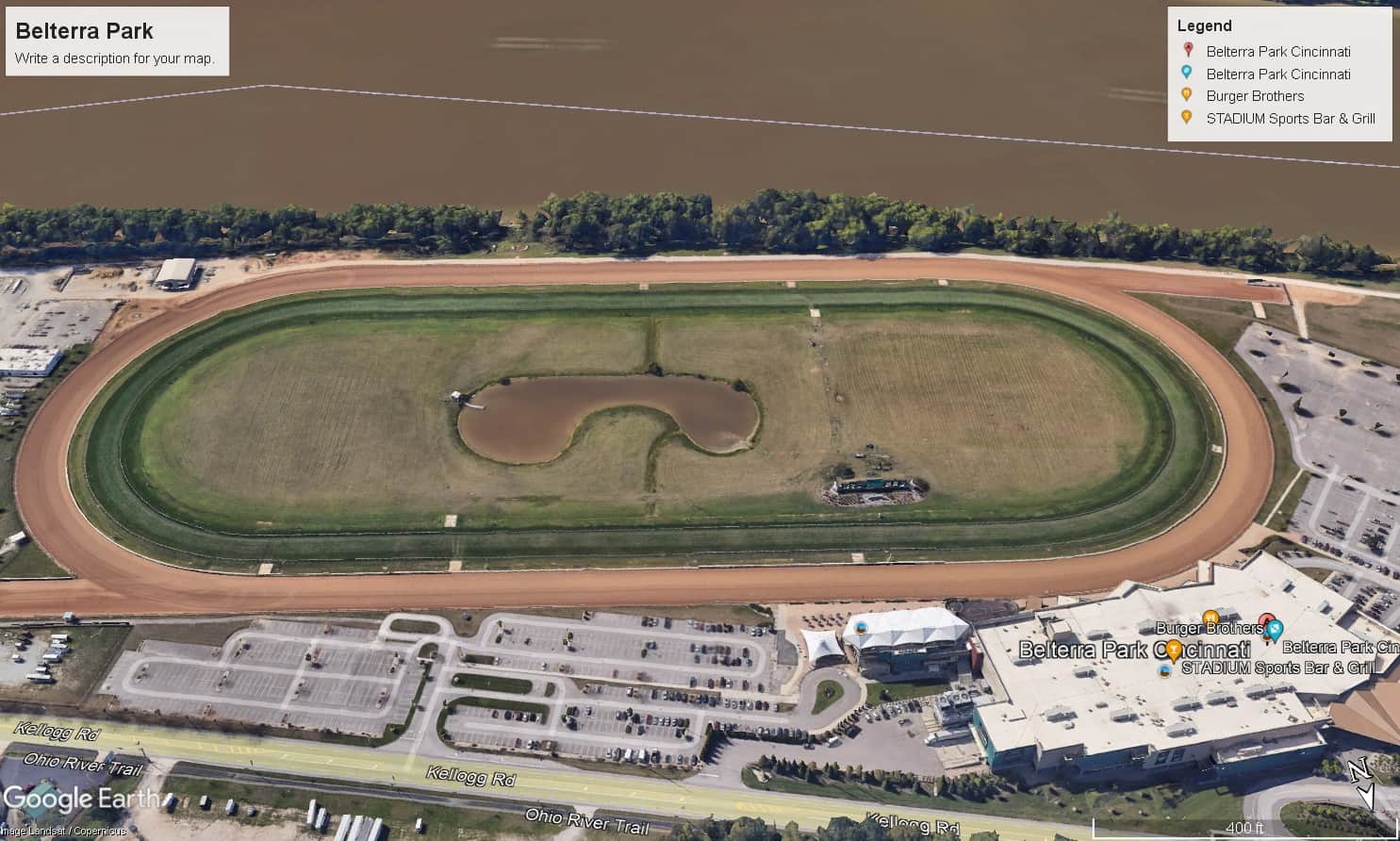 Belterra Park is a horse racing track located in Hamilton County, near Cincinnati, Ohio. Sitting right next to the banks of the Ohio River. It is owned by Gaming and Leisure Properties and operated by Boyd Gaming.
Other racetracks are sorted and listed on the page "List of Racetracks". To view the full list, hit the button below. You can also check the horse racing types and breeds to have a lot more in-depth knowledge about horse racing. 
You can also check Belterra Park results and Belterra Park entries using our AmWager platform for FREE!
It is easy to access and fast as 1, 2, 3!
So what are you waiting for?
STOP HORSING AROUND, GET SERIOUS, GET AMWAGER !
Sign Up now for FREE and wager like a PRO with AmWager