Don't forget you can wager on the races with AmWager
Wager on live horse races like a Pro with AmWager.
Simple…We are the best online wagering platform today. Real-time updates, exclusive tools, custom wagering types, player-focused design. Not using AmWager is like playing in the kiddie pool.
Powerful, fast, innovative, secure, yet easy to use! All because we value and listen to our customers.
Delaware Park
Delaware Park is a horse-racing track, Casino and gold course in Wilmington, Delaware, United States. It opened in 1937, at Stanton, Delaware.
1933 – Legislation was passed to develop the Delaware Racing Commission.
1935 – The Delaware Racing Commission was authorized to grant licenses.
1936 – A group of businessmen (including William DuPont, Jr.) met the Delaware Racing Commission to discuss the promotion of the breeding of thoroughbred horses and the development of the race track. They acquired a large tract of land in Stanton and started building the racing facility.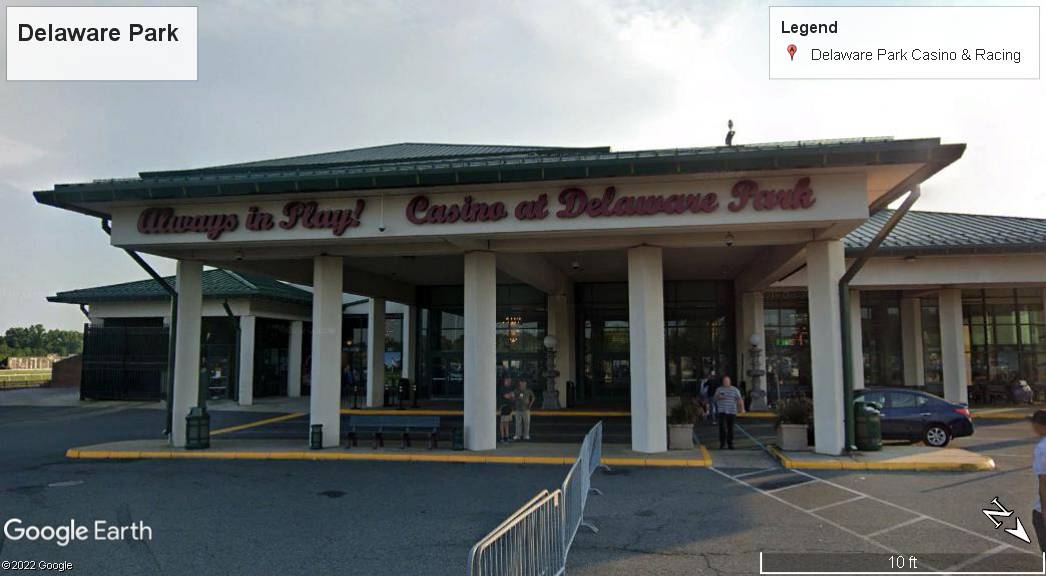 1937 – The Delaware Park was opened on June 26, 1937, in Stanton, Delaware, United States. It is owned by Delaware Park LLC and known as DelPark, an American Thoroughbred and only thoroughbred horse racing track in the state of Delaware, with a casino and golf course. Moreover, it is also the only mid-Atlantic track to regularly card Arabian races, as the area has a strong Arabian and equestrian population.
1943 – Delaware Park racetrack was forced to close briefly in 1943 during World War II. 
1944 – Delaware Park resumed in 1944 and became profitable, with a handle of more than $23 million from 288,000 customers.
1958 – The new Clubhouse's expansion and the grandstand's enlargement, which doubled the seating capacity, worth $2.8 million, was completed. Televisions were also added, and the winner's circle was built. During Saturdays, crowds of more than 20,000 were commonplace.
1960's – Delaware Park became a place for summer racing fans in the Mid-Atlantic region from Washington, Baltimore, Philadelphia, and New York.
1982 – Delaware Park officially closed on September 6, 1982, because of the fierce competition among nearby racetracks and disinterest in horse racing.
1983 – The Delaware Park was purchased by William Rickman, a Rockville, Maryland developer of office buildings, in partnership with Maryland-based horseman William Christmas.
1984 – The track reopened in the spring of 198.
1985 – Elder William Rickman took full control of Delaware Park.
1993 – William Rickman took the day-to-day reins of the racetrack from his father in the summer. Delaware Park offered a schedule with multiple racing choices to the local fans and developed a started simulcasting year-round. By midseason, Delaware Park commenced sending its simulcast signal to other tracks and OTBs throughout the country. 
1994 – The Delaware General Assembly passed H.B. 628 on June 1994. The Horse Racing Redevelopment Act authorized slot machine gambling at Delaware racetracks.
1995 – Delaware Park started a promotional campaign to increase the number of tracks receiving its signal during the live meet.
2009 – The General Assembly authorized Delaware Park to accept sports wagers and opened its Sports Book in September, offering 3-game parlays for pro football. 
2010 – The live table games were legalized for Delaware's three racing and slots venues. The first day of Delaware Park's full-fledged casino operated on June 18, 2010.
2018 – Sports betting was expanded to single-game and parlay betting on all professional and college sports (excluding Delaware college teams), including auto racing, baseball, basketball, boxing/MMA, football, golf, hockey, and soccer. 
Track Details and Other Facilities
It has an 18-hole, par 72 golf course called White Clay Creek Country Club.

🐎Paddock & Walking Ring

Delaware Park features a cedar wood paddock and a large walking ring in a hedged park. 

It can be viewed through the grove area and terraces.
🐎Delaware Park Casino

It has 2,500 slot machines.
It has 40 table games, including blackjack, craps, Mississippi stud, pai gow poker, various poker games, roulette, and Spanish 21.

Poker Room features action-packed tables and weekly tournaments.

It is on the 2nd Floor – Club 1 (Track Side).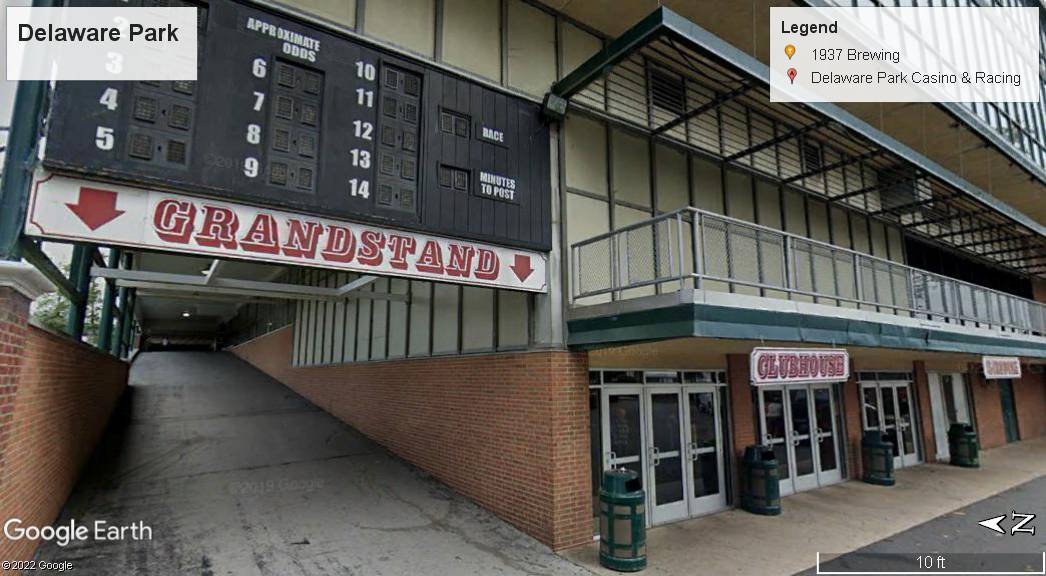 Open Hours




Daily – 10:30 am to 1:00 am.
Drink Specials – Sunday, Monday & Saturday all day and food on Sunday from 12:00 noon until 6:00 pm.
🐎Racing Legends – Classic Restaurant
Open Hours

Thursday – 4:00 pm to 9:00 pm.

Friday – 4:00 pm to 10:00 pm.

Saturday – 12:00 noon to10:00 pm.

It is on the 2nd floor (Casino Side) next to the escalator. 

It accepts dine-in only
🐎Picciotti's Pizza and Craft Beer
Open Hours

Sunday – 11:30 am to 7:00 pm.

Monday – 11:30 am-8:00 pm.

Friday & Saturday – 11:30 am to 10:00 pm.

It is located between the 2nd floor (slot side) and Clubhouse (trackside).
Open Hours

Sunday to Thursday – 12:00 noon to 6:00 pm.

Friday & Saturday – 12:00 noon to 6:30 pm.

It is located on the 1st floor (Track Side).
🐎On A Roll Deli

Open Hours

Sunday & Thursday – 12:00 noon to 9:00 pm
Friday to Saturday – 12:00 noon to 10:00 pm

It is located on the 2nd floor (casino side).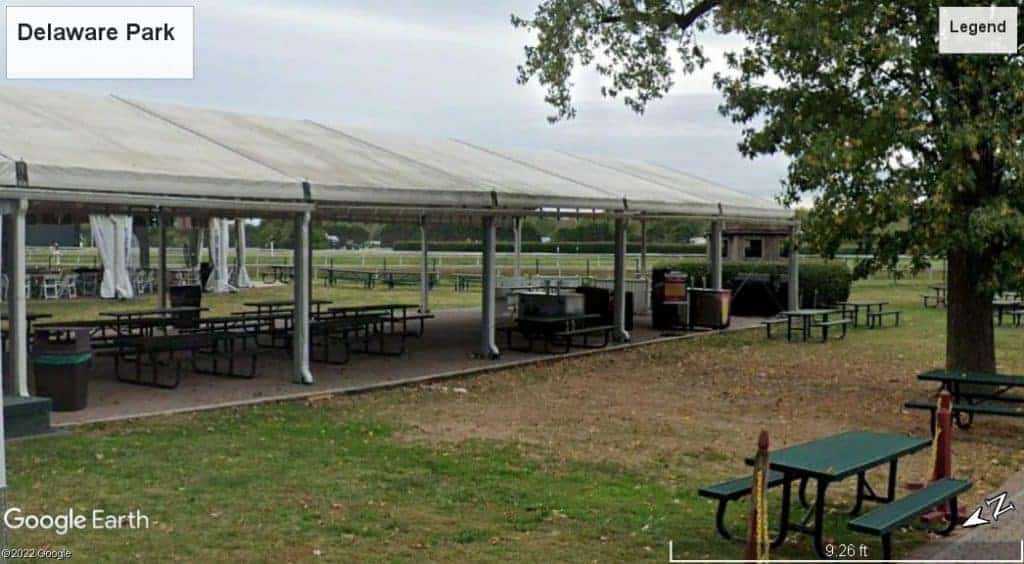 🐎Rooney's Deli

Open Hours

Sunday to Thursday – 11:00 am to 1:00 am.

Friday to Saturday – 11:00 am to 2:00 am.

Daily – Coffee & Donuts service at 8:00 am

It is located on the 1st floor (Casino Side).



Open Live Racing Days Only.

Every seat has a personal tabletop T.V. monitor.

It is located on the 3rd floor (Track Side).
🐎Other Dining

At The Rail Wine Bar and Grille

Kelso's Coffee Shop
New Castle Room
Sports Book
The Grove at Delaware Park
🐎Paddock Pub

It is located on the 1st floor trackside.
Open on Saturdays only during Live Racing Season. 
It is located on the 1st floor (Track Side).
Race Schedule and Major Events & Races 
Delaware Park Race Schedule
🐎Live Racing Schedule

It hosts 85 days of racing from May to December.
🐴

Delaware Oaks

🐴

Kent Stakes

🐴Robert G. Dick Memorial Stakes.
Location and Access to the Racecourse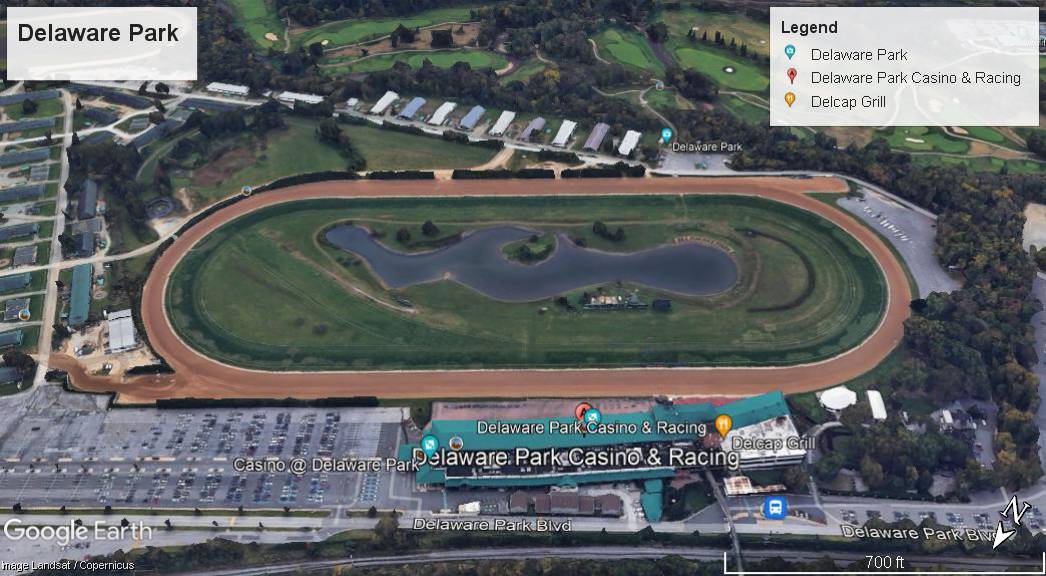 It is located at Stanton, Delaware, United States, outside Wilmington, about 30 miles from Philadelphia.

Accessible parking is in Slot Lot and C Lot.

Drop off/pick up zone is available at the Casino Main Entrance near Slot Valet.

Elevators are located on the 1st Floor lobby of the Casino and 1st Floor of the Race Clubhouse.

Accessible restrooms are located throughout the facility.

Service animals are welcome, but they must be properly identified. All other animals and pets are not allowed.

Age limit

Slot Floor – The legal age to wager on Slots is 21 years or older.

Race and Sports Book & Grove areas – There are no age restrictions, but all children under 18 must be with an adult at all times.
Other racetracks are sorted and listed on the page "List of Racetracks". To view the full list, hit the button below. You can also check the horse racing types and breeds to have a lot more in-depth knowledge about horse racing. 
You can also check Delaware Park entries and Delaware Park results using our AmWager platform for FREE!
It is easy to access and fast as 1, 2, 3!
So what are you waiting for?
STOP HORSING AROUND, GET SERIOUS, GET AMWAGER !
Sign Up now for FREE and wager like a PRO with AmWager