Don't forget you can wager on the races with AmWager
Wager on live horse races like a Pro with AmWager.
Simple…We are the best online wagering platform today. Real-time updates, exclusive tools, custom wagering types, player-focused design. Not using AmWager is like playing in the kiddie pool.
Powerful, fast, innovative, secure, yet easy to use! All because we value and listen to our customers.
Derby Lane Greyhound Track
Derby Lane is a Racino (greyhound racing track and casino) in St. Petersburg, Florida, United States. It opened in 1925, at 10490 Gandy Blvd N.
1925 – It began when T.L. Weaver sold the land where Derby Lane is located to a group of local businessmen. They built the track and held its inauguration on January 3, 1925. However, the investors experienced bankruptcy and could not afford to pay for the land. The ownership of the track reverted to Weaver's lumber company, and he decided to manage it until November 2012.
1931 – Parimutuel gambling was legalized.
1949 – The original wooden grandstand in Derby Lane was replaced with a concrete and steel grandstand. 
1951 – A cigarette commercial was filmed at the track with the Yankees star Mickey Mantle films.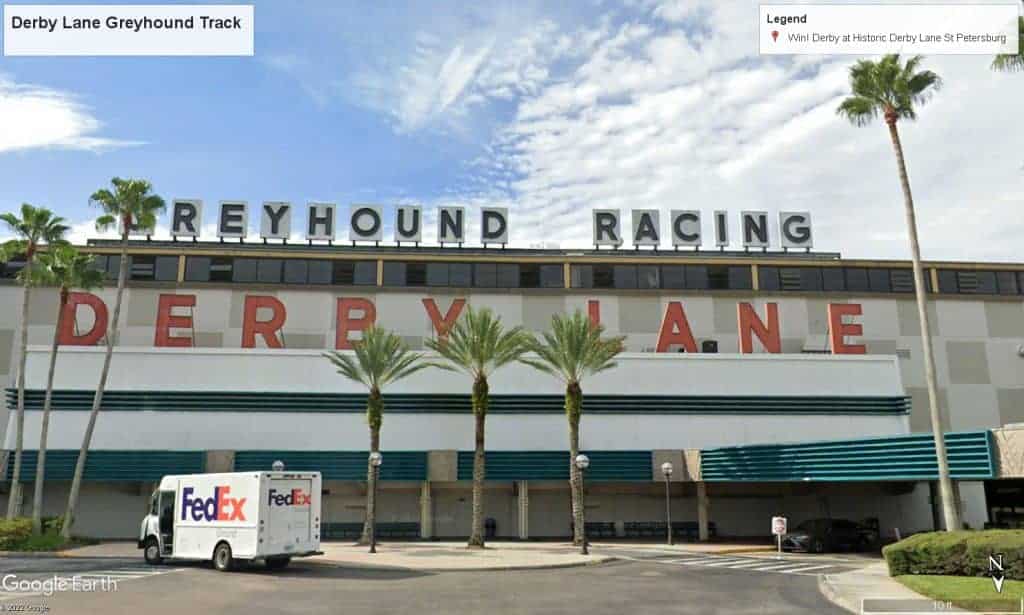 1965 – Derby Lane announced to build new clubhouse, offices, and restaurant at the grandstand's west end, founded in January 1966. The track also introduced a quiniela odds board, supplying information on the "twin double".
1977 – Derby Lane added another enclosed grandstand with theater seating.
1986 – Derby Lane's greyhound Keefer, the well-known greyhound in the nation, drew the largest crowd on track (12,779) for his victory in the 1986 Distance Classic. Keefer's story was featured in several magazines, including the Wall Street Journal. Even after Keefer's death, a book was published in his honor.
1990 – A greyhound kennel compound surrounded by native plants and ponds was founded. The track also houses greyhound adoption kennels.
1997 – Derby Lane started to operate Poker.
2000 – Dominator was named All-America Team Captain (best greyhound in North America), received the Rural Rube award (best sprinter), and the Flashy Sir award (top distance), becoming the first North American Triple Crown champion.
2001 – Steven Soderbergh filmed scenes at Derby Lane for his blockbuster movie Ocean's Eleven.
2006 – The track inaugurated Derby Lane Million on March 4, 2006, the first $1 million stakes race in greyhound history. 
2007 – Tampa Greyhound Track ceased to host racing and shifted its live dog races to Derby Lane on August 18, 2007. It enabled the track to operate year-round.
2009 – A new poker room was built.
2015 – The movie "The Infiltrator", directed by Brad Furman and starring Bryan Cranston, filmed scenes at the track.
2018 – Florida voters passed Amendment 13 in November 2018, abolishing greyhound racing by the end of 2020.
2020 – After 95 years, Derby Lane held its last card of races as a series of matinee races on December 27, 2020. Now, it remains open for simulcasting and poker games.
Derby Lane Greyhound Track is a racino located in St. Petersburg, Florida, United States. Originally named the St. Petersburg Kennel Club, it was the oldest live greyhound track in the country until it ceased operating in 2020. The track offers simulcast and pari-mutuel wagering on major dog and horse racing. The track is classified as a racino, but no slots or Vegas Style games.
Track Details and Other Facilities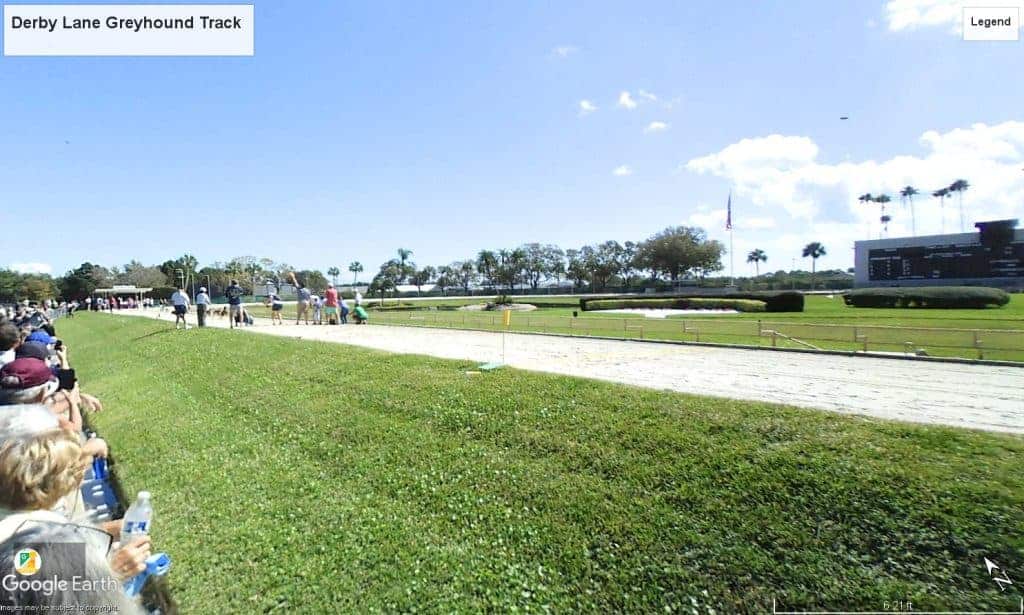 🐎Main Track

When Derby Lane still offers live greyhound racing, it races in two distances, 550 yards (5/16 of a mile) and 660 yards (3/8 of a mile). 

The track is 21 feet wide, features a straightaway of 243 feet, and the

stretch

length is 458 feet. 

The track's surface contains regulated and maintained white sand.
🐎

Paddock




It is on the right side of the track and can be viewed by a short walk from the finish line.

🐎Three levels of the Track


All three offer concessions;
The top 2 levels offer dine-in options;
Level 1 contains a poker room.

🐎Other Features

A fountain and a small manmade lake are in the middle of the

infield

.

There is a small island of 5 palm trees on the sand in the middle of the lake, connected by a narrow bridge back to the mainly grassy

infield

.

A path that weaves through the middle of the

infield

is not often used but is utilized as a photoshoot location for winners of major

stakes

races.

Behind the winners' circle is a small warehouse building for

tote

board,

lure

, and electronic gate operations.

The

lure

at Derby Lane was called 'Hareson Hare' by the race callers. 

TV monitors displayed

tote

information, weights and post positions, races, results, replays, and photos.

The winner's circle was only used for major and

stakes

races, and weights and post positions were announced and filmed on track.

The

paddock

was only used for dressing and weighing the dogs.

Serviced and

self-serviced totes

are available on every level. 

The most notable of tote areas is the one on track level, where the words DERBY LANE are spelled out in neon, partnered with a greyhound's stride across the sign.

The track has a liquor license.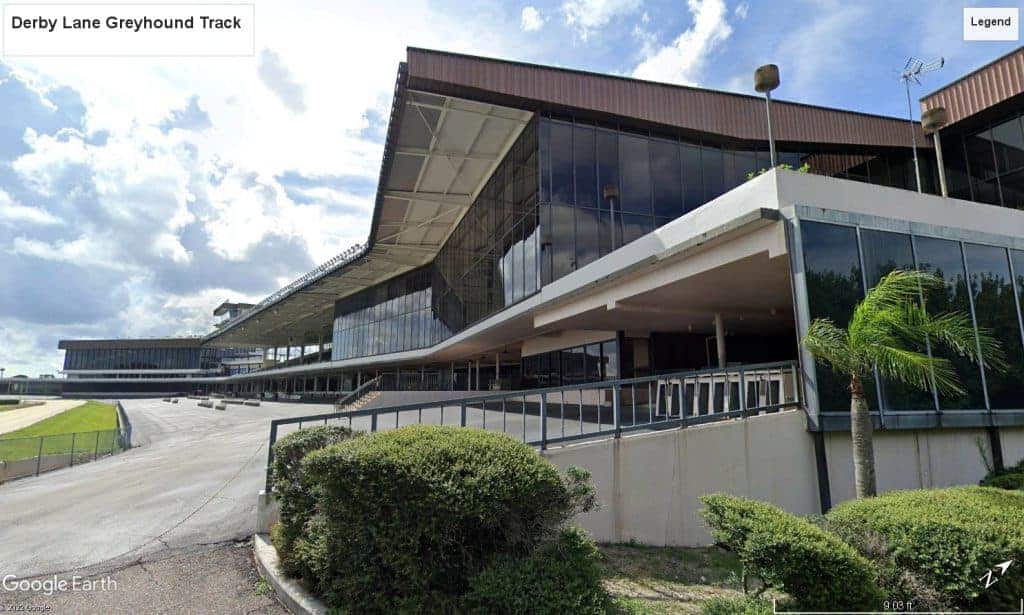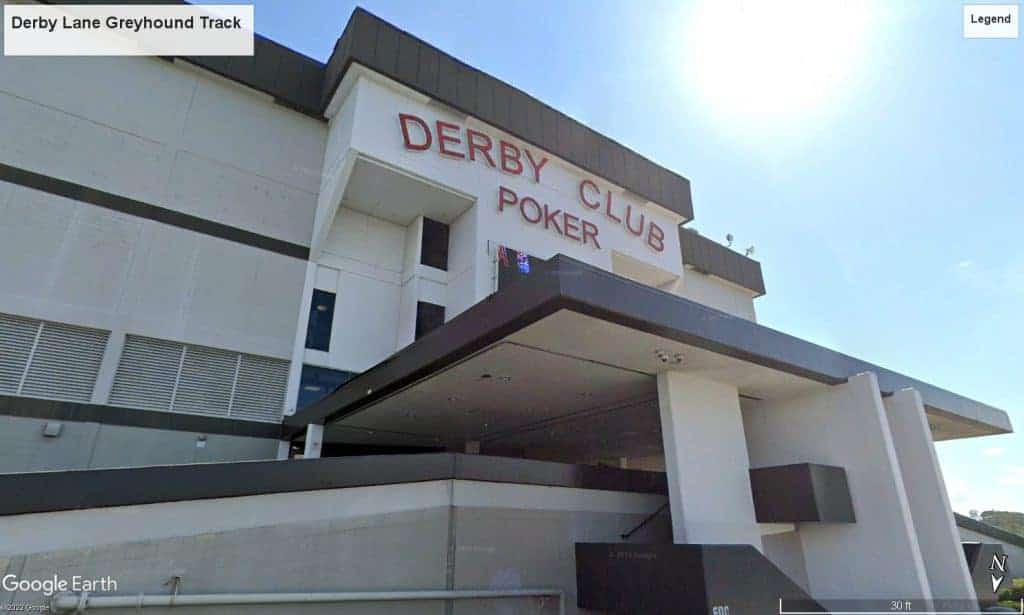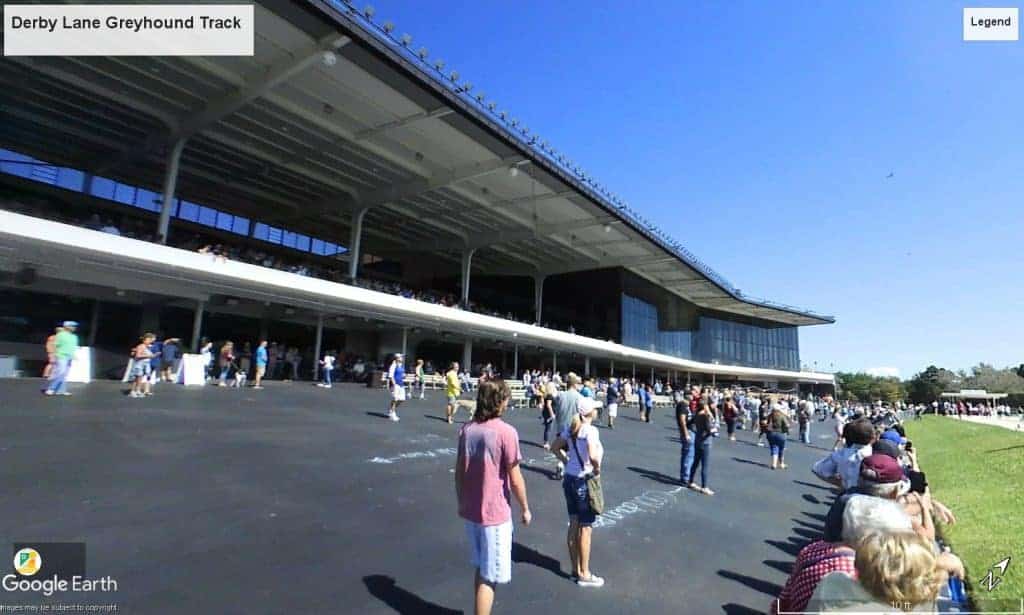 🐎Live Racing Schedule

Live evening races before were held six times each week, Monday through Saturday at 7:30 pm, and live

matinee

racings were every Wednesday and Saturday at 12:30 pm. 

Live greyhound racing season before was from January to July.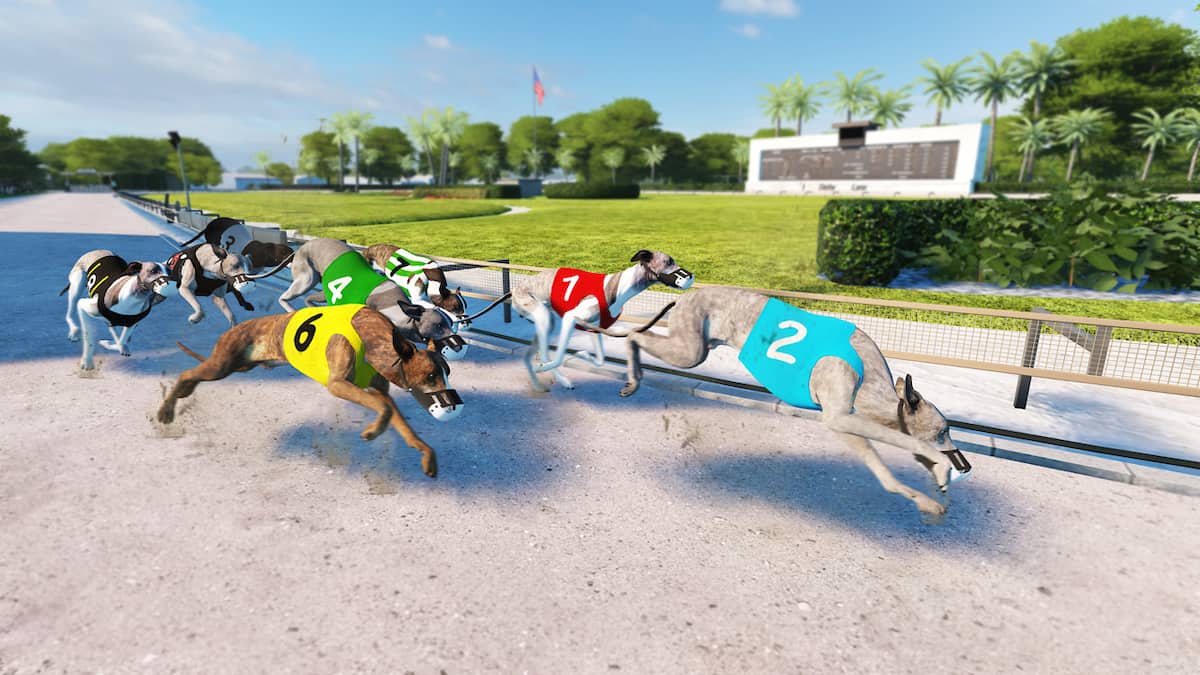 Location and Access to the Racecourse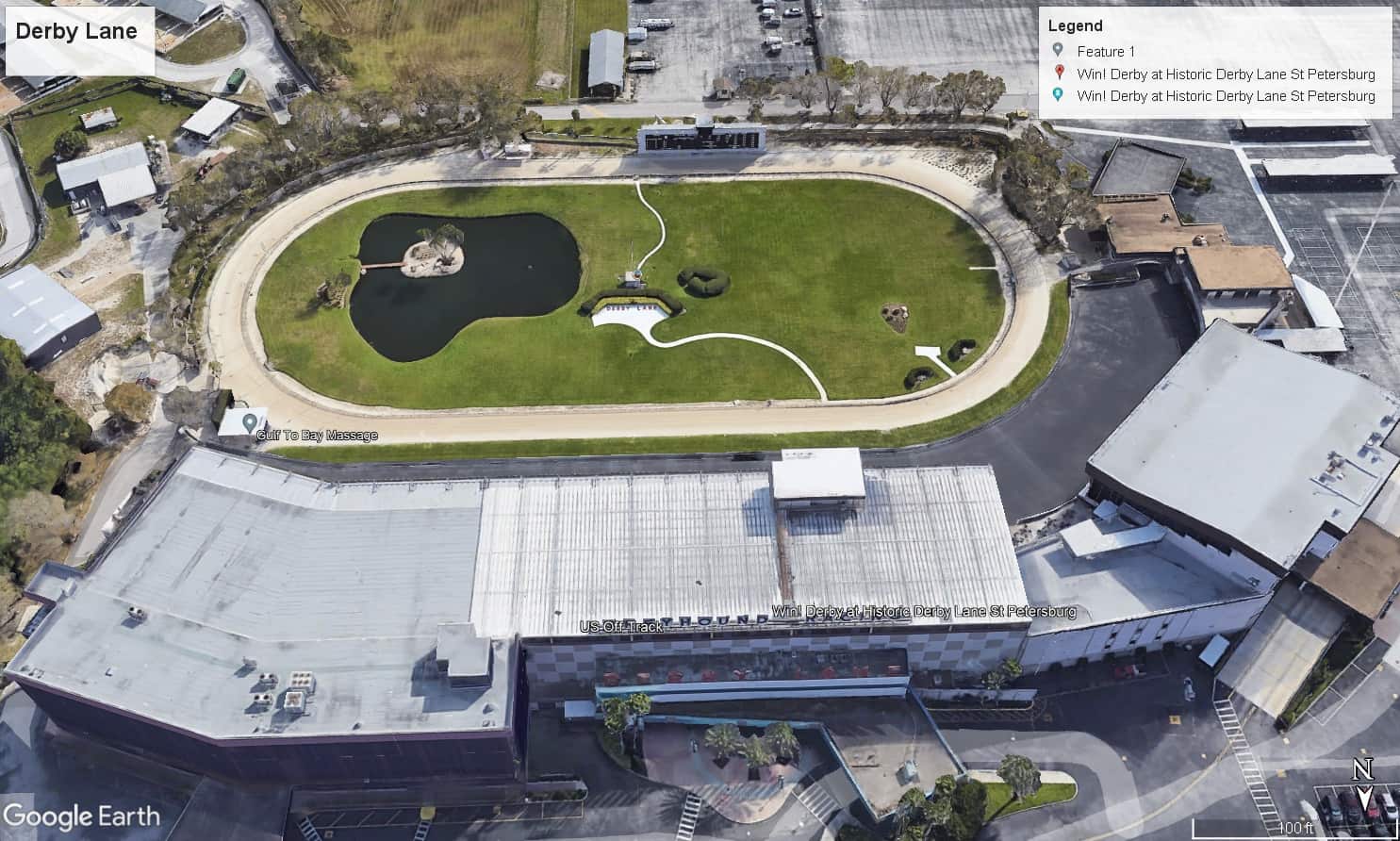 Derby Lane Greyhound Track is located on the edge of Tampa Bay in St. Petersburg, Florida, United States.
Other racetracks are sorted and listed on the page "List of Racetracks". To view the full list, hit the button below. You can also check the horse racing types and breeds to have a lot more in-depth knowledge about horse racing. 
You can also check Derby Lane results and entries using our AmWager platform for FREE!
It is easy to access and fast as 1, 2, 3!
So what are you waiting for?
STOP HORSING AROUND, GET SERIOUS, GET AMWAGER !
Sign Up now for FREE and wager like a PRO with AmWager