Evangeline Downs Racetrack & Casino
Don't forget you can wager on the races with AmWager
Wager on live horse races like a Pro with AmWager.
Simple…We are the best online wagering platform today. Real-time updates, exclusive tools, custom wagering types, player-focused design. Not using AmWager is like playing in the kiddie pool.
Powerful, fast, innovative, secure, yet easy to use! All because we value and listen to our customers.
Evangeline Downs Racetrack & Casino
Evangeline Downs Racetrack & Casino is a Racino (horse-racing track and Casino) in Opelousas, Louisiana, United States. It opened in 1966, at Carencro, Louisiana.
History of Evangeline Downs Racetrack & Casino
1966 – The history of the Evangeline Downs all began on April 28, 1966, when it was opened for business in its original location along U.S. Highway 167 (also known as the Evangeline Thruway, and today as Interstate Highway 49) at Carencro, Louisiana, just north of the city limits of Lafayette, Louisiana. It is also the first pari-mutuel racetrack in Louisiana.
1982 – Evangeline Downs Racetrack & Casino was the first "racino" built in America. In 1982, it was purchased for $12.4 million by Rodney Verret, Ted Haik, Sam Rankin, and Joe Jones.
1985 – Rodney Verret, Ted Haik, Sam Rankin, and Joe Jones sold Evangeline Downs to Norman Denny and Larry Willis for $16.5 million.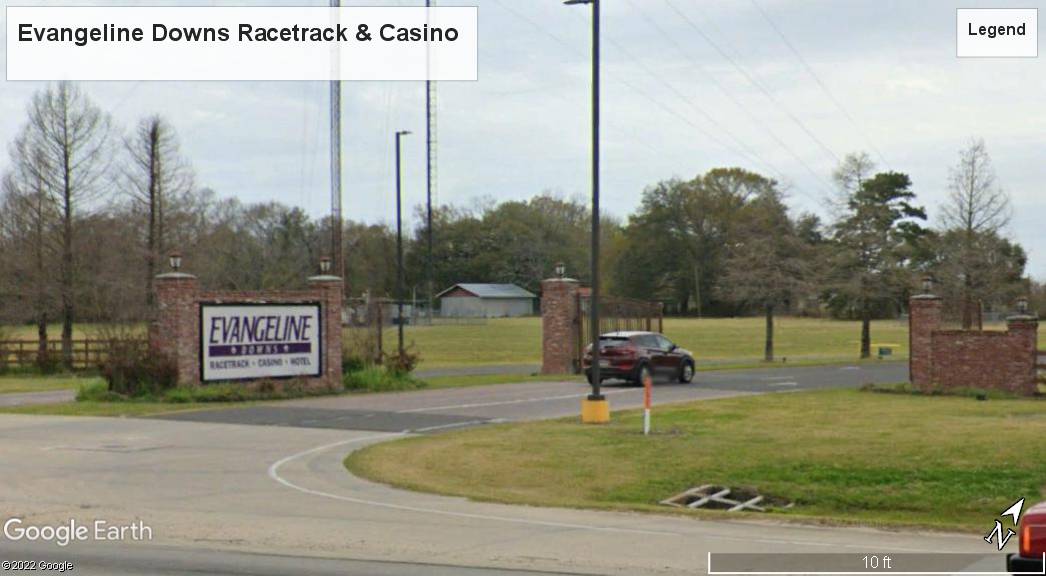 1986 – However, Denny and Willis soon had financial problems. The Louisiana Racing Commission threatened to shut down the track when they just missed a payment of purse money. They were forced to file for Chapter 11 bankruptcy protection and, in October 1986, was closed.
1987 – Since they could not negotiate a reorganization, Denny and Willis shifted to Chapter 7 liquidation, requesting the court to sell the track. The Louisiana Savings Association purchased it at auction for the minimum bid of $333,335, and the races were resumed in April 1987.
1988 – Evangeline Downs was the only recipient of the first inter-track wagering signal in Louisiana in November 1988. It simulcasted races from the New Orleans Fair Grounds.
1992 to 1996 – Evangeline Downs added video poker machines in 1992, but in a 1996 election, Lafayette Parish voters enacted a parish-wide ban on video poker. Hence, the track plans to shift to St. Landry Parish, whose voters had rejected a similar ban.
2002 – Peninsula Gaming first purchased fifty percent interest in the track from B. I. Moody in February 2002. It acquired the remaining half several months later from William Trotter. 
2003 – Peninsula started to shift location to Opelousas, opening a casino at the new site in December 2003.
2005 – After two years, Peninsula gaming also transferred racing to the current site Opelousas, joining the casino.
2009 – Evangeline Downs was ranked sixth among the top 10 when the Horseplayers Association of North America established a rating system for 65 thoroughbred racetracks in North America.
2012 – Boyd Gaming acquired Peninsula Gaming in November 2012 and began operating the Evangeline Downs.
2020 – The original site in Carencro was transformed and became a distribution center for Amazon.
Track Details and Other Facilities
🐎Whole Racetrack

The entire property consists of nearly 750 acres.

It also has free Parking Lot/Valet Parking.

🐎

Stable

It accommodates 1,000 stalls on the backside.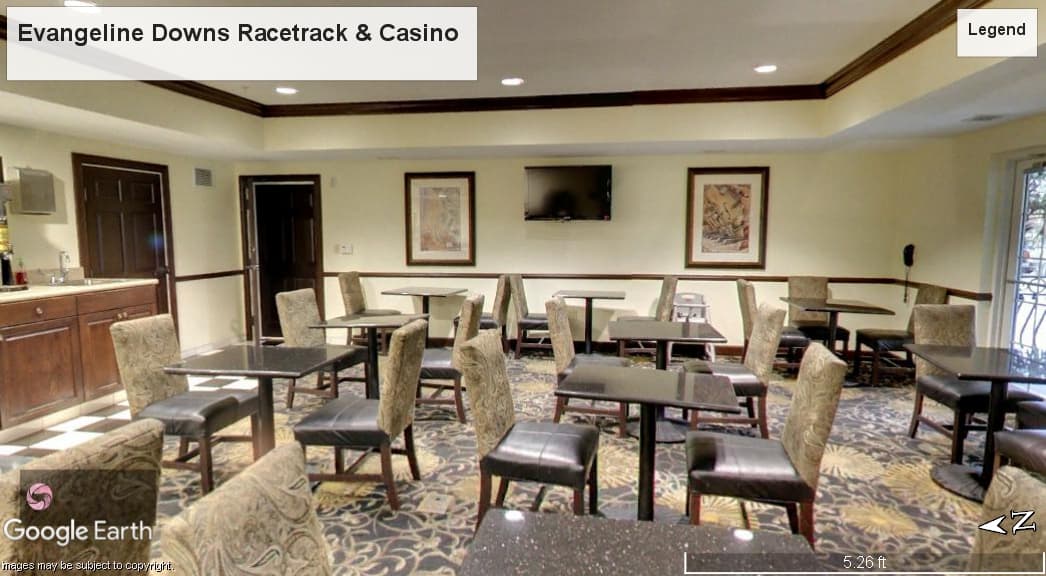 🐎

The Spotted Horse Tavern & Dining Parlor

Open Hours

Wednesday to Saturday – 5:00 pm to 10:00 pm.

🐎

EVD Express

Open Hours


Grab n' Go Monday & Tuesday – 11:00 am to 8:00 pm.
Wednesday & Thursday – 11:00 am to 10:00 pm.
Friday & Saturday – 11:00 am to 12:00 midnight.
Sunday – 11:00 am to 8:00 pm.
🐎

Evangeline Downs Hotel

It is connected directly to Evangeline Downs Racetrack & Casino and convenient to area attractions like Arlington Plantation and Le Vieux Village.
It is a four-story hotel with 117 rooms.
It features an elevator, pool/hot tub, exercise room, wireless internet, and a business center.
It has a banquet and meeting room that can accommodate up to 50 people.
🐎

Event Center

An all-new multi-purpose facility
It can accommodate up to 600 for seated dining events.
It can accommodate up to 1200 guests for indoor music festivals, concerts, family reunions, and comedy shows.

🐎

Prefunction

It is a private, carpeted banquet room with built-in A.V.
It measures 2,332 square feet.
It can accommodate 100 seated guests and 200 standing.

🐎

Mojo's

It has more than 20 televisions and a giant T.V. wall.
It measures 4,104 square feet.
It can accommodate 180 seated guests and 319 standing.
🐎

Clubhouse

It measures 2,470 square feet.
It can accommodate 150 seated guests and 300 standing.

🐎

John Henry Room

It measures 1,000 square feet.
It can accommodate 65 seated guests and 120 standing.

🐎

Private Club Suites

It comes into two styles, The individual or combined suites.
It measures 238 square feet for an individual suite and 1952 square feet for combined suites.
It can accommodate 12 seated guests for the individual suite and 48 seated guests for the combined suite.
Race Schedule and Major Events & Races​
Evangeline Downs Racing Schedule
🐎

Live Racing Schedule

Evangeline Downs's live racing season starts with thoroughbred racing from April to September.
It continues with Quarter horse racing from October to December.
Horse races are every Wednesday through Saturday.
🐴Evangeline Downs Turf Sprint
🐴Evangeline Downs Mile
🐴Louisiana Legends 
🐴John Henry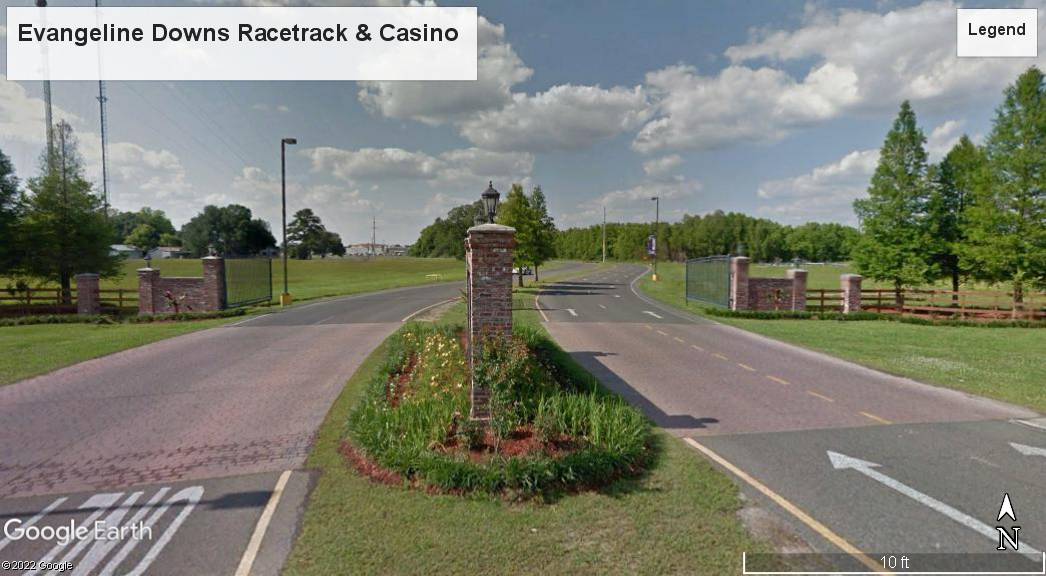 Location and Access to the Racecourse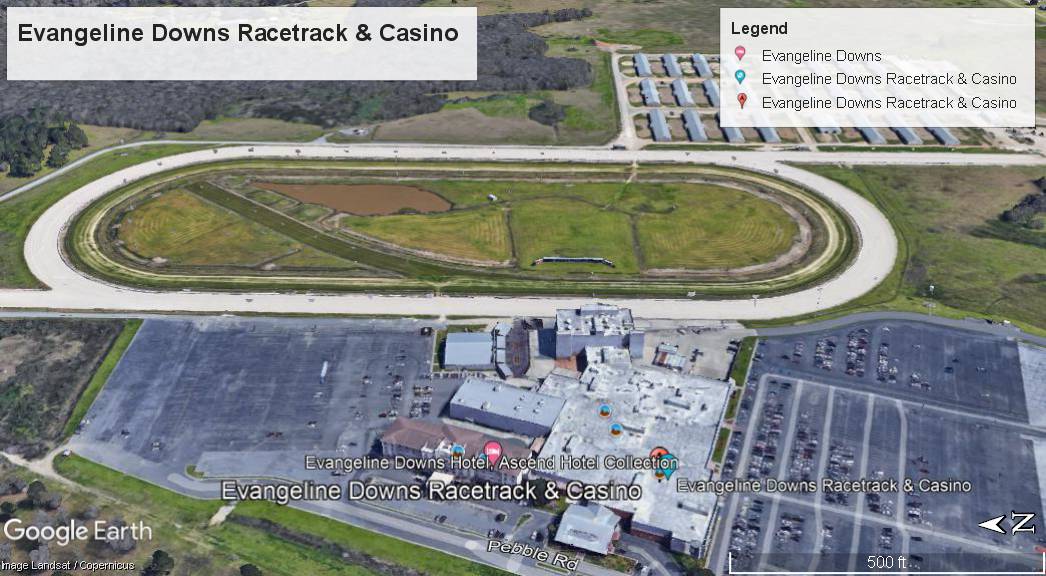 Evangeline Downs racetrack measures 133.7 acres. It is situated in St. Landry Parish, Louisiana, just east of Opelousas.
Clubhouse admission is free if you purchase food and beverage.
It offers free valet and general parking.
Dress Code: Guests should wear proper attire in the clubhouse.
Other racetracks are sorted and listed on the page "List of Racetracks". To view the full list, hit the button below. You can also check the horse racing types and breeds to have a lot more in-depth knowledge about horse racing. 
Evangeline Downs Racetrack & Casino
You can also check Evangeline Downs entries and Evangeline Downs results using our AmWager platform for FREE!
It is easy to access and fast as 1, 2, 3!
So what are you waiting for?
STOP HORSING AROUND, GET SERIOUS, GET AMWAGER !
Sign Up now for FREE and wager like a PRO with AmWager