Finger Lakes Gaming and Racetrack
Don't forget you can wager on the races with AmWager
Wager on live horse races like a Pro with AmWager.
Simple…We are the best online wagering platform today. Real-time updates, exclusive tools, custom wagering types, player-focused design. Not using AmWager is like playing in the kiddie pool.
Powerful, fast, innovative, secure, yet easy to use! All because we value and listen to our customers.
Finger Lakes Gaming and Racetrack
Finger Lakes Gaming and Racetrack is a horse-racing track in Farmington, New York, United States. It opened in 1962, at Route 96.
History of Finger Lakes Gaming & Racetrack
1962 – Finger Lakes Racetrack opened on May 23, 1962, as a thoroughbred horse race track. The race track has undergone several ownership changes and a cycle of successful and near-bankrupt seasons. 
1981 – Finger Lakes Fio Rio dominated at the track throughout his career, winning 19 of 27 starts. He was named New York State Horse of the Year in 1981 for winning the Whitney Handicap at Saratoga. 
1996 – The legendary horse Fio Rito was buried in the Finger Lakes infield. He was the first horse buried on the Finger Lakes grounds.
2002 – Finger Lakes introduced an Equine Swim Facility. It is one of the country's only aquatic facilities on track grounds.
2004 – Finger Lakes added video gaming machines in February 2004, transforming the facility into a multi-faceted entertainment destination. It became Finger Lakes Gaming and Racetrack after the renovation. 
2007 – Funny Cide became the first-ever Kentucky Derby winner to race at Finger Lakes in the $100,000 Wadsworth Memorial Handicap.
Track Details and other Facilities​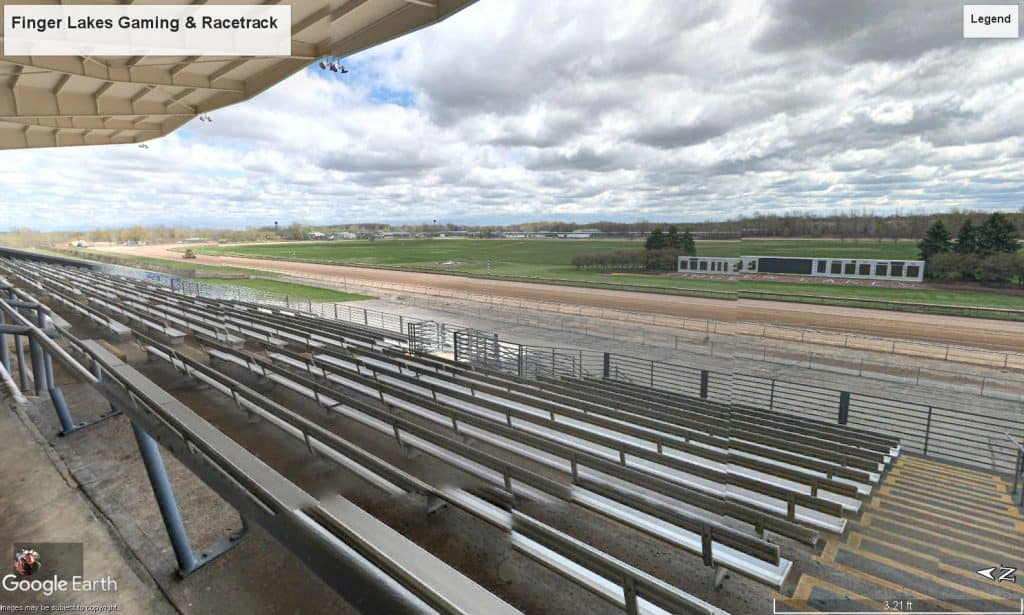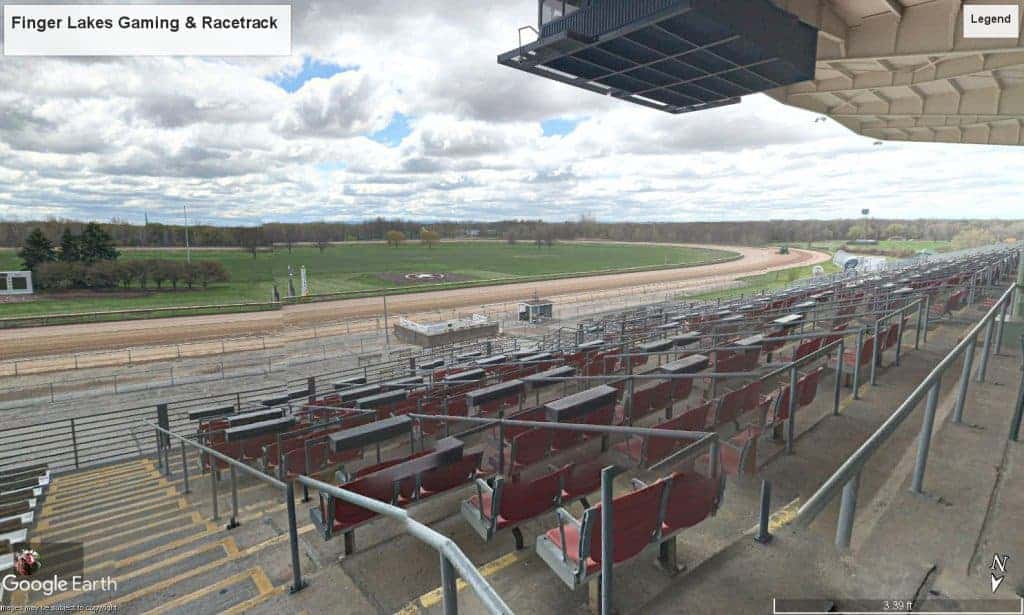 🐎Grandstand
🐎Casino

Slot Machine Gaming Floor Area: 28,267 square feet

Number of Slot Machines: 1,010
🐎Remedy™ Bar

Free live bands

Hours of Operation

Monday to Friday – 10 am to1 am

Saturday – 10 am to 2 am

Sunday – 12 pm to 1 am

🐎Buffet

Buffet Hours & Pricing

Fridays & Saturdays – 3 pm to 9 pm (Dinner for $22.99)

Sundays – 11 am to 4 pm (Brunch for $20.99)
🐎Platinum Grille

It is open daily.

Hours of Operation

Sunday to Thursday – 10 am to 10:30 pm

Friday & Saturday – 10 am to Midnight

🐎Sevens Bar at Finger Lakes®

It is located right off the gaming floor.

Self-service wagering for live and

simulcast

racing is available. 

Hours of Operation

Monday to Saturday – 10 am to 10 pm

Sunday – 12 pm to 10 pm
Major Events and Schedule
Finger Lakes Racetrack Schedule
The racing season of

thoroughbred

horse racing is from mid-April through early December. 

Simulcast

wagering is available daily from 11:30 am to 6 pm.

On live race days, the Lower Club is open every 11:30 am to access live racing or

simulcast

wagering.

Gaming Hour (Casino) is from 8 am to 4 am daily.
🐴New York Derby

A 1 1/16 mile, restricted for three-year-old horses bred in New York.
The purse is $150,000.
It is a part of the Big Apple Triple, with the Mike Lee Stakes at Belmont Park and the Albany Stakes at Saratoga Racetrack.
It typically runs in July.
🐴Arctic Queen Handicap

🐴Aspirant Stakes

🐴Finger Lakes Juvenile

🐴Finger Lakes Juvenile Fillies

🐴Genesee Valley Breeders Handicap

🐴George W. Barker Handicap

🐴Jack Betta Be Rite Handicap

🐴Lady Fingers Stakes

🐴Leon Reed Memorial Handicap

🐴New York Breeders' Futurity

🐴New York Derby

🐴New York Oaks

🐴Niagara Stakes

🐴Ontario County Stakes

🐴Proud Puppy Handicap

🐴Susan B. Anthony Handicap

🐴Wadsworth Memorial Handicap
Location and Access to the Racecourse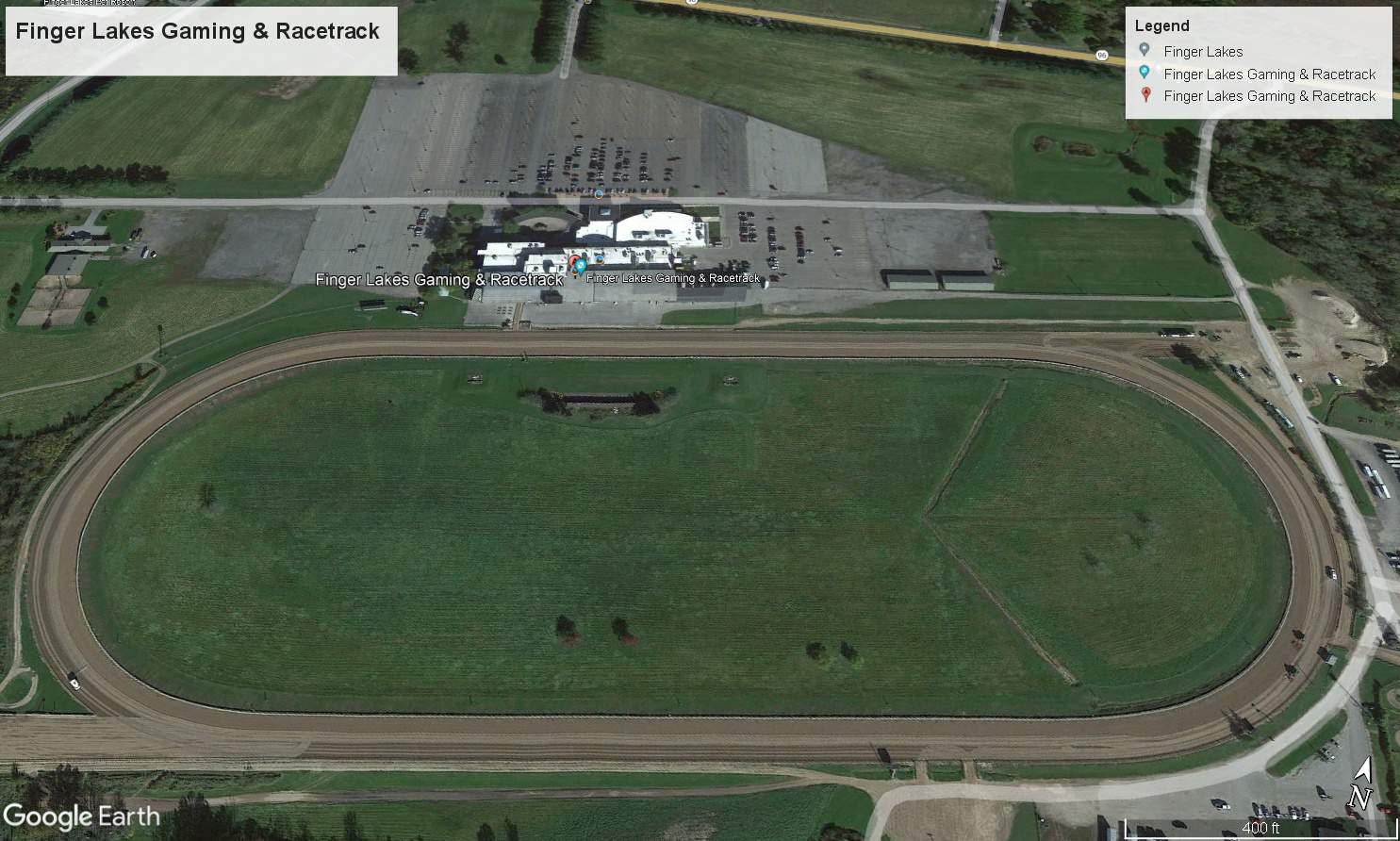 Finger Lakes Gaming & Racetrack is in Farmington in western New York State and has a 450-acre property. 

It is approximately 25 miles (40 km) southeast of Rochester and about one mile south of New York State Thruway exit 44.

 

Guests

must be 18 to enter the gaming floor, play any video gaming machine, or wager on horse racing.

All ages are welcome when live racing is scheduled. The entrance is through the Lower Club (racing doors).
On days with no live races,

simulcast

wagering is accessible only through the gaming floor (up escalator). 

Pari-mutuel tellers and self-service wagering terminals are available.
Other racetracks are sorted and listed on the page "List of Racetracks". To view the full list, hit the button below. You can also check the horse racing types and breeds to have a lot more in-depth knowledge about horse racing. 
Finger Lakes Gaming and Racetrack
You can also check Finger Lakes results and Finger Lakes entries using our AmWager platform for FREE!
It is easy to access and fast as 1, 2, 3!
So what are you waiting for?
STOP HORSING AROUND, GET SERIOUS, GET AMWAGER !
Sign Up now for FREE and wager like a PRO with AmWager