Don't forget you can wager on the races with AmWager
Wager on live horse races like a Pro with AmWager.
Simple…We are the best online wagering platform today. Real-time updates, exclusive tools, custom wagering types, player-focused design. Not using AmWager is like playing in the kiddie pool.
Powerful, fast, innovative, secure, yet easy to use! All because we value and listen to our customers.
Lone Star Park
Lone Star Park is a horse-racing track in Grand Prairie, Texas, United States. It opened in 1997, at Lone Star Pkwy.
History of Lone Star Park
1987, Texans voted to return pari-mutuel horse racing to the State.
1997 – Lone Star Park opened to live racing on April 17.
1998 – Lone Star Park became the first racetrack in modern history to increase its attendance in its second year of operation.
2002 – Lone Star Park started the Phase I renovation on November 20, 2002.
2004 – Lone Star Park hosted the prestigious Breeders Cup Championship in October 2004.
2011 – Global Gaming Solutions purchased the racetrack.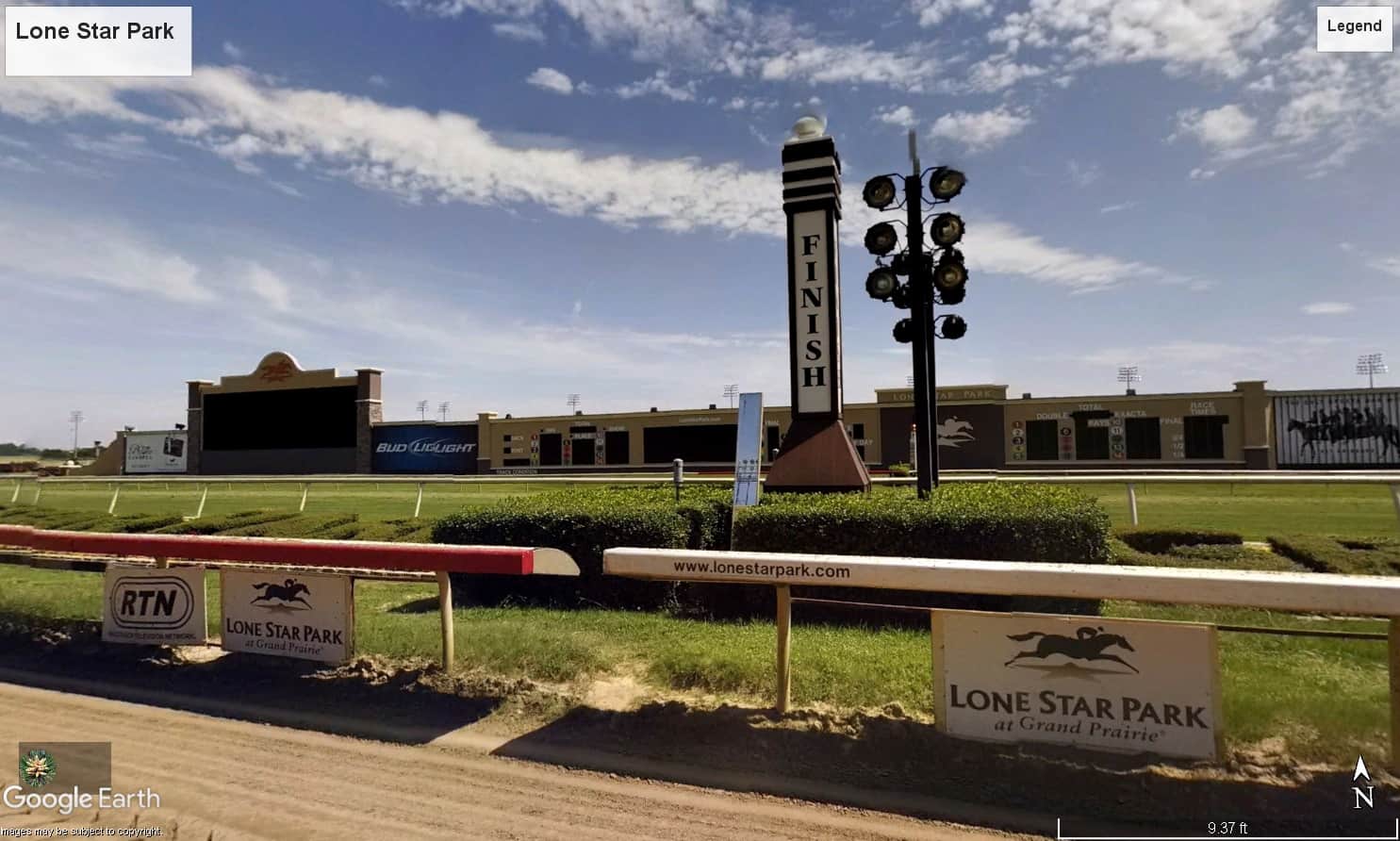 Lone Star Park was famous for the Lone Star Million, a day of stakes races that annually attracted the best runners from around the country. It was also the site of the 2004 Breeders' Cup.  It is known for quality Quarter Horse racing and its Texas hospitality and elegance. It is one of the most successful racetrack openings in modern horse racing history and has been home to the MBNA American Challenge Championships numerous times.
Track Details and Other Facilities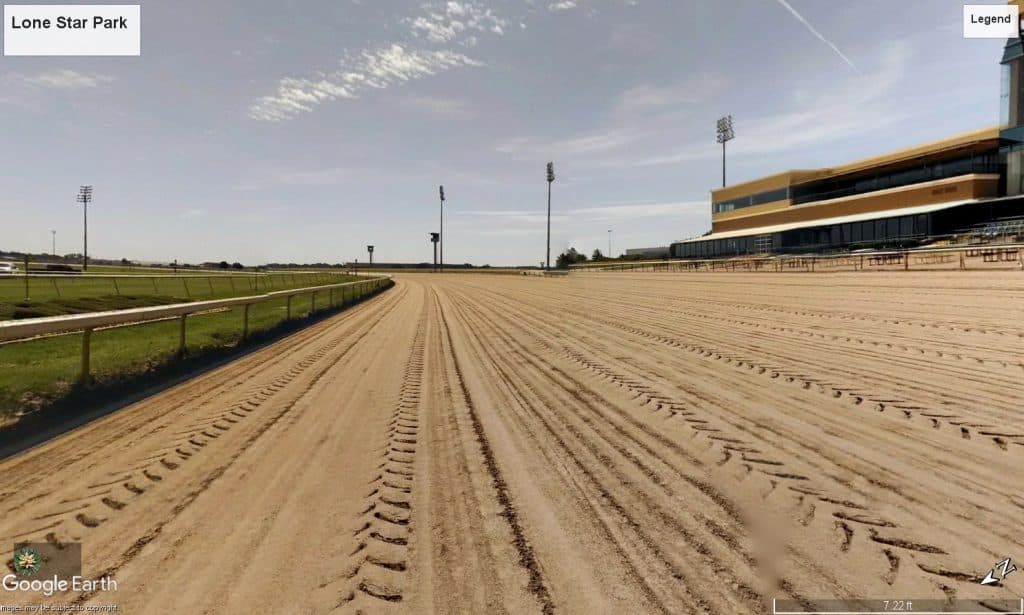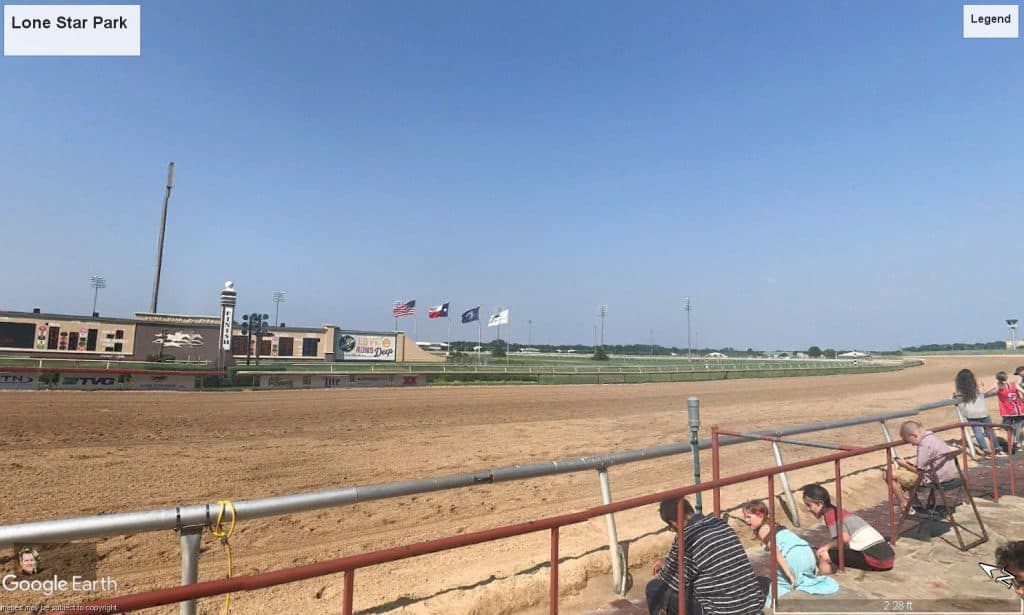 🐎Main track
🐎

Turf track

a 7/8 mile oval

1 and 1/8  inside the

chute

80 feet wide, and six-degree banking on turns.

The distance from the final turn to the finish line is 900 feet, 

The distance from turn to turn is 1,020 feet. 
🐎

Grandstand

It is enclosed with glass and air-conditioned.

It is approximately 280,000 square feet.

It can accommodate 8,000 seats. 

It has concession areas, bars, racing information areas, a first aid facility, and a gift shop.

The audio/video system has over 1500 television monitors and a Daktronics display in the

infield

. 
🐎

Bar & Book

It is a simulcast facility located adjacent to the Grandstand.

It is a 36,000-square feet.

Sports Bar

Seating is free and on a first-come, first-served basis, except for Premium Days.

Lounge Seats

It has an overview of the race book area. 

Seating is free and on a first-come, first-served basis, except for Premium Days.

Carrel Seats

 

It costs $3.00 per seat on normal racing days and $10 on Premium Days.

Each seat is equipped with a television.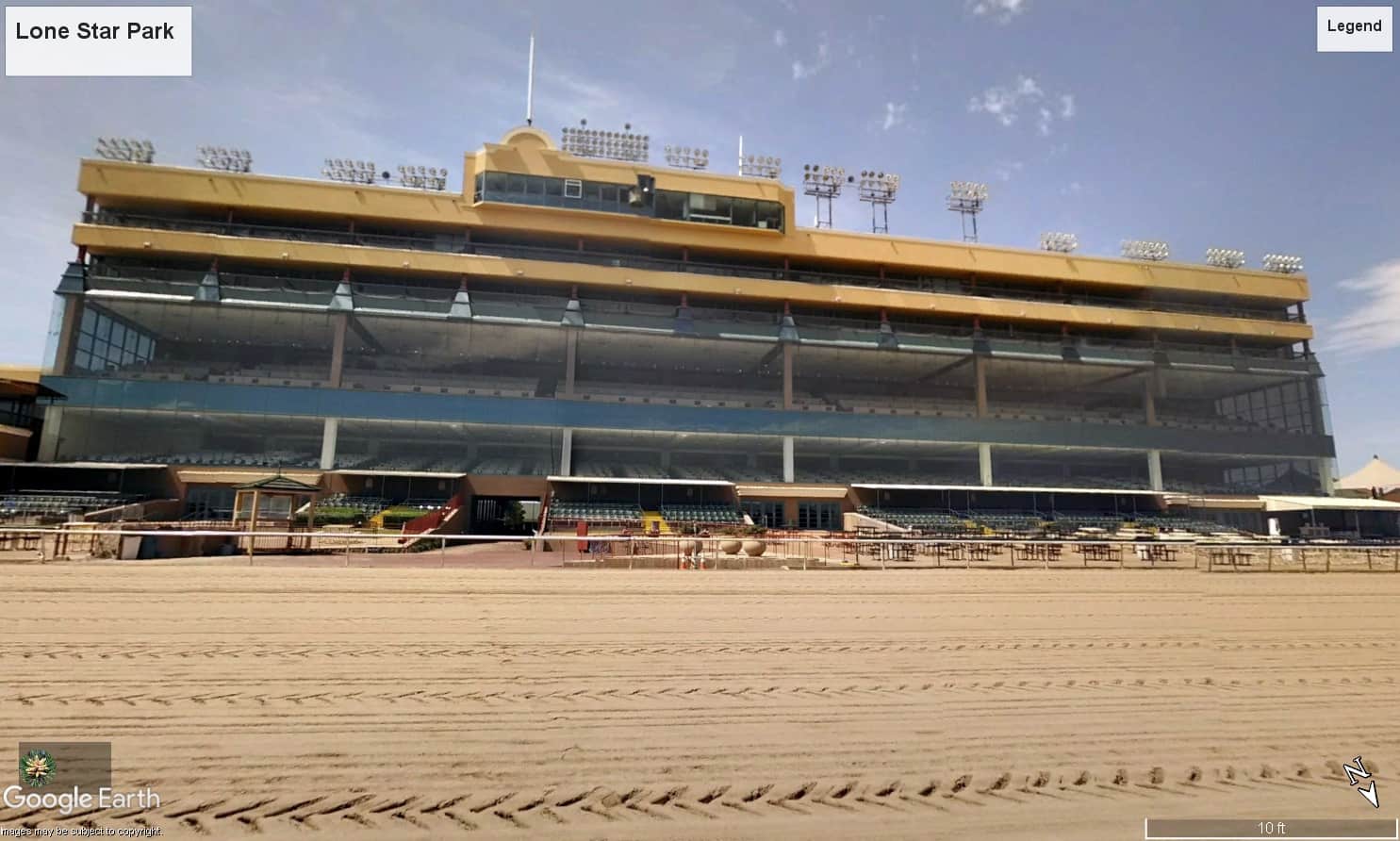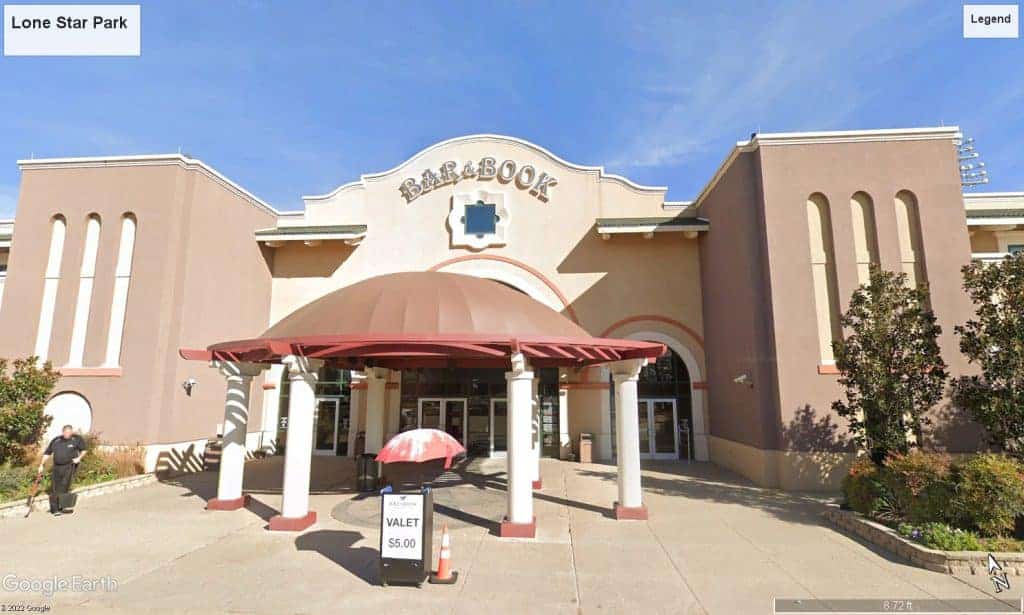 🐎

Silks

It features a panoramic view of the racetrack.
It is open every live race day.
Tickets include

Access to a buffet
All-you-can-drink non-alcoholic beverages
Walk-around mutuel tellers that you can wager with from the convenience of your table
HD Television at the center of each table
🐎

Parking area 

The area can fit 6,000 vehicles available for automobiles and buses at the racetrack. 
🐎

Barn

It has 32 barns that can accommodate 1600 horses.
It includes a receiving barn, hold & test barn, stakes barn, maintenance barn, and administrative building.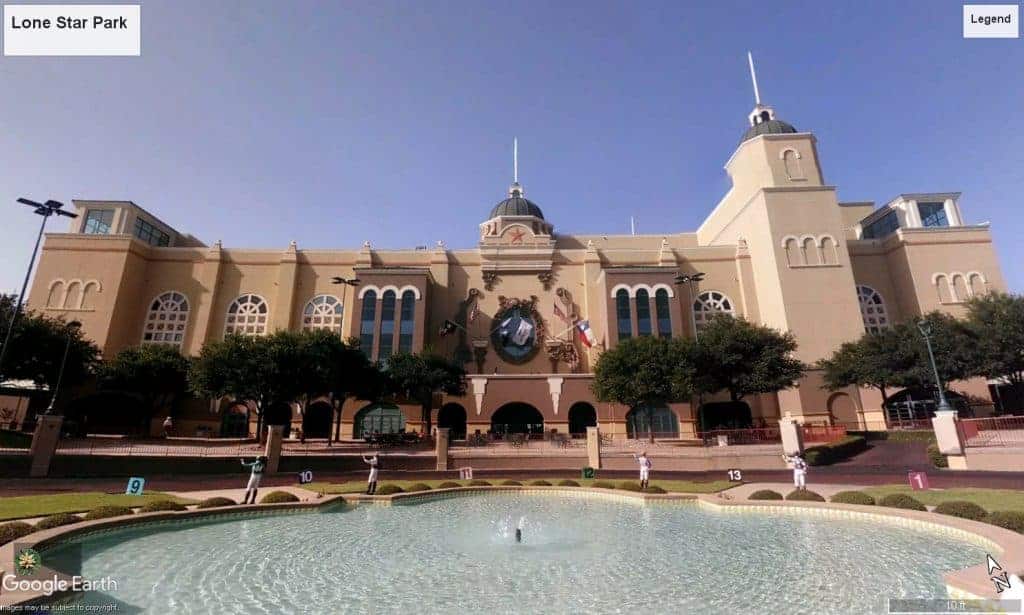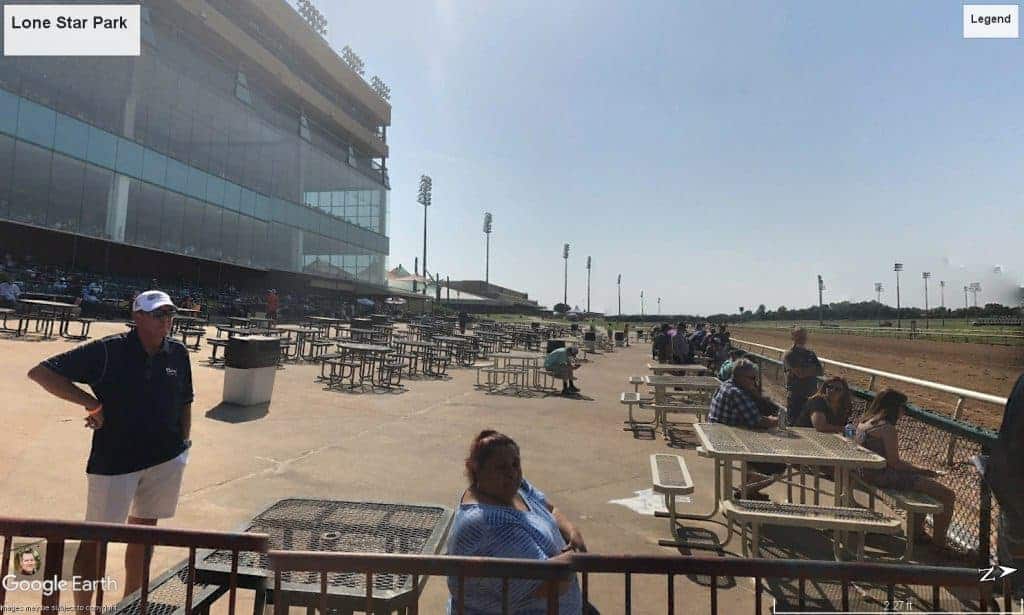 🐎

Penthouse Suites

It features an exclusive balcony, bar, self-serve wagering machine, flat-screen televisions, and a penthouse menu.
It can also accommodate space for meetings, break-outs, and small holiday events.
It can accommodate 90 guests.

🐎

Dash For Cash

It is a sports bar-style venue with flat-screen televisions, a private bar, and a pre-function area.
It provides outdoor access near the finish line for additional event activities. 
It also accommodates a dual-sided bar and provides direct access to the concourse, allowing for more extensive event setups during non-racing days.
It can accommodate 400 guests.

🐎

Alysheba

It is a 7,500 square feet private room.
It is located on level two.
It is a formal setting that offers an upscale bar, built-in AV, an oversized balcony, and private restrooms. 
It can accommodate 500 guests.
🐎

Concourse

It is located on levels 1 & 2, the East and West Concourses.

It features 15,000 square feet of event space recommended for expositions, trade shows, and job fairs.

It can accommodate 5,000 guests

🐎

Courtyard Of Champions & Veranda

It is located on Level one of Lone Star Park.

It features a paved courtyard, covered veranda, restroom access, and plenty of green space for games, tents, vendors, and entertainment.

It can accommodate 10,000 guests.

🐎

Outdoor Festivals & Events

It measures 1,000,000 square feet of outdoor event grounds and a parking lot.

It can accommodate 20,000
🐎

1st Floor Concessions

Cilantros 
Peppers
Mustards
Basils
Dash for Cash Bar
Watering Hole
Paddock Bar
MVP Bar

🐎

2nd Floor Concessions
Race Schedule and Major Events & Races
Thoroughbred Races
Grade III

🐴Steve Sexton Mile Stakes
Quarter horse
Grade I

🐴Texas Classic Futurity

🐴Texas Classic Derby 

🐴Refrigerator Handicap

Grade II
Grade III




🐴Dash For Cash Derby

🐴B. F. Phillips Jr. Stakes Restricted Texas-Bred
Paint and Appaloosa
Grade I




🐴Speedhorse Lone Star Paint and Appaloosa Futurity
🐴Assault Stakes – Restricted Texas-Bred

🐴Bluebonnet Stakes – Restricted Texas-Bred

🐴Wayne Hanks Memorial Stakes – Restricted Texas-Bred 

🐴Texas Stallion Stakes (Got Koko Division)

🐴Texas Stallion Stakes (Stymie Division)

🐴Nevill Stakes – Restricted Texas-Bred
Arabians
🐴Dubai International Arabian Races Texas Open Stakes

🐴Shadwell Arabian Stallions Texas Distaff Stakes

🐴DIAR Texas Lone Star Futurity
Location and Access to the Racecourse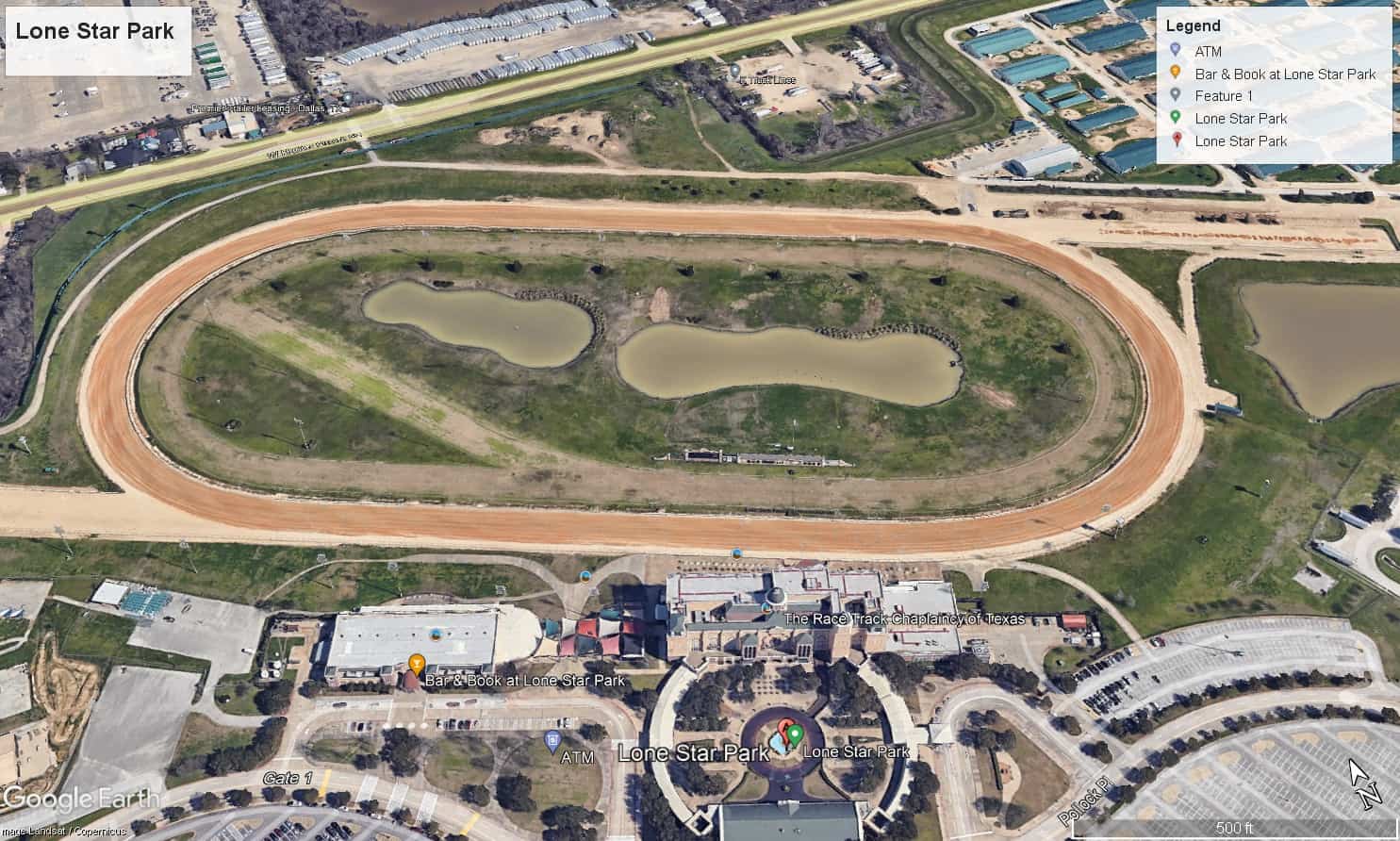 It is almost equidistant between Arlington and Dallas, with Forth Worth not much further along the I-30 (around 20 miles), 1000 Lone Star Parkway, Grand Prairie, TX 75050.

It is 12 miles west of Dallas, 20 miles east of Fort Worth, and minutes south of Dallas-Fort Worth International Airport.

It is located on Beltline Road, just ½ mile north of I-30 in Grand Prairie, Texas.
Other racetracks are sorted and listed on the page "List of Racetracks". To view the full list, hit the button below. You can also check the horse racing types and breeds to have a lot more in-depth knowledge about horse racing. 
You can also check Lone Star Park results and Lone Star Park entries using our AmWager platform for FREE!
It is easy to access and fast as 1, 2, 3!
So what are you waiting for?
STOP HORSING AROUND, GET SERIOUS, GET AMWAGER !
Sign Up now for FREE and wager like a PRO with AmWager