Meadowlands Racetrack
(Meadowlands Racing & Entertainment)
Don't forget you can wager on the races with AmWager
Wager on live horse races like a Pro with AmWager.
Simple…We are the best online wagering platform today. Real-time updates, exclusive tools, custom wagering types, player-focused design. Not using AmWager is like playing in the kiddie pool.
Powerful, fast, innovative, secure, yet easy to use! All because we value and listen to our customers.
Meadowlands Racetrack
Meadowlands Racetrack is a horse-racing track in East Rutherford, New Jersey, United States. It opened in 1976, at 1 Racetrack.
History of Meadowlands Racetrack
1976 – Meadowlands Racetrack, now called Meadowlands Racing & Entertainment, opened and inaugurated its harness race on September 1, 1976.
1977 – Thoroughbred racing commenced one year after it opened on September 6, 1977. It was also known for its slogan, "Racing with the Moon". The slogan was originally famed in 1941 by bandleader Vaughn Monroe.
1981 – The first leg of the Trotting Triple Crown, The Hambletonian race, was transferred to the Meadowlands. 
1985 – New Jersey unauthorized the simulcasting and was discontinued on November 5, 1985. However, it was legalized again on December 3, 1985, after the voters approved a referendum on simulcasting.
1992 – The new Hambletonian race format was introduced. The three-year-old trotters changed to race in eliminations, and the final would determine the winner, nevertheless of whether it won the elimination.
1997 – The Meadowlands founded its Championship Meet, offering more than $13 million in stakes purses.
2001 – Campbell rebounded with 211 victories and $6.9 million in earnings for an unmatched 16th driving title. 
2009 – Meadowlands Rail Line started operating for event service. However, it will operate daily upon completion of the nearby American Dream Meadowlands.
2010 – Governor Christie was planning to sell or lease the racetrack to a private operator or shut it down in January 2010. 
2011 – The New Jersey Sports and Exposition Authority privatized the racetrack to Jeffrey Gural in December 2011. He is the CEO and chairman of the New Meadowlands Racetrack LLC. He then took over the operations. 
2013 – The old Meadowlands grandstand was closed for racing on November 2, 2013. Although it already opened for simulcasting on November 18, 2013, its official opening was on November 23, 2013, which was also the first night of live fall harness racing in the Meadowlands Racetrack.
2015 – Meadowlands Racing and Entertainment have also been home to the Cane Pace since 2015. It is the first leg of Harness Racing's Pacing Triple Crown with the Cane and runs on the same program as the Hambletonian.
2018 – Paddy Power Betfair collaborated with Meadowlands to establish a sportsbook at the track in June 2018 after the state legalized the sports. On July 14, 2018, the sportsbook started to operate under the branding of FanDuel, a daily fantasy sports service. The Meadowland racetrack also hosted the championship final for the 2018 AMA Pro American Flat Track Championship motorcycle racing series on October 6, 2018.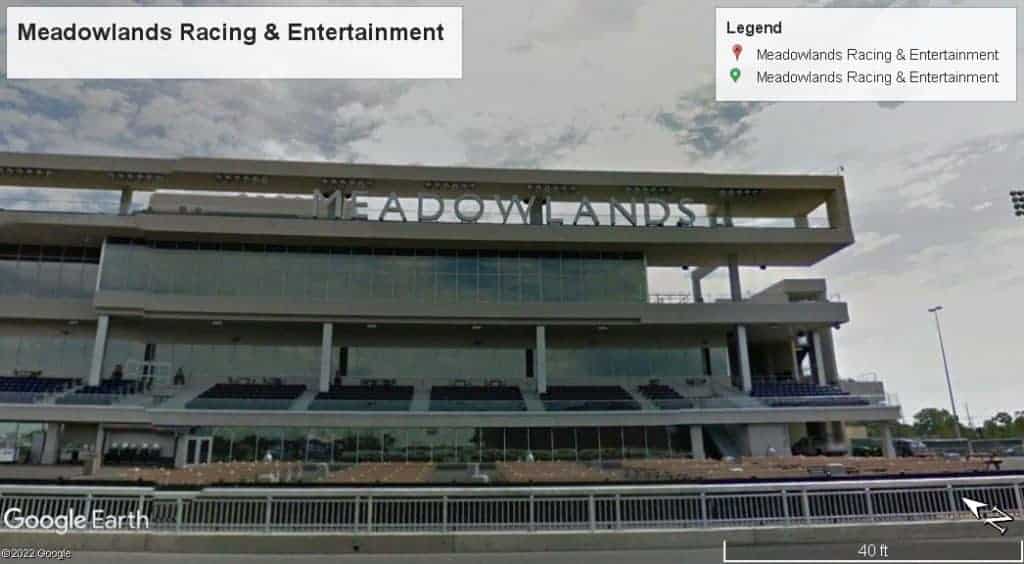 Meadowlands Racetrack is now referred to as Meadowlands Racing & Entertainment.

In the middle of the track is a lake intended to be similar to the state of New Jersey.

Meadowlands Racetrack is renowned as "The Big M" in the region.

It hosts night racing activities.
It features the fastest harness mile run in New Jersey to that time, 1:553⁄5 by Rambling Willie. 

The world record for a mile by a

standardbred

, 1:464⁄5 by Lather Up, driven by Montrell Teague in the 2019 Graduate.

Meadowland Racetrack is the site of the Hambletonian, the first leg of the Trotting Triple Crown, and home to the Cane Pace, the first leg of Harness Racing's Pacing Triple Crown.
Track Details and other Facilities​
🐴Main Track (

Harness

and

Thoroughbred

Racing)

🐎 one-mile

 oval

🐎

The length of the stretch is 990 feet

🐎

Distance from the finish line to the first turn is 330 feet

🐎

The width of the stretch is 90 feet

🐎

The width of the

backstretch

is 80 feet

🐎

Harness

Surface is composed of a limestone base and crushed stone dust cushion

🐎

Thoroughbred

Surface is composed of sand, clay, and loam cushion
🐴

Backstretch

Area

🐎16 barns

🐎Seven dormitories

🐎The capacity of 1,760 horses and 700 people

🐎1,454 stalls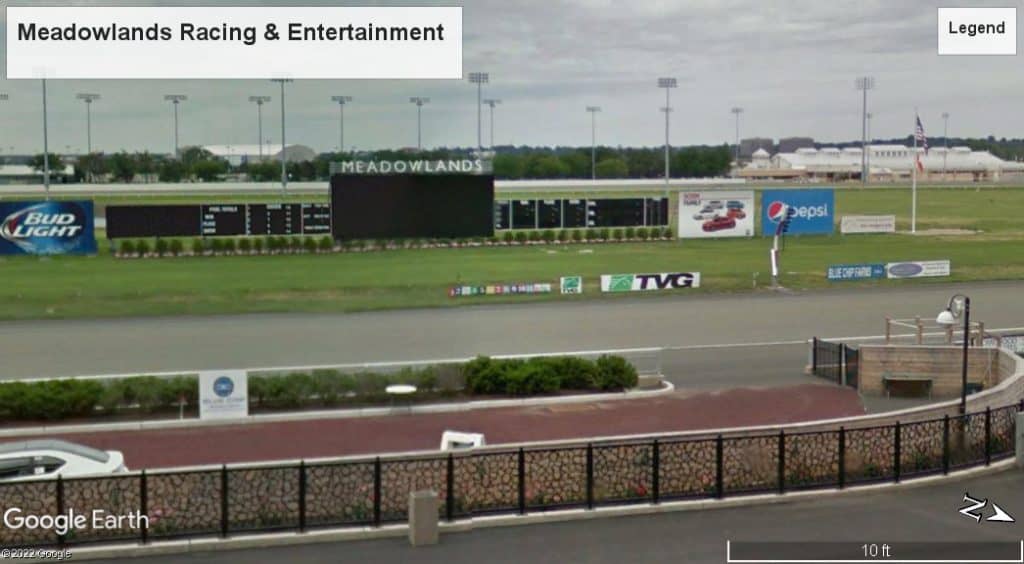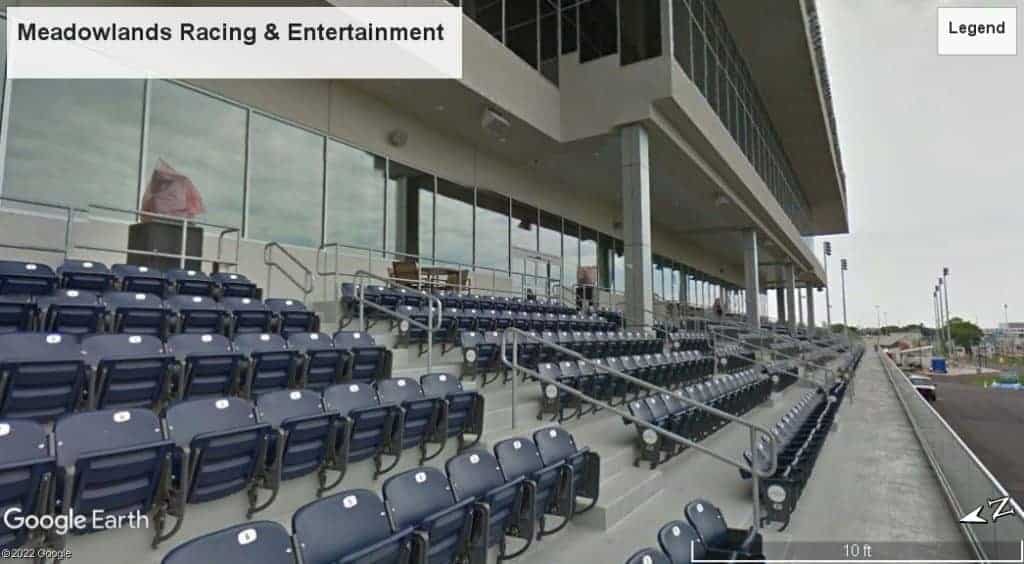 Function Halls and Spaces for Events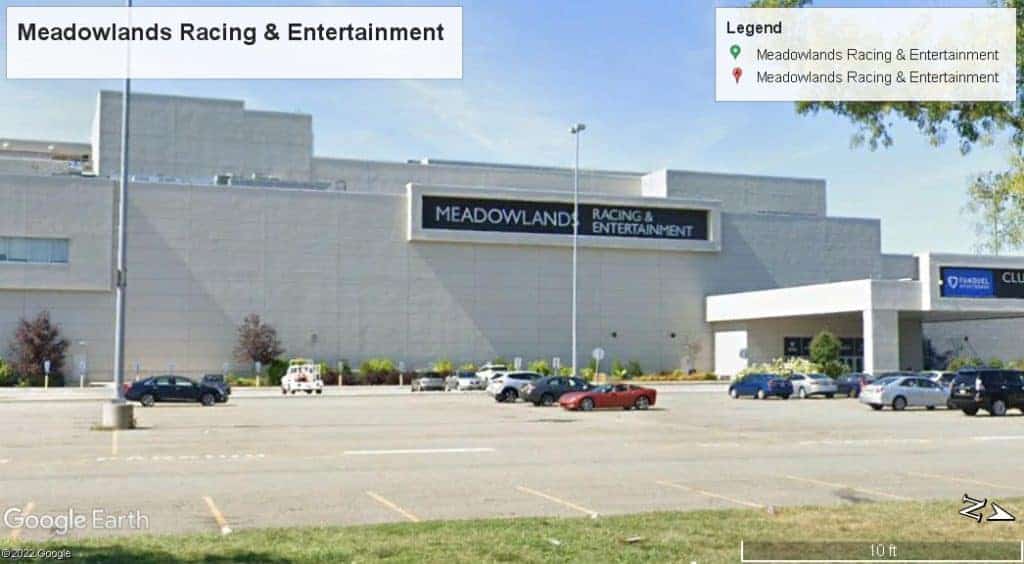 🐴Ground Floor
6,034 sq ft

Capacity for 250 guests

Large, fully customizable space perfect for mitzvahs, receptions, tradeshows, etc.  
103,763 sq ft

Capacity for 10,000 guests

Outside Sprawling outdoor area is good for 5k's, BBQ cookouts, and large gatherings.
Capacity for 100 guests

It is located outside the spacious covered areas close to the racing action.  
🐴Second Floor
🐎Lounge

5,344 sq ft
Capacity for 400 guests
A large central bar with high ceilings.
The space is creatively decorated with custom lounge pieces, high-top tables, and chandeliers.
It has an overview of the racetrack.

🐎Trotters

2,365 sq ft
Capacity for 140 guests
The warm and refined owner's club is great for non-race night occasions.
It has three distinct seating styles – lounge, dining room, and stadium. 
The decoration features gold frames, old wood, and fireplaces for a traditional finish.
8,818 sq ft
Capacity for 400 guests
Large and partially covered with sweeping views of the finish line.
1,629 sq ft
Capacity for 75 guests
Partially covered semi-private area with views of the NYC skyline.
🐴Third Floor
3,973 sq ft
Capacity for 20-150 guests
Fully private spaces for holiday gatherings, special occasions, and corporate events. 
It features private stadium-style seating with racetrack views
It has moveable walls to accommodate groups of 20 to 150 guests.
Large deck on the east side of the building with views of the NYC skyline and racing action.
🐴Roof
Capacity for 500 guests
Upscale rooftop with incredible NYC skyline views perfect for wedding receptions, cocktail hours, and more.
🐴Lounge & Victory Sports Bar


Can view the Victory's giant screens and overview live racing action.

🐴Trotters


The owner's club is open during live racing. 

The menu rotates weekly.

Friday & Saturday admission costs $49.95 per person plus tax and gratuity

🐴Pink


Tiered dining room that can view the racing. 

The buffet is open on live race nights. 

Its menu rotates weekly.

Friday & Saturday $49.95 per person plus tax and gratuity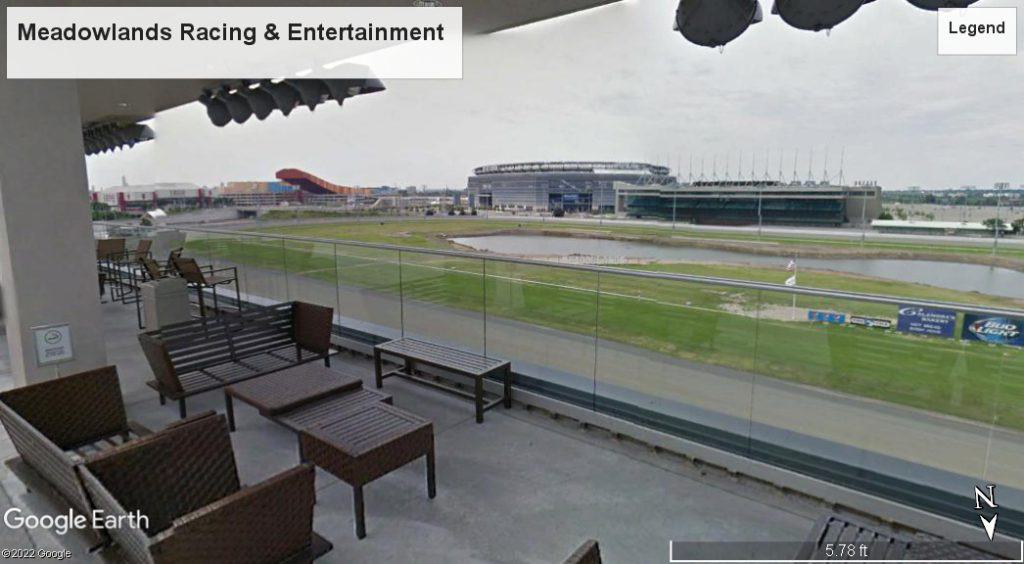 🐴Café

Situated in the first-floor simulcasting hall serving breakfast, lunch, and fast-food staples. 
It is open for both simulcasting and live racing. 
Open on all days

🐴Backyard Grill

Open seasonally
It has a front-row seat to the racing action. 

🐴Victory Terrace

Provides a good view of the NYC skyline views and overviews of all the on-track racing action. 
Open every live race night (Fri & Sat) 
Offers a grill, bar, and live DJ.
🐴Meadowlands Racing & Entertainment is ADA-compliant and wheelchair accessible. 

🐴Daily parking is free except on MetLife Stadium event days.
Major Events and Schedule
Meadowlands Racetrack Schedule
Thoroughbred racing is run during autumn, while the rest of the year hosts standardbreds or harness racing.

Live Racing 

Thursday – Saturday in January through March

Friday & Saturday in April through July, November & December

Grandstand & Simulcast Hours

Monday – Sunday: 11 am – 12 midnight

Closed Sundays for simulcasting during the NFL season

The FanDuel Sportsbook

The #1 Sportsbook in New Jersey.

It is open seven days a week.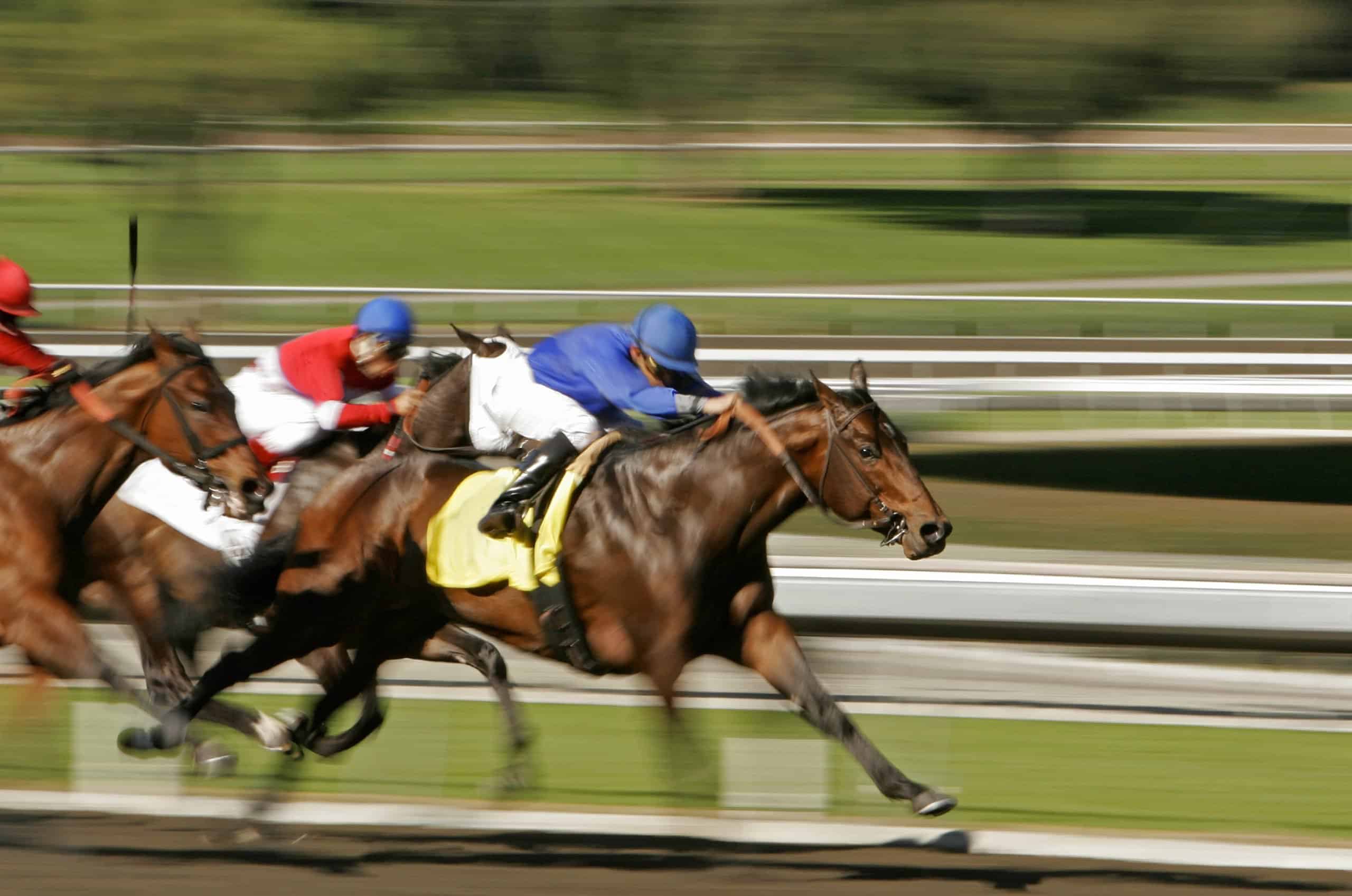 Meadowlands Racetrack Events
🐴

Hambletonian Stakes

🐴

The Meadowlands Pace

🐴

The Cane Pace.
Other Stakes Races for Standardbreds From November until the first Saturday of August
🐴Reynolds Series

🐴Simpson Series

🐴New Jersey Sire Series

🐴Miss Versatility

🐴Golden Girls

🐴Del Miller Memorial Trot

🐴Mistletoe Shalee

🐴Stanley Dancer Memorial

🐴William R. Haughton Memorial

🐴Miss New Jersey

🐴New Jersey Classic

🐴Duenna

🐴Townsend Ackerman

🐴Shady Daisy

🐴Fresh Yankee

🐴Lady Liberty

🐴US Pacing Championship

🐴John Cashman Jr. Memorial

🐴Graduate Pace & Trot

🐴Jim Doherty Memorial (formerly known as Merrie Annabelle)

🐴Peter Haughton Memorial

🐴Cane Pace

🐴Hambletonian Oaks

🐴TVG Free for All Series

🐴Tarpot Hap

🐴The Three Diamonds

🐴The Goldsmith Maid

🐴The Valley Victory

🐴The Governor's Cup
Location and Access to the Racecourse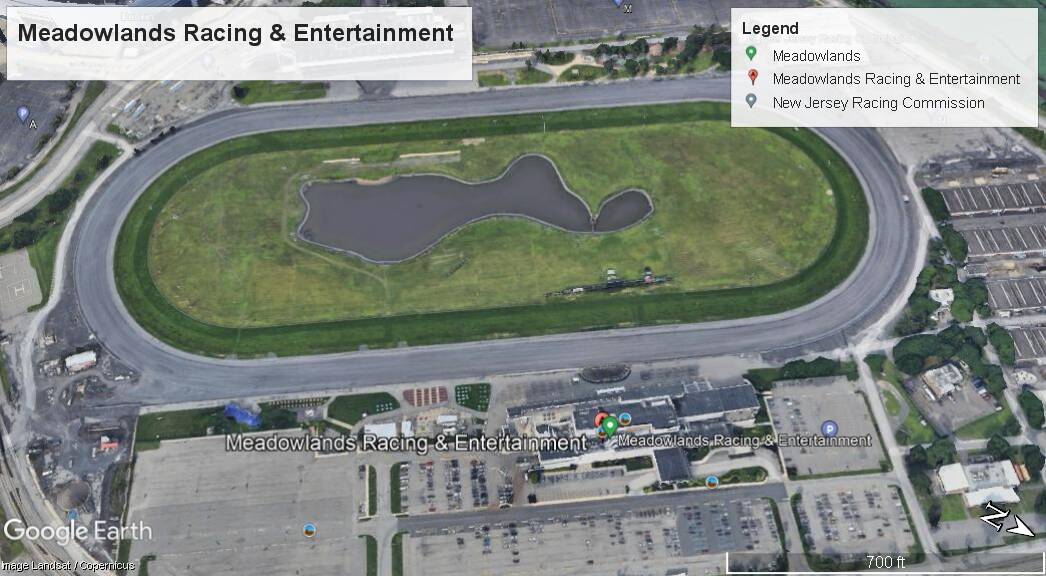 Meadowlands Racetrack Directions
It is located at

1 Racetrack Drive,

East Rutherford, New Jersey, United States,

07073.

Meadowlands Racetrack is accessible via Exit 16W on the western spur of the New Jersey Turnpike (I-95), which is adjacent to NJ Route 3 and NJ Route 120. 

NJ Transit provides bus service on the 160 from the Port Authority Bus Terminal and the 703 on the Haledon/Paterson/East Rutherford route.
Free general admission daily
$5 for Hambletonian Day Admission
Programs for weekly Friday & Saturday costs $2
Special Commemorative programs on major race days cost $5
Other racetracks are sorted and listed on the page "List of Racetracks". To view the full list, hit the button below. You can also check the horse racing types and breeds to have a lot more in-depth knowledge about horse racing. 
Meadowlands Racetrack
(Meadowlands Racing & Entertainment)
You can also check Meadowlands racetrack results and Meadowlands racetrack entries using our AmWager platform for FREE!
It is easy to access and fast as 1, 2, 3!
So what are you waiting for?
STOP HORSING AROUND, GET SERIOUS, GET AMWAGER !
Sign Up now for FREE and wager like a PRO with AmWager