Don't forget you can wager on the races with AmWager
Wager on live horse races like a Pro with AmWager.
Simple…We are the best online wagering platform today. Real-time updates, exclusive tools, custom wagering types, player-focused design. Not using AmWager is like playing in the kiddie pool.
Powerful, fast, innovative, secure, yet easy to use! All because we value and listen to our customers.
Monticello Raceway
Monticello Raceway is a horse-racing track in Monticello, New York, United States. It opened in 1958 at 204 Route 17B.
History of Monticello Raceway
1958 – Monticello Raceway opened on June 27, 1958.
1975 – Monticello Raceway hosted the richest race with a $250,000 Monticello-OTB Classic, won by the Hall of Fame pacer Silk Stockings.
1980 – Monticello Raceway closed circuit championship boxing (like the Ali vs. Frasier bouts; Leonard vs. Duran) in conjunction with harness racing resulted in the track's biggest attendance (17 495 patrons) on June 20, 1980.
1998 – The Bureau of Indian Affairs' Eastern Office approves Mohawks' land trust application for Monticello Raceway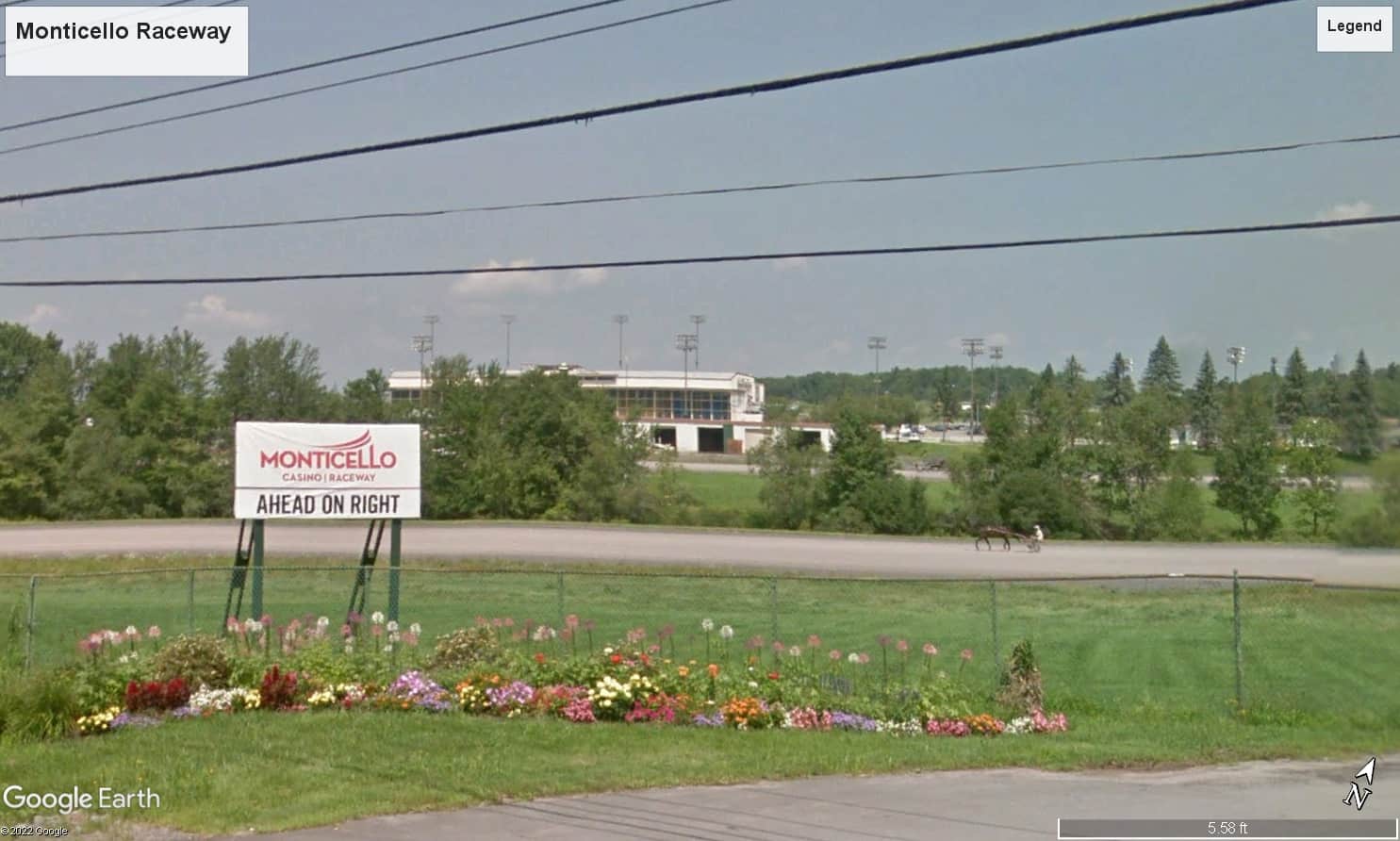 2001 – The largest single-day handle was $1,191,695 on December 11, 2001. 
2004 – Empire Resorts announced their plan on February 2, 2004, to establish a slot-machine-like operation called Mighty M Gaming at Monticello. Mighty M Gaming opened in July with 1,800 video terminals at the track. The video gaming machines boosted the track significantly and transformed Monticello Raceway into its current structure. The facility changed its name to Monticello Casino & Raceway.
2006 – The track was the site of the "Monticello Miracle". A racehorse hit Don Karkos (World War II veteran) in the exact spot where he got hit with shrapnel that caused him to lose sight in one of his eyes during a World War II naval battle aboard USS Rapidan (AO-18). This blow caused him to regain his sight, which is why it's called the "Monticello Miracle".
2008 – Empire Resorts abandoned its partnership with the St. Regis Mohawks to build a $600 million casino at Monticello Gaming & Raceway on "Monticello Miracle" in February 2008.
2019 – The slots and racino part of Monticello Raceway ceased to operate on April 23, 2019. 
Nickname and Other Entertainment
The racetrack is nicknamed "The Mighty M" and is owned by Empire Resorts. Musical legends like Ike & Tina Turner, Frankie Valli & The Four Seasons, Bobby Vinton, and Natalie Cole have entertained the horse racing public at Monticello Raceway.
Track Details and Other Facilities
Race Schedule and Major Events & Races​
Monticello Raceway Schedule
🐎Live Racing Schedule

Racing season is from November to December, with

post time

every 12:25 pm.

It races

harness racing

during the day, Mondays through Thursdays, and on some Fridays.

It also races standardbred horse races during the afternoons year-round. 
🐴

Monticello Marathon

– A 2-mile race for trotters held in December.
Heritage Series

A string of tournaments for

harness

drivers from different ethnic backgrounds
Location and Access to the Racecourse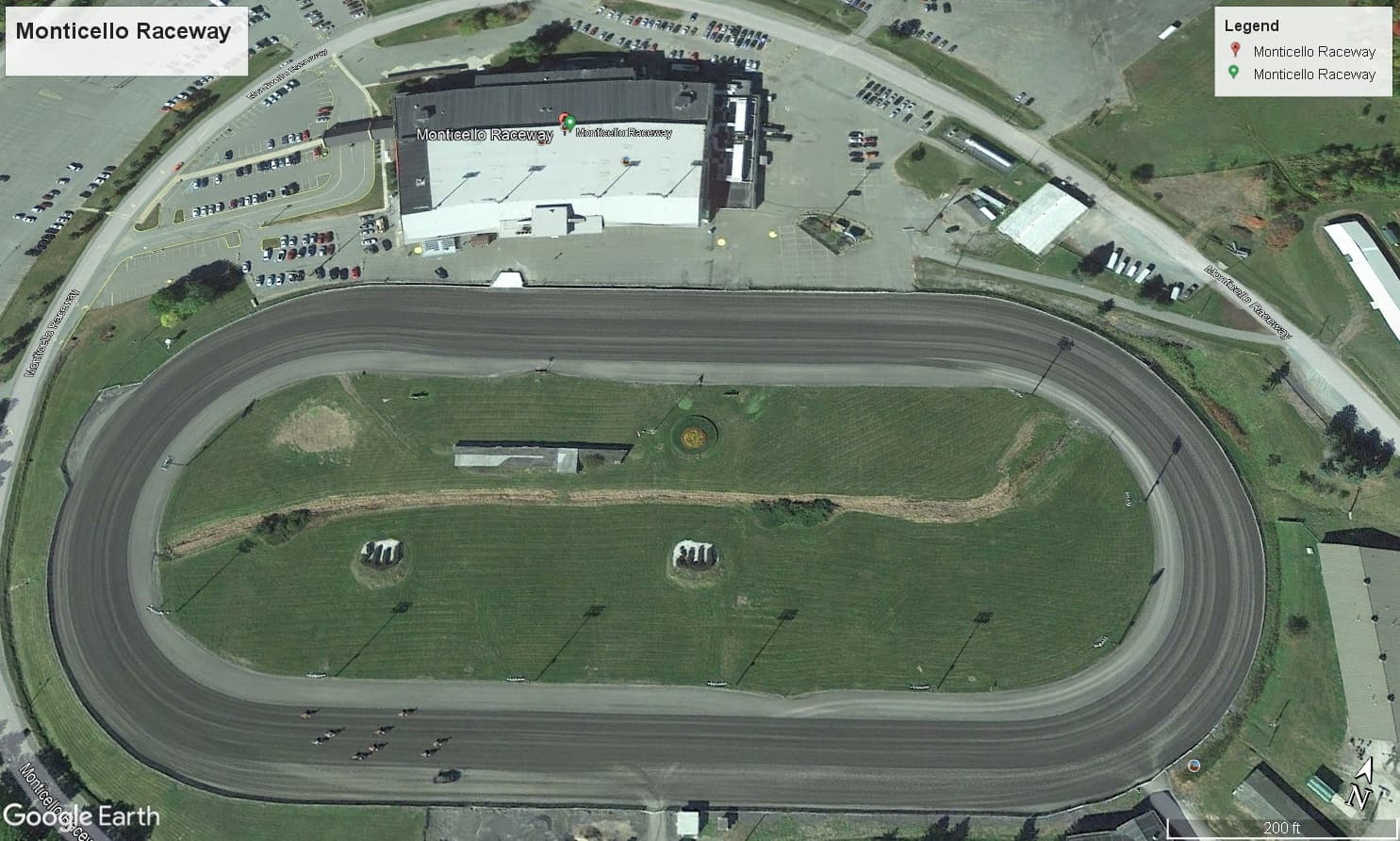 Monticello Raceway is a 

harness

 racing track in Monticello, Sullivan County, New York.

It is off Exit 104 of Route 17 (future Interstate 86), on New York State Route 17B, Raceway Road, Monticello, New York.

General admission, general parking, and clubhouse admission are free.
Other racetracks are sorted and listed on the page "List of Racetracks". To view the full list, hit the button below. You can also check the horse racing types and breeds to have a lot more in-depth knowledge about horse racing. 
You can also check Monticello Raceway results and Monticello Raceway entries using our AmWager platform for FREE!
It is easy to access and fast as 1, 2, 3!
So what are you waiting for?
STOP HORSING AROUND, GET SERIOUS, GET AMWAGER !
Sign Up now for FREE and wager like a PRO with AmWager