Don't forget you can wager on the races with AmWager
Wager on live horse races like a Pro with AmWager.
Simple…We are the best online wagering platform today. Real-time updates, exclusive tools, custom wagering types, player-focused design. Not using AmWager is like playing in the kiddie pool.
Powerful, fast, innovative, secure, yet easy to use! All because we value and listen to our customers.
Sam Houston Race Park
Sam Houston Race Park is a horse-racing track in Houston, Texas, United States. It opened in 1994, at North Sam Houston Pkwy W.
History of Sam Houston Race Park
1994 – It is acknowledged as the first Class 1 racetrack after racing was unauthorized for about 50 years, inaugurated on April 24, 1994, in Texas. The track was named after Sam Houston, an influential general who later became the Republic of Texas president. 
2000 – Sam Houston purchased the Valley Race Park, a greyhound track in Harlingen. 
2017 – The track became an evacuation center for the equine victims of Hurricane Harvey in August 2017.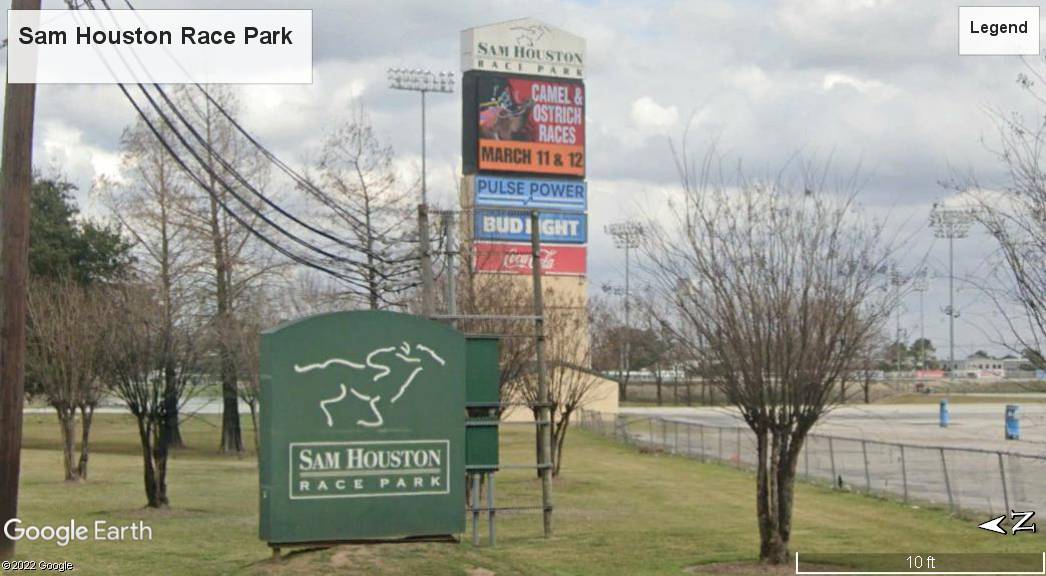 Track Details and Other Facilities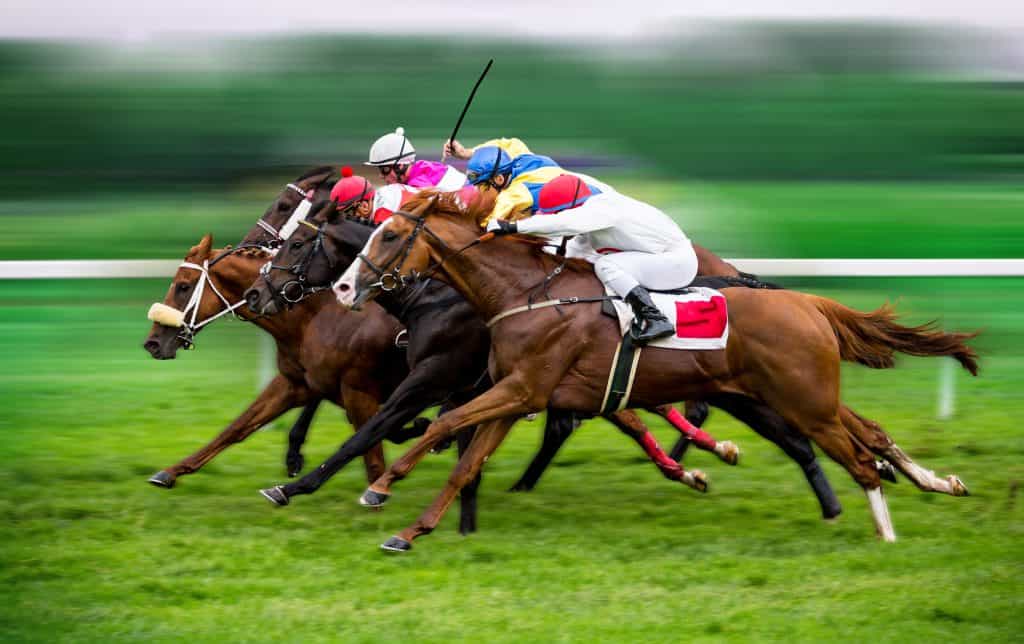 🐎Main Track
🐎Turf Track

The

turf track

is 7/8 mile.

During summer, the track comprises one-inch deep 419 Hybrid Bermuda grass, while during winter, it is composed of one-inch deep Ryegrass.

🐎Backstretch
It has 8 bars, two restaurants, Grandstand suites, San Jacinto Suite, a Celebration Suite, Director's Suite, Sam Houston Suite, and the House Suite. The park also has many concession areas on the

Paddock

and Club levels. The parking area can fit 3,500 vehicles which includes 125 accessible spaces.
🐎Pavilion Center

It measures 26,000 square feet.
It is located north of the grandstand. 
It can accommodate private events from 1,250 guests to 4,000

🐎Parking Lot

The parking lot is over 2.5 million square feet.

It is home to rides and drives, automobile product launches, car and truck shows, BBQ cook-offs, concerts, and festivals.

🐎Club Level

It is located on the second floor of Sam Houston Race Park's main grandstand.

It is home to tradeshows, job fairs, and corporate meetings 

It can accommodate 1,500+ guests for private events. 

🐎Jockey Club

It is a private members-only club 

It can accommodate up to 250 guests 

It can host private events such as

Anniversary Celebrations, Birthday Parties, Business Luncheons, Graduation Parties, Networking Mixers, Quinceañera, and Wedding Receptions.
🐎The Winner's Circle Experience
It is open for dinner every Friday and Saturday during live racing. 

It features a multi-tiered seating arrangement close to the action.

Each table is equipped with a flat-screen television.  
It is the racetrack's private, member's-only club. 

It offers casual lunch or dinner buffet and a fully-stocked bar with signature cocktails.

It also features simulcast televisions throughout the club and personal wagering tellers and machines. 

The Jockey Club offers both Individual and Corporate memberships.
Papa John's Pizza (Assorted Personal Pizzas)

Rail Dog Concession Stands (Hot dogs, nachos, popcorn, ice cream, and other items)
Sam's Pasta House (Pasta & Salad)
Tio's Longshot Café (Tacos, Nachos, and Taco Salad)
Race Schedule and Major Events & Races​
Sam Houston Race Park Schedule
🐎Live Racing Schedule

They run two live races yearly, the

Thoroughbred

racing every January through early April and

American Quarter Horse

racing from April through early June.

The track also features Arabian-breed racing.

🐎Other Events

It also hosts other events and festivals during off-seasons.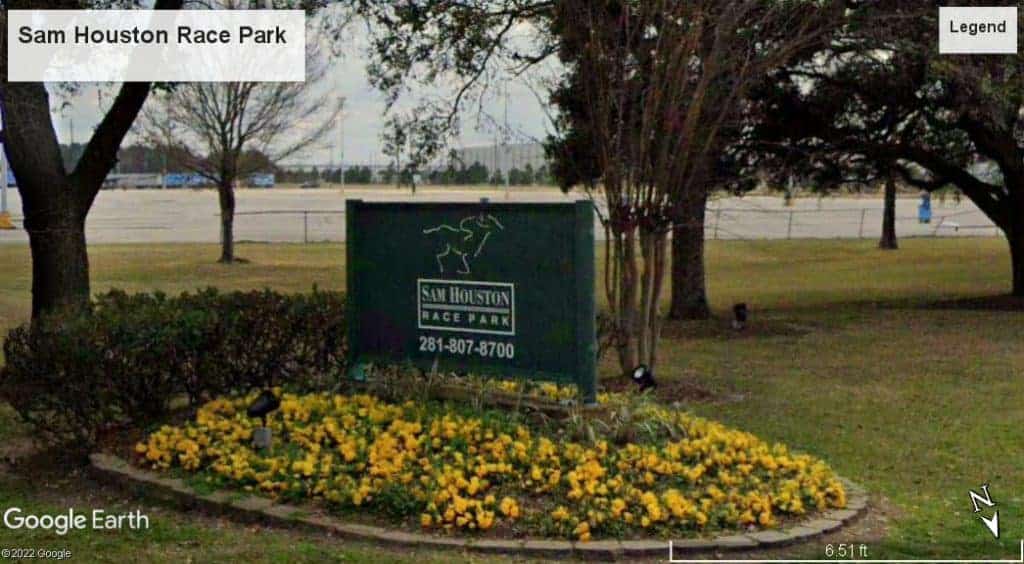 Quarter Horse

Open

🐴Sam Houston Futurity (G2)

🐴B.O.A. TX Challenge Championship (G2)

🐴Sam Houston Classic (G2)

🐴Sam Houston Derby (G3)

🐴John Deere TX Juvenile Challenge (G3)

🐴Adequan Texas Derby Challenge

🐴Sam Houston Juvenile Stakes 

🐴Governor's Cup Marathon

🐴Harris County Stakes 

American Paint Horse

🐴Colors of Texas Paint Maturity (G2)

🐴Colors of Houston Paint Juvenile 
Colt/Gelding
Filly/Mare

🐴

Sheikha Mubarack LWC

🐴

Texas Yellow Rose (G2)
Open

🐴John B. Connally Turf Cup (G3)

🐴Bob Bork Texas Turf Mile

🐴Pulse Power Turf Sprint

🐴Sam Houston Sprint Cup

🐴Houston Turf Stakes

🐴Bucharest Turf Sprint

🐴Groovy Stakes

🐴Space City Stakes

🐴Richard King Turf Stakes

🐴Spirit of Texas Stakes

🐴Star of Texas Stakes

🐴Texas Heritage Stakes

🐴Jersey Village Stakes

🐴Allen's Landing Stakes

Colt

/Gelding



🐎Concerts

It hosts ZiegenBock Music Festival each year.

A smaller version of the Lone Star State Jam.

It is a compilation of country music's finest artists, such as Gary Allan, the Grammy-nominated Eli Young Band, Randy Rogers Band, Willie Nelson, Lynyrd Skynyrd, and international acts such as Hadiqa Kiani etc. 

🐎Dog Day at the Track

The Wiener Dog Races is a family-friendly event. 

Dog races are held throughout the day between the live horse races, usually held in March. 

🐎Annual Food Truck Festival

It features multi-culture food like Mexican, Cajun, Italian, Greek, Americana, etc. 

🐎Guitars N' Cars Auto Show

The Houston Construction Industry Charities present it.

It is an annual car show with live music, food, and guitar vendors. 

🐎Camel & Ostrich Races

It is usually held during the Thoroughbred Meet on a Friday and Saturday evening in early March. 

Both Ostriches and Camels carry riders during their races. However, wagering is unauthorized by law on the Wieners, Camels, or Ostriches.
Location and Access to the Racecourse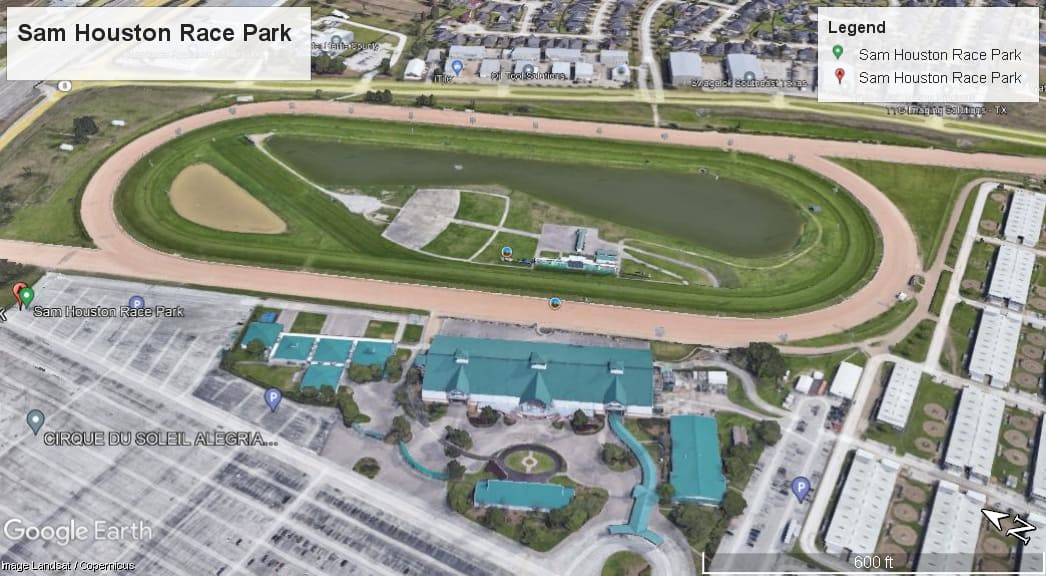 It is located in unincorporated northwest Houston, Texas, United States.
It is situated just 15 minutes from downtown Houston, Northwest Houston.

General Admission Pricing for live racing:

For 13+: $8 per person

For Seniors over 62: $5 per person

For Children ages 4-12: $5 per person 

Free for children three and under

General Admission Seating Includes:

Theater seats on the Club Level

Anywhere on the

Paddock

or first level of the grandstand

Outside on the track side benches
For PWD

Accessible Entrances are at the North & South Entrances.
Parking spaces are available in the Main Parking Lot.
Seatings are available for all live racing dates and events.

Parking Space

General parking is free for Live Racing and Simulcast days.
Valet parking charges of $10, available during live race days only at the south entrance gate.
Park Hours

Mon-Tues: Closed
Wed: Gates open 10:30 am – 10:00 pm
Thur: Gates open 10:30 am – 11:00 pm
Fri-Sat: Gates open 10:30 am – 11:30 pm
Sun: Gates open 10:30 am – 10:00 pm
Other racetracks are sorted and listed on the page "List of Racetracks". To view the full list, hit the button below. You can also check the horse racing types and breeds to have a lot more in-depth knowledge about horse racing. 
You can also check Sam Houston Race Park results and Sam Houston Race Park entries using our AmWager platform for FREE!
It is easy to access and fast as 1, 2, 3!
So what are you waiting for?
STOP HORSING AROUND, GET SERIOUS, GET AMWAGER !
Sign Up now for FREE and wager like a PRO with AmWager